Secret Spots in Sydney to Explore and Adore
Secret Spots in Sydney to Explore and Adore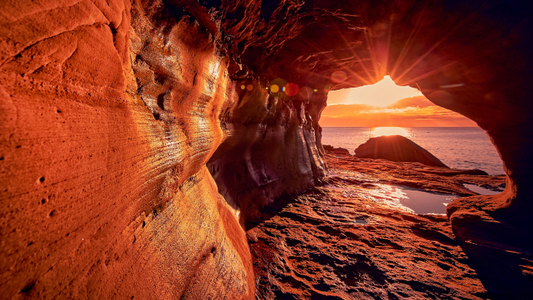 So you're looking for something exciting to do in Sydney but you've done the Opera House, you've visited Bondi Beach and visited Darling Harbour numerous times, what next?
Sydney is a city so full of incredible things to see and do that some of her amazing attractions haven't even been discovered yet. Allow us to let you in on the hidden world of secret spots in Sydney.
16 Secret Spots in Sydney
1. Eveleigh Treehouses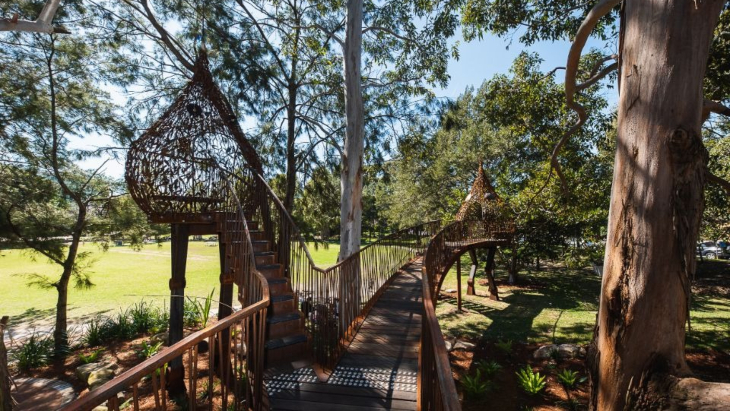 The unusual Eveleigh Treehouses looks like they were plucked straight out of Snugglepot & Cuddlepie they're that adorable! These funky treehouses are actually part of an outdoor artworks series by visual artist Nell in Eveleigh Green park and are open for exploration at Eveleigh Green Park.
Location: Eveleigh Green, 39A Henderson Rd, Eveleigh.
2. Fairy Bower Pool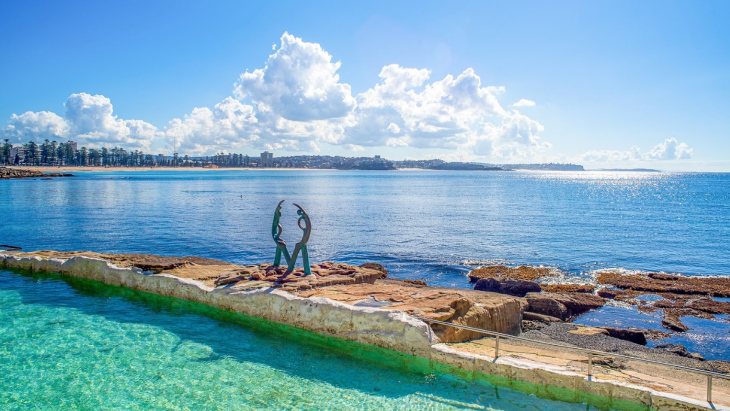 Also known as the Fairy Bower Sea Pool, Fairy Bower Pool was constructed by locals in 1929 when saltwater bathing was at its inception, this triangular-shaped ocean pool is stunning day and night. The 3 sculptures on the edge of the pool are known as "The Sea Nymphs' or 'The Oceanides', and, as their name suggests, they are a truly enchanting experience.
Location: 5B Marine Parade, Manly
3. Shipwreck at Homebush Bay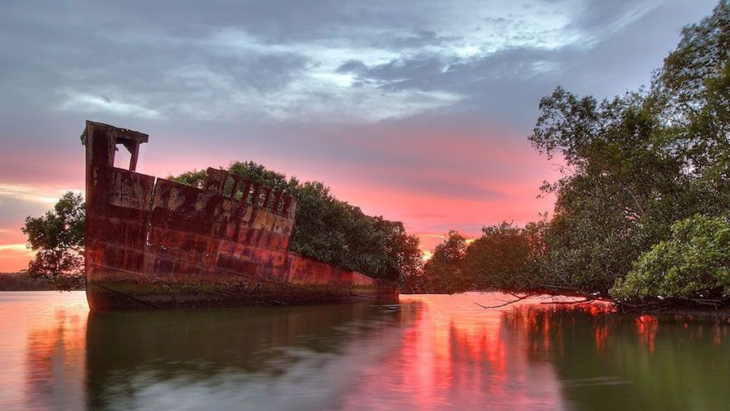 A definite secret spot in Sydney, the Homebush Bay Shipwreck has a myriad of names including the Floating Forest. Located in the middle of the Parramatta River, the SS Ayrfield ran coal between Sydney and Newcastle during the 20th Century. Make a day of visiting the Floating Forest along the river and enjoy Bicentennial Park with bike tracks, playgrounds and beautiful picnic spots. Read more about our adventures in Homebush Bay.
Location: 29 Bennelong Pkwy, Wentworth Point
4. Auburn Botanic Gardens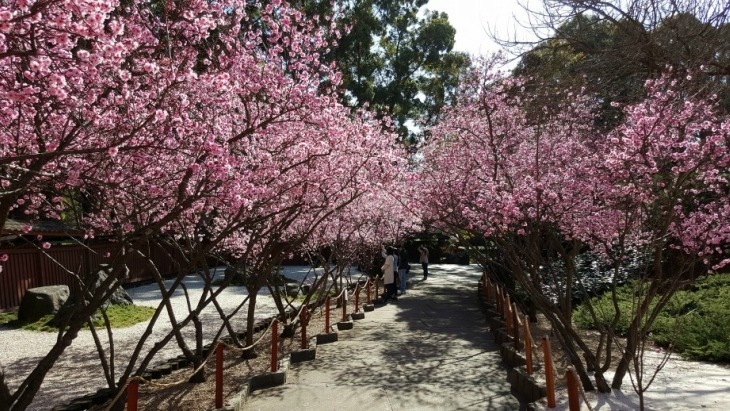 With features including a Scented Garden, a Sunken Rose Garden, a Fauna reserve and an aviary, the Auburn Botanic Gardens are a slice of natural heaven. Visit Auburn Botanic Gardens in mid to late August when the cherry blossoms are in full bloom, and the lush greens subside in comparison to perfect pinks. You might even spot a peacock pecking around!
Location: Chisholm Rd and Chiswick Rd, Auburn.
5. Angel Place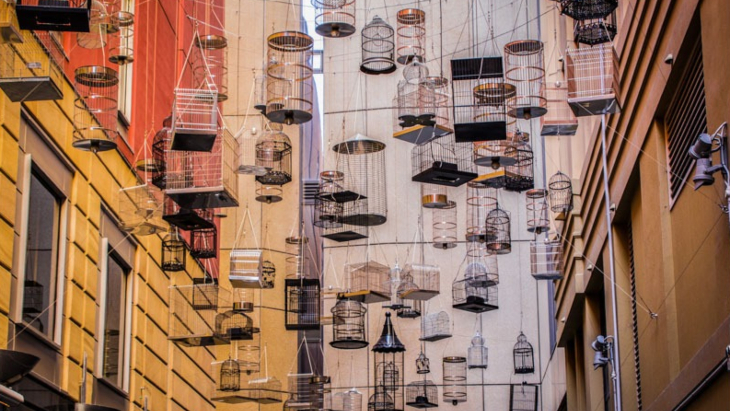 Nothing screams secret spots in Sydney more than Angel Place. Make your way down a tiny stairwell off Martin Place and you'll find this hidden alleyway filled with 180 birdcages that hold the sounds of dozens of birds. Forgotten Songs is a permanent art installation of birdcages representing the call of 50 birds that used to live in the city before the arrival of Europeans.
Location: Challis House, 4-10 Martin Place.
6. MacKenzies Bay Beach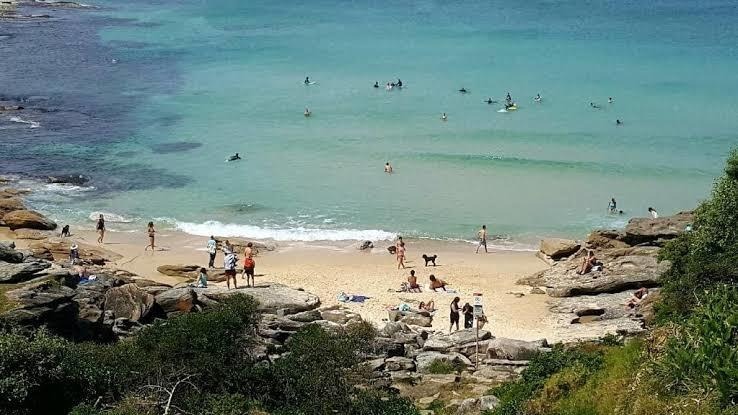 This secret spot in Sydney is so secretive, it's not even around for most of the year! MacKenzies Bay Beach is perhaps one of Sydney's best secret spots - the picture-perfect beach around 100 metres north of Tamarama is actually hidden for most of the year due to the tides, but when it does appear it is truly magical! Please note that MacKenzies Bay Beach is an unpatrolled beach.
Location: Mackenzies Point, 100 metres north of Tamarama Surf Club.
7. Paddington Reservoir Gardens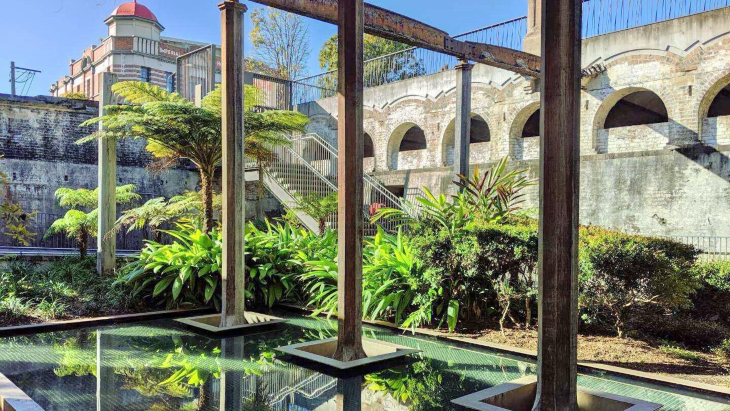 Also known as Walter Read Reserve, Paddington Reservoir housed part of Sydney's water supply from 1866 to 1899. In 2006, it was transformed into the Paddington Reservoir Gardens - a sunken garden and park, a rare gem of rustic bricks, iron and timber mixed with modern design and natural beauty that is undoubtedly one of the most popular secret spots in Sydney.
Location: 251-255 Oxford St, Paddington
8. Wendy's Secret Garden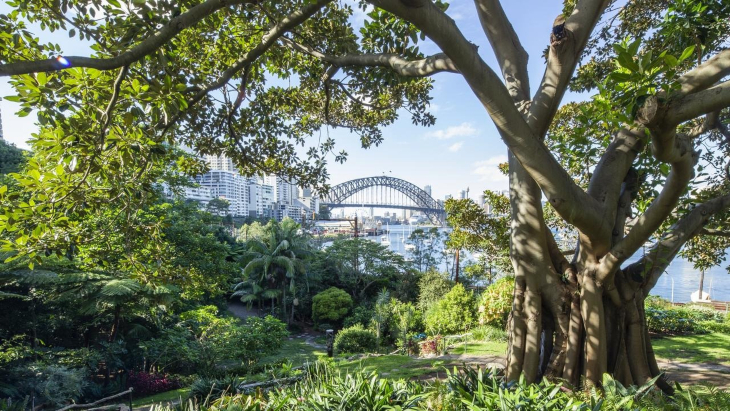 This secret Sydney spot gets our tick of approval time and time again! Wendy Whitely transformed a derelict public area into a magical garden where she buried her artist husband Brett's ashes, turning heartache into something to be enjoyed for years to come. With interesting sculptures, a big fig tree for shade, gorgeous colours and views of Sydney Harbour, Wendy's Secret Garden in Lavender Bay is perfect for a stroll, a picnic or simply to be amongst absolute perfect nature.
Location: Clark Park, Lavender St, Lavender Bay.
9. Lane Cove National Park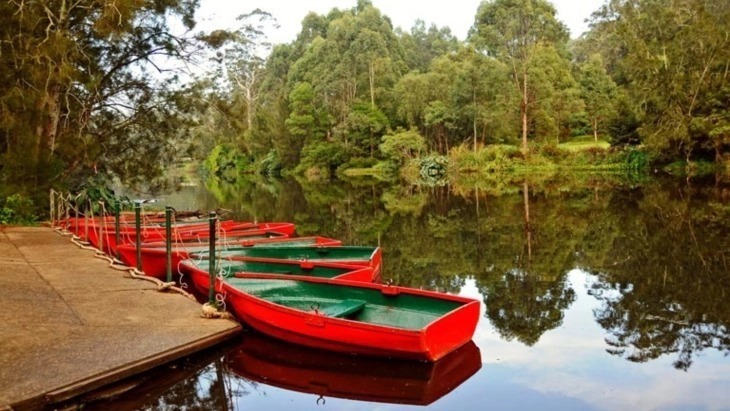 Breathe the fresh air and become truly one with nature in this secret spot in Sydney: Lane Cove National Park. Lane Cove National Park is always a hit with adventurous families. From canoeing to bushwalking, bike riding, nature watching and even glamping, Lane Cove National Park packs a pretty impressive punch for a secret spot in Sydney. Read our top 7 things to do in Lane Cove National Park.
Location: Riverside Dr, North Ryde.
10. Arthur McElhone Reserve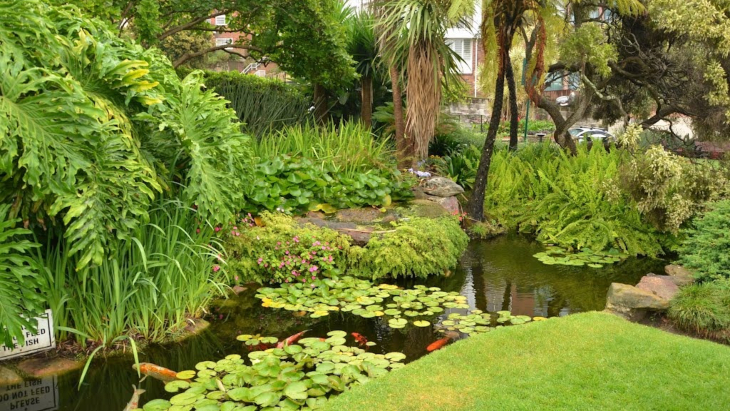 Sitting prettily in front of Elizabeth Bay House is Arthur McElhone Reserve, a picturesque reserve with a small garden and bridge, stunning harbour views and a lovely little pond. Arthur McElhone Reserve is an absolute pleasure nestled a short walk from Potts Point and truly is one of Sydney's best secret spots.
Location: 1A Billyard Ave, Elizabeth Bay.
11. Queenscliff Tunnel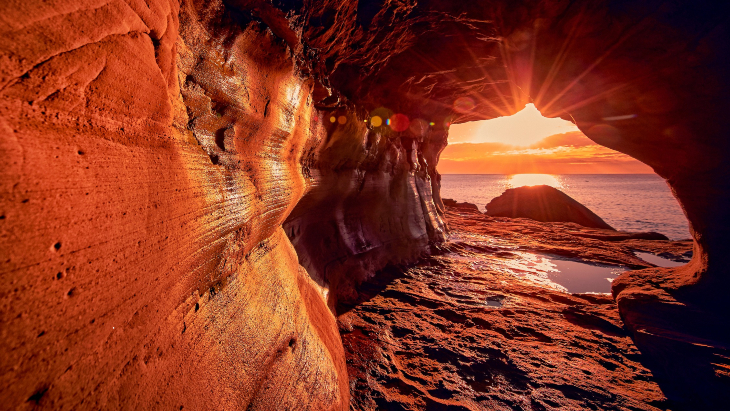 One to visit with the older kids or those who don't mind a bit of rock climbing, the magical Queenscliff Tunnel is another secret spot in Sydney to venture to when you're up for a bit of an adventure. Also known as the Manly Wormhole, the Queenscliff Tunnel is a 40-metre channel through the rock of Queenscliff Head that was chiselled by fishermen hundreds of years ago. The tunnel connects Queenscliff Beach and Freshwater Beach and can be accessed via the Queenscliff Rock Pool (look for the pink graffiti heart).
Location: 2096 N Steyne, Queenscliff.
12. Barrenjoey Head Lighthouse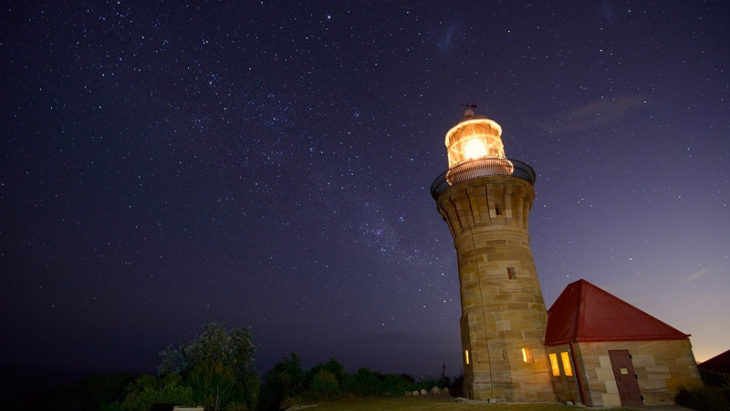 Ok, ok, we admit, the Barrenjoey Lighthouse isn't much of a secret spot in Sydney anymore but it's one of those family bucket list things you just have to do at least once! The Barrenjoey Lighthouse Walk offers absolutely stunning views of Palm Beach and Pittwater and is a great day out for the whole family. The best time to accomplish the Barrenjoey Lighthouse Walk is during whale watching season for hopefully an extra special surprise the kids will adore.
Location: 1199D Barrenjoey Rd, Palm Beach.
13. Waterview Wharf Workshops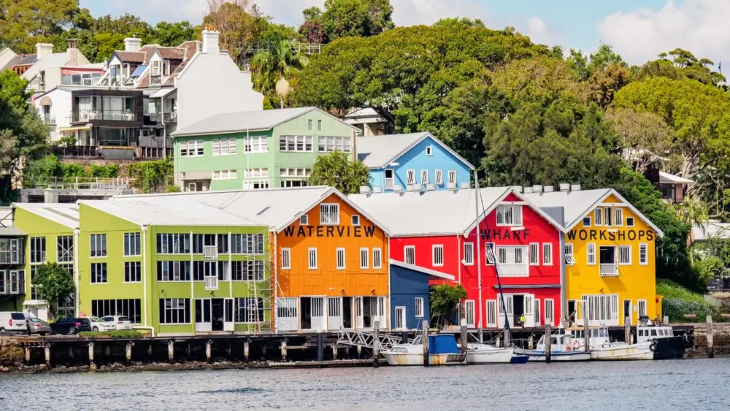 No, you're not in Copenhagen! These delightfully colourful waterfront houses are Sydney's Waterview Wharf Workshops and are one of the most photographed spots in Sydney for good reason. Located in Balmain, the Waterview Wharf Workshops are Heritage-Listed remnants of the early 20th-century maritime industry, and a pretty cool (and colourful!) spot to snap a pic in Sydney.
Location: 37 Nicholson Street, Balmain East
14. Spiral Hilltop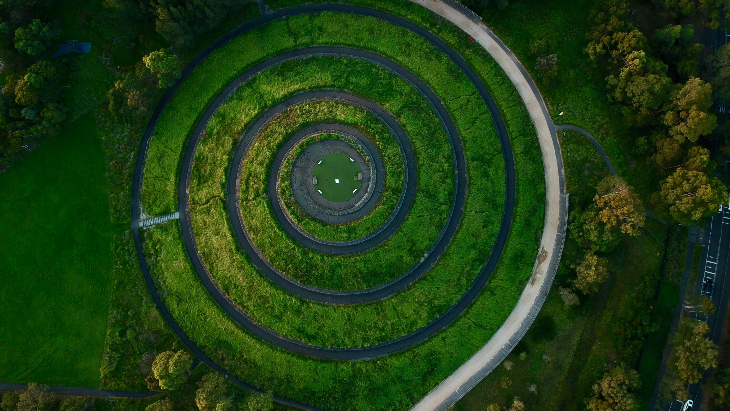 Also called the Spiral Garden, the huge Spiral Hilltop at Homebush Bay is a work of natural art. Located in Wentworth Common, the Spiral Hilltop is fun for kids to play around if you're enjoying a picnic in the area, or test out your endurance by running to the top!
Location: Marjorie Jackson Parkway - Sydney Olympic Park
Further Afield...
15. The Cotton Candy Caves

If you're keen to hit the road and head up north to the Central Coast, this slice of paradise has a handful of hidden gems, one of the most notable being the famous Cotton Candy Caves. Also referred to as the Pink Caves, the luminous cave system is located along the Moonee Beach Trail around 1.5 hours north of Sydney. The 4-km return Moonee Beach Trail is a delightful family adventure that rewards you with stunning views of the South Pacific Ocean, Timber Beach, Ghosties Beach and, not to mention the magic of the Pink Caves.
**Warning: Please only visit the Pink Caves at low tide. Check the tide times before you go.**
16. Nature's Infinity Pool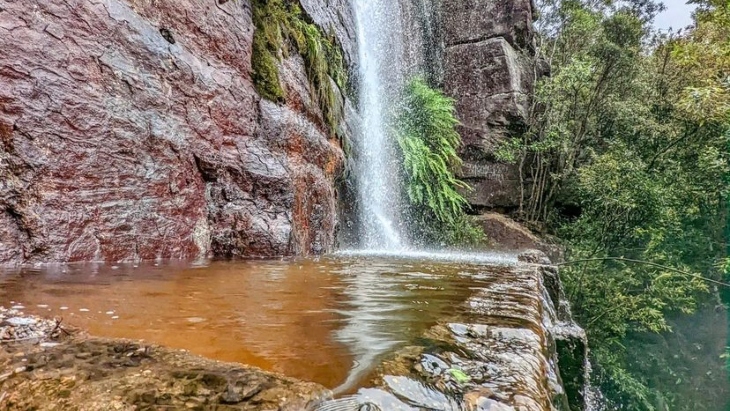 This little gem has been dubbed Nature's Infinity Pool because it's a completely natural infinity pool created by nature deep in the stunning Brisbane Waters National Park. The secret trough waterfall is located in Woy Woy and takes around three kilometres to locate it from your starting point at the Tunnel Fire Trail off Woy Woy Road. The spectacular natural swimming hole is the perfect hidden spot to cool off on a hot summers day.
Thanks to Hasbro: This article is brought to you in partnership with Hasbro Gaming our Supporting Brand Partner for the Unplug & Play Initiative. Check out our launch party to kick off Unplug & Play:

Even More Secret Ideas
Sydney's Secret Beaches
Sydney's Secret Gardens
Secret Spots On The Central Coast
Have you signed up to our newsletter? Join ellaslist to get the best family and kid-friendly events, venues, classes and things to do NEAR YOU!