Gabrielle Johnson Music Classes
Gabrielle Johnson Music Classes
Gabrielle Johnson Music is a dynamic music school based in Sydney's Eastern suburbs. They have a fabulous Music Starters class for 4 - 7 year olds where parents can bond with their little ones. They also offer group ukulele, guitar and singing lessons where older children (8 years+) can get creative, make friends and have fun.
Music Starters (4 - 7 years)
These classes teach a range of rhythm skills including beatboxing and percussion, singing games and basic ukulele skills. Parents are encouraged to participate in the Music Starters group, creating the perfect opportunity to spend quality time with your child both during the lesson and when you practice at home.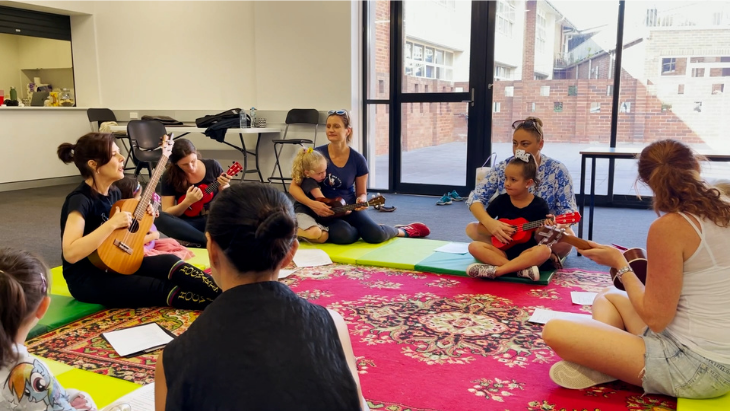 Ukulele Groups (8 years+)
Have fun with friends and make new ones in these fun filled group class that improve concentration levels, improve hand-eye coordination and boost confidence through creative expression.
Guitar Groups (8 years+)
Enrol your child in a fun filled group guitar lesson that will improve memory skills, coordination and will boost the confidence of your child.
Singing Lessons (8 years+)
Singing encourages relaxation through deep breathing to keep children more focussed. It also helps children develop memory skills, become better readers and it promotes creativity.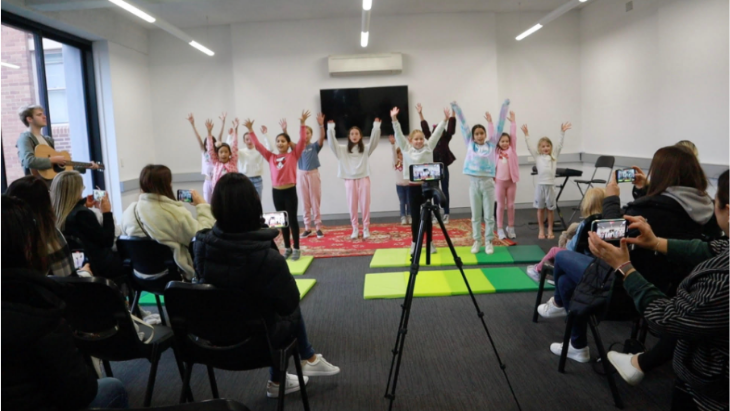 Class Times
Classes are held on Saturdays for their exciting group lessons.
What are you waiting for? To secure a place for your child, visit the Gabrielle Johnson Music website or call Gabrielle on 0421 912 299.
Indoor Activities for Kids
Use your Creative Voucher to get Craft Kits Delivered
Best Educational Apps for Kids
Art for Kids: Get Creative with a Little Spirit
Have you signed up for our newsletter? Join ellaslist to get the best family and kid-friendly events, venues, classes and things to do NEAR YOU!
Reviews
Such a beautiful music school. So inclusive of all people and talents. This school builds a lovely community. As a parent I love seeing the progress each term, and feeling involved. We moved away and still travel back just to attend classes with GJ and Team.
Wonderful school. My daughter loves her guitar lessons and the warmth and fun her teacher brings to the lessons
Tilly loves her sessions with Gabrielle, the classes are very inclusive and Gabrielle and Solomon are so amazing with the kids.
Gabrielle and her wonderful team of teachers are amazing - love the lessons and love the performances. My daughter has been singing with Gabrielle & Lilly for the last 5 years - moving from junior vocal group to teen vocal group and learning so much about singing - technics - her voice and her self confidence. Highly recommend!
All the music teachers in GJM has genuine concern and honest interest in your child's musical capability. They provide good insight on your child's progression. They're very patient and makes a child feel comfortable in developing their musical creativity. My son, whom they have been teaching since Term 1 2021, is very happy with them.
My daughter has been studying in Gabrielle Johnson's music classes for a few years now. She really enjoyed it and progressed significantly in her ukulele, guitar and singing skills. Gabrielle, Solomon, Amy and all the staffs are passionate and professional. I highly recommend kids that are interested in music to try their classes!
The talented staff at Gabrielle Johnson Music are second to none. They go out of their way to make everyone feel welcomed & they create an environment which is fun & inclusive. My boys especially love the open mics (they have participated every single month for the past two years -including when they were taken online during lockdown!). The tuition & the variety of music options offered is excellent. My eldest loved the production and song writing course which was run by down to earth industry professionals. Gabrielle is passionate about not only seeing her students do well but also develop a real love & appreciation of music whilst forming friendships with like minded peers. I cannot recommend Gabrielle & her staff highly enough.
My daughter Isabella loves attending music at Gabrielle. Even through covid and learning online I have noticed so much improvements/coordination in her ukulele. Solomon and Gabrielle truly are wonderful dedicated teachers!
Gabrielle is a wonderful teacher, very patient and caring. My daughter absolutely loves her private lessons and learning music has helped in a lot of areas in her life, by giving her self confidence. The joy my daughter has when she has learnt a new song has brought about a sense of accomplishment that has also carried through her school work and it's all thanks to Gabrielle's brilliant lessons.
We highly recommend Gabrielle Johnson Music Classes at Maroubra Parish! Gabrielle and Solomon are so patient and lovely with all their students! We had face to face learning and also zoom but it was still so wonderful! Thank you so much for all your amazing experience that shines through your teaching ! Kind regards, Lee
A fantastic music school that nurtures a love of music and live performances, builds on student confidence and skill in a supportive and fu environment. It's been wonderful to watch our daughters musical journey begin here with with Gabrielle and the team!
Great class. My boy is in the class quite few terms. He is super enjoyed in his singing and guitar classes. Gabrielle is kind and helpful for us. She helps to adjust our class time. It's great to be with them.
Both my teenage sons have had lessons with Gabrielle Johnson, in vocals & yukule & I highly recommend her music school. Gabrielle offers professional yet relatable music content that appealed to both my son's which kept them interested & inspired. They both felt very supported & encouraged by Gabrielle & her team. The boys both love being part of the Open Mic events which has given them a platform to practice their music in front of a supportive, live & online audience, of all ages. These events are so well organised & a real highlight of the amazing service & support that Gabrielle Johnson Music School offers.