The Best Things To Do In Wollongong With Kids
The Best Things To Do In Wollongong With Kids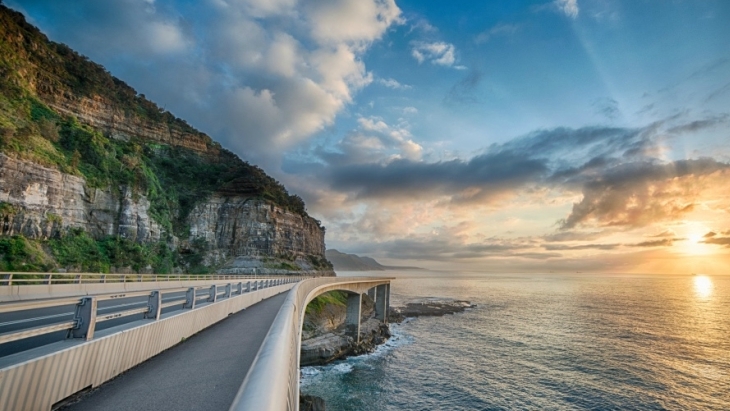 By: Hayley Dean, ellaslist
When you think of weekenders close to Sydney, places like Terrigal, Jervis Bay and Port Stephens probably pop into your mind first. Well, I am here to tell you that you need to add Wollongong to your list. The Gong, as it's so affectionately called, has seriously transformed over the last few years. As a lifelong Dragons supporter and having a dear friend living there, I visit this scenic seaside city fairly regularly and have really enjoyed watching the place come of age. No longer is it just somewhere you need to drive through.
Here are our top reasons why you should have a mini-break in Wollongong.
Early Start Discovery Space
Little people and adults cannot get enough of the Early Start Discovery Space. On our first visit, we stayed the entire day. There is just so much to see and play with. Some of our personal favourites were of course, the intestinal system (what little one/adult doesn't love good gas noise!), the mini supermarket which has actually stayed with us for some time following as the kids can "shop" for groceries with shopping trolleys and pay for them at the check-out, the water play area outside (be sure to pack spare clothes) and the building construction zone where we dressed up in orange vests and built a brick wall.
There is just so much to see and do. Toilet facilities are great and there is a lovely little café on site. Remember it is inside the Wollongong Uni so during class time, parking may be a bit tight but we have never had a problem finding a spot.
Where: The Discovery Space is located in the Early Start Building at UOW's Wollongong campus. Building 21, 101 Ring Rd, Keiraville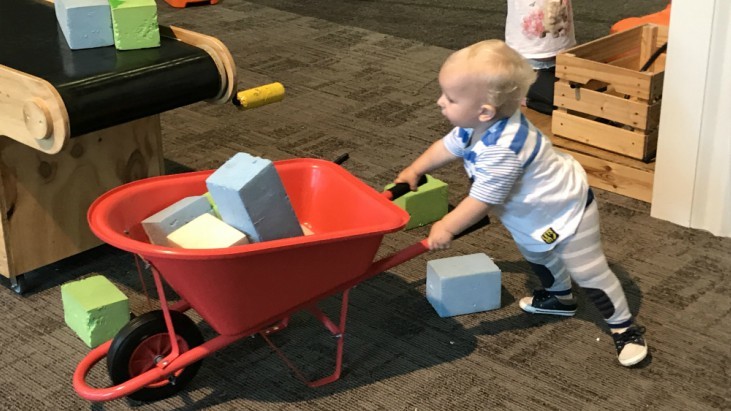 Playgrounds
There is certainly no shortage of playgrounds in Wollongong. A favourite of ours is Stuart Park, a short walk from the Novotel Wollongong Northbeach. The playground features a 8.6 metre high SkyTower, complete with three giant slides coming off it. It also boasts two flying foxes and a beginner's cycle track.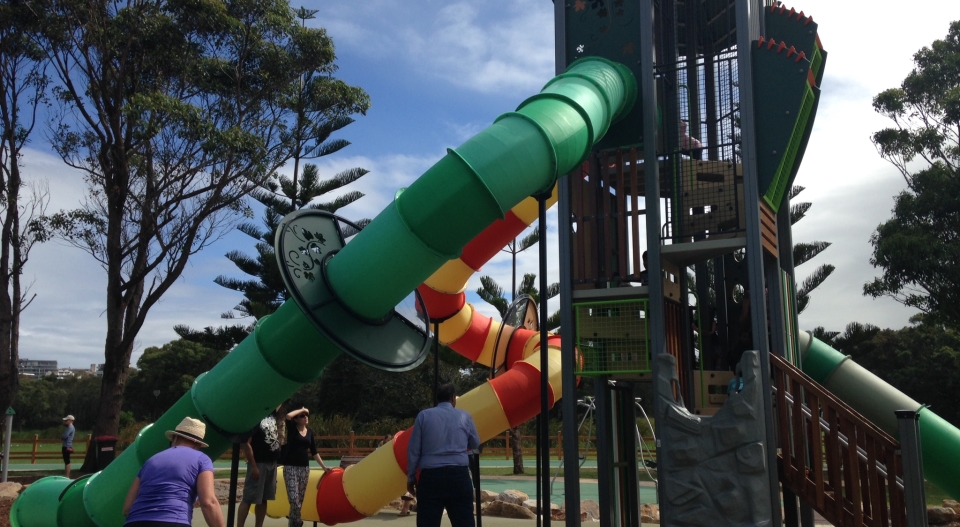 There are also some great playgrounds in Bulli, a short 15 minute drive from North Beach. There's the well equipped Bulli Beach playground and the playgrounds at Pinecourt Park and Austinmer Beach Reserve have recently been renovated with fun climbing challenges and brand new equipment.
This digital pamphlet has a useful map with the playgrounds and parks.
The Grand Pacific Drive
I am very much a "take the scenic route" kinda gal and the drive to the Gong is no exception. Unless I'm on a deadline, I will take the left hand turn off the Princess Highway and drive through The Royal National Park (Did you know it's the second oldest in the world?). The Audley boat sheds are a wonderful day trip in themselves and the view sure beats the alternative concrete of Mount Ousley. Of course, from here I can take the turn into Helensburg and visit the fabulous Symbio Wildlife park, itself, another adventure day out. If you haven't been. I highly recommend it; hands on native wildlife, get up close with Tigers, have a picnic and even play zoo keeper for a day.
Continuing back on the road to Wollongong, we often take a rest stop at Bald Hill, a well renown favourite spot for Hang Gliders from all around the world. There is something rather exhilarating about watching them glide through the air and you'll be hard pressed to find a child who isn't memorized by it, and the spectacular beach views! But of course, the true famous component of this trip in recent years is driving over the majestic Sea Cliff bridge, which has been designed to project out over the ocean giving you the sense of floating on water. We love this part of the journey. You can actually stop in the special parking areas and take some mighty Instagram worthy photos or simply follow on for da Gong.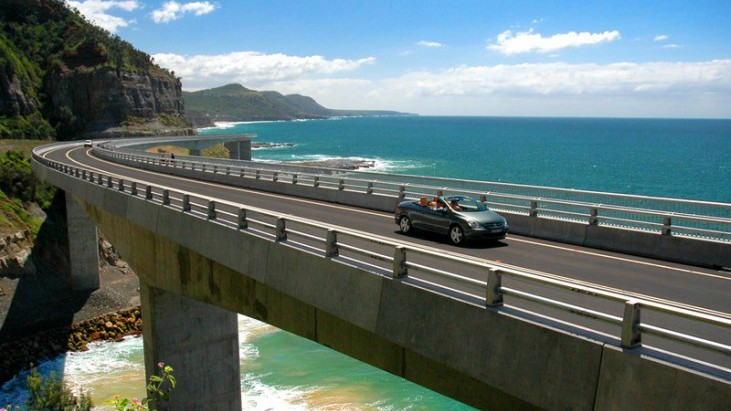 Jamberoo Action Park
Just 20 minutes south of Wollongong you can slide into all the water park action you need! This season the park is boasting a trilogy of tube rides – all with an element of darkness, anticipation, enhanced thrills and excitement! The Perfect Storm, The Funnel Web and The Taipan - all as hair raising as they sound. For little ones there is plenty of action too with Banjo's Billabong – the largest aqua play structure built in the southern hemisphere with over 200 water cannons, cranks, and sprays, six water slides across 4 storeys all drenched by 2 huge buckets that tip 1800litres over the structure every few minutes. Admission into the Park covers all rides and attractions and parking is free so what are you waiting for? More details about Jamberoo here.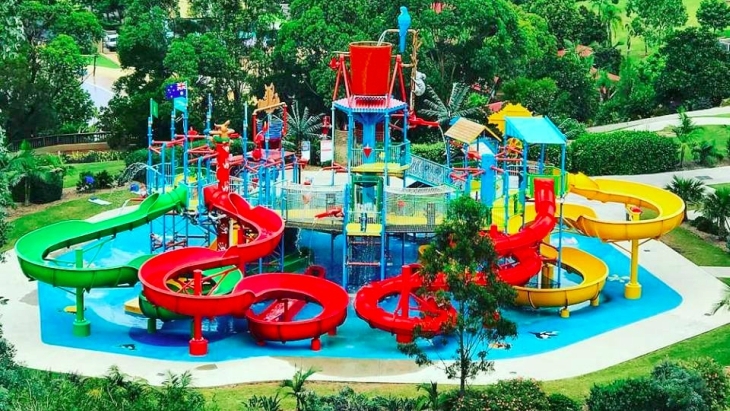 Illawarra Fly
Illawarra Fly is one of our favourite outdoor family adventures. It is situated a short 45 minutes drive south of Wollongong and features The Treetop Walk and Zipline experience, which is officially the highest Zipline Tour in Australia.
After completing the Treetop Walk, newly appointed junior rangers (and their parents!) can satisfy their need for speed by completing the attraction's high flying Zipline Tour! Or for the more daring rangers, experience the After Dark Zipline Tour where the adrenaline gets pumping as you zoom between the illuminated trees of the mystical rainforest.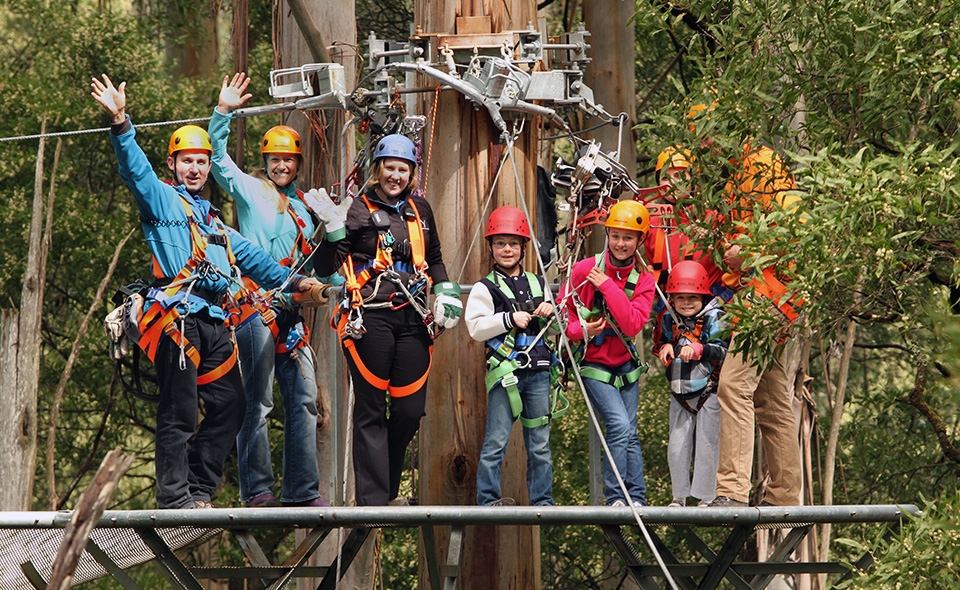 The Treetop Walk is a 1.5km return walk in the native rainforest. Positioned 710 metres above sea level, the spectacular panoramic views are of the rainforest canopy and all the way out to the Pacific Ocean.
The Zipline Tour consists of a series of cable spans and suspension bridges up to 35 metres above the forest floor. Experienced guides control all departures and arrivals whilst providing adventurers with an insight into the forest's history and its features with truly unparalleled views.
More Details about Illawarra Fly.
Science Space (Science Centre and Planetarium)
Sticking with the hands-on learning theme, the Science Centre is the largest hands-on science learning facility in the state. They are constantly updating their exhibitions and cater to children of all ages, with over 100 of them, spread across two floors on dinosaurs, fossils, illusions, motors and electricity, and more.
Explore the stars and constellations in the Planetarium, also the largest in NSW. Little (and not so little) minds will be captivated as you experience full-dome immersive shows and learn about topics such as the universe, the evolution of life and the night sky.
Where: Science Space is located on the University of Wollongong's Innovation Campus, at 60 Squires Way, North Wollongong.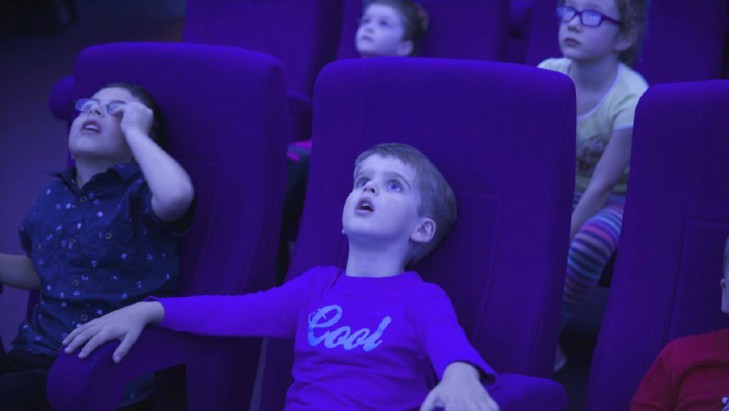 Wollongong Botanic Gardens
I really heart these gardens but then again, I am a fan of the great outdoors and beautiful spaces that have well thought out programs for kids to also enhanced the same love. Garden Storytime (for pre-schoolers) is held here every Friday between 10-11am. It's a delightful hour of singing, stories and rhymes under the trees. They also hold Ranger birthday parties, have a amaze for 2-12 year olds, a duck feeding pond, an all abilities Playground that includes swings, a sandpit, slippery dip, climbing net, a viewing platform, guided tours, sunset cinema screenings, theatre, workshops and of course, don't forget to take the time to simply stop and smell the roses.
Where: Murphys Avenue, Keiraville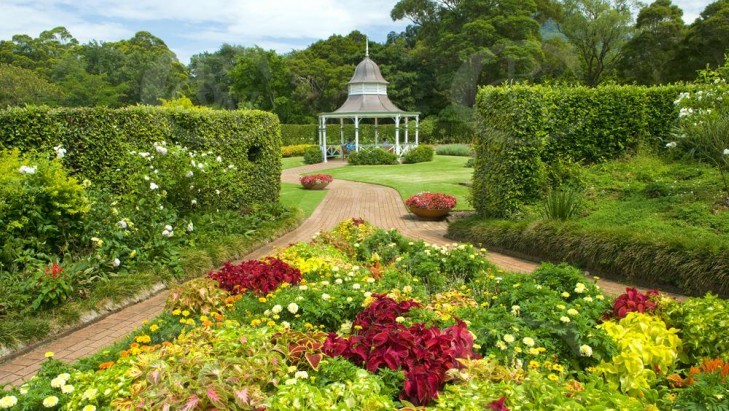 Image: Owen Wilson
Symbio
Just 45 minutes south of Sydney on the way to Wollongong in a beautiful natural bushland setting, you'll find Symbio Wildlife Park, a smaller, more intimate zoo experience. Animal highlights include getting up close and personal with their wallabies, red pandas, lemurs, meerkats, reptiles and koalas. Make sure you check out their daily keeper presentations and feeding times at various animal enclosures.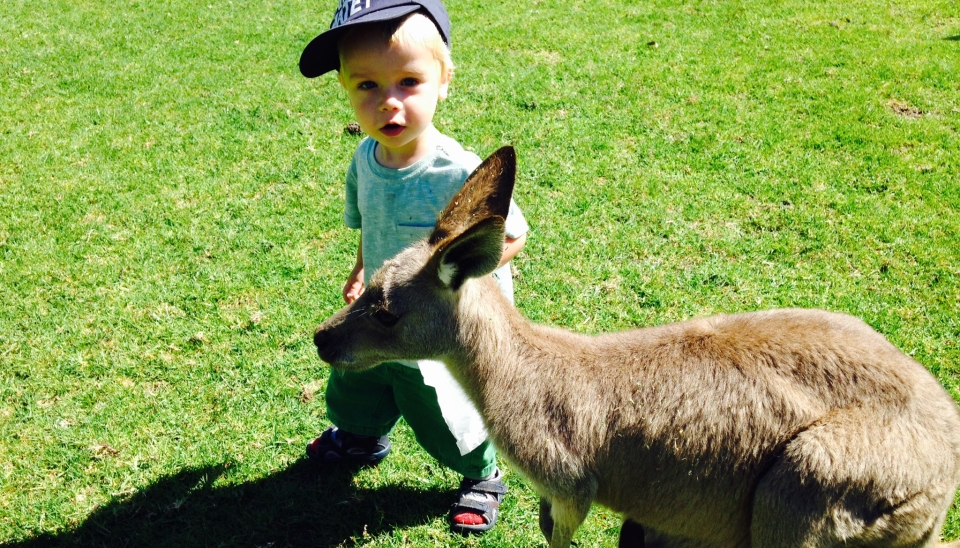 The Beach
Naturally, you can't visit The Gong without having a swim in one of the many beautiful beaches. And like any beach in Australia, please be sure to keep you and your kids safe. There are many terrific rock pools to paddle in but most are NOT patrolled by lifeguards, so thanks to the visit Wollongong website, here's a list, from north to south, of the 17 patrolled beaches in the area:
Stanwell Park - access via Lower Coast Road
Coalcliff - access via Lawrence Hargrave Drive
Scarborough/Wombarra - access via Monash Street
Coledale - access via Lawrence Hargrave Drive
Austinmer - access via Lawrence Hargrave Drive
Thirroul - access via The Esplanade
Sandon Point - Access via Point Street
Bulli - access via Farrell Road
Woonona - access via Kurraba Road
Bellambi - access via Morgan Place
Corrimal - access via Lake Parade
Towradgi - access via Murranar Road
Fairy Meadow - access via Elliotts Road
North Wollongong - access via Cliff Road - patrolled all year
Wollongong City - access via Marine Drive
Port Kembla - access via Olympic Boulevard
Windang - access via Fern Street
Image: Visit Wollongong
Hangdog Climbing Gym
According to their website, it's the perfect opportunity for your child to improve their climbing, learn skills and meet other climbers. Just looking at this site, the place does look amazing for those energetic bodies who love to climb and explore! Sessions are run on Monday and Thursday afternoons during school term and they have 3 types of programs: Tiny Paws (ages 5-6), Pebble Pups (ages 7-11)and Rock Dogs (ages 12-17). Be sure to check their website for more details.
Where: 130 Auburn St Wollongong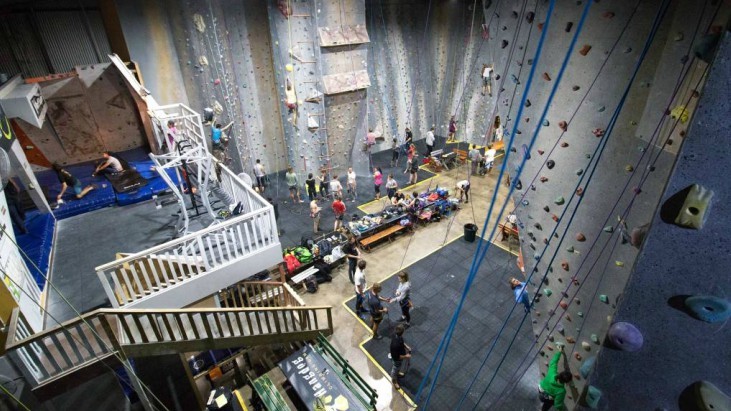 Image: Hangdog website
Flip Out World
I'm not sure if this place got its name for the activities within it or because of what it saves caregivers from essentially doing if they stayed indoors with their kids for much longer...
Located in North Wollongong, Flip Out World is an indoor trampoline arena offering some uniquely different experiences: After Dark Parties Friday & Live DJ Saturday Nights, Little Ninja's & Adult Classes, Pinball Trampoline (A Flip Out 1st in Australia), Junior Arena for under 10's including Foam Pit and more. Prices start from $10 for 30mins.
Where: 1/20 Ralph Black Drive, North Wollongong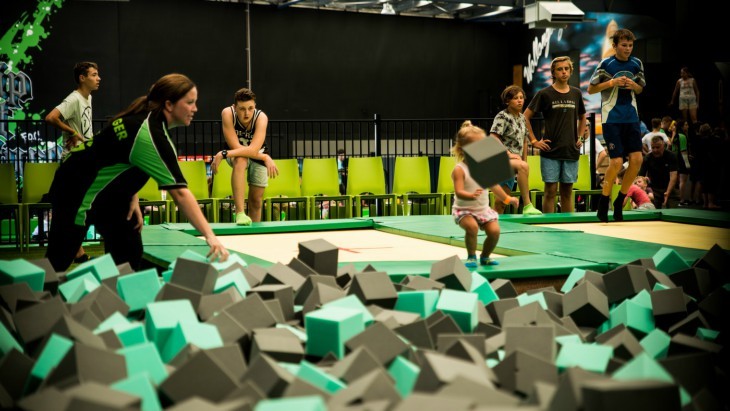 Image: Flipout World website
Hangtime Trampoline Park
Not to be confused with the above, Hangtime Trampoline Park places a stronger emphasis on fitness, movement and developing skills. They claim to offer something for all ages. With wall to wall trampolines, dodgeball competitions, a foam pit, performance walls, slam dunk, skills and fitness classes. Monday and Tuesday is Family Hangtime from 10am to 4.30pm (This is just for the younger ones – Under 110cm). They are an Australian Trampoline Parks Association compliant member and are serious about safety and health.
Where: Unit 3, Lot 2 Drummond Street Wollongong
Inflatable World
The biggest indoor inflatable playground in Australia, every kid on the planet is going to love this Inflatable World Wollongong. It's all about having fun for the whole family as adults are encouraged to join in – finally, we don't have to "pretend" our kid is stuck WOOT WOOT. Sessions are for two hours per single entry fee and you can play on the inflatable activities as many times as you like during the session. Just remember to pack your socks.
Where: 69 Montague Street North Wollongong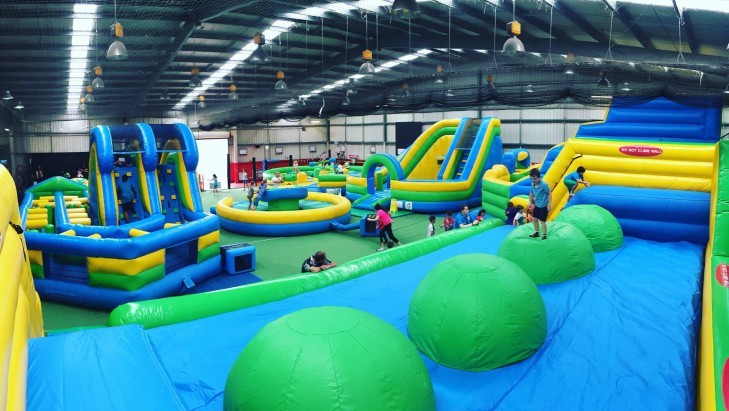 Where To Stay
If a day trip isn't enough, we recommend the Novotel Wollongong Northbeach. It's literally footsteps away from the pristine beach which goes on forever.

You might even get some cockatoos visiting for breakfast on your balcony! Little ones will also enjoy playing in the kids' corner packed with toys and an X-box. There is also a swimming pool, spa and gym. The hotel is offering a special Family Fun Package so Book Your Weekender Now!
Have you signed up to our newsletter? Join ellaslist to get the best family and kid-friendly events, venues, classes and things to do NEAR YOU!

Reviews
Fantastic site. Looking for something as a treat for an 11 year old. Don't know which one to use first. Thank you.