The Best Sydney Streets To See Christmas Lights - 2018
By: ellaslist team
Nov 28, 2018
Light up your Christmas night with these amazing Christmas displays in your suburb. You don't have to search far to see a festive light display, although some of them are worth travelling to see! Please let us know if there's a magical light display in your street.
Eastern Suburbs
North Bondi: At 5 Waratah Street the lights go on each night from 7.30pm, and they're raising money for CareFlight.
Bondi: If you head to Avoca Street, you'll find an entire street full of Christmas lights! Last year there were around 50 houses that participated, so this year is sure to be a spectacle. (See pic below).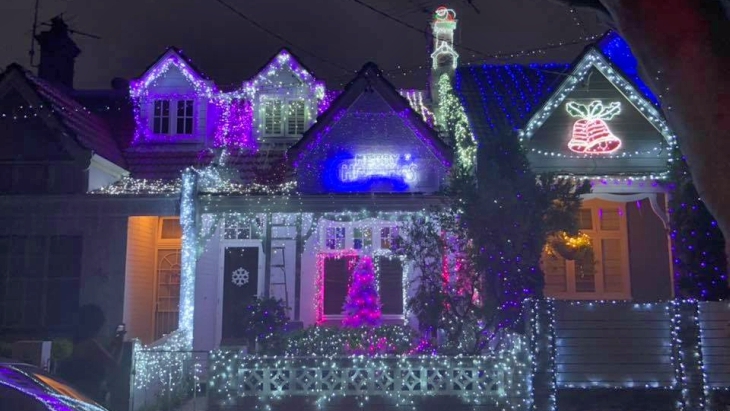 Clovelly: 71 Arden Street has their lights on until late into the night, with reindeers!
Bondi Junction: Denison Street
Mascot: Coward Street, Alfred Street and David Street. Number 15 David Street has an awesome display and inflatable decorations.
Randwick: Frederick Street is narrow & quiet, and goes all out! Families can be found walking up and down checking out all the cool ornaments as house residents have dinner on their front lawns.
Matraville: Barwon Crescent, Larose Street, Gwydir Avenue, Knowles Street, Flanders Avenue and Franklin Street have some big, spectacularly lit-up homes.

Image via Sydney Morning Herald
Greater West
St Clair: Benaud Street has a beautiful story behind it: a wonderful lady named Mona puts on a Christmas lights display every Christmas with her husband and family, attracting people from all over Sydney. Back in 2015, she broke her back and learned that she has cancer. She was receiving chemotherapy in 2016 and trying her best to stay positive. She was in a lot of pain but she's still spent months preparing the Christmas display to bring joy to children and to keep the spirit of Christmas alive. Hopefully she'll be feeling well enough in 2017 to put on another spectacular display: please visit these amazing lights and the beautiful soul behind it.
Glenmore Park: Two neighbours on Troon Court, Glenmore Park have put up a fantastic display with tons of lights, inflatables and lasers. See pic below from ellaslist reader, Karen. This year they are collecting donations for Lights For Kids.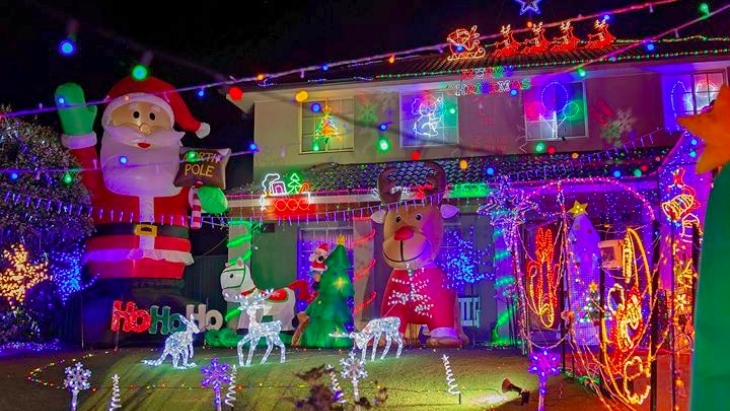 Greystanes: On Camellia Street Patricia and George Coleman have been putting on a wonderful display for over 30 years incuding light up decorations on the roof, a boat full of Christmas characters, more than 30 reindeers and a front window display of a Christmas village (see image above).
Quakers Hill: 7 Mallee St is decked out in splendour!
Guilford: Strickland Road has several houses decorated with magnificent lights. Also Vulcan Street!
Erskine Park: You can walk into this one and hop into a sleigh! Check out 74 Warbler Street.
Chipping Norton: Faversham Crescent. Amazing lights display set to music, a snow machine, plus they are raising funds for Sydney Children's Hospital.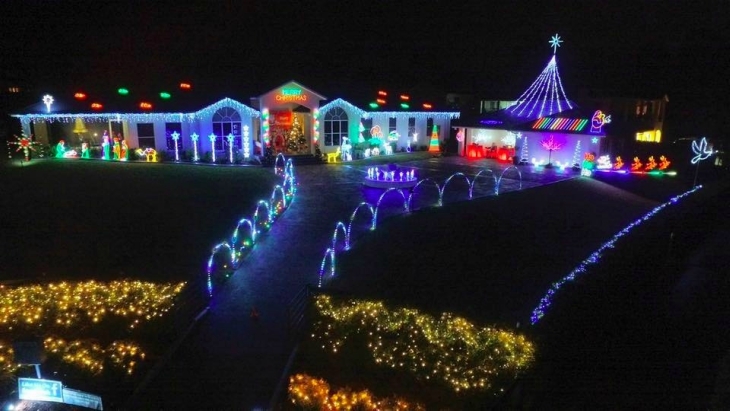 Inner West
Concord: There's one family at 191 Burwood Rd that have been displaying Christmas lights for over 20 years. With over 100 000 LED lights synchronised to 5 different songs kids and adults will be amazed.
Birchgrove: The incredible decorations of 48 Cameron St will be on from the 1st December until 6th January, 8:30PM until 11:30PM.
Ashbury: Second Street
Lilyfield: 176 Lilyfield Road was our top pick for Christmas lights in 2016. Unfortunately the owners have had some health issues which has put the light display on hiatus. However they have confirmed that next year (2019) they will be back and brighter than ever, so stay tuned for more. In case you are wondering why they are so amazing, in 2016 they averaged 1000 people per night checking out the 90,000 lights including working models of the Seven Dwarves, snow and a bubble machine. It took over 550 hours to prepare! In 2016, the display supported The Movement Sydney Homeless Outreach, so we can't love this house enough.

Image: Lilyfield Road, via Sydney Morning Herald
North Shore
Hornsby: Sydney Street, with more than 50 houses getting in the spirit from 8pm. Surrounding roads like Ulolo Avenue are worth checking out too.
Lane Cove: The Light Up Lane Cove Competition says it all- definitely check out Sutherland Street and Barina Street.
West Pennant Hills: 77 Westmore Drive will be decked out until January. They also raised money for The Cancer Council in 2016, so might be supporting another worthy charity in 2017.
Cremorne: The lights on Rangers Road are phenomenal.
Willoughby: First, Second, Third and Fourth Avenues in Willoughby are all going off with festive fun.
Asquith: Synchronised lights to music with 5 metre mega trees at 28 Lockwood Street.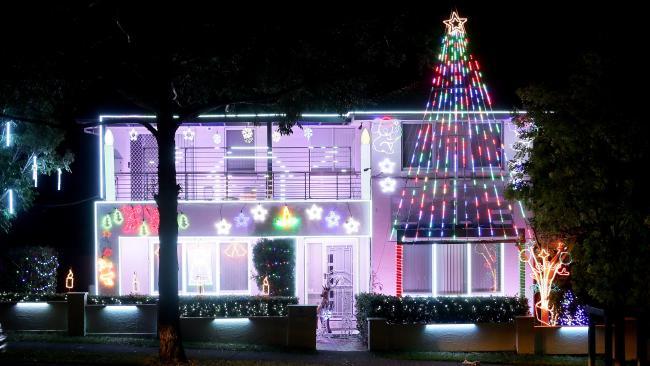 North West
Stanhope Gardens: Tilbury Avenue is off the hook this year! One family has put on a display with 12,000 lights that put on a musical show timed to songs like a Star Wars medley and Hallelujah (see pic above).
Baulkham Hills: Marcel Place have Santa coming on Saturday 23rd December from 7:30pm. There will be a sausage sizzle to raise money for the Westmead Children's hospital and live Christmas Carols! Also, at 2C Hilda Road there is a huge display raising money for the children's hospital.
Westleigh: Quarter Sessions Road.

Kellyville: Down on 76 Arnold Avenue Kellyville you'll see an impressive display from 7:30pm, and 44 Mawarra Crescent has a gorgeous themed display and a few inflatable decorations too. Also 6 Litchfield Avenue Kellyville has lights and music for extra festive cheer!
Castle Hill: 136 Excelsior Avenue has over 7000 lights that will be on from 8pm until 10:30pm.
Thornleigh: Check out Oakleigh Avenue- you can't miss the 3 houses side by side that get crazily into the spirit, Check out Paling Street too.
Glenhaven: 24 Mills Road has an eye-watering display until 30th December.
North Ryde: Chauvel Street gets into the spirit, and Queen Elsa is known to make several appearances along the street from 8-10pm! If Elsa can't get away from Arendelle, there will be Frozen karaoke for your to enjoy instead. Check out their Facebook page for nightly updates.
Lindfield: 22 Bradfield Road is definitely worth a visit: great lights and fantastic music to go with it using Light-O-Rama software and computer equipment broadcasting music to FM 91.1. Awesome!
Northmead: 45 Grasmere Road and Dorset Avenue.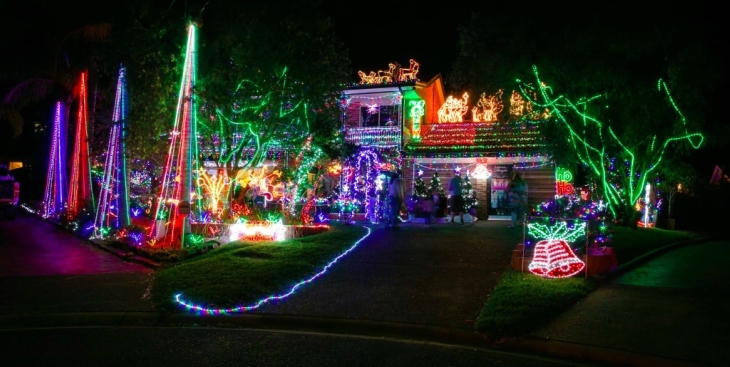 Northern Beaches
Davidson: 10 Cambage Court Davidson has a phenomenal display with the entire garden covered with Christmas lights. Expect over 100,000 Christmas Lights, Front and Backyard display, 3 window displays, Carols, BBQs and Santa. Starting November 30 at 10 Cambage Court Davidson. In Support of Red Nose, Cure Brain Cancer Foundation and the Humpty Dumpty Foundation. If you would like to enter the charity raffle you can go into the draw to win a holiday in Nelson Bay (2 nights for 4 people) and loads of other amazing prizes.
2018: Display times
30th November - 13th December 8pm - 10:30pm
14th – 27th December 7:30 pm - 11:00 pm
28th December – 31st December 8:00 pm - 10:00 pm
*above times are confirmed unless the weather is adverse
While in Davidson, check out Borgnis Street , there are some amazing houses on this street who are raising money for Bear Cottage.
Beacon Hill: 12 Egan Place have their decorations on throughout December. Check out their Winter Wonderland theme with a virtual Santa in the front window.
Freshwater: Coles Road- a sight to behold!
Belrose: Synchronised lights to music with 5 metre mega trees at 36 Childs Circuit.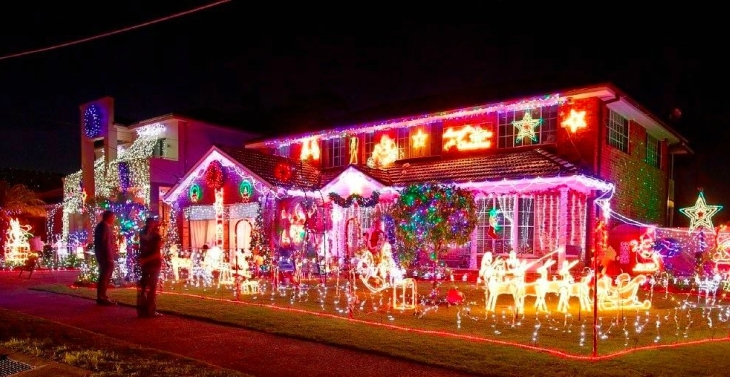 South Sydney/St George
Narwee: 4 Podmore Avenue has a gorgeous display with little Christmas lights-deers and a tree.
Carlton: Jubilee Avenue has Santa with Kangaroos and other awesome light displays!
Kogarah: Don't miss the display at 3 Souter Street It will be on from 1st December until 3rd January, 8pm until 10pm. Also check out Madrers Avenue (especially number 36)- they have over 50,000 lights, 2 window displays, a singing Bear, Reindeer there's lots to ogle at here!
Barden Ridge: Dalrymple Place
Sutherland Shire
Engadine: 131 Ridge Road is covered from top to bottom in lights.
Sutherland: 13/50 Glencoe Street has a stunning display that you just can't miss, and 9 Aldgate Street is pretty much glowing!

Menai: 42 The Woods Circuit is shining with its colour coordinated lights and rooftop decors.
South West
Roselands: The good people at 124 Karne Street got into the Christmas spirit by raising money for the children hospital at Westmead. This year there is a 3 metre high Teddy Bear, ice-cream truck, entertainment and they even sell goodies for your children with all of the proceeds going directly to the children's hospital.
The Cascades: In Mount Annan, you'll be blown away by all the colours and lights, especially number 77 where kids are known to take a photo with Santa on a motorbike! We hope they put up the snow machine again at the Chain-O-Ponds Circuit.
Padstow Heights: Carter Street there's a house which is decorated outside and you can visit the ground floor inside for viewing too.
Know a great house or street in Sydney that outs on a show during Christmas? Have an update to make to our list? We want to know! Comment on here or through Facebook.
More Festive Fun
Have you signed up to our newsletter? Join ellaslist to get the best family and kid-friendly events, venues, classes and things to do NEAR YOU!
Reviews
Hi - we run a "Dual home" to Music display in Chipping Norton set to Music. Very popular. 12-14 faversham Crescent Chipping Norton We also fund raise for the Westmead and Randwick Kids Hospitals eachyear. Please either visit us or visit these links below. https://www.lightsforkids.org.au/chippo-lights https://www.facebook.com/ChippingNortonChristmasLights
Love the 124 Karne Street Roselands wow that is amazing
22 Bradfield Rd, Lindfield 2070; definitely worth a visit if it's not out of your way! Great lights and fantastic music to go with it on their radio station!
If you're in the Blue Mountains there are a few places that decorate in Mt Victoria, Blackhealth etc. But the cream of the crop is (and has been for over 15 years) "1 Scott Ave Leura". Their efforts delight mountains residents every year.
Jubilee Ave, Carlton, NSW Have cartoon and snow with Christmas lights, Santa with kangaroo idea so special
Hi Ella Queen Elsa here. Just letting you know I will be making several appearances in Schumack St, North Ryde in 2016. I will be singing between 8-10pm most nights, however if I cannot get away from Arendelle there will be Frozen Karaoke. You can visit our face book page for daily updates: https://www.facebook.com/elsaschrismaslightsschumackstnthryde/. Look forward to seeing you. Elsa