The Best Sydney Streets to See Christmas Lights 2021
All Ages
Mums & Bubs
Toddlers
Preschoolers
Kids
Teens
Family

---
Paddington's Postcards by UNICEF are the Christmas gift that keeps on giving. Your child will receive a fun package from Paddington Bear every month while helping children across the globe. It's the feel-good gift of the festive season. Sign up now!
---
**Please note that these listings are correct at the time of publishing and are subject to change. Please be respectful when visiting houses with Christmas lights and maintain safe social distancing rules.**
See your kids' faces light up by checking out some of your local Chrstmas light displays—a magical (and affordable!) way of getting the whole family in the festive spirit this year. These Sydney streets are some of the best to make a beeline for; renowned for their epic (and we mean, epic) Christmas light displays.
Where to see Christmas Lights in Sydney
Eastern Suburbs
Bondi and North Bondi
5 Waratah Street: the lights usually go on each night from 7.30 pm and boast music, moving features, inflatables and more. This gorgeous house is known for raising money for CareFlight, so don't forget to ask about donations.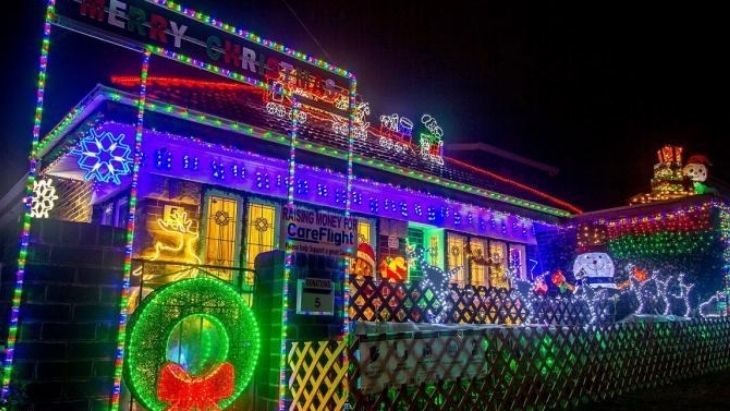 Randwick
Frederick Street: narrow and quiet, Frederick Street goes all out! Families can be found walking up and down checking out all the cool ornaments as house residents have dinner on their front lawns.
11 Dangar Street: this beautiful house display is just in front of the Dangar St playground and is a firm favourite among locals.
Maroubra
696 Malabar Road: a gorgeous display that kids will love, this house often boasts a decorated roof, window display and more!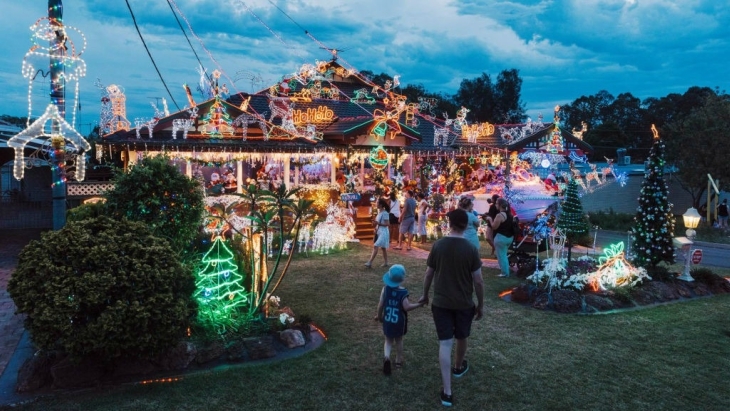 Greater West
St Clair
Benaud Street: This beautiful family have been putting up incredible lights for years, and this year they won't be holding back with their twinkly lights display to honour a wonderful lady named Mona who sadly passed away from cancer.
64 Chatsworth Road: a gorgeous display that will get everyone in the festive spirit!

Winston Hills
Caledonian Avenue: often decked to the halls, this display is not to be missed on any tour de Christmas lights in the West!
Guildford
Vulcan Street: this small cul-de-sac street really gets in the festive spirit.
8 O'Neill Street: Lights are on from 8.30 pm until 11.30 pm every night from the 1st of December until the 4th of January. The 7 Minute Music-Synchronised Show occurs every hour, on the hour, 9, 10, and 11 pm.
Glenmore Park
3 and 4 Troon Court: you'll find a fantastic display with tons of lights, inflatables and lasers.
60 Kiber Drive: this epic display features projections and lasers, inflatables, a decorated roof and plenty more.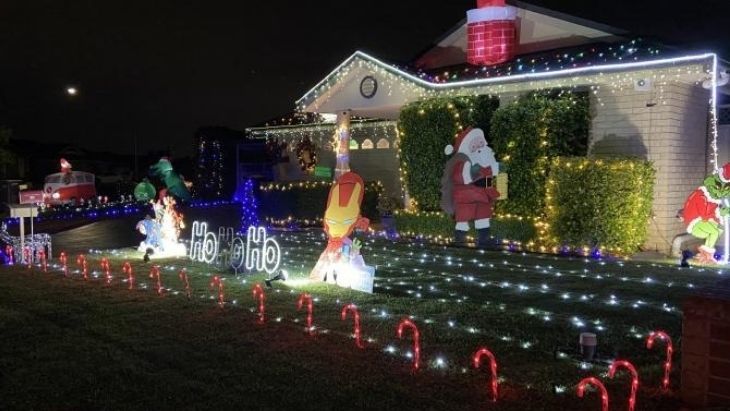 Quakers Hill
Errol Place: this Cul de Sac boasts numerous houses that are bursting with Christmas cheer!
2 Keon Place: this huge display boasts 5000 lights synchronised to music, motifs, fairy lights, rope lights and inflatables plus Santa stuck in the chimney, kicking his legs!
7 Mallee Street: are definitely popping up the lights for 2021 and will be decked out in splendour!
Erskine Park
15 Pegasus Street: plenty of flashing lights bring a whole lot of Christmas cheer!
Colyton
12 Carpenter Street: unconfirmed for 2021 so far but last year's display boasted a Santa sleigh and snowman for kids to get photos. There was also a Christmas cake stall every night!
Merrylands
75 and 77 Clarence Street: The good folks over on Clarence Street are not only putting on a dazzling display of Christmas light this year but also are raising money for the Children's Hospital while they're at it!
Werrington
Make sure you go for a wander to 41 Armstein Crescent to see suburb Christmas lights with inflatables, lasers, projections, statues and more! Their lights will be on from 7.30 pm to 11 pm until 25 December.
Birrong
17 Stephenson Street: Come along and see a massive lights display plus enjoy a BBQ every Saturday for all to enjoy! The festivities start at 6.30 pm.
Moorebank
91 Hennessy Avenue: These folks know how to put on a good show and even have a Facebook page dedicated to their impressive display that is raising money for Liverpool Hospital NICU. Come along and see lights synced to music and snow on the weekends!
76-78 Nuwarra Road: A Christmas village, letters to Santa, twinkly lights, an eight-metre high inflatable Santa and plenty more will be on display at this block of townhouses.
Blacktown
4 Irelands Road: Check out Santa, his reindeer, snowmen, inflatable Kombis and plenty of twinkly lights at this festive address.
Inner West
Concord
191 Burwood Road: this family have been displaying Christmas lights for over 20 years. With over 100,000 LED lights synchronised to 5 different songs, kids and adults alike are sure to be amazed.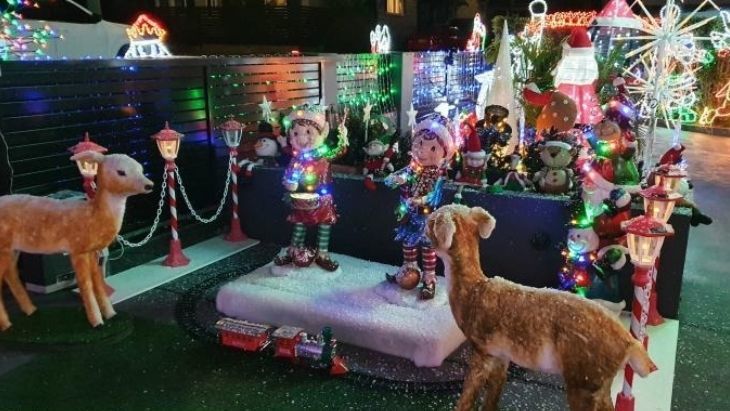 Tempe
7 South Street: these guys aren't holding back with their massive 2021 lights display - make sure you add them to your list!
Ashbury
Second Street: if you want a whole-street extravaganza, this one is for you!
North Shore
Hornsby Heights
Sydney Road: with more than 50 houses getting in the spirit from 8 pm—a visit to Sydney Street is a must on any Christmas lights tour!
Lane Cove
53 Garling Street: this bright, colourful display promises lots of twinkly Christmas cheer!
Kinsellas Drive, Lane Cove North: This festive street won the Best Christmas Lights Street in 2019 and is set to deck out all their houses in bigger and brighter lights in 2021! Head over from 12 December to see multiple houses lit up for the world to see.
West Pennant Hills
77 Westmore Drive: this show-stopper display is unconfirmed for 2021 but they usually raise money for Cancer Council, so fingers crossed they're back at it again in 2021!
Willoughby
First, Second, Third and Fourth Avenues in Willoughby are all going off with festive fun.
Asquith
28 Lockwood Street: Synchronised lights to music with 5-metre mega trees are the order of the day here!
Lindfield
22 Bradfield Road: this house is definitely worth a visit: great lights and fantastic music to go with it using Light-O-Rama software and computer equipment broadcasting music to FM 91.1. Awesome! (Note: display is currently unconfirmed for 2021.)
Thornleigh
Beresford Road: if the lights alone weren't enough to tempt you, a sausage sizzle van on this gorgeous street in Thornleigh just might!
51 Oakleigh Avenue is another one to add to your list.
North West Sydney
Westleigh
10 Tomah Place: often described as a gingerbread house, this display is said to be seen from outer space!
Kellyville
44 Mawarra Crescent: this house has a gorgeous themed display featuring inflatable decorations and is raising money for the Leukemia Foundation.
17 Womboyne Avenue: a festive stop-off on any Christmas lights tour!
10 Hector Court: this house has had its own Christmas village and a massive Christmas tree in previous years, though it is still unconfirmed for 2021.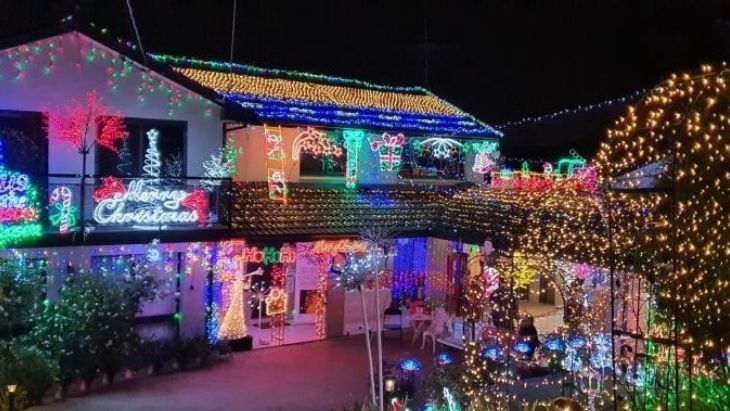 Castle Hill
136 Excelsior Avenue: a gorgeous display of over 25,000 lights!
Get ready for lasers, projections, a nativity scene and more at 34 Saint Pauls Avenue.
14 Murrumba Place: is joining in the spirit with a massive lights display.
Glenhaven
24 Mills Road: this house often has an epic display but is not yet confirmed for 2021.
North Ryde
Chauvel Street: the whole gang usually gets into the Christmas spirit on this gorgeous street, but displays are currently unconfirmed for 2021.
Putney
Gregory Street: has awesome displays throughout the festive period and Mr Whippy even makes an appearance on most nights!
Northmead
Dorset Avenue: a true gem of the area, this display is well worth getting out of your car for! Not yet confirmed for 2021.
Carlingford
12 Watton Road: will have their lights turned on to get everyone in the festive spirit!
Northern Beaches
Beacon Hill
12 Egan Place: this house usually has decorations on throughout December.
Belrose
36 Childs Cct: a little birdy told us that number 36 are going all out this year with Christmas lights synced to music, signing light bulbs, a mega tree with over 4,000 lights on it and more! The lovely residents will also be collecting donations for charity.
Freshwater
Coles Road: unconfirmed for 2021 but usually a real sight to behold!
Ingleside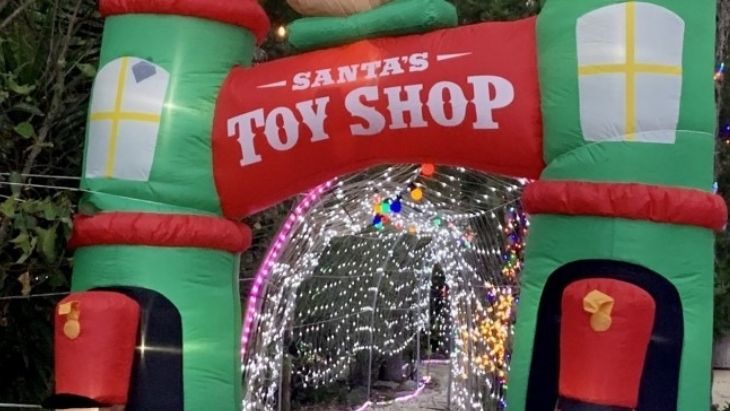 4 Ingleside Road: One of the biggest Christmas lights displays on the Nothern Beaches (including a walk-through light tunnel!) is at 4 Ingleside Road.
Elanora Heights
Kalang Road & Anana Road: The good folk in Elanora Heights love a celebration and there are houses dotted throughout Elanora Heights along Kalang, Anana and St Andrews Gate with sparkly lights.
Outer Northern Sydney
Berowra
25A Richards Close is coming alive this year with their lighting displays all synced to music!
South Sydney/St George
Narwee
5 Ventura Avenue: this epic display boasts plenty of characters that young ones will recognise, as well as thousands of lights and plenty more.
Carlton
Jubilee Avenue: this display had a Santa with Kangaroos and other awesome light displays last year so fingers crossed they get in the spirit this year!
South Hurstville
29 Grosvenor Road: as well as offering a great display, this house is known for raising money for the kids at Starlight. This year they are also hosting weekend movie nights for families from 7 pm to 10 pm.
Kogarah
Madrers Avenue: (especially number 361) they have over 50,000 lights, two window displays, a singing bear and reindeer—rest assured there are lots to ogle at here! Currently unconfirmed for 2021.
Mortdale
If you can only make it to one street this year, Kemp Street in Mortdale will have a number of houses glittered with magical lights.
Connells Point
47 Homedale Crescent are going big this year with their 2021 Christmas lights display.
Sutherland Shire
Engadine
131 Ridge Road: this house is usually covered from top to bottom in lights! Currently unconfirmed for 2021 but here's hoping...
Gamenya Place: really embracing the Christmas spirit, we can't recommend a visit here enough!
Alfords Point
7 Scribbly Gum Place will be lit up in all its glory from 1 to 31 December 2021. Along with all the usual Christmas lights, this Scribbly Gum highlight will have a synchronised music and lights show every night from 8 am to 9 pm. Check out more on their Facebook page.
Sutherland
9 Aldgate Street: not yet confirmed for 2021 but if it goes ahead—this one is not to be missed! Think Santas, reindeer and candy canes—and most importantly, raising money for the Sydney Children's Hospital.
Miranda
59 Kareena Road: this gorgeous display features roof and wall trees covered in lights. A 5m Santa and 5m reindeer also make an appearance, with Christmas carols playing in the background. How festive!
Taren Point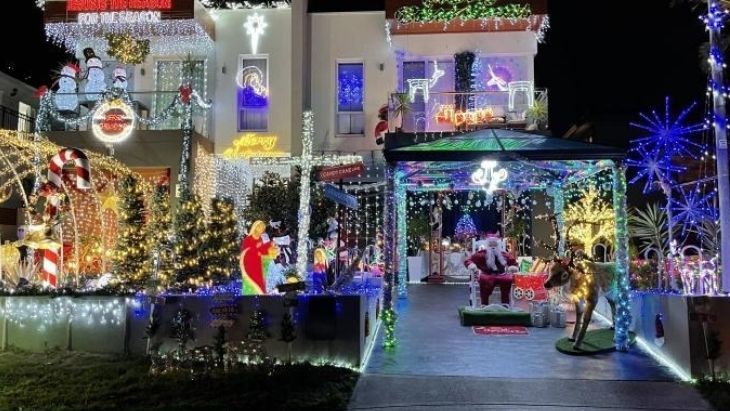 162 Holt Road: boasting a snow pool, life-size reindeer, rocking Santa and plenty of photo opportunities, this one is not to be missed!
Kirrawee
Forest Road: fun and festivities for all await at this gorgeous lights display!
Bilga Street: another Kirrawee gem where the whole street gets involved in putting on a show for locals and visitors alike.
Orana Avenue: while you're in the area, Orana Avenue is another must-visit.
6 Hotham Road: there are six townhouses in a row all lit up for Sydney families this year!
Barden Ridge
Mosman Place: festive cheer abounds in this little spot—twinkly lights, characters, inflatables and more!
South West Sydney
Mount Annan
13 Caley Way: this whole house lit up will light up the faces of everyone who sees it!
8 Lochview Crescent: with plenty of lights and synchronised Christmas music, this display is full of festive fun.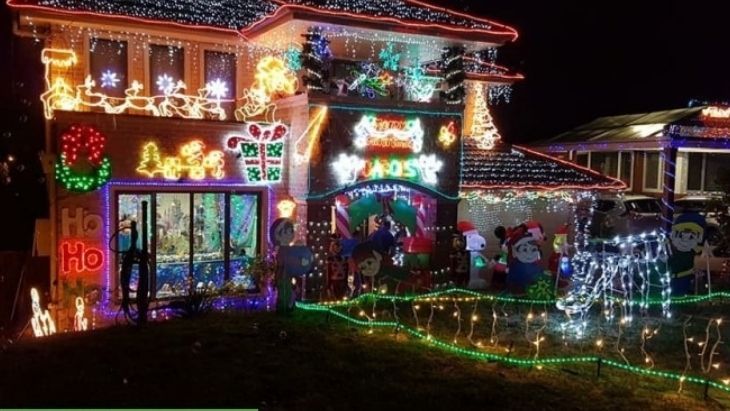 Padstow
81 Chamberlain Road is a must-see this year! Along with putting up spectacular lights, this family is also raising money for brain cancer.
79 Virginius Street will also be putting on an epic lights display right up until New Year's Eve!
Padstow Heights
6 Carter Crescent: Confirmed for 2021, this full light display has plenty to look at including front window display, reindeer, blowups, Santa and elf cut-outs and many trains!
Gledswood Hill
For award-winning Christmas lights, head to Walseley Crescent for something truly spectacular. Walseley Crescent has won the Camden Council's best Christmas lights for a street for 2 years running and is set to be even bigger and better this year. We can't wait!
Oran Park
South Circuit: this must-visit street will have eight houses aglow with Christmas light displays. Find out more about South Circuit Christmas Lights.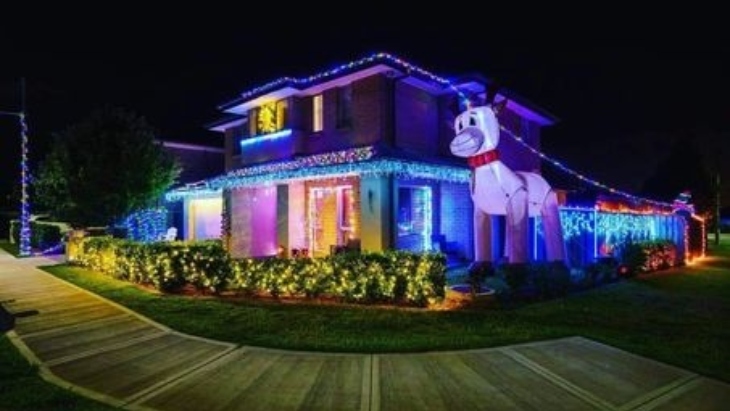 11 Debenham Street: this house raises much-needed funds for the Sydney Children's Hospital and Westmead Children's Hospital. Well worth a visit!
Punchbowl
7 Carisbrook Avenue: this house will really wow your socks off. The whole house is usually covered in twinkly lights and complete with a festive showstopper: a 7 metre Christmas tree made entirely of lights! Currently unconfirmed for 2021.
Roselands
Ok, this house is epic! 60 Payten Avenue will be putting on a mega 3-storey display from 6 pm to 11 pm until 6 January. Not to be missed!

Further Afield
Head to the Hunter Valley for the Southern hemisphere's largest lights display, Christmas Lights Spectacular will be spreading holiday magic to families and friends from 5 November 2021 until 26 January 2022 (see pic above). This year, Hunter Valley Gardens will dazzle guests with stunning lights like never before with a series of newly created immersive displays. Find out more about the Hunter Valley Christmas Lights Spectacular here.
Know a great house or street in Sydney that puts on a show during Christmas? Have an update to make to our list? We want to know! Comment on here or through Facebook.
More Festive Fun
Where To Go For An Awesome Santa Photo
Sydney's Top Christmas Events
Have you signed up to our newsletter? Join ellaslist to get the best family and kid-friendly events, venues, classes and things to do NEAR YOU!
Reviews
Sydney Rd Hornsby Heights
this website calls the street (Sydney Street, Hornsby) but its' actually Sydney Road in Hornsby Heights. Many family's get heavily into the Christmas spirit there and it's so colorful and bright. some other the houses put up a 40 meter tunnel of lights for the kids to run through. Check them out.
6 Tilbury St, Stanhope Gardens had no lights up Add 7 Mallee Street, Quakers Hill to the list. It's the best we have ever seen by far. People seemed to spend a lot of time there because of how much there was to see, and do. The couple who live there spent 2-months putting everything up which included but was not limited to, a water fountain feature, reindeer and sleigh for families to sit in while getting photos, a massive Santa's workshop display, fake snow shooting from the roof, and heaps to look at and explore around the garden. This is our top recommendation
Don't waste your time at Rosalie crs Greenacre. Crappy displays and only 3 out of 12 houses have lights. There is also a grumpy man that will tell you off. Stay away is my recommendation
14 murrumba place castle hill 2154 has a awesome massive light display too !
91 Hennessy Avenue, Moorebank NSW 2170 We have lights synced up to music playing throughout the night. Snow on Friday/Saturday/Sundays for the kiddies! We are raising money to donate to Liverpool Hospital NICU. More details on our Facebook Page- https://www.facebook.com/lightsonhennessy/
Christmas lights 6 townhouses 6 Hotham road Kirrawee beautiful displays also a few more houses in the street
You missed Gregory Street, Putney. Awesome display by many and Mr Whippy visits nightly.
Mallee st quakers hill confirmed
Belrose Absolutely spectacular display at 36 Child's Crt Belrose. All synced to music, signing light bulbs, mega tree with over 4,000 lights on it. Collecting money for charity too. Won't be dissapointed here. Confirmed by the owner for 2021 and says he is running it now until Christmas.
12 Watton road carlingford
just saw this display - Bishop St, Cabarita 2137 https://www.youtube.com/watch?v=l-9jErFD65Y&feature=youtu.be
https://www.facebook.com/Kvirlive/posts/2603879719872628
We'd like to throw our hat in the ring for some beautiful Christmas lights set on the State Heritage listed building in Randwick, The Lurline (211 Avoca St, Randwick). Some of the lights outside the building flash when a booking is made, as a percentage of each direct booking this December is going to the Light Up Xmas Appeal, supporting the Sydney Children's Hospital. The flashing lights signify the donation. Every booking in this difficult year has been vitally important in keeping our doors open and our staff employed. We'd like to give back this December, and thank the families who trust us to take care of them when they visit - often less than fortunate circumstances. We hope the lights bring joy to the community in what has been a tough year for many.
Fantastic light s on the sails of the opera house during the vivid party. No very xmassy though, more futuristic and alien like
25A Richards Close Berowra ... awesome display, synched to music. My friend spends all year designing and then making his displays for all to enjoy.
Amazing display on St. Paul's ave don't the the number to find out it's on Christmas light search then search castle hill second one thanks
81 Chamberlain Rd Padstow is a must see!!! They are raising funds for brain cancer research. Cure Brain Cancer Christmas Lights Appeal. Visit their facebook page for details https://www.google.com/url?sa=t&source=web&rct=j&url=https://m.facebook.com/pages/category/Local-Service/Cure-Brain-Cancer-Christmas-Light-Fundraiser-104154621502165/&ved=2ahUKEwjCxMKh2bvtAhUczTgGHffOA3QQFjACegQICBAC&usg=AOvVaw2qR0cxnjixARgOBtd6yUBd
77 and 75 Clarence Street Merrylands have a great display and they are also raising money for the children's hospital https://www.bandagedbear.org.au/fundraisers/ritadavino
For concord it's 191 Burwood road concord
Kemp Street in Mortdale 2223 has a few houses with spectacular Christmas Lights
Harrison Pl, Bonnet Bay, spectular
Hector Court is definitely worth stopping at, and I mean stop. Get out and check out the window at number 10 with a Christmas village with heaps of things to try and find. Be warned you may be there awhile! But not just the window there are great lights over 4 houses all in one place, look for the 10 metre Christmas's tree!
Our house is decked to the halls. The address is 5 caledonian Ave Winston Hills 2153
Don't forget to add strickland Road guildford. There are so many Christmas lights there that I am sure it can be seen from space
Mathews Place Menai and McKenzie Pl Menai are both worth a look
Hey, 136 Excelsior Avenue, Castle Hill has 25,000+ lights. #SofiasBattle
Every half hour from sunset to 10pm, at Jacaranda Square in Sydney Olympic Park, there is a magical light spectacular full of Christmas Magic, sure to entertain any age group! The production tells the story of Santa Claus as he travels around the World, bringing Christmas magic to multiple cities and regions, as he journeys to Sydney Olympic Park. This is happening every night up until 24 December. Each evening will see a variety of entertainment and activities, and Christmas Pop Up Stalls will be there nightly from 6th December. More info here: https://www.sydneyolympicpark.com.au/Whats-On/Family-and-Leisure/Christmas-in-the-Square
My name is Rob. I would like to list my house for the xmas light show 2019. I live at 7 Carrisbrook Avenue, Punchbowl 2196. My whole outside of my house usually get decorated with lights but for the first time i've constructed a 7 m xmas tree made from lights. The whole display will start from the 1st of Dec 2019. If you like to find out more information pls don't hesitate to touch bass with me on. M: 0410 979 979 Kind Regards. Rob El- Kahil
Amazing lights, Le Roux Christmas Lights , 39 Alice street Rooty hill - also registered for 'Lights For Kids' all money raised go to the lights for kids charity
Kimbar place yarrawarrah, every house is covered in lights .
60 Harris st Guildford have really nice lights each year
hello sydne's voted top 5 christmas lightshow as voted by the australia christmas lights search website in 2017 & 2018 and top 10 in 2016 is back in 2019 at 1 elm place constitution hill monday novermber 25th 2019 at 8pm and this year is our biggest and brightest show to date with new lights and displays and inflatables with our sydney harbour bridge and sydney tower returning with more lights the ever before on the Bridge we have our walk in area back and this year the tour around will be better with more to see with new snowy mountain we have christmas music from mid december mixed by the one and only santa G so come along and see one of the true best christmas shows in 2019 and vote each day at www.christmaslightsearch.com.au for 1 elm place constitution hill nsw
Hi - we run a "Dual home" to Music display in Chipping Norton set to Music. Very popular. 12-14 faversham Crescent Chipping Norton We also fund raise for the Westmead and Randwick Kids Hospitals eachyear. Please either visit us or visit these links below. https://www.lightsforkids.org.au/chippo-lights https://www.facebook.com/ChippingNortonChristmasLights
Love the 124 Karne Street Roselands wow that is amazing
22 Bradfield Rd, Lindfield 2070; definitely worth a visit if it's not out of your way! Great lights and fantastic music to go with it on their radio station!
If you're in the Blue Mountains there are a few places that decorate in Mt Victoria, Blackhealth etc. But the cream of the crop is (and has been for over 15 years) "1 Scott Ave Leura". Their efforts delight mountains residents every year.
Jubilee Ave, Carlton, NSW Have cartoon and snow with Christmas lights, Santa with kangaroo idea so special
Hi Ella Queen Elsa here. Just letting you know I will be making several appearances in Schumack St, North Ryde in 2016. I will be singing between 8-10pm most nights, however if I cannot get away from Arendelle there will be Frozen Karaoke. You can visit our face book page for daily updates: https://www.facebook.com/elsaschrismaslightsschumackstnthryde/. Look forward to seeing you. Elsa