Where to Take the Kids to Learn to Stand Up Paddle Board in Melbourne
Oh to float along the quiet river, taking in your marine surrounds, spotting a glimpse of life under the waves... we know, it sounds idyllic.
Stand Up Paddle Boarding is a fantastic way to get kids out on the water, and can be a much gentler introduction than surfing. All you need is a little balance!
We've scoured the beaches for you to find some of the best places to get the little ones some lessons around Melbourne and it's waterways - the family that paddles together stays together!
St Kilda Stand Up Paddle Boarding
Stand-Up Paddle Boarding might look easy, but learning correct technique is super-important.
At St Kilda Stand Up Paddle Boarding, the instructors ensure all participants achieve adequate knowledge enough for the kids to paddle on their own, and are conducted in a format that all family members can enjoy.
There are several lesson options to get you and your kids up and paddling quickly: group and private, which both run for 90 minutes. With private lessons you can fast track your learning and master advanced paddle strokes, learn how to carve up the bay or just feel safe with an instructor by your side while you learn to SUP.
Even better - Stand Up Paddle Boarding HQ guarantees to have you up standing by the end of your lesson or you SUP for free!
Private lessons include an eco tour, SUP Equipment (board, helmet, wetsuit, lifejacket, rash vest, paddle and leg rope) and even pictures of you SUPing!
Find it: Pier Rd, Melbourne
To book: Head here, or phone 0416 184 994
For more information: supb.com.au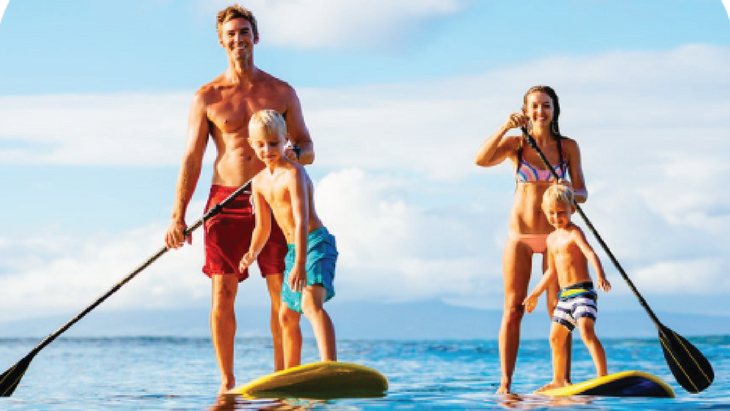 The Zu Boardsports
Lessons at The Zu Boardsports run for an hour and are available in both beginner and "progression" levels, also availalbe as private or in a group setting.
Learn about equipment, beach and water safety, correct posture and position, and basic paddle techniques. The next level also features equipment tailored to your skills, advanced balance skills/paddle/sroke technique, race turning, and tips on how to maximise glide and speed.
Each lesson also includes a St Kilda Paddle tour to see the local sights!progression
Find it: 330 Beaconsfield Pde St Kilda
To book: phone (03) 9525 5655
For more information: thezu.com.au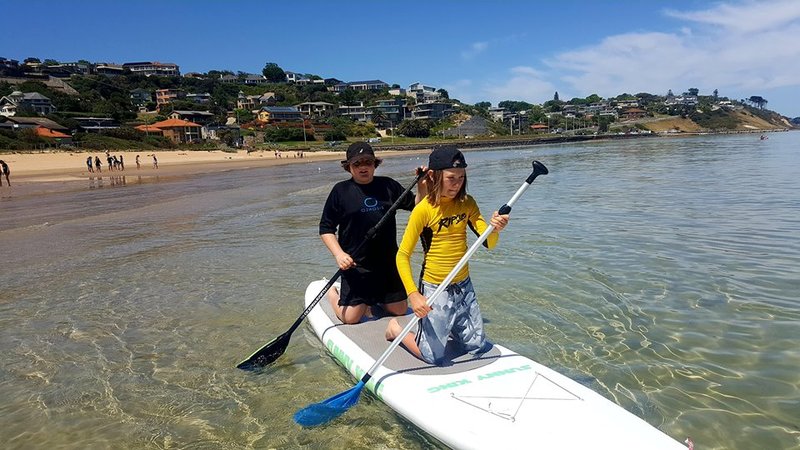 Sup-Fit
Sup-Fit might sound like it's full of exercise, but promises a paddle that's "relaxing, adventurous, fun and safe" - we can't argue with that!
SUP-FIT is the leading provider of SUP lessons on the Mornington Peninsula, and is the only school on the Mornington Peninsula with accreditation from both Surfing Australia and the Academy of Surfing Instructors. All their teachers are experts in water safety, paddle coaching technique and SUP fitness.
Instructors choose the best location to match the weather conditions of the day for your lesson (individual or group), which are designed for absolute beginners or enthusiasts looking to up their skills. Beginners are guaranteed to be standing by the end of their first lesson!
Lessons cover all the basics from warm-up, to kneel paddling; turning and standing, and includes important water safety rules and how to read the weather conditions. A rash shirt and wetsuit is also provided, alongside sunscreen, although you are welcome to bring your own.
Find it: Canadian Bay, Mother's Beach, Mount Martha, Safety Beach
To book: Head here, or phone 0403 009 638
For more information: sup-fit.com.au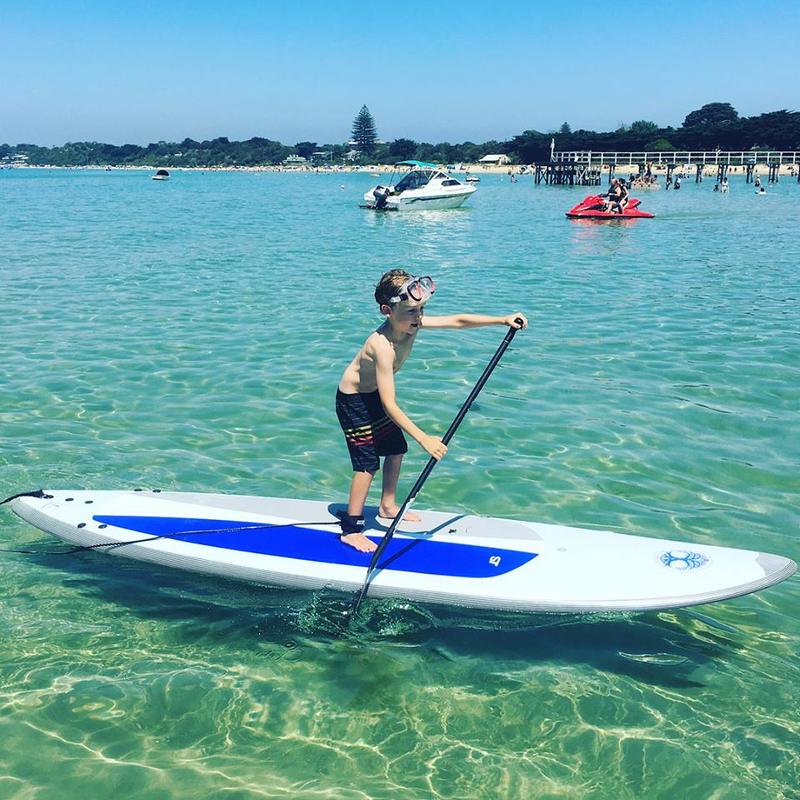 Peninsula Stand Up Paddle
The lessons Peninsula Stand Up Paddle are tailored to suit everyone from beginner, to children, to grandparents. They say "if you can walk in the sand, hold a feather light paddle and have a sense of adventure", they can get you started on your SUP way!
Choose from groups sessions, personalized SUP lessons, and one-to-one coaching sessions, to get on the fast track from novice to elite SUP paddler. The lessons available include instant feedback and adaption of the training drills and SUP exercises in real time, so you really get value for money, and expert training for your time.
Sessions include basic board handling, basic paddle techniques, dstance paddling or SUP racing, SUP surfing, and downwind paddling.
Find it: 42 Peninsula Ave, Rye, Victoria
To book: Call 0448 563 339
For more information: psups.com.au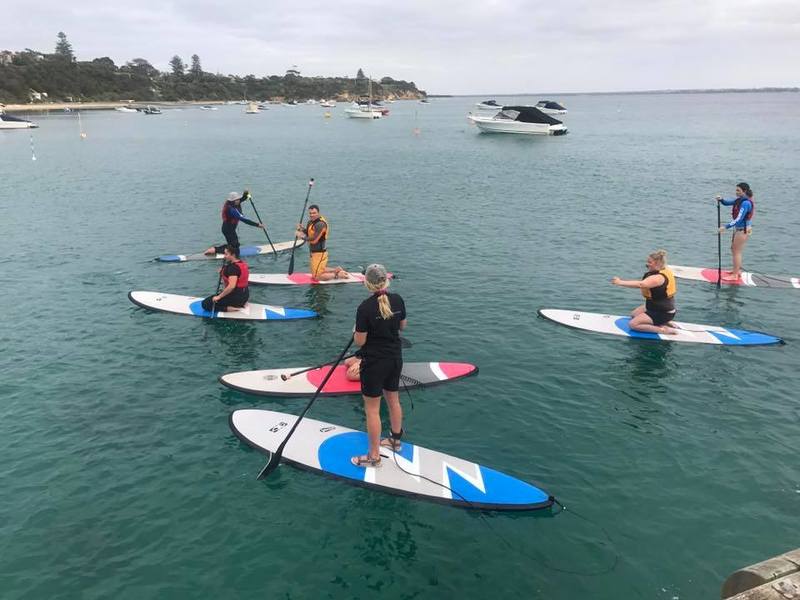 Bayplay Adventure Tours
See the Peninsula from a totally different perspective as you paddle along the bay with a fun Stand Up Paddle Board Lesson from Bayplay Adventure Tours.They offer a range of lessons to cater for your needs and ability level in various spots around the beautiful peninsula ( depending on the wind direction and tidal movements).
Board and paddles are provided, and wetsuits are available for extra hire. Bring bathers, towel, hat, sunscreen, and a sense of adventure!
Find it: 3755 Point Nepean Road, Portsea
To book: Head here, or phone (03) 5984 0888
For more information: bayplay.com.au
Main image credit: St Kilda Stand Up Paddle Boarding Facebook
Reviews
Would highly recommend checking out the spectacular waters of Double Island Point at Rainbow Beach for an amazing day out stand up paddle boarding. The location is deep into the Great Sandy National Park and can only be accessed along the beach at low tide by 4X4 from Noosa or Rainbow Beach. Tropical crystal clear waters and some amazing wildlife to encounter. These guys do stand up paddle board lessons or take you up for transport if you dont have a 4X4. What an adventure it is! https://www.rainbowbeachsurfschool.com.au/stand-up-paddle/ https://epicoceanadventures.com.au/noosa-stand-up-paddle/