Top 10 Tips for Parents Getting Kids Ready for Back to School
For most kids in NSW, a large portion of their schooling in 2021 was done at home thanks to our pesky friend (or enemy!), COVID.
The start of a new year always brings a great sense of opportunities, a fresh school year, and lots of exciting adventures ahead. The start of 2022 is shaping up to be a little bit daunting already, as most NSW school kids are returning to school after a very topsy-turvy year of schooling, making them (and us parents!) understandably anxious about the transition.
With the help of Education NSW, we're sharing this handy guide on the top 10 things to check before sending the kids back to school in 2022.
Top 10 Tips for Parents Getting Kids Ready for Back to School
1. Find school equipment and check uniforms and shoes still fit - your child might have grown over Christmas! Give yourself enough time to organise replacements or a uniform alternative if needed.
2. Encourage your child to check their school timetable if needed, pack their school bag, and get their lunch box, drink bottle and uniform ready.
3. Plan ahead for making lunch boxes again. Adopting a healthy lifestyle is crucial for kids of all ages, and it's never too late to start teaching your little ones healthy eating habits. Since they'll be eating the majority of their meals at school during the school term, make sure they're getting a good dose of nutrition with these healthy options. If their lunchbox has seen better days, it might be time to spring for a new one from our list of the best school lunch boxes for this year.
4. Promote positive conversations. Let your little ones know that school staff are looking forward to seeing them. If they feel nervous or worried (particularly if they are starting at a new school or starting Kindy), help them understand this is a normal reaction, and that you and their teachers are there to support them.
5. The pandemic isn't quite over. Remind your child that everyone at school is working hard to make sure that everyone is safe and that anyone who is unwell will stay home. Remind them to practise proper hygiene by washing their hands thoroughly and coughing and sneezing into their sleeve.
RELATED: Awesome Creative Kits for Kids at Home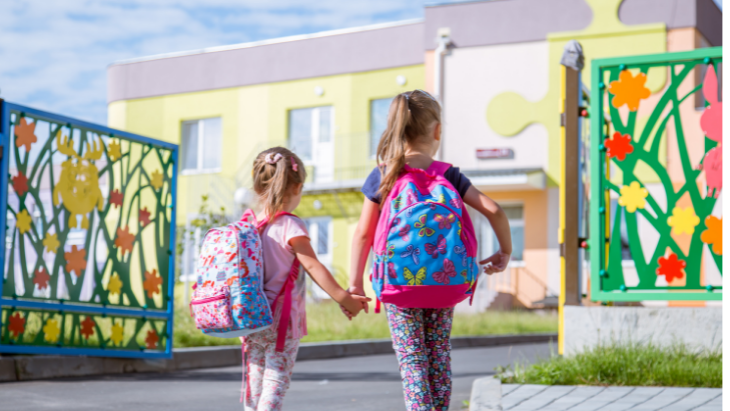 6. Look at your school's website, Facebook page and newsletters to learn about new procedures that may have been introduced such as changes to parents' access to the school grounds, drop-off and pick-up points as well as new rules such as wearing face masks or hygiene standards.
7. Allow more time than usual on the first morning back to school to calmly get ready. Take your child to school if that will help build a greater sense of security. Alternatively, encourage your child to meet up with a friend before school and travel together.
8. Routines help provide certainty and increase feelings of security, so they will help to re-establish routines and plan for the return. After-school routines to review the day's learning and complete homework tasks will also be important.
9. Provide opportunities for your child to play and relax at the end of the day. Returning to school can be a big deal, especially after lockdown. Give them the freedom to unwind in their safe space (at home) after a long day at school. Extra cuddles are always welcome!
10. Remember your school is there to help – contact them with any concerns or issues you might have.
If you're looking for more help with the back to school routine, head over to the NSW Government education site.
Cool Stuff for Kids
The Best Kids Shows in Sydney
Six Kids Hampers you can get Delivered
Sydney's Top Indoor Play Centres
Have you signed up for our newsletter? Join ellaslist to get the best family and kid-friendly events, venues, classes and things to do NEAR YOU!