Top Twelve Kid-Friendly Cafes with a Play Area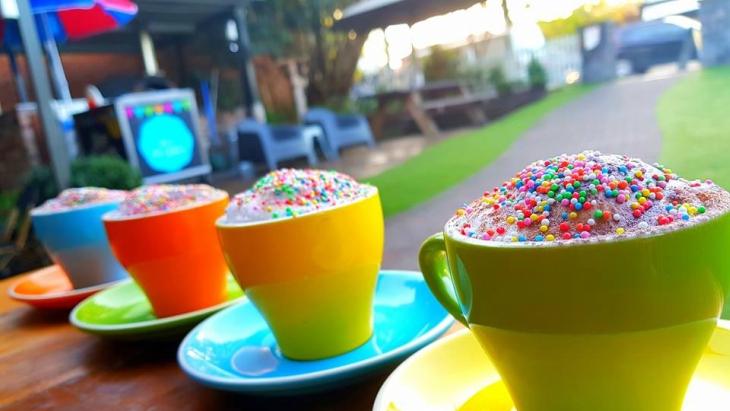 Contrary to popular belief, taking kids out to eat can be both fun and relaxing. It's all about finding the right place. First, you need somewhere that has the right attitude. Find a place that appreciates when your boisterous kids burst into song, or even into tears. You'd be surprised how many actually do, and you don't need to give up on going somewhere 'nice'. Second, choose a café with its own play area and BOOM, your kids will love it and you get to sit and enjoy a delicious meal, without cooking or washing up. Here are our favourite cafes with a play area in Sydney.
1. Bavarian Restaurant, Earlwood
This could very well be the ultimate kid-friendly cafe/restaurant in Sydney. Here you won't find a token box of old, broken toys in the croner, but instead, a gated baby and toddler soft play area with climbing equipment, tunnels and a ball pit, as well as side-by-side SUPER slides for some serious thrills. Parents are sure to be satisfied with the cafe's signature German menu items: pork knuckle, schnitzel, sausages and beer. Find out more here.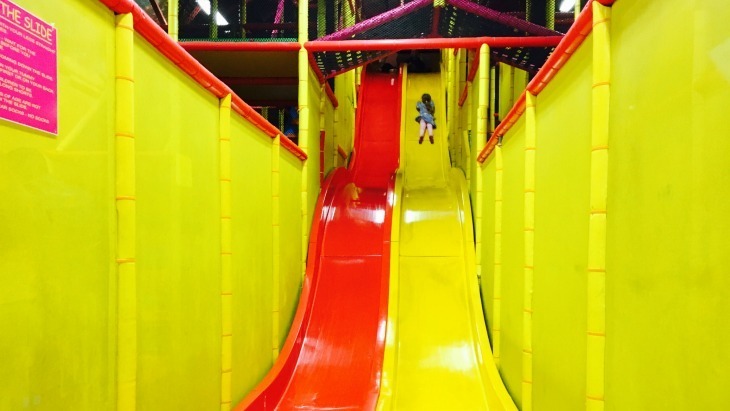 2. Tradies, Caringbah and Gymea
Become a member so kids can play in the super fun Max's World- staff will lead activities like painting and crafts as well as games and movies. That's right you can leave your kids (aged 3-12) to be looked after by qualified carers while you dine. Don't forget to make a booking!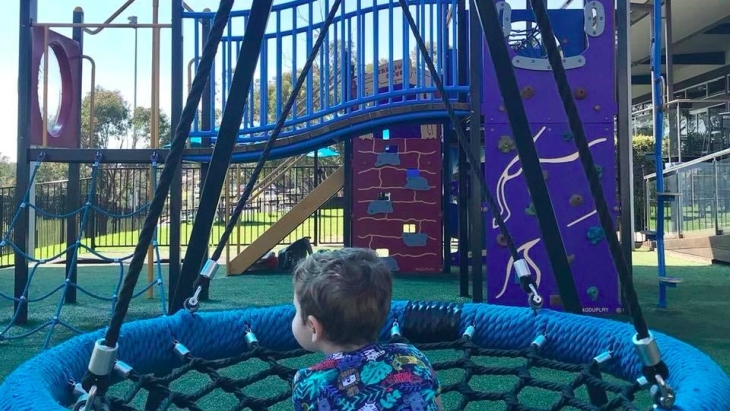 3. Grandma's at McEvoy, Alexandria
Delicious, hearty, home-style cooking where every customer is treated like family. It is a spacious yet cosy cafe with an awesome kid's play area stocked with toys, books and chalkboards, so kids can literally draw on the walls! They have a great kid's menu full of flavour and nutrition that doesn't undermine kid's tastes, and their dinner specials will have your drooling. Read our review here- when we went with kids, the bear-shaped milkshake jars and shakshuka were definite highlights. Unfortunately there is no baby change area, so be prepared for that.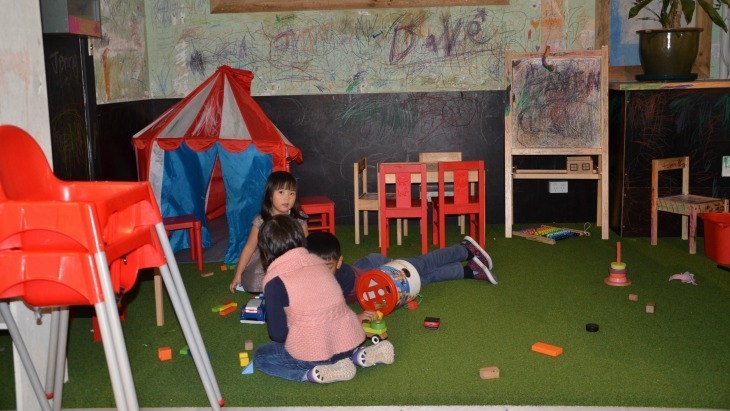 4. Shuk, North Bondi
Tucked away in a quiet suburban street, this café/deli/bakery is taking North Bondi by storm for its Israeli-inspired menu and freshly baked bread. It's easy to miss the play area at Shuk as the restaurant and outdoor tables and chairs look just like the bright and trendy seaside cafes that abound in Bondi, but walk past the main entrance and push open the back door to find a courtyard with a kids play area in the middle. The play area is fenced and can be seen from any of the tables, and there is also a table in the middle of the play area. This is actually the pick of the bunch for avoiding resident birds and their unexpected gifts from above. The play area is suitable for babies and toddlers, and includes a kids' sized table so little ones can munch on the go. There is a small kids menu and they are open breakfast lunch and dinner.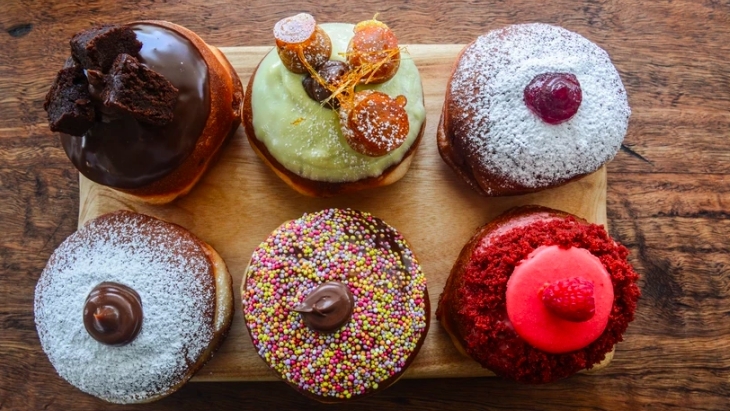 4. Cafe 2773, Glenbrook
Created with families in mind, Café 2773 has a large grassy area with a cubby house and a little farm with miniature pigs, chickens and a veggie patch. If the sun is shining, grab a blanket and enjoy a picnic on the grass. The all-day breakfast menu offers everything from "hipster fritters" to the "the caveman" and there is an extensive lunch and dinner menu including burgers and salads using local produce where possible. At nights and on weekends they also serve pizzas and they even roast their own coffee. If you're not a local, this is the perfect leg-stretcher on your next trip to the Blue Mountains.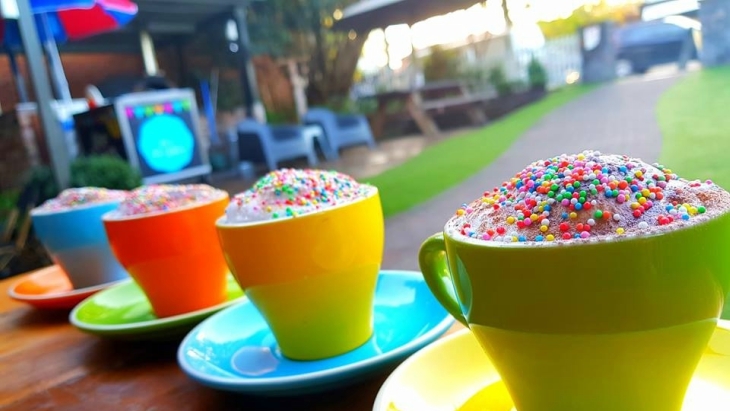 6. Bitton, Alexandria
The play space here is contained in a room off the back terrace, so you'll need to grab a table out there to keep an eye on the kids. The menu at Bitton is described as French-Australian so it's a great excuse to indulge in a crepe, or a cheese plate and glass of wine. The kids' menu or "menu pour enfants" is just a little bit posh, with things you'd imagine your kids eating in Paris, and they have babycinos, baby milkshakes and baby smoothies. And if you amour Bitton, you can hire the terrace for your next birthday party or function. If your little bundle of energy tires of the play space, grab a take-away and head to the park and playground right across the road.
7. Sprout Wholefoods Café, Crows Nest
If you are after a serious dose of healthy, pop into the Sprout Wholefoods Café. You don't need to worry about children being tempted by sugary or fried foods here, with a kids menu of delicious treats with no processed foods or refined sugar. For breakfast they offer meals like buckwheat pancakes with sugar-free ice cream and lunches are along the lines of baby brown rice nori rolls or hummus with veggie sticks and rice crisp-bread. There is a grassy area out the back for the kids to play which features a cubby house and play car, so mums and dads can enjoy their wholesome meals and Little Marionette coffee in peace.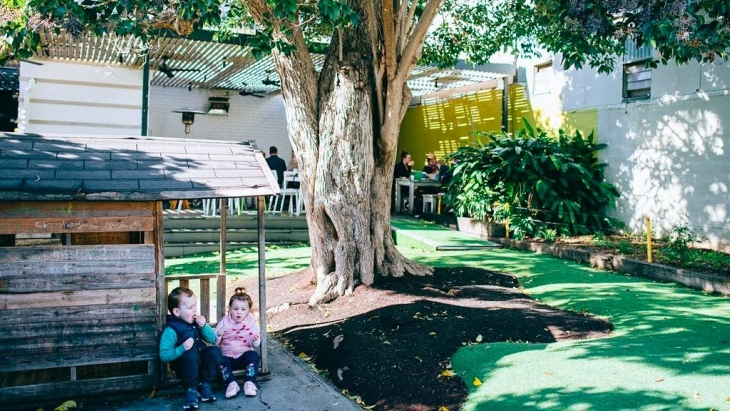 8. Crayz Espresso, Matraville
The ambience here is welcoming, just like the staff and the smell of homemade muffins. The play area at Crayz Espresso will be especially popular with arty crafty types, with everything budding artists need, including frames on the wall for displaying their masterpiece. The selection of jaffles are a popular choice with kids, and at just $5, grown-ups will be impressed too. The burgers at lunchtime are reportedly delicious and also great value at $12. Grab a meal, or just a coffee and one of those oh-too-tempting muffins and watch the kids creating away in this neighbourhood gem.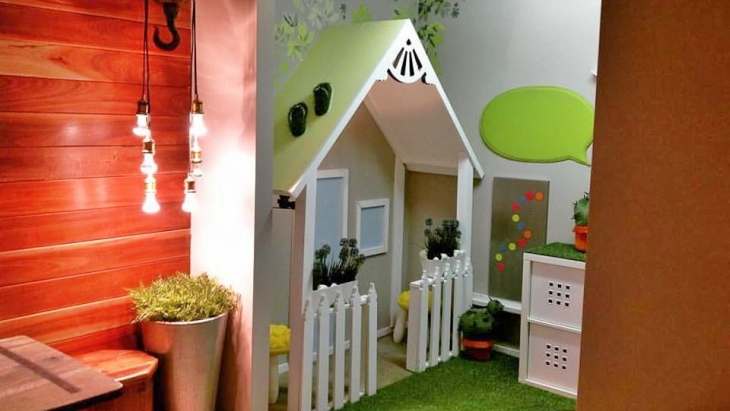 9. Flower Power, Terrey Hills
This cafe in a garden centre is known by locals as the Bonds Nursery, but it's actually Flower Power. Either way, it's a favourite amongst the kids of Terrey Hills. Once you're done checking out the flowers, kids and parents will love hanging out in the cafe, where they can enjoy lunch and a play in the playground.
10. Bella Mondo Café, West Pennant Hills
Every now and then, every parent understands the adage "seen and not heard". If you are hanging for just a few moments of silence, then Bella Mondo is just the place. The super-fun playroom is completely enclosed in thick glass, so you can watch your kids having fun, making thumbs up signals at every turn, while enjoying the peace and quiet that comes from being in a room full of other adults.
11. Ikea, Tempe
While Ikea is some parent's idea of hell, it can actually be quite a fun outing as long as you don't have much actual shopping to do. The restaurant and café are set up perfectly for families. Kids' meals of meat, chicken or veggie balls and mash are under $4, and they have plastic everything and high chairs galore, not to mention heaps of space. Head to the centre of the dining room where a round play area keeps kids entertained and contained at once. They also have drawing up the back when it's busy. Just near the restaurant is the children's section of the store, where there are a few tents set up and children can play, while you sneakily grab a few things. The toys and art supplies are really good value and I always grab something and tuck it away for Christmas or last-minute gifts.
12. Chow Bella Cafe, Lidcombe
Have a play and a feast at the kid-friendly Chow Bella cafe! Read our review here. It is a spacious cafe with a decadent desserts display, a menu of international cuisine (featuring the likes of Korean fried chicken burger, spaghetti bolognaise and the indulgent Nutella Bomb milkshake) and the highlight: a shaded outdoor play area. Mums can sit near the play area and have a chat in peace whilst kids are happily occupied.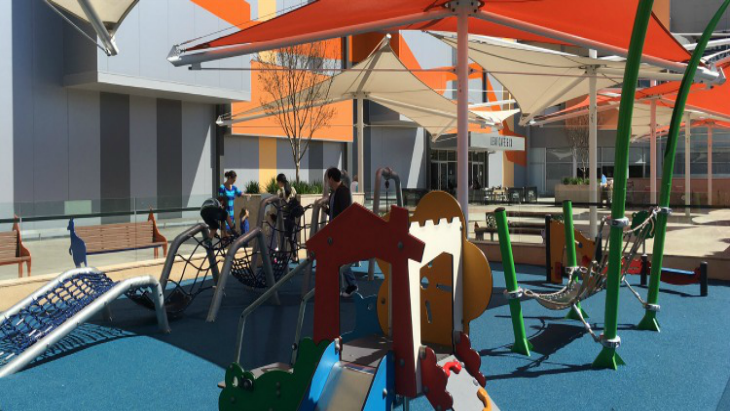 More Sydney Cafes Here
Have you signed up to our newsletter? Join ellaslist to get the best family and kid-friendly events, venues, classes and things to do NEAR YOU!
Reviews
Ruby niks at Miranda Westfield is great too with a generous size play area and good menu
Stain Cafe @ Lane Cove Excellent food with a fenced playground. Also right next to the library where we go first to borrow some books & toys