Grab Your Cameras! These are the Prettiest Cafes in Sydney
Grab Your Cameras! These are the Prettiest Cafes in Sydney
Mums & Bubs
Toddlers
Preschoolers
Kids
Family
All Ages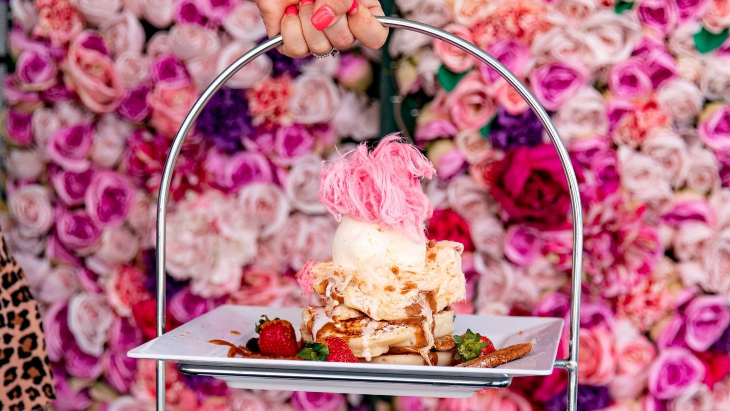 The Sydney cafes scene seems to have stepped up its game in the last few years (thank you, Instagram), with more and more cafes trying to one-up each other with spectacularly pretty interiors.
Lucky for us patrons, we get to bask in all the prettiness any day of the week. So whether you're doin' it for the gram, need a new cafe to try, or love being in a breathtakingly beautiful interior, here are some of the prettiest cafes in Sydney to try.
The Prettiest Cafes in Sydney
1. The Tiny Giant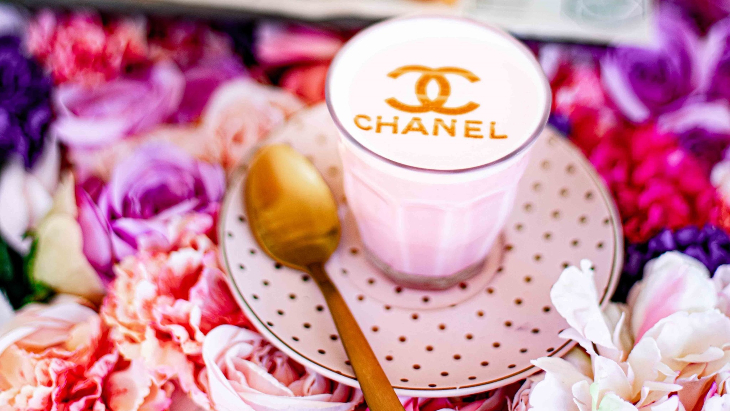 The Tiny Giant in Petersham is undoubtedly Insta-famous thanks to its pretty interiors and even prettier dishes.
The Tiny Giant's menu sounds too good to be true (over-the-rainbow bagels and unicorn toasties!), but true it most definitely is, and one of the main reasons there's usually a queue out the door on weekends, plus their designer coffees are insane! Stop by for a visit during the week to avoid the crowds, or grab a coffee and pastry to go.
Location: 10 Audley Street, Petersham
RELATED:
Where to get the Best Cinnamon Scrolls in Sydney
Sydney's Best Cafes by the Water
2. The Wyatt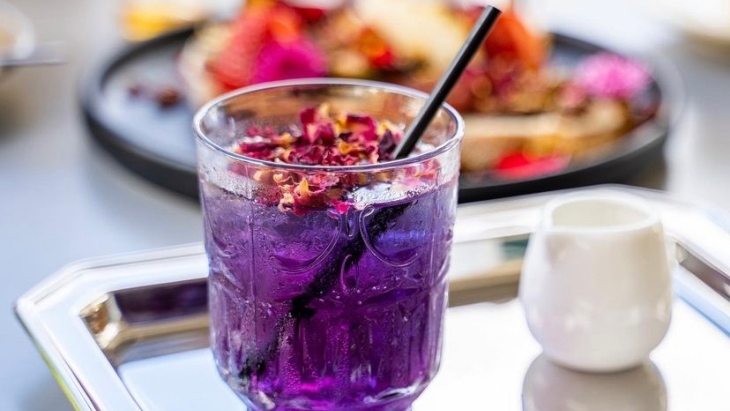 Having only opened in 2021, The Wyatt in Gordon has already amassed quite the loyal following, and we're pretty sure we know why.
Their vibrant atmosphere and creative menu are only the start of the colourful experience on offer at The Wyatt, and by colourful, we mean just wait until you see their dishes! From their purple rose lemonade to their floral-infused granola and mouthwatering ricotta toast, just about everything on the menu is a taste sensation.
Location: 7 Werona Avenue, Gordon
3. Flower Child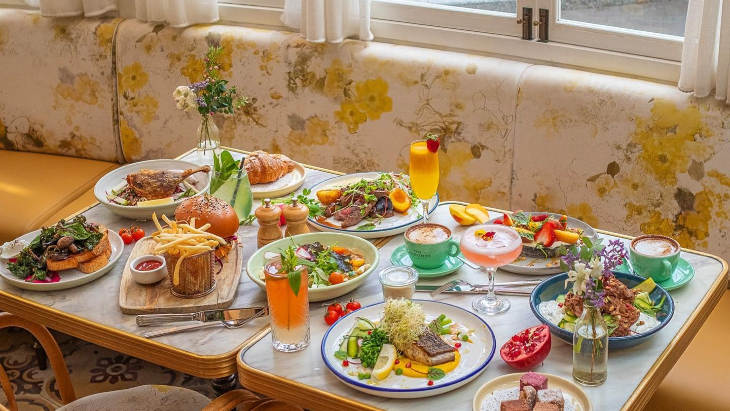 Speaking of botanical interiors, Flower Child bring the outdoors in at their two Sydney cafes.
Flower Child Chatswood and Flower Child Warringah Mall are filled with pretty florals and hanging plant baskets making for a calming oasis to drink and dine. As for the Flower Child menu, both cafes offer delicious coffees, breakfasts and lunches - all totally Insta-worthy!
Flower Child locations:
Chatswood - Shop 391, 1 Anderson Street, Chatswood
Brookvale - Westfield Warringah Mall
4. Speedos Cafe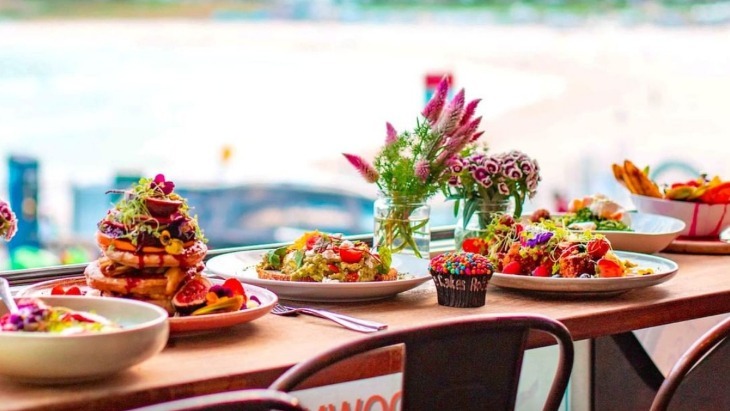 As far as the prettiest cafes in Sydney go, you can't beat Speedos in Bondi for that view and those dishes!
Speedos Cafe in North Bondi is, in fact, so pretty it was named the most Instagrammable cafe in the world - the world! Along with pretty views of Bondi Beach, Speedos offers pretty dishes to the likes of colourful bliss bowls, soft-shell crab burgers, and incredible milkshakes, to name just a few.
Location: 126 Ramsgate Avenue, North Bondi.
5. The Navy Bear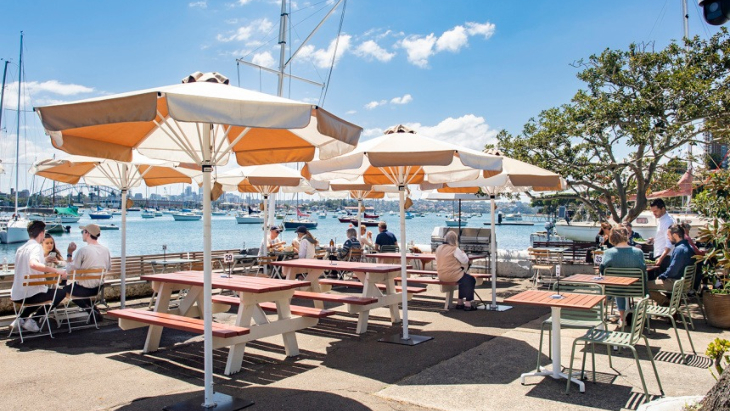 The Navy Bear just has to be included on the prettiest cafes in Sydney list for those amazing views.
You couldn't get closer to waterfront dining at The Navy Bear if you tried - this stunning Sydney cafe is on the water's edge in Darlinghurst in the Royal Australian Naval Sailing Association (Ransa) headquarters. The views of Sydney Harbour are perfectly matched with delicious brunch favourites and kid-friendly options.
Location: 1C New Beach Road, Darling Point
6. Social Hideout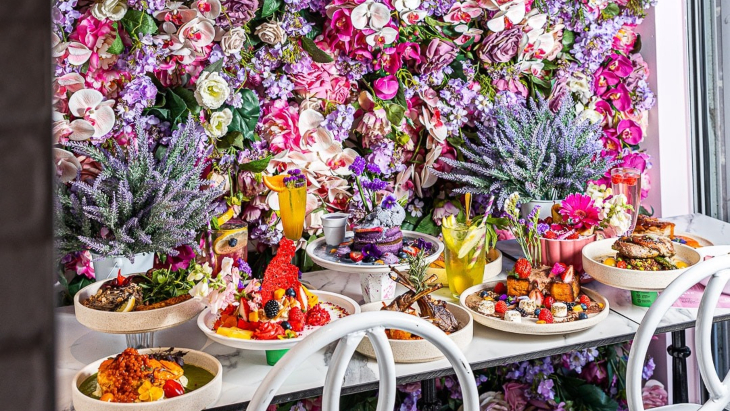 With 17,000 flowers suspended from the ceiling, it's safe to say Social Hideout is one of the prettiest cafes in Sydney.
Social Hideout has two locations to choose from (Waterloo & Parramatta), so there's plenty of floral love to go around. Feminine and floral is obviously the theme of Social Hideout's decor and menu as bursts of pink and purple flow from the ceilings, walls, and even the Bright Purple Taro Hotcakes. We love the iced drinks served up in metallic mini bathtubs topped with cotton candy!
Locations:
Parramatta - Shop 2A/20 Victoria Road
Waterloo - 25-33 Allen Street
7. Page Two Cafe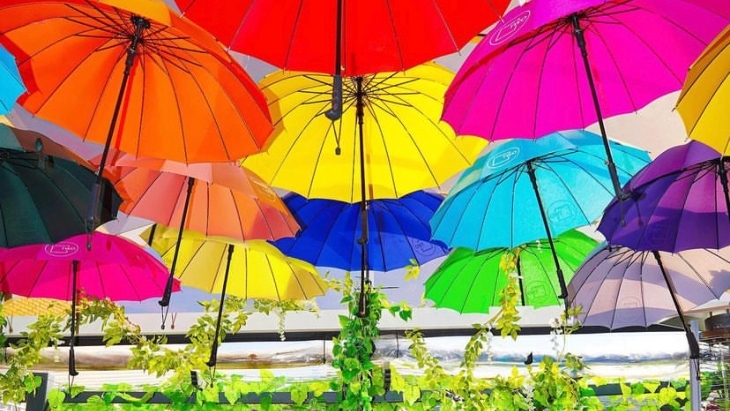 Located in the heart of Randwick, Page Two Cafe is not only a great spot to grab fabulous coffee and delicious food, but also the spot to ogle at the famous colourful umbrellas.
Sydneysiders travel to Page Two Cafe to check out the famous colourful umbrellas, and they stay for the equally as colourful dishes. From colourful smoothies to colourful burgers, acai bowls, eggs benedict and more, Page Two Cafe is all about adding a splash of colour to your day.
Location: 122 Belmore Rd, Randwick
8. Two Sis & Co.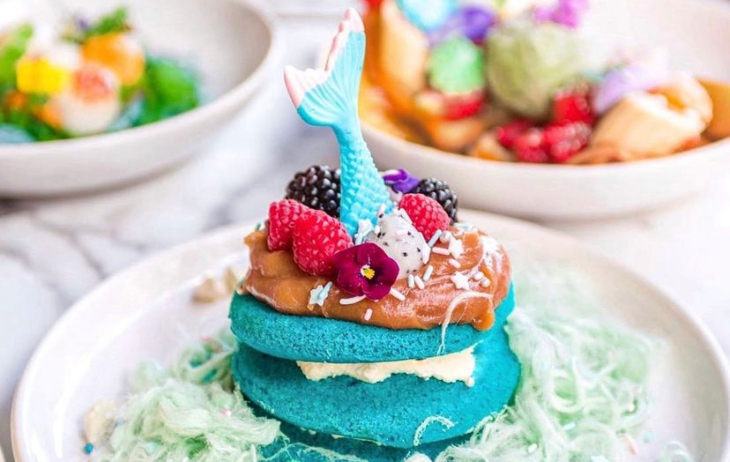 All-day breakfast, yummy lunches and bright and bubbly interiors are on offer at Two Sis & Co. in Pyrmont.
While their colourful creations are quite substantial, the size of Two Sis & Co. is unfortunately not. This is a very small cafe, so you might want to leave the pram in the car or enjoy a day date when the kids are elsewhere. The Two Sis & Co. menu is well worth the visit though!
Location: 306 Harris Street, Pyrmont
9. Roca Cafe Pink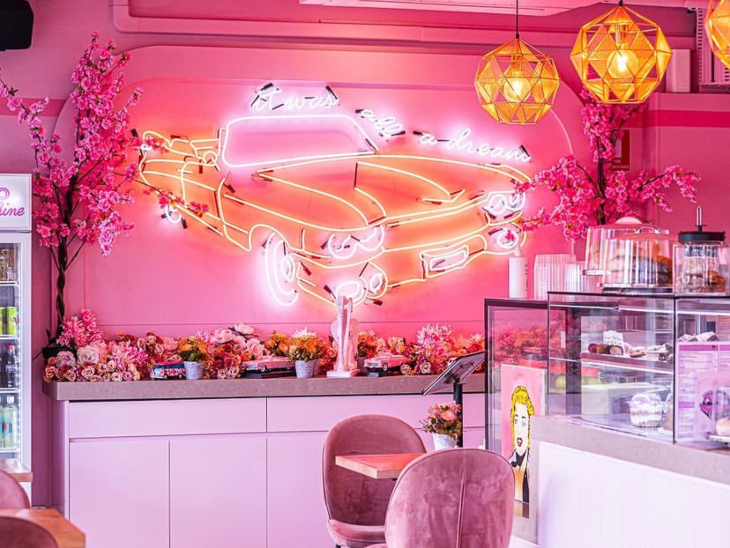 If you love all things pink, then you'll love Sydney's pretty-in-pink cafe, Roca Cafe Pink.
Pink isn't a colour, it's an attitude at Roca Cafe Pink, where you'll find wall-to-wall pink embellishments at one of Sydney's favourite retro-themed cafes. Floral pink walls, vibrant neon signs, rainbow-coloured food and designer coffees are the order of the day every day at Roca Cafe Pink, so book your table!
Location: Shop B/362 Rocky Point Rd, Ramsgate
10. The Boathouse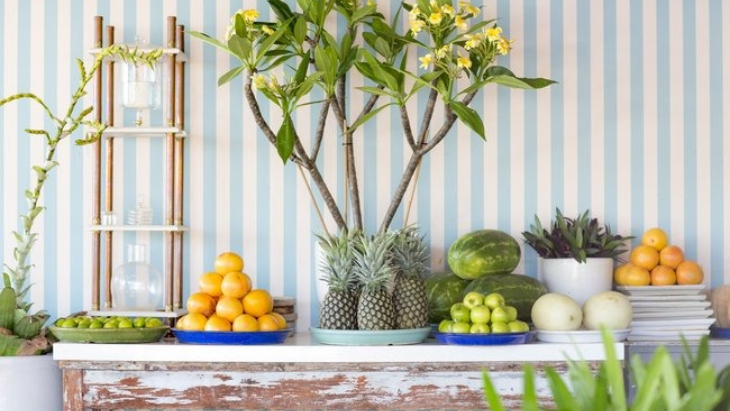 Another pretty Sydney cafe with views to boot, the Boathouse Group know how to do nautical interiors well.
With three cafe locations in their arsenal (all with stunning water views), it's safe to say the Boathouse Group have the lion's share of boathouse cafes in Sydney. The Boathouse Shelly Beach, the Boathouse Balmoral Beach, and the Boathouse Hotel Patonga all offer the same coastal chic interiors and yummy menus. If you're keen to make your house look exactly like the Boathouse, you can now shop the Boathouse Home range!
The Boathouse locations: Shelly Beach, Balmoral Beach & Patonga.
11. The Grounds of Alexandria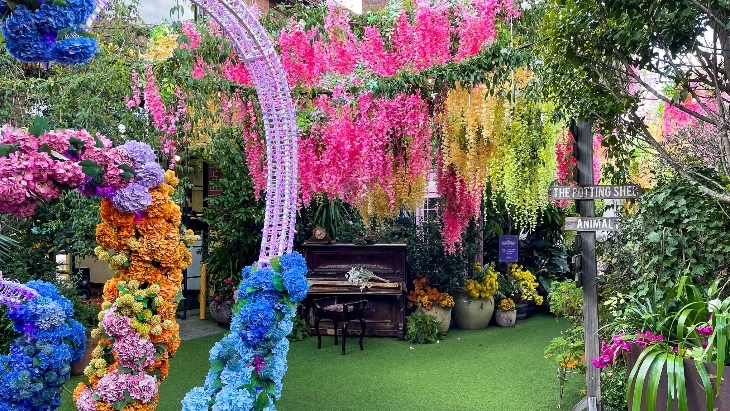 Everyone's favourite heritage-listed warehouse-come-urban-farm, the Grounds of Alexandria is the perfect spot to take the kids for a coffee date and feel as though you're transporting to a faraway land.
Along with excellent coffee, baked goods and dishes, the Grounds are known for their themed events and have put on everything from Willy Wonka to Cinderella, Elton John and Aladdin. I wonder what theme they're concocting next!
Location: Building 7A Huntley Street, Alexandria
12. The Botanica Vaucluse

For the crème de la crème of Sydney cafe interiors, you can't beat The Botanica Vaucluse in Vaucluse.
The Botanica's elegant and lush interiors are every designer's dream, offering bursts of botanicals against velvet pinks and ornamental accents. The Botanica Vaucluse's botanical theme continues with their paddock-to-plate menu, which features locally sourced produce and offerings straight from their Jamberoo Valley Farm. The Botanica also has an onsite spa if you feel like extra pampering.
Location: 2 Laguna Street, Vaucluse
13. Mango Coco Cafe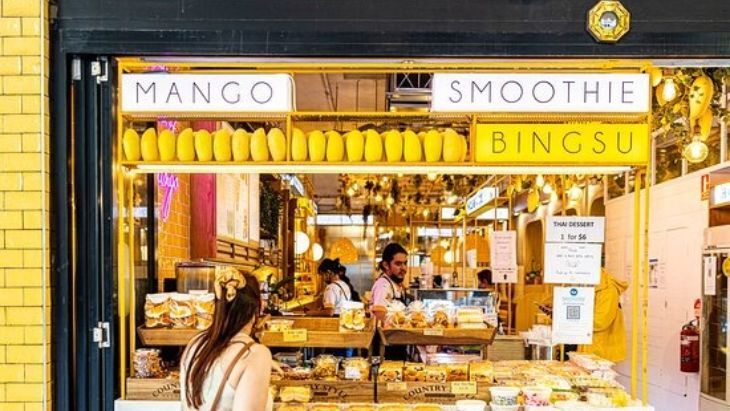 Mango Coco is your ultimate Thai dessert cafe located right in the heart of Haymarket. Step into this vibrant world and explore a delightful range of smoothies, desserts that look almost too pretty to eat and a range of Thai fusion dishes that are bound to tantalise your taste buds.
It's a pretty popular spot, so don't be surprised if there's a bit of a queue—But trust us, it's well worth the wait for the unforgettable flavours that await you inside!
Location: 421 Pitt St, Haymarket
14. The Vintage Secret Garden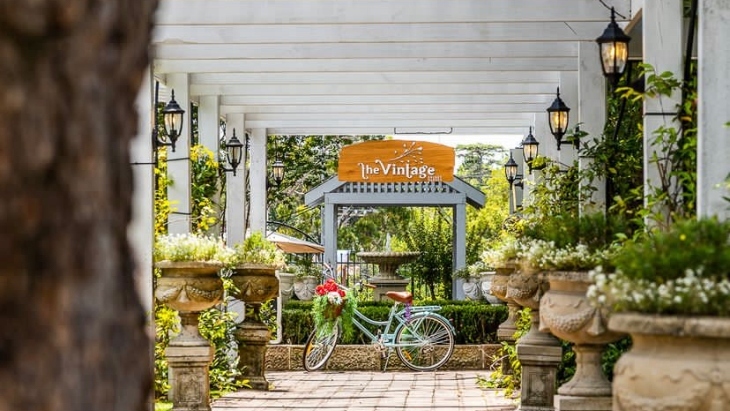 Discover the enchanting oasis that is The Vintage Secret Garden, an expansive one-acre haven that invites you to experience the beauty of an old cottage transformed into a charming dining area. Nestled in a picturesque location, the Vintage is one of the prettiest cafes in Sydney and exudes the type of ambience that's perfect for any occasion.
The Vintage Secret Garden's menu evolves with the seasons, reflecting the changing availability of produce—and every bite promises to be as flavourful as it is beautiful; which is really saying something!
Location: 353 Galston Road, Galston
15. Concrete Jungle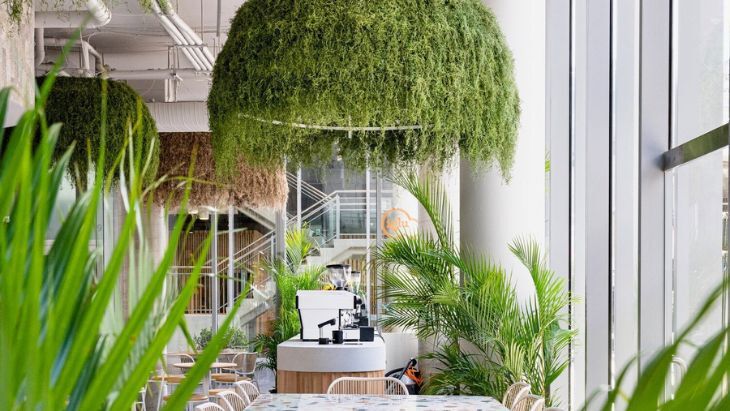 This airy, green and serene oasis of this Chippendale cafe serves up dishes of local and ethically sourced produce from a mostly plant-based menu; and it's just about as Instagrammable as cafes come. The Concrete Jungle menu is brimming with delights including a Blue Majik Smoothie Bowl, Crab Omelette, Jungle French Toast and more. Drool!
Location: 15 Kensington St. Chippendale
16. The Mayflower

Every corner of The Mayflower is a stunning canvas of art and culture, where bold Art Deco paintings, opulent French floristry, and a whole lotta pink marble create a rich ambience. It's not wonder The Mayflower is continually voted one of the prettiest cafes in Sydney!
Amidst an atmosphere that's as inviting as it is stylish is a menu that's bursting with something for everyone. Our pick? That would have to be the Vermecilli Salad Bowl with Sugarcane Prawns—because doesn't that just sound like heaven?
Locations:
Darlinghurst - 2/303A Liverpool Street
St Leonards - Shop R1106, 488 Pacific Highway
17. Andrew 'Boy' Charlton Poolside Cafe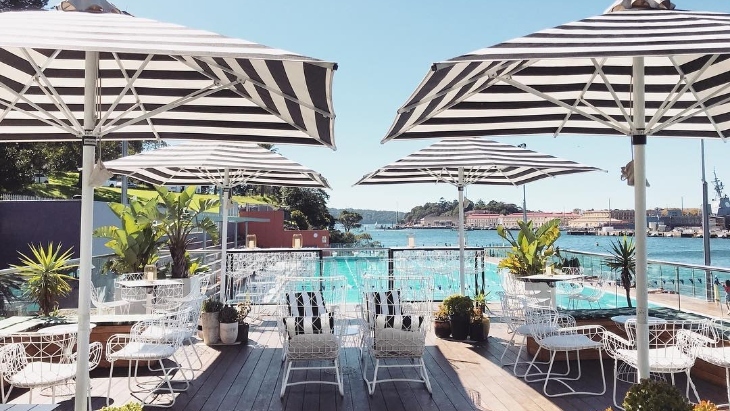 Experience the perfect blend of Sydney's vibrant cafe culture and the timeless allure of poolside living. The Andrew 'Boy' Charlton Poolside Cafe, Oh Boy brings together the joy of food and drinks with the sun-soaked lifestyle along the water's edge. The menu is extensive and delicious with something to suit every palate.
Location: 1c Mrs Macquaries Rd, Sydney
RELATED: ellaslist Reviews Andrew (Boy) Charlton Pool: A Public Oasis For Parents In The City
18. Palms by Pasadena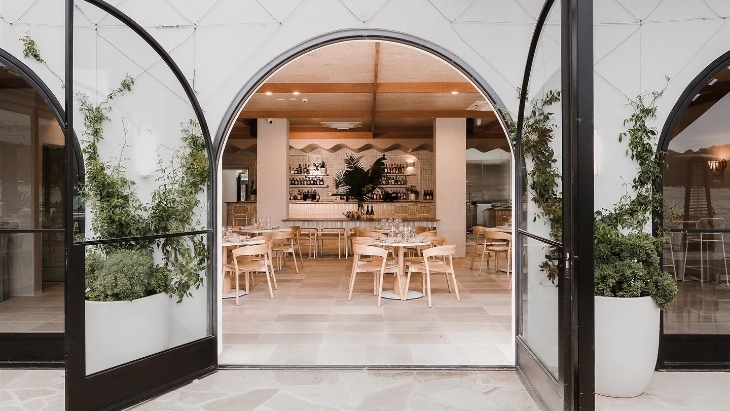 Nestled in stunning Church Point, Palms by Pasadena offers an unparalleled waterfront experience in a world-class location. With sweeping views of Pittwater, this restaurant is a true gem that celebrates the beauty of seaside living—and is undoubtedly one of the prettiest cafes in Sydney.
Palms by Pasadena is about fresh, modern cuisine that perfectly complements the seaside ambience. Head to this picturesque setting and savour the flavours of a truly memorable dining experience.
Location: 1858 Pittwater Rd, Church Point
19. Watsons Bay Boutique Hotel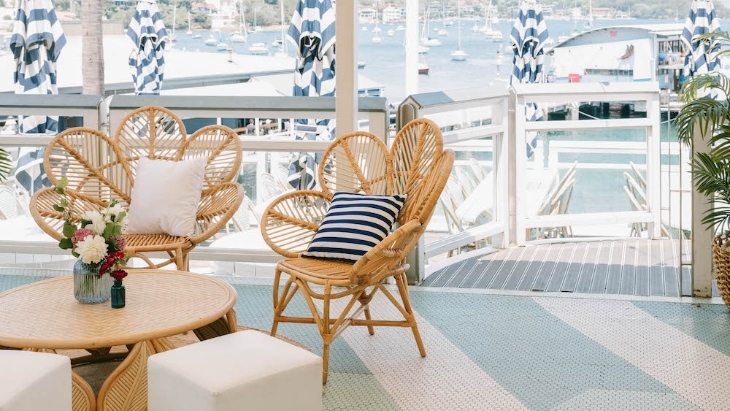 Watsons Bay Boutique Hotel celebrates the spirit of endless summers and breathtaking panoramas—nestled on the sandy shores of one of Sydney's most iconic harbour beaches, this hotel is the perfect destination for chilled afternoons, raising a glass with friends and loved ones, all while indulging in seafood platters and a menu filled with your favourite dishes right by the waterfront.
Location: 1 Military Rd, Watsons Bay
20. St Siandra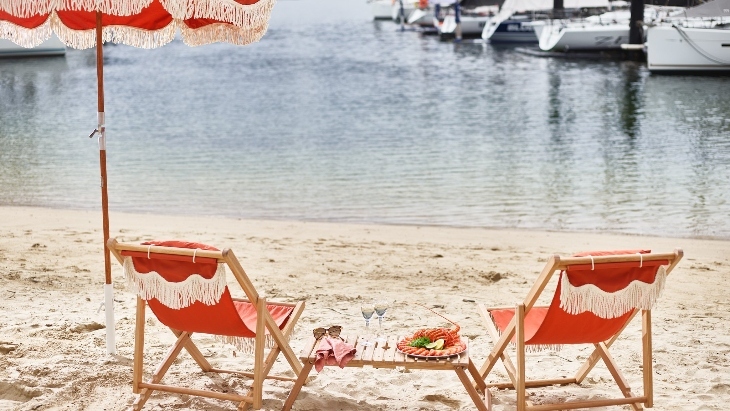 At St Siandra, every day exudes the essence of a holiday on the enchanting Amalfi Coast. The beauty of the restaurant is complemented by a menu filled with vibrant seasonal produce and seafood, all inspired by the flavours of the Mediterranean and Middle East.
This Mosman gem is a must-try on any quest to find the prettiest cafes in Sydney!
Location:75 Lower, Parriwi Rd, Mosman
Other Sydney Cafes to Try
Sydney's Best High Tea for Kids
All-you-can-eat Buffets in Sydney
Kid-friendly Cafes in Sydney
Have you signed up to our newsletter? Join ellaslist to get the best family and kid-friendly events, venues, classes and things to do NEAR YOU!