Where to go for Boxing Day Picnics in Sydney 2023
Where to go for Boxing Day Picnics in Sydney 2023
Preschoolers
Family
Kids
Mums & Bubs
Teens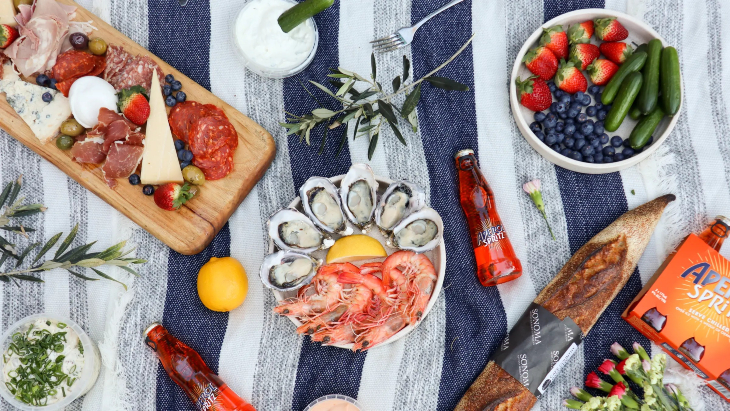 After the hustle and bustle of Christmas Day, Boxing Day is all about rest, relaxation and recovery. So load up the esky with leftovers and chill out on a family picnic at one of Sydney's great parks or beaches.
We've put together our favourite spots for Boxing Day picnics in Sydney to help you make the most of the public holiday.
Where to go for Boxing Day Picnics in Sydney 2023
Sydney CBD
1. Victoria Park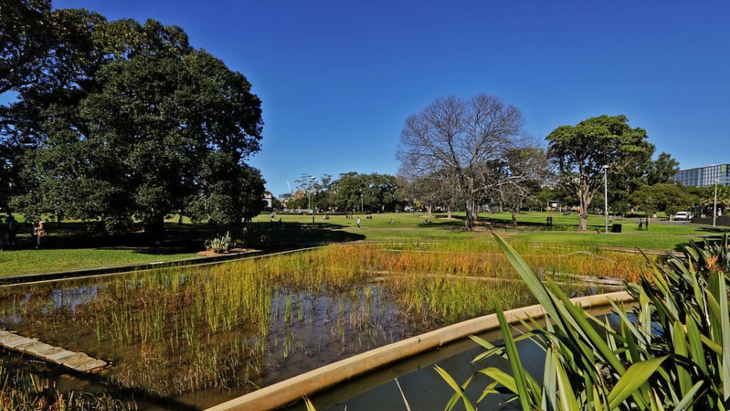 Victoria Park is ideal for picnics with large grassy areas, surrounded by a lake with waterbirds, where you can relax.
If the weather heats up, take an afternoon dip at Victoria Park Pool (open 7 am - 4 pm on Saturday, 26 December 2023), which features a 50-metre swimming pool and children's wading pool. There's also an excellent playground with plenty of equipment ideal for children of all ages.
Location: Corner of Parramatta Road and City Road, Camperdown
2. Prince Alfred Park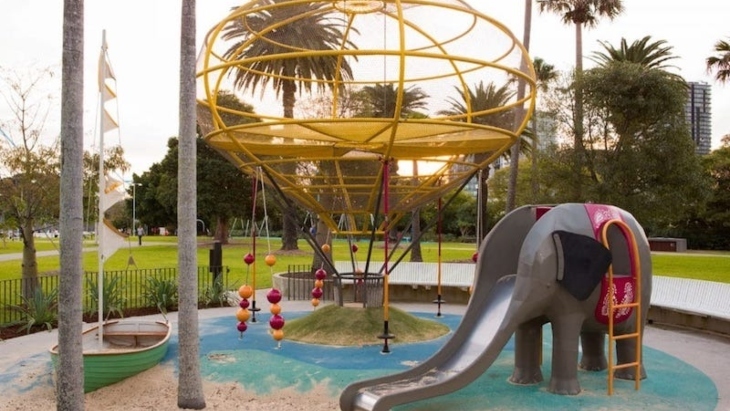 The award-winning upgraded seven-hectare Prince Alfred Park is a great spot with ample green space and loads of recreational options.
There are new paths, benches and lights, new barbecue and picnic areas, fitness stations, basketball courts, tennis courts and a really sweet little children's playground featuring beautiful hand-crafted rides.
There is the added bonus of Prince Alfred Park Pool (open 7 am - 4 pm on Saturday, 26 December 2023) with a splash deck for toddlers, new café, bleachers, umbrellas, sky-lit change rooms, shaded areas and landscaped space.
Location: Chalmers St, Surry Hills
Boxing Day Picnics in the Eastern Suburbs
3. Nielsen Park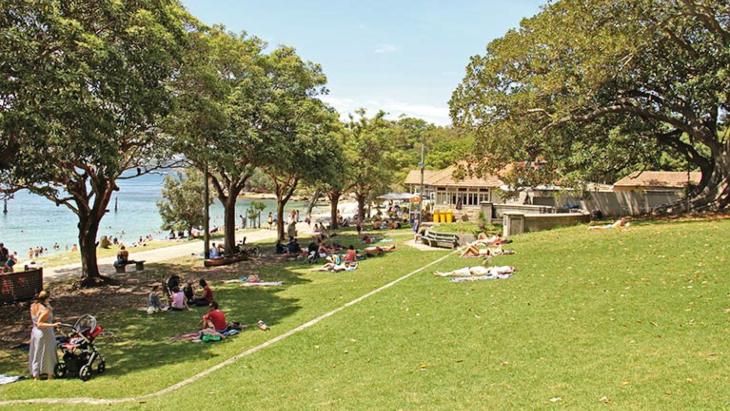 For most of us Sydney-siders, Boxing Day is synonymous with The Sydney to Hobart Yacht Race, so if you're keen on some yachting action, one of the best vantage points is Nielsen Park.
It's on the foreshore of the harbour and right alongside the start line of the race. Let the kids splash in the shallows of the netted swimming area of Shark Beach and claim a picnic spot under the canopy of one of the many Moreton Bay Fig Trees with stunning harbour views.
Sadly, Shark Beach and the promenade are currently closed for a seawall refurbishment until April 2024.
We'd recommend grabbing some snacks at the nearby cafe, The Nielsen, however, it's temporarily closed until further notice.
Bear in mind that Nielsen Park gets busy on Boxing Day, so catch the bus or be prepared for a bit of a walk. Open 7 am to 7 pm daily.
Location: 6 Steele Point Rd, Vaucluse
4. Bronte Beach and Park
Join the throngs of families and backpackers at beautiful Bronte Beach and Park.
The mood here is festive and, while it's crowded, you'll always find a place to lay your picnic blanket. There's a great playground for the kids to play in and the famous kid-friendly Bogey Hole to swim in. There is a seaside kiosk and loads of cafes close by.
Location: Bronte Rd, Bronte
5. Strickland House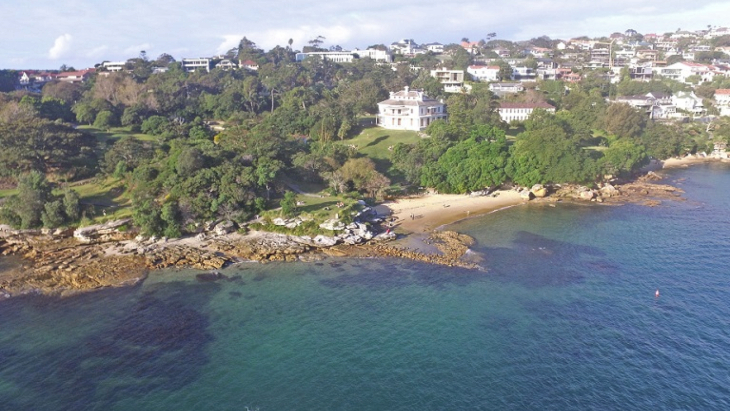 You cannot beat the views from the grounds of the historic Strickland House.
The imposing house isn't open to the public, however, the stunning and extensive grounds give access to two small harbourside beaches, including the beautiful Milk Beach directly below, with unrivalled views of the Sydney Harbour Bridge and Shark Island. Perfect for picnicking!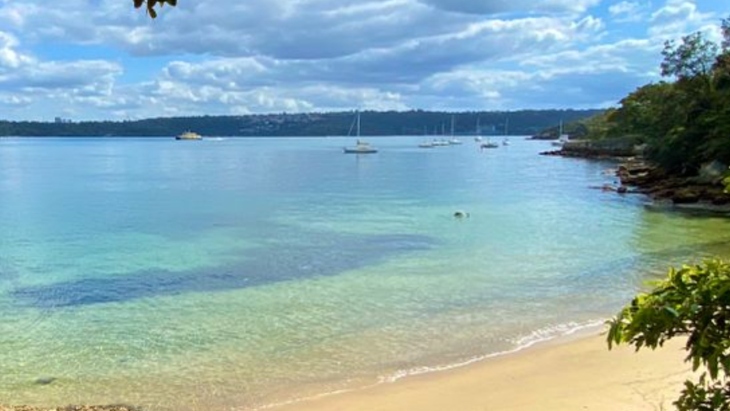 You can also access the Hermitage Foreshore Walk, which runs from Rose Bay to Watsons Bay. The grounds and garden are open from sunrise to sunset.
Location: 52 Vaucluse Rd, Vaucluse
6. Centennial Parklands
Our top pick for a picnic, join in the fun at one of Sydney's favourite picnic spots at Centennial Park.
With a convenient inner-city location, ample parking, five great playgrounds, plenty of shade, picnic tables, BBQs and, of course, resident ducks, geese and pelicans, it's easy to see why this lovely old park is a hit with children and adults.
The Pantry out the back of the Centennial Homestead offers delicious, elegant and great value-for-money pre-packaged picnic hampers.
7. Parsley Bay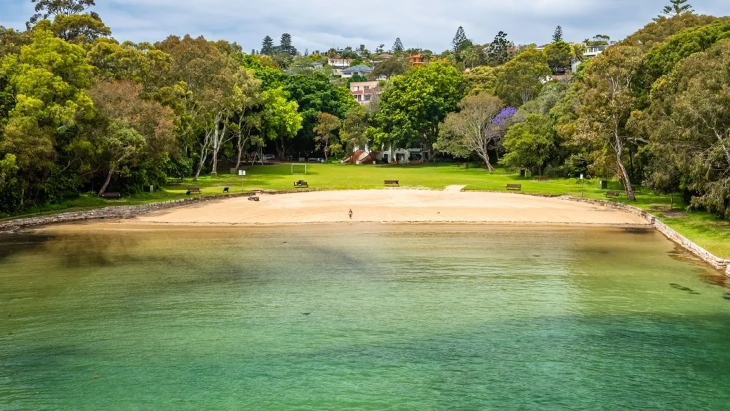 One of the most idyllic park-playground-beach combos in the East, the lovely and shady Parsley Bay reserve leads into a beautiful, clean flat beach, then into the most perfect wave-less shallow bay with a protected swimming area.
This iconic reserve, with its famous picturesque suspension bridge, is an ideal safe and relaxing play spot for your little ones. There are no BBQs, but plentiful picnic tables under the trees and a maze of serene nature walks.
The small car park fills up quickly, so get there early or be prepared for a bit of a walk.
Location: Parsley Rd, Vaucluse
Boxing Day Picnics in the Inner West
8. Glebe Foreshore Walk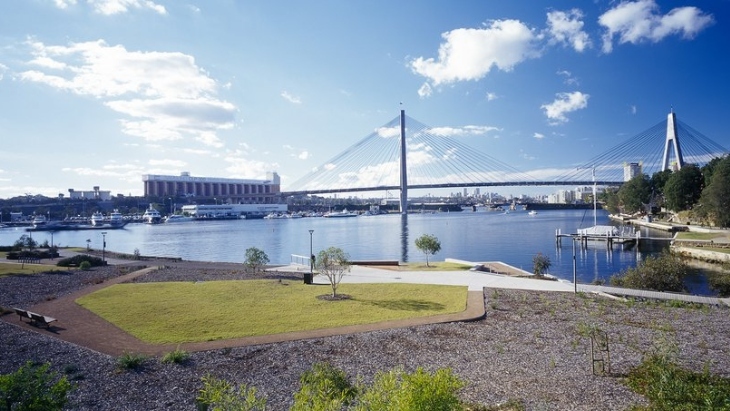 Have a wander around the Glebe Foreshore Parks and take your pick of one of the beautiful waterside parks that it encircles - Federal Park, Jubilee Park, Bicentennial Park and Blackwattle Bay Park.
There is plenty of space to settle in for a relaxed picnic or BBQ with the family and enjoy the great views of Anzac Bridge.
The parks provide plenty of opportunities for both high-energy recreation and lazy lolling about on lawns. There are kids' adventure playgrounds, native wetlands, beaches and off-leash areas for dogs.
The foreshore walk takes you to the Sydney Fish Markets, so if you're feeling energetic, reward yourself with a Boxing Day lunch of fresh seafood!
Location: Chapman Rd, Annandale
9. Sydney Park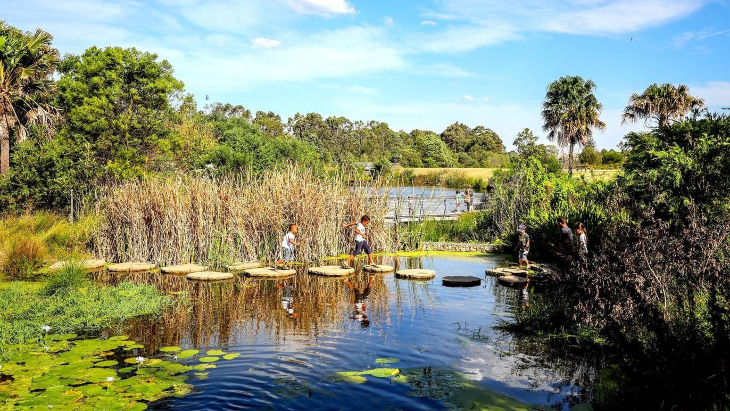 40 hectares of rolling hills, gardens, and wetlands await at the award-winning Sydney Park.
Whether you're packing the picnic basket yourself with homemade goods or you're keen to throw some snags on the barbie, Sydney Park has loads of free picnic spots and communal barbecues - enjoy!
Boxing Day Picnics in the Greater West
10. Lizard Log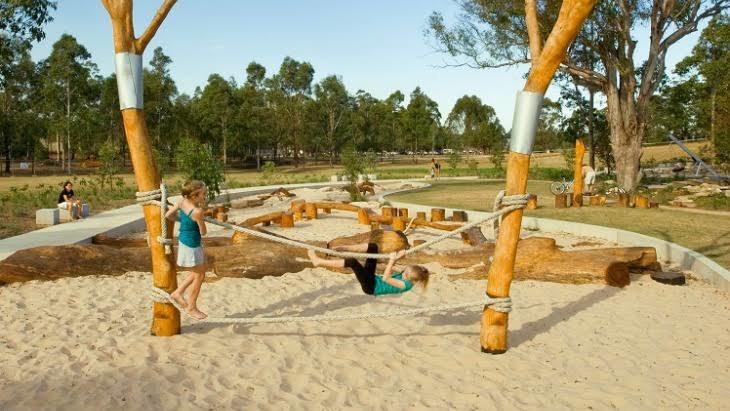 Lizard Log in the expansive Western Sydney Parklands is called Nature's Wonderland for good reason.
Renowned for encouraging creative play and greater interaction amongst visitors and the natural bushland setting, this play space and parkland is an ideal spot for a Boxing Day picnic in Sydney. It was even voted NSW's BEST playground!
It has a massive sandpit, climbing and rope walls, slides, water spouts, a triple flying fox and basket swings. There are stretches of adventurous paths for walking and scootering, with natural features like mountains, lookouts and dams. There are plenty of picnic tables, electric BBQs and a bathroom for an all-day visit.
Location: The Horsley Dr & Cowpasture Rd, Abbotsbury
11. Bicentennial Park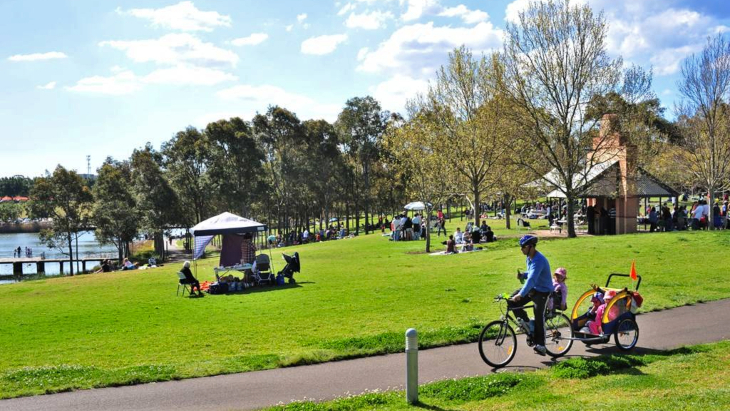 A prime parkland in Sydney Olympic Park, you'll be spoilt for choice at Bicentennial Park.
Spread your picnic blanket at Lake Belvedere or under a shady shelter and take advantage of the free BBQs, then let the kids run wild at the adventure playground with its sandpit, slide, climbing frame, swings and shade sails.
If it's really hot, they can cool off at the splashing fountains and water spouts at the water play area! See the incredible views from the Treillage Tower or take the bushwalking trail. Open daily from sunrise to sunset.
Location: Australia Ave, Sydney Olympic Park
12. Parramatta Park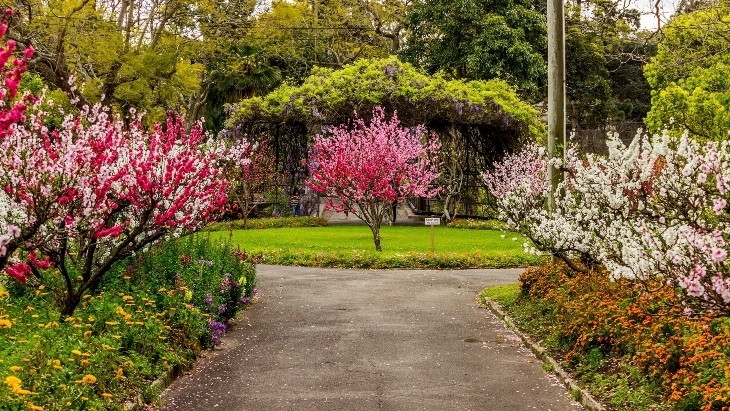 This sprawling 85-hectare green space has so much to offer picnicking families!
Aside from the gorgeous location along the Parramatta River, Parramatta Park has nature, playgrounds, history, sightseeing, family-friendly activities, and plenty more. All in all, a fantastic spot to spend Boxing Day!
Location: Pitt St and Macquarie Street
Discover more things to do in Parramatta.
Boxing Day Picnics on the North Shore
13. Blues Point Reserve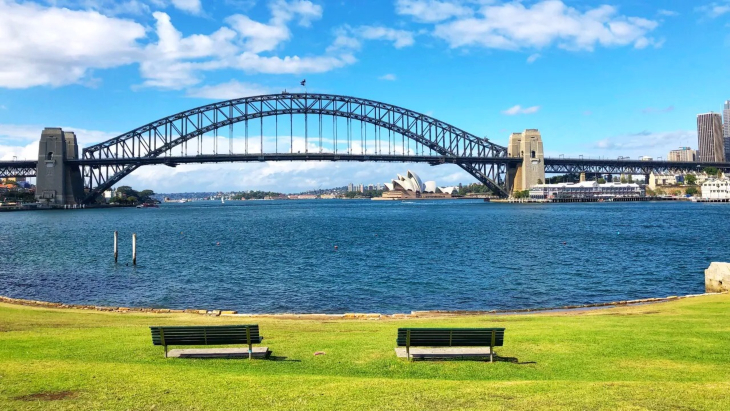 As far as views go, Blues Point Reserve has one of North Sydney's best!
This popular local spot in McMahons Point has plenty of great picnic spots, sprawling fig trees and a lovely maritime-themed custom-designed playground to keep the kids happy. At the same time, you can soak up the scenery and spectacular views of the city and harbour.
There are picnic tables, a bubbler and toilets available.
Location: Blues Point Rd, North Sydney
14. Wendy's Secret Garden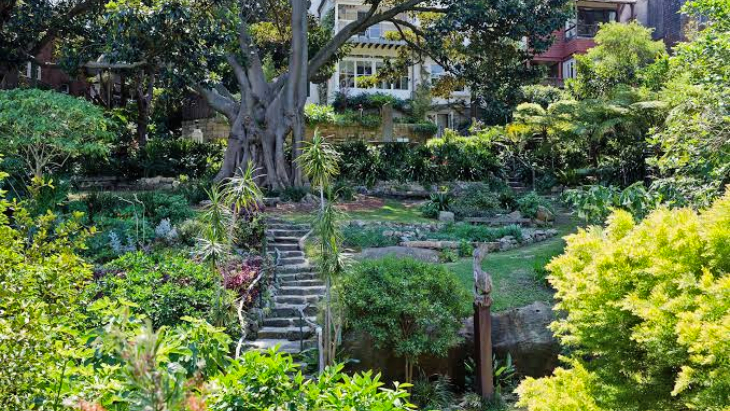 One of our family faves for a picnic, Wendy's Secret Garden is a quirky and quiet haven with something around every corner to delight children and adults alike.
While there is no play equipment on offer here, the surprisingly large garden is lush and has amazing harbour views. There are no BBQs, but picnic tables are scattered throughout the garden, and all kinds of quirky statues and random objects add charm to this living work of art.
Location: Lavender St, Lavender Bay
Check out more of The Best Secret Gardens in Sydney.
15. Taronga Zoo
Taronga's Main Entrance Plaza is a lovely spot for a family picnic, and access is FREE.
You can see some of the Zoo's wildlife exhibits and, best of all, you can take a free round trip on the Sky Safari, where you'll spot elephants, monkeys and, of course, the unbeatable iconic Sydney Harbour view from the heights of Sydney's only cableway experience.
The zoo is open from 9.30 am to 5 pm daily.
Location: Bradleys Head Rd, Mosman
16. Chowder Bay & Clifton Reserve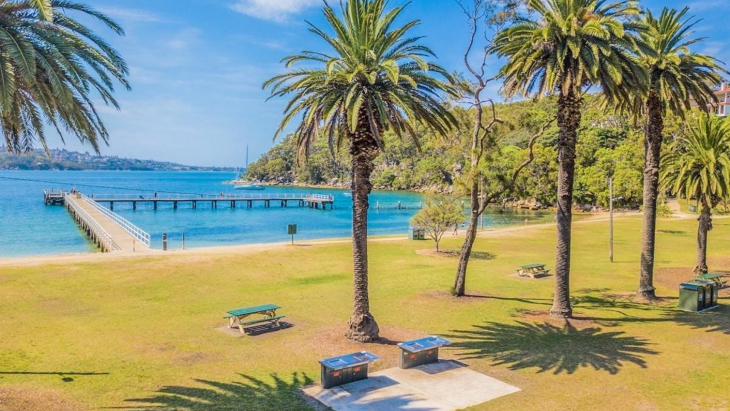 Located on the ever-popular Taronga Zoo to Balmoral Beach walking track, Chowder Bay cove has a kids' playground at Clifton Reserve and plenty of lovely picnic and BBQ spots.
The surrounding park offers lots of space for running and a protected and netted beach perfect for an afternoon dip.
Location: Morella Rd, Mosman
17. Cremorne Reserve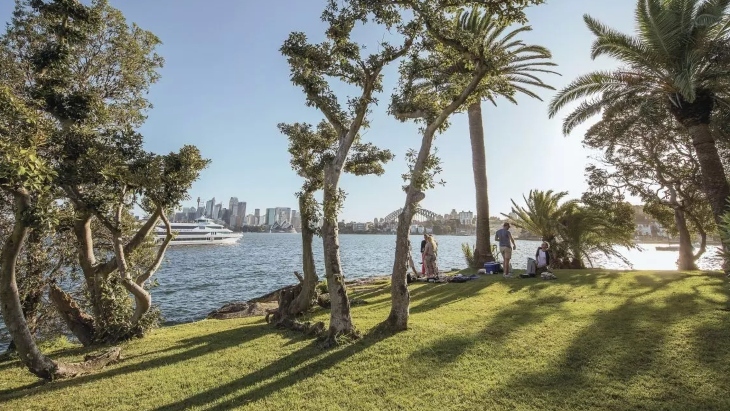 Another fantastic spot for a Boxing Day picnic on the North Shore with views of the city, Cremorne Reserve at Cremorne Point is one of our favourite harbourside bushlands.
You'll have the backdrop of the Sydney Opera House and Harbour Bridge to ogle at, plus, playgrounds, gardens, dog-friendly areas, and even the opportunity to visit the adorable Robertsons Point Lighthouse!
Location: Milson Rd, Cremorne Point
Boxing Day Picnics on the Northern Beaches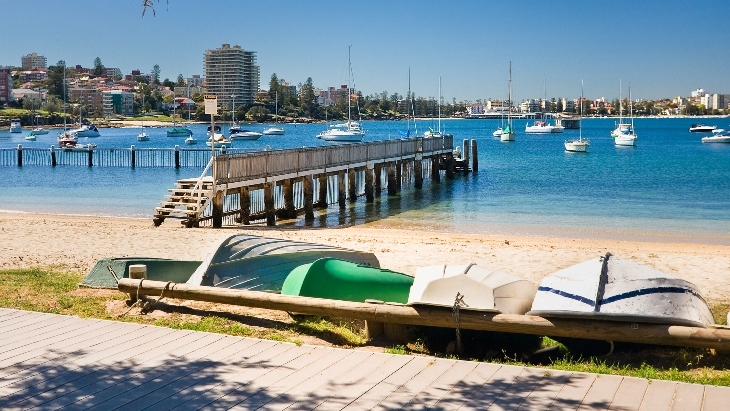 18. ​Forty Baskets Beach
If your Boxing Day picnic has to be right by the water, then head down to Forty Baskets Beach in Manly Cove along the Spit to Manly walkway.
Parking is available at Beatty Street in Balgowlah Heights, and we recommend heading over early in the morning to nab a great spot in front of the crystal-clear waters.
Location: Beatty St, Balgowlah Heights
19. Manly Dam
If you're after a more active Boxing Day, head to Manly Dam.
You'll find activities ranging from kayaking, swimming, and fishing to water skiing and mountain biking. There are picnic spots, shaded tables and BBQs along the waterfront. The picnic tables are bookable, so you don't have to arrive before dawn to get a spot.
Little lovers of nature will love the park's easy Wildflower Walk and Nature Trail, and there's a good kids' playground right on the shore of the dam.
Location: 112 King St, Manly Vale
20. Clontarf Beach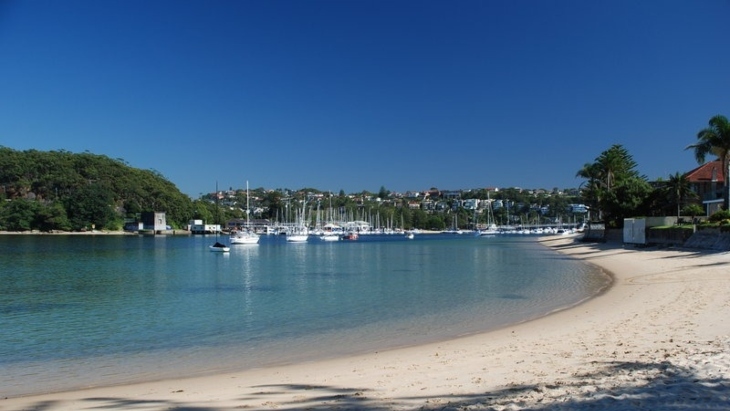 Clontarf Beach is one of Sydney's best spots for a family day out.
It is a fabulous spot right on the foreshore of Middle Harbour with BBQs, toilets, a cafe and netted swimming area (in the harbour).
There is also a well-equipped and shaded playground with activities for both toddlers and older children, plus a toddler bike path around the sandy play area.
Location: Sandy Bay Rd, Clontarf
21. Winnererremy Bay Flying Fox Park
The Parkland at Winnererremy Bay Flying Fox Park is well equipped for a family day out with BBQs, picnic shelters, bike paths and a beach.
There is plenty of open space to throw a ball or fly a kite or pretty much whatever takes your fancy! There's also a first-class, fully-fenced playground that caters for young children and a separate playground for older children. Of course, the oversized Flying Fox is the main attraction here!
Location: Mona St, Mona Vale
22. North Harbour Reserve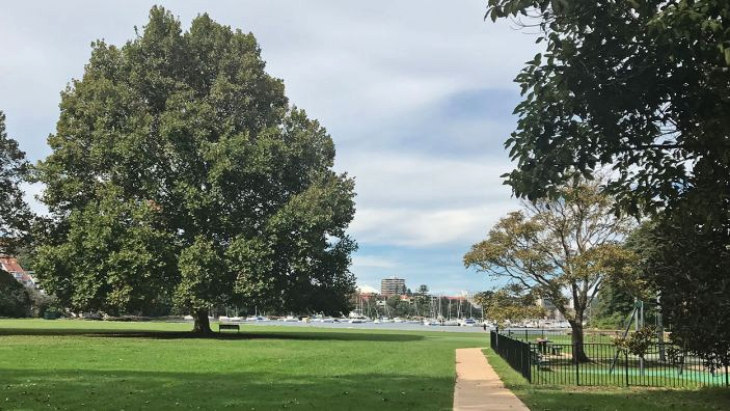 A lovely park with plenty of shade, BBQs, picnic tables, a bike track, and a shaded playground that's perfect for the under 10s, North Harbour Reserve in Balgowlah is on the scenic harbour foreshore walk that runs from Manly through to The Spit, so it is perfect for burning off some of those Christmas kilojoules!
Location: Condamine Street South, Balgowlah
The Blue Mountains
23. The Blue Mountains Botanic Garden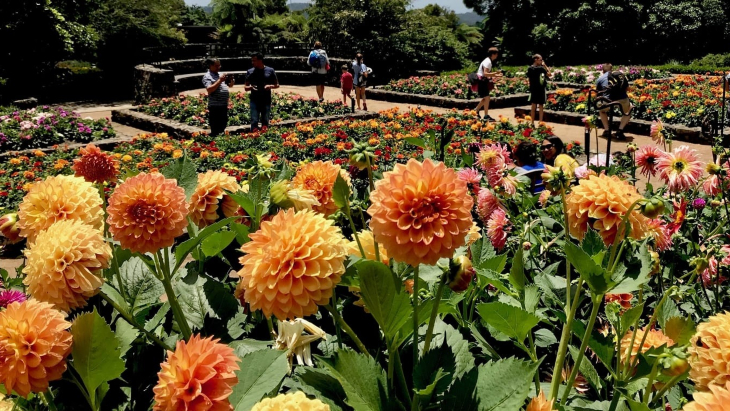 The Blue Mountains Botanic Garden in Mount Tomah is a 28-hectare fertile environment with a low temperature that makes it perfect for showcasing plants from the world's cooler regions.
A beautiful 90-minute drive from Sydney, the breathtaking sanctuary is the only botanic garden in the world located in a World Heritage Area and a wonderful place to picnic and explore with the kids!
Location: Bells Line of Rd, Mount Tomah
More Fun on Boxing Day
Where to go Snorkelling in Sydney
Sydney's Best Rock Pools
Explore Sydney's Secret Beaches
Have you signed up to our newsletter? Join ellaslist to get the best family and kid-friendly events, venues, classes and things to do NEAR YOU!
Reviews
I love to visit with family there