The Best Snorkelling Spots in Sydney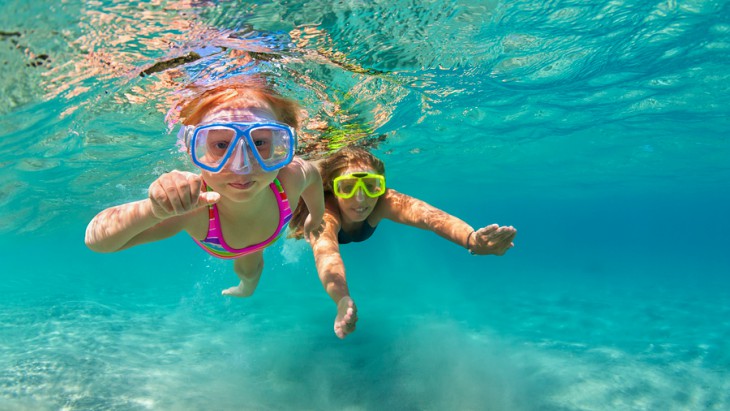 If simply swimming at the beach doesn't seem to cut the mustard anymore, it might be time to don some flippers and goggles and discover a whole new world under the water snorkelling in Sydney.
Make this summer one of adventure and natural beauty by taking your kids snorkelling to one of Sydney's best snorkelling spots! Kids will gain a great appreciation for the ocean and marine life at these gorgeous locations, full of wondrous creatures and calm waters. Plus, you get to make the most of the natural beauty our picturesque city has to offer. So, where is the best place to go snorkelling? We're glad you asked!
Top 10 Spots for Snorkelling in Sydney
1. Clovelly Beach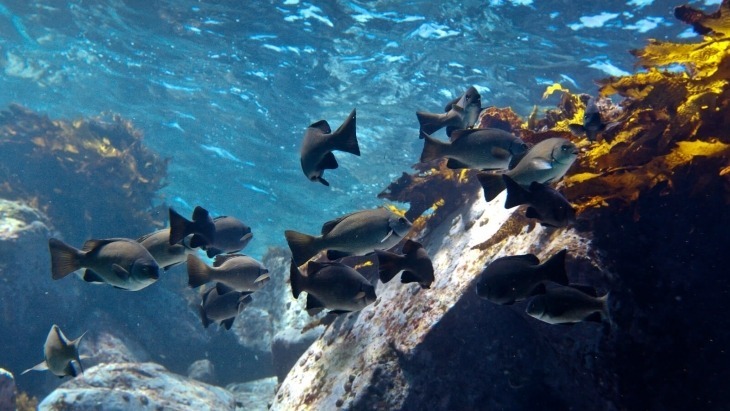 Clovelly Beach is renowned for its family-friendliness, with an onsite playground, shaded BBQ huts, ocean pool, cafe kiosk, and amazing snorkelling opportunities. The calm water can be easily accessed with Clovelly's many in-water ramps, various steps and platforms, or simply from the sand.
2. Little Bay Beach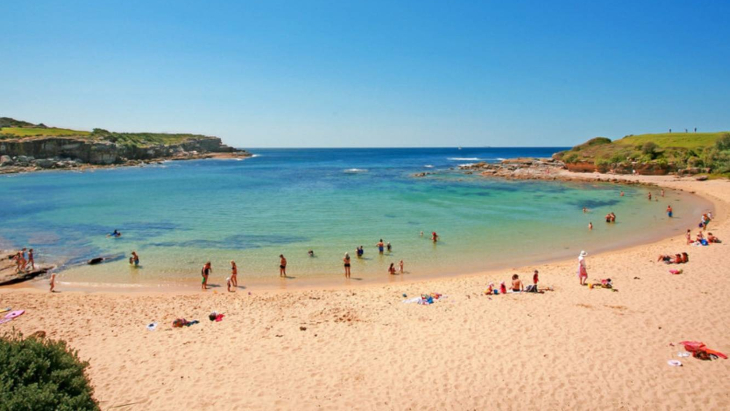 Little Bay Beach is beloved for its consistently calm waters, cleanliness, and great snorkelling potential. You will likely spot schools of smaller fish, sea anemones and other delicate marine life when snorkelling at Little Bay Beach. Is this your first time hitting the underwater world? Little Bay Beach is ideal for beginner snorkellers.
RELATED: Sydney's Top 10 Rock Pools
3. Malabar Beach
If snorkelling for you means discovering magical underwater shipwrecks, then you simply can't beat a snorkelling session at Malabar Beach. The placid waters at Malabar Beach make this a popular spot with families and keen snorkelers, plus the fact that there's not one but two shipwrecks in the bay, the MV Malabar and the Goolgwai, that will make for very interesting dinnertime conversation.
4. Kurnell
Huge Cuttlefish, moray eels, Port Jackson sharks (the safe sharks!), sea dragons, and obelisks are all on display when snorkelling at Kurnell and the waters of Botany Bay National Park. Silver Beach is the ideal spot to check out Kurnell's underwater world, and the soft sand is a great spot for playing if you'll have the little ones in tow, and don't forget to stop off at Kurnell Tidal Baths midway along the beach.
5. Bare Island

This gem is a no-brainer, particularly for Mission Impossible lovers (Bare Island was where the finale scene of the sequel was shot!). The islet is located about 16 kilometres southeast of the Sydney CBD and is connected by a footbridge to the suburb of La Perouse. It's also a great scuba diving spot, but appropriate for beginners too. We've heard a turtle lives there, so keep an eye out! We're sure you'll enjoy the colourful sea sponge and interesting looking types of fish (like the Red Gurnard).
6. Cabbage Tree Bay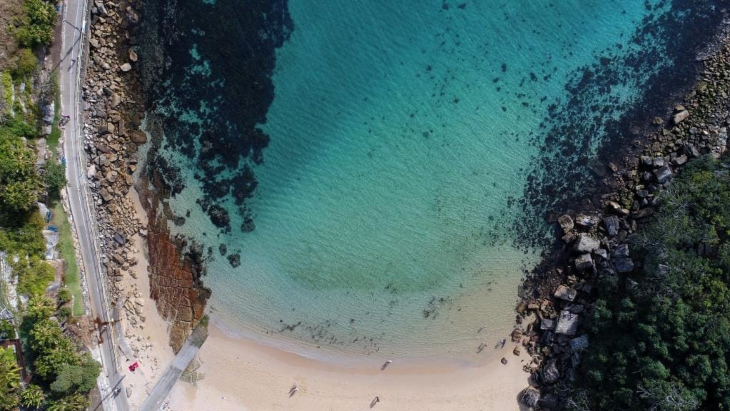 Cabbage Tree Bay is nestled between Manly and Shelly Beach and has one of the most impressive and diverse ranges of marine life on this entire list. More than 150 species of fish and marine life call Cabbage Tree Bay home and are usually on display for all of their adoring fans. From stingrays and wobbegong sharks to the much less frightening flathead and cuttlefish, Cabbage Tree will impress snorkelers of all ages.
7. Little Manly Cove
Not to be confused with Manly Cove, Little Manly Cove is the no-waves brother of the nearby cove and is a prime candidate for the best spot in Sydney for snorkelling. Little Manly Cove has calm conditions and a totally beached relaxed vibe that's perfect for a touch of snorkelling or even just bobbing along on your favourite floaty.
8. Oak Park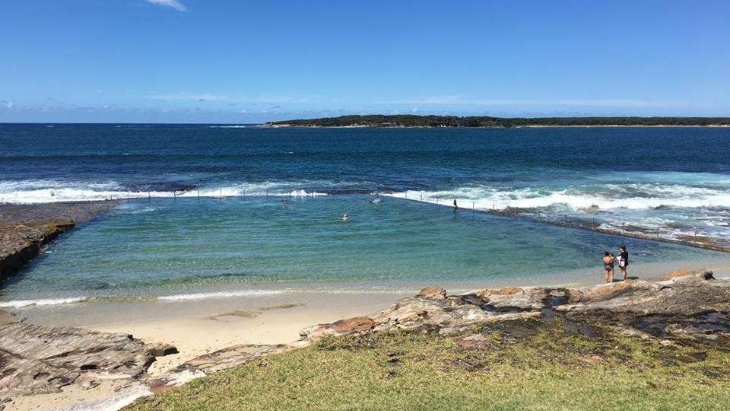 Explore the crevices and hideouts along this curved wall in this Cronulla park pool. The gropers are friendly, and sea horses and turtles are frequently spotted. Divers have said that schools of fish can be so large its hard to see through them!
9. Gordons Bay, Between Clovelly and Coogee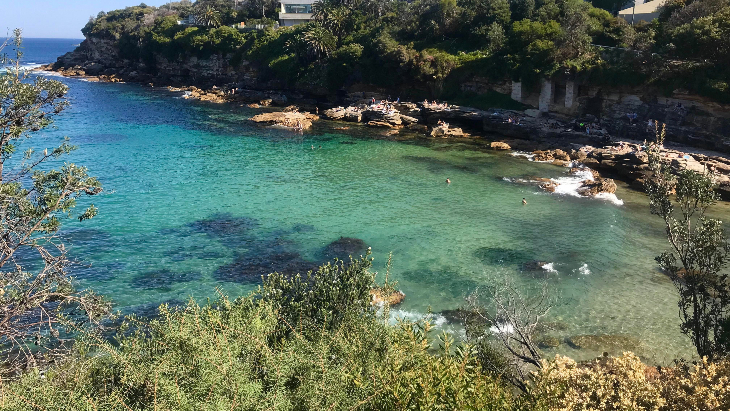 Gordons Bay in Sydney's Eastern Suburbs is a beautiful hidden gem (and a little bit tricky to get to, unfortunately!). This picturesque Sydney snorkelling spot is something quite special because the whole of Gordons Bay is actually a bonafide underwater nature trail! Get ready to spot colourful starfish, sea urchins, garfish and other cool locals (we won't give too much away!).
10. The Basin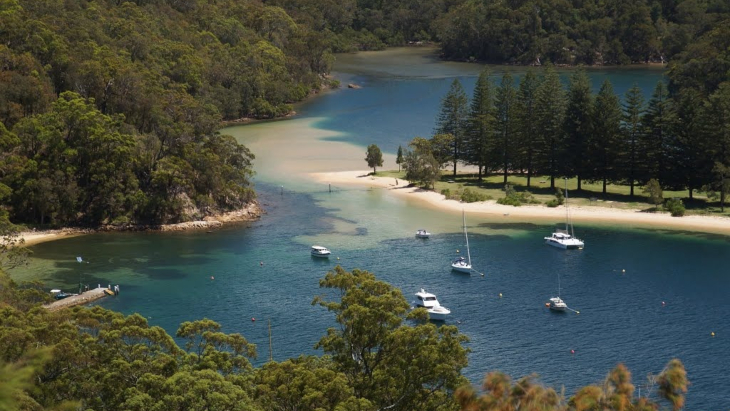 The Basin in Ku-Ring-Gai is home to loads of starfish and seahorses. The Basin has a camping ground if you want to make a getaway of it, and you can only get to it by water so maybe a ferry from Palm Beach is the best option. There's also awesome snorkelling tours held here if you need a little guidance.
**Just a reminder to always be careful during snorkelling. Some marine life can be dangerous and harmful, and be mindful of rips and unpatrolled water. Snorkelling is really better suited to older children and experienced swimmers.
Want More Water Action?
Shhh... Sydney's Secret Beaches
Sydney's Best Beaches for Kids
Check out 21 FREE Water Parks in Sydney

Have you signed up to our newsletter? Join ellaslist to get the best family and kid-friendly events, venues, classes and things to do NEAR YOU!
Reviews
Yes, it is! It's located in the Eastern Suburbs of Sydney. It's a beautiful beach to visit.
Hi I Just want to know is clovelly beach in Sydney