The Very Best Playgrounds in the World
By: Phoebe Ackland, ellaslist
Oh, to be a kid again. We've travelled around the world to find the most creative and inventive playgrounds we've ever seen. We wish we had these growing up!
1. Mulighedernes Park, Denmark
Monstrum, a Danish company constructs some of the most creative playgrounds in the world – said to be like something out of a child's dream. They are physically demanding yet still safe, and made entirely out of sustainable wood. This large dragon has made a home in Mulighedernes Park in Aalborg. The Dragon has climbing knobs installed all over its body, a double slide and balance beams. Inside the dragon there are hideouts and tunnels leading to good hiding places or to the top of the slides.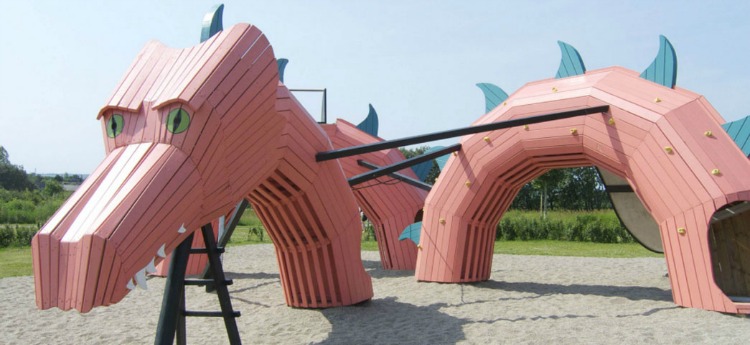 Source: Monstrum
2. City Museum, St Louis, Missouri
Once an old shoe factory, this 10 storey museum is now a playground inside – a children's paradise in an urban jungle! There's a treehouse, spiral slide…and even a 30 foot ferris wheel.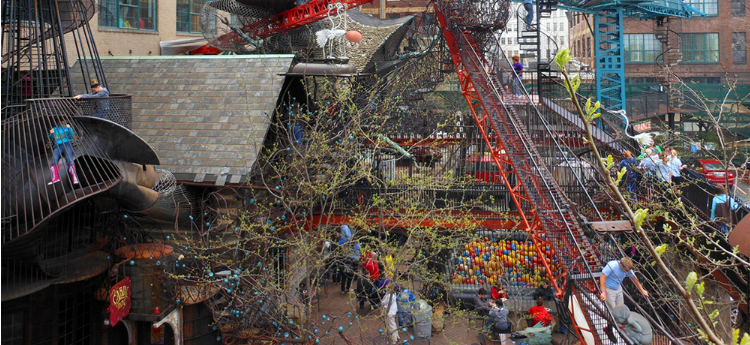 Source: Christopher Jobson
3. Playground at Parque Gulliver, Spain
You have to step back to fully understand the magnificence of this playground. It's in the shape of the giant from Gulliver's Travels. Children become the "Lilliputians" from the story as they clamber all over the giant!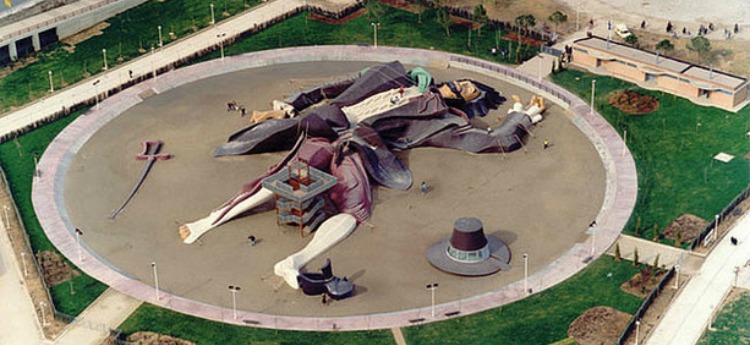 Source: anGelaa* on Flickr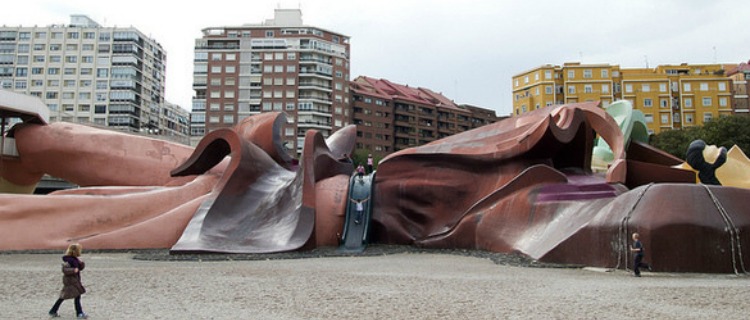 Source: Robyn Lee on Flickr
4. Water Playground, Poland
At ellaslist, we love a good water playpark. This one in Tychy, Poland, is shaped like a pool with a blue bottom and wooden benches lining the outside. Aquatic toys and and flower fountains spray water as children play. At night, the LED lights come on and give the park a gorgeous glow.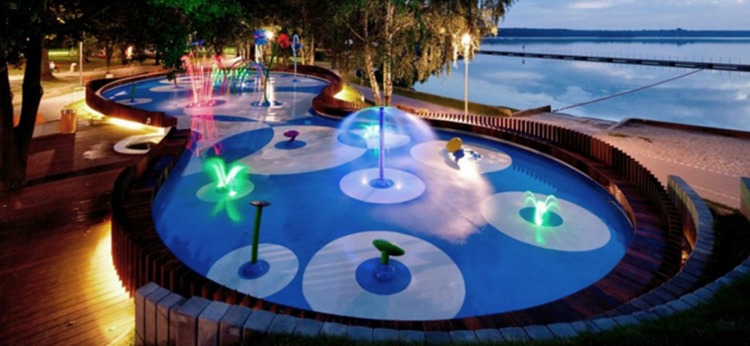 Source: Design rulz
5. Bounce Below, Northern Wales
There's an actual trampoline in an underground cave in Wales. Well, 3 trampolines to be precise. This former Victorian mine is now a bouncing wonderland for kids and kids at heart. This isn't just a park, but a total experience.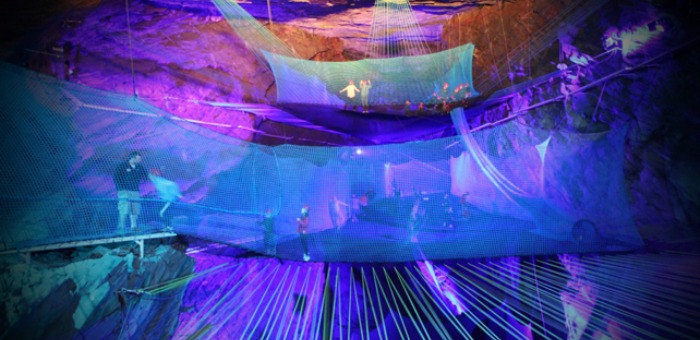 Source: Visit Wales
6. Wright Brothers Playground, New York City
This one makes the list through commitment to theme. This park is all about aeroplanes as kids can sit in and command an aeroplane, with little signs dotted around telling of the plight of the Wright Brothers and their aerial journey.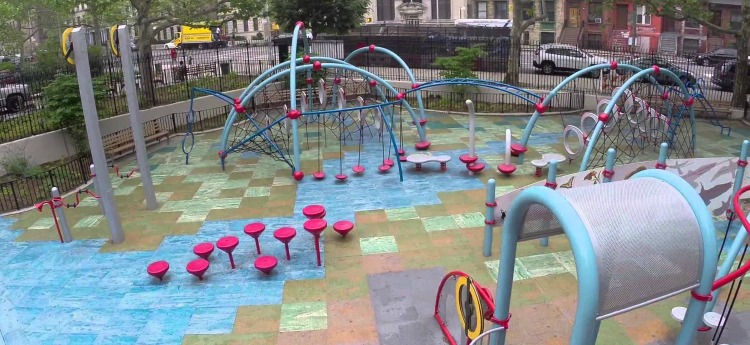 Source: Landscape Structures Inc Youtube
7. Crocheted Playground, Japan
Inside the Hakone Sculpture Park in Japan is the colourful park design by Japanese crochet artist Toshiko Horiuchi MacAdam. The Rainbow Net opened after 3 years of planning and engineering. It is amazing to see how the crochet comes to life and forms new shapes and pockets when children play.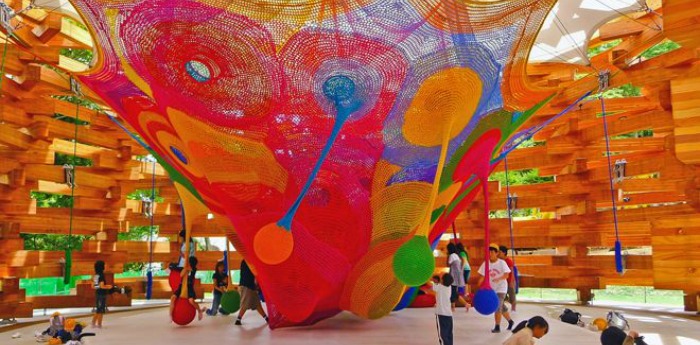 Source: Rita on Pinterest
8. Shelby Farms Park Conservancy, Memphis,
USA
Children were asked what they wanted in a playground, and James Corner Field Operations delivered. The finished product consists of different "nests" or play areas, each connected with walkways covered in ivy. This is a truly enchanting park with lots of nooks and crannies to explore.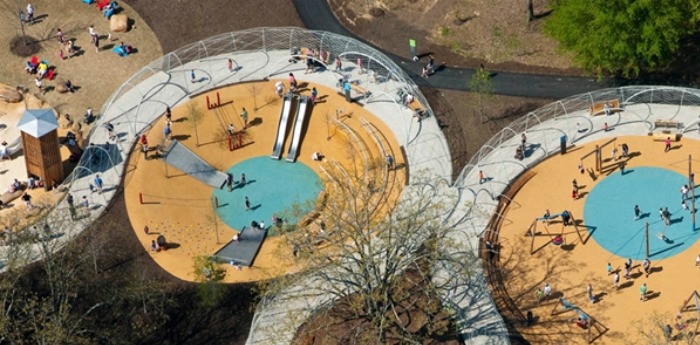 Source: Shelby Farms Park.org
A Couple from Australia
Nature's Playground, Adelaide Zoo
Children are connected to nature through play at this earthy playground by Wax Designs, new to Adelaide Zoo. There's a rock lined creek with tadpoles swimming around, cubby houses to explore and so much more in this woodland setting.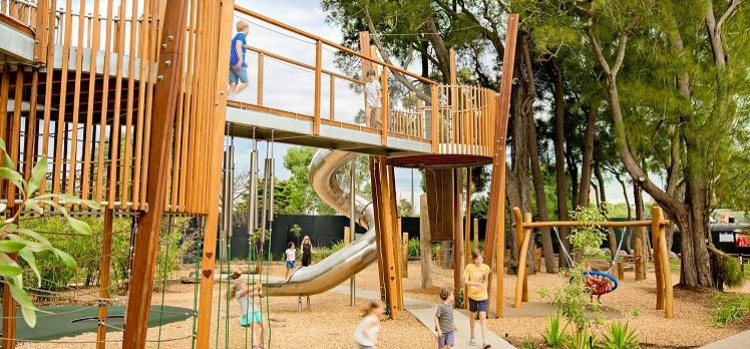 Source: Dan Schultz, Wax Design
Wulaba Park, Waterloo, Sydney
There is a massive play tower and giant slide, cable climbing apparatus, climbing nets, tunnels and just about everything else, is fantastic bold, bright colours. Read our review of the playground.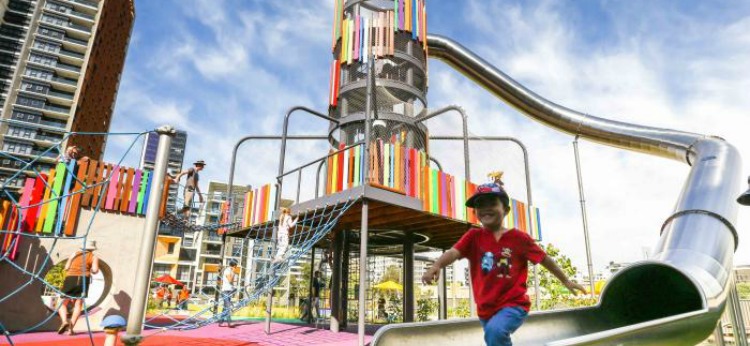 Source: City of Sydney
Reviews
JUST SOMEBODY RANDOM SCROLLING THROUGH PLAYGROUDS
this is such a cool idea, ive been to the one at Adelaide zoo and its flipping awesome. take your kids there straight away.