The Best Christmas Activities For Kids In Sydney City 2016
Preschoolers
Family
Kids
Mums & Bubs
Parents Only
Teens
Todders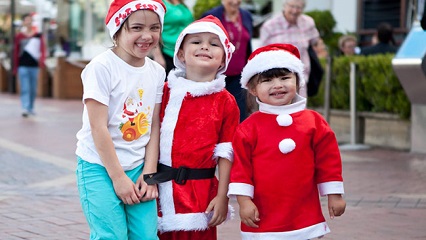 It's beginning to look a lot like Christmas… Woo Hoo!
Every year, we love that Sydney transforms into a twinkling display of magical lights at twilight, and there's nothing more exciting for kids than a stay-up-late adventure with mum and dad. So, choose from special events, spectacular carol concerts or a Christmas Stroll that'll make it a perfect Christmas for kids. Here's our top picks for the best kids Christmas activities in the stunning Sydney CBD.

Swarovski Christmas Tree Display,
QVB
When:
 27 October 2016 to 8 January 2017; Mon-Weds & Fri 9am-6pm, Thurs 9am-9pm, Sat 10am-4pm & Sun 11am-4pm
Where:
Queen Victoria Building, 455 George St, Sydney
Cost:
Free
You can't miss the QVB's grandiose but amazingly enchanting 24 metre tall Swarovski Christmas Tree display. With over 82,000 sparkling Swarovski crystals and 65,000 twinkling lights – all that sparkle and glitter will be a spectacle to behold! Topped with a 2.2m wide gold star!
Sydney Town Hall Organ Recitals
When:
 14 November 2016; 12.30-1.30pm & 30 December; 12.30-1.30pm
Where:
483 George Street, Sydney
Cost:
Free
Enjoy two free lunchtime concerts in the heart of the city and witness one of the world's grandest organs. The organ recitals are a relaxing and traditional way to enjoy Christmas, and it's a spectacular sight to behold with its 126 speaking stops, 9,000 pipes and a unique 64 foot pedal stop.
David Jones Christmas Windows
When:
 Friday 4 November- Christmas day 2016; all day
Where:
 David Jones, Elizabeth St Sydney
CBD
Every year without fail, David Jones unveils a fun and spectacular Christmas window display which awes the young and old. They're back in 2016 better than ever, and worth a trip into the city. in 2016, Santa ordered polar bears to help out with loading presents onto the sleigh this year- watch them go in this enchanting Christmas tradition.
Martin Place Christmas Concert & Official Tree Lighting
When: 
Saturday 26 November 2016 from 6.30pm to 8.30pm
Cost:
Free
FREE Children's concert & the official lighting of the brilliant interactive Christmas tree. Santa will arrive on his cycle-drawn sleigh, a fireworks display, a pop-up dessert bar, live performances by Bananas in Pyjamas and so much more! Check out more information here. 
Christmas on the Green, Hyde Park
When:
 Saturday 26 November 2016; 6.30-8.30pm
Cost:
Free
Where:
British Lawn, Hyde Park North, Elizabeth Street Sydney
Sydney's free Christmas concert on the lush lawns is the perfect festive family night out. There will be delicious food vendors, kids craft, a visit from Santa, a stunning fireworks display & on the stage you'll find Jimmy Giggle and Ben & Holly's Little Kingdom. Christmas on the Green is for the whole family.
Christmas Lights: Martin Place & St Mary's Cathedral
When:
 Martin Place- Saturday 26 November to Saturday 24 December 2016; all day
St Mary's Cathedral - Thursday 8 December to Sunday 25 December 2016; 7.30pm-12am
If you're not heading up to the Martin Place or Hyde Park Christmas Concerts, pick another weeknight or weekday, start the evening with a low key family dinner at Pitt St Mall or Circular Quay and plan a stroll to enjoy the Christmas lights around the city.
Martin Place After the official lighting of the tree on 26 November, you can watch it sparkle nightly. Make your mark on the 20m high tree by texting a message to 048 SYD XMAS and watching it light up the sky. There will be choirs to serenade you as you watch on.
St Mary's Cathedral  The theme for the 2016 event is Joy to the World and will feature an extraordinary animation of the timeless Christmas tale, the Nutcracker Suite along with a pictorial journey of Christmas decorations throughout the ages.
Source: City of Sydney

Boulevard of Light, Sydney
CBD
When: 
 Saturday 26 November to Sunday 25 December 2016; daily from 8.30pm-1am
Where:
 Pitt Street Mall, Pitt St, Sydney
Cost:
Free
Discover a Christmas wonderland right in the heart of Sydney as you stroll along Pitt Street Mall underneath a canopy of suspended Christmas trees. Featuring thousands of LED lights, our Christmas Light Forest installation will make your late night shopping sparkle.
Carols in the Domain
When:
 Sunday 18 December 2016; 12-11pm
Where:
 The Domain is adjacent to the Royal Botanic Gardens, between Art Gallery Road and Hospital Road, Sydney
Cost:
Free
Australia's largest Christmas concert, Carols in the Domain is an iconic Sydney Christmas event. With a carnival, pre-show entertainment and not to mention an always stunning cast of entertainers, this is not to be missed! Bring your picnic blanket for one the most beloved traditions on the Sydney Christmas calendar.
Reviews
I would really love to go to Christmas activities in Sydney this kids holidays.. Nanu RRs
I would love to go in this Christmas activities