Six Of The Best Eating Out Asian Places For Kids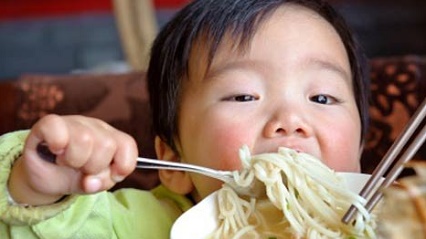 By: Alana Whitting, ellaslist explorer
Our girls love eating out and the flavours and vibrancy of Asian cuisine are perfect for their little tastebuds. Here are some great places to eat with kids!
1. Teppanyaki – Fujiya Japanese Teppanyaki Restaurant
Our girls get so excited when we head to teppanyaki. The fun of catching an egg and adding it to your fried rice in your dinner bowl can't be beaten!! At Fujiya Japanese Teppanyaki Restaurant in Gordon they offer a great kids set menu with lovely interaction from the chef, adding to the enjoyment. Little ones will also love dessert – Mickey Mouse shaped pancakes with ice cream.
2. Chinese – Hong Kong Restaurant Newport
This Chinese restaurant has been a family favourite since I was little and now our girls love it too. They offer a delicious range or traditional and contemporary Chinese meals and have a big focus on families. Our girls are always excited to start the meal with some prawn crackers and love spinning everything around on the lazy Susan in the middle of the table. Some of their menu favourites are the san choy bow (they love wrapping up the lettuce cups filled with meat), spring rolls, prawn cutlets and they can't go past the fried rice. It's always a treat to finish with fresh fruit and fortune cookies for dessert.
3. Sushi Train – Sushi Kenzo Dee Why
Looking out over Dee Why beach our girls love the fun of grabbing dishes from the sushi train at Sushi Kenzo. The restaurant has a good selection of sushi plates and also a la carte menu items which you can enjoy as dine in around the sushi train or take away. The food is fresh and kids also love watching the chefs prepare dishes in the centre of the train area, right before your eyes.
4. Yum Cha – Kam Fook Chatswood
Yum Cha is lots of fun for little ones, seeing trolleys of food coming and going and selecting your own little steam baskets and plates of yummy goodies. Dumplings are always a favourite with our family and the dessert trolley is of course very popular!
5. Wok Bar – Dee Why and Manly
Wok Bar offers a range of Asian street food from Thailand, Vietnam, Malaysia, China and Japan. Kids get to enjoy bento box style meals with a main option, rice or noodles plus a piece of fruit and fortune cookie – they love getting their own little bento box and yummy selection of food to enjoy. They also have super cute 'learner' chopsticks that help teach kids how to use chopsticks.
6. Chinese BBQ – Top BBQ
Top BBQ in Dee Why is our pick for pancakes – Peking duck pancakes and lamb pancakes to be precise. The girls love putting together all of the elements of the pancake then rolling it up to eat and enjoy. And they are so delicious they disappear very quickly. This small but very popular restaurant also has an extensive menu with a range of Chinese favourites.
ABOUT ALANA
My husband Andy and I are parents to Cleo, five and Ava, two. Our household also includes two very demanding but adorable Burmese cats, Coco and Tiger. My professional background is Marketing in the hospitality and sporting industries and my husband and I now achieve the often impossible for married couples, working together in our full-service below-the-line design, marketing and production agency.
We love getting out and about and exploring, whether it's adventuring outdoors or checking out the latest event or exhibition as a family, we're always keeping up-to-date with what's happening locally as well as across Sydney. Being busy with our own business and two very spirited little girls lends itself to our active nature and we're always on the go. In our downtime we love watching Disney movies!
Cleo and Ava are all action; Cleo is wonderfully creative with a huge imagination which she translates into beautiful drawings and stories. She also loves nature and everything to do with plants and animals. Ava is cheeky, can entertain herself for hours with building blocks and puzzles, has a love of singing and her very favourite activity is going to playgroup.
I love enjoying an active lifestyle with my family, reading, cooking, keeping up with my powerhouse husband Andy and occasionally indulging in some delicious dark chocolate and a sneaky margarita!
As a family we also enjoy entertaining and spending time with family and friends, eating out and family holidays.
Being a Mum is the hardest job I've even undertaken but without doubt the most rewarding and absolutely the most fun I've ever had.