Last Minute Book Week Costumes
Last Minute Book Week Costumes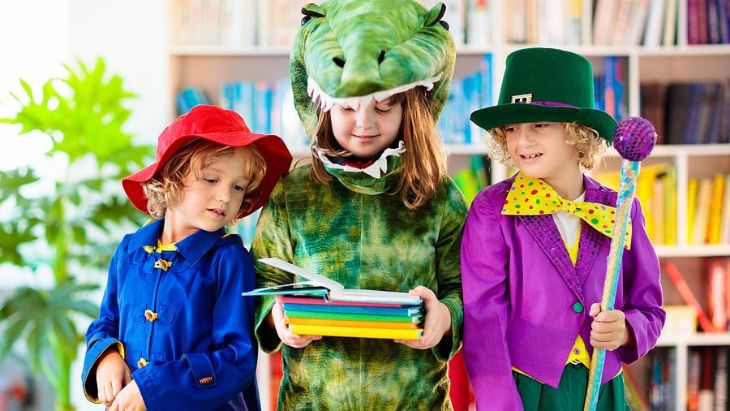 Book Week is almost here… again!
We know, we know, it's not the most fun time of the year for parents, especially when you're tasked with getting your hands dirty bringing your child's best-ever Book Week costume to life. But don't stress, we're here to save you your sanity with super easy, last minute Book Week costumes you can make at home. You're welcome!
Book Week 2023
Book Week 2023 will be held between 19 - 25 August 2023 and returns with the theme of "Read, Grow, Inspire."
The theme is centred around how literature has the capacity to develop a child's inner world and how it can plant the seed of inspiration for them to express their own creativity.
Last Minute Book Week Costumes
1. The Cat in the Hat & Green Eggs and Ham From Dr Seuss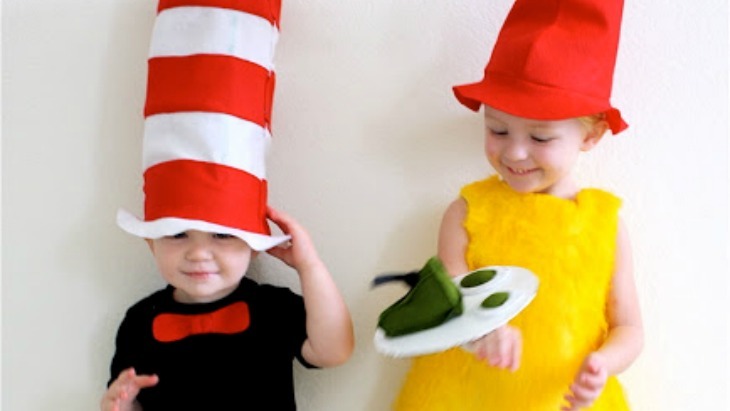 First up on our list of last minute Book Week costumes is everyone's favourite Cat in the Hat!
What You'll Need: A tall red and white striped hat and a large red bow tie. They can be constructed out of cardboard. Draw on, or buy, a cat nose and whiskers. A cinch! For those green eggs fans, all you'll need is a yellow dress and a red hat (optional). For those green eggs, take a paint palette or a plastic plate and colour in some eggs.
2. Wally From Where's Wally?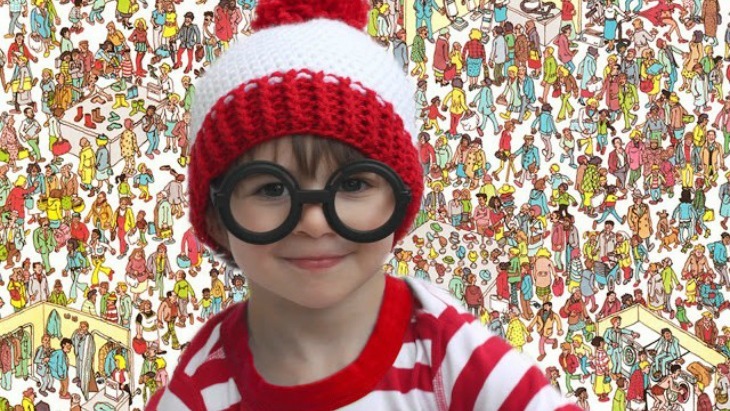 Where's Wally is always a firm favourite when it comes to easy Book Week costumes!
What You'll Need:
A red and white striped beanie, a red and white striped long-sleeve top, blue jeans, round glasses and a cane. Voila!
3. Harry Potter From the Harry Potter Series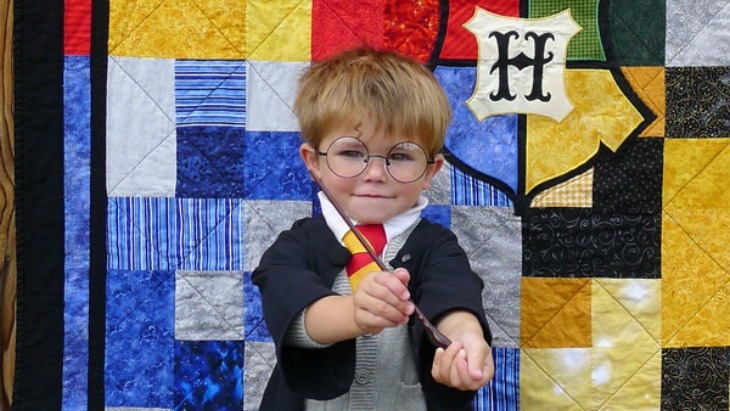 What You'll Need:
A long cloak-style jacket (or try a dressing gown?), round glasses and a magic wand. Don't forget the lightning scar and shaggy hair. Hey, presto!
4. Matilda From Matilda

What You'll Need:
Our favourite bookworm just needs a blue dress with a jacket and a red ribbon. And don't forget a book (and ideally a glass jar with a newt inside if possible!)
5. Alice From Alice in Wonderland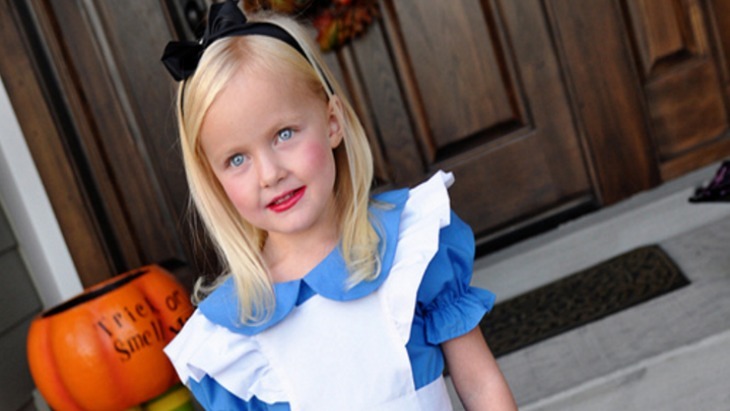 We don't think we can remember a Book Week when there hasn't been a number of Alice in Wonderlands running about!
What You'll Need:
A blue dress, white apron, white leggings, black shoes and a black 'Alice' headband. Carry a small bottle with a 'drink me' label for extra oomph!
6. Maisy The Mouse From Maisy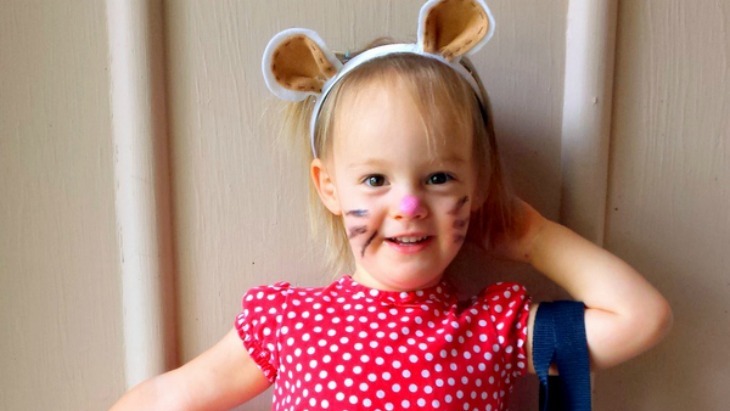 What You'll Need:
Any clothes will do, but overalls are a favourite. Add mouse ears and a tail, and draw on or buy a mouse nose and whiskers!
7. The Man In The Yellow Hat From Curious George

What You'll Need:
Grab a yellow shirt and jeans with brown boots and voila - another easy book week costume! If you don't have a yellow tie lying around, make one with cardboard with black polka dots. Bring along your toy monkey and it's all done!
8. Charlie Bucket From Charlie and the Chocolate Factory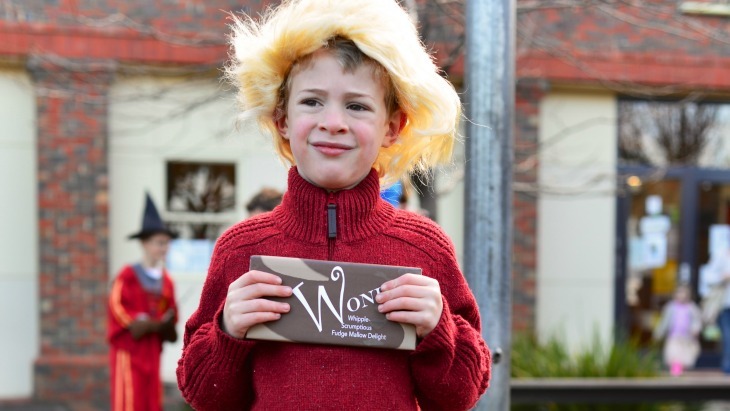 What You'll Need:
Well-loved jeans and a woolly jumper. Beanie is optional. Add a chocolate bar and a golden ticket. A sure winner!
9. Greg Hefley From Diary of a Wimpy Kid

What You'll Need:
There are plenty of downloadable mask templates available online for this much-loved Book Week character, add a simple white T-shirt and black jeans to complete the look, or draw on lines if you've got a tee to spare to go the extra mile!
10. Thing One and Thing Two From The Cat in the Hat by Dr Seuss

What You'll Need:
A red T-shirt, something blue for the bottom and optional red and white stripy tights will have you over the line with this last minute Book Week costume! Create the motif on the T-shirt using a paper plate, staple it on and the job's a good un.
11. Ninja Kids From the Ninja Kid Series by Anh Do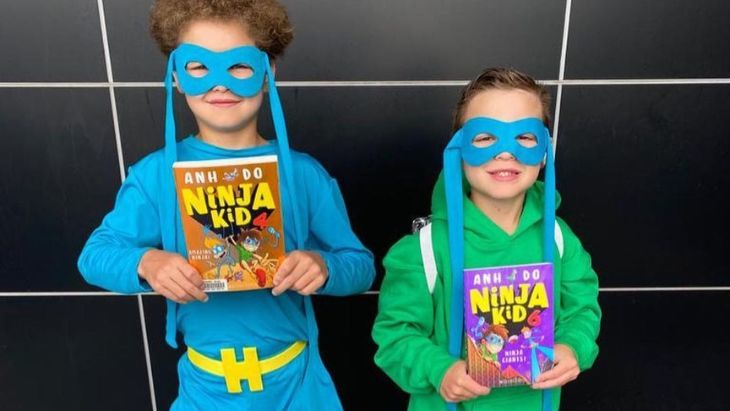 What You'll Need:
Some spare fabric to make a mask, plus colourful clothing depending on which Ninja Kid character you choose. Easy as pie!
12. Billie B Brown From the Billie B Brown series by Sally Rippin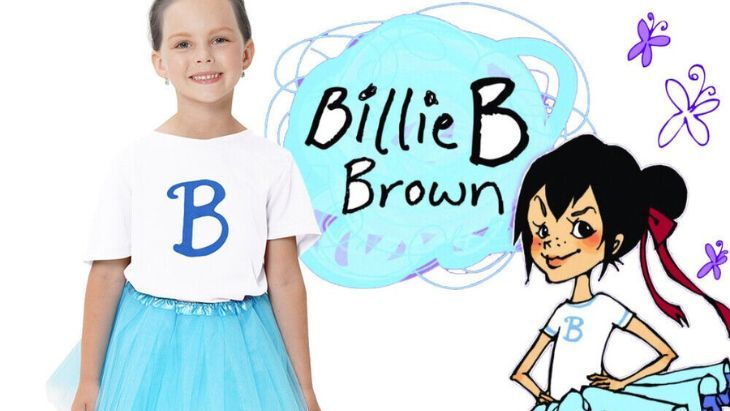 What You'll Need:
A super-simple one comprising a T-shirt with a B on it, a blue tutu and some optional stripy tights—last-minute book week costumes don't get much easier!
More Inspiration for Book Week Costumes
13. The Practically Perfect Mary Poppins
14. A Tight Fit – Alice in Wonderland
15. Careful Of This Wild Thing!
16. Blasting Off! – Tintin
17. Brick By Brick – Lego!
Hero image: stayathomemum.com.au
Indoor Activities for Kids
Use your Creative Voucher To Get Craft Kits Delivered
Best Educational Apps for Kids
Art for Kids: Get Creative with a Little Spirit
Have you signed up for our newsletter? Join ellaslist to get the best family and kid-friendly events, venues, classes and things to do NEAR YOU!
Reviews
Love the website thanks a bunch