How To Write A Letter To Santa With Your Child
Preschoolers
Family
Kids
Mums & Bubs
Parents Only
Teens
Todders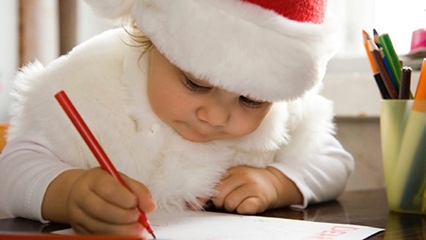 By: Marie Ashworth and Lisa Wolff, ellaslist
"Dear Santa, I've been a very good boy this year and I would love a blue scooter for Christmas. Please, Please, Please…."
My son almost jumps up to the ceiling with excitement when he sees a real letter addressed to him in the mailbox. I can't even imagine how big his smile is going to be, when he sees that letter is from Santa himself all the way from the North Pole.
Of course, when he notices his new scooter under the tree, he'll be off and racing but I know that his Santa letter will be re-read every night long after the scooter has lost its glow.
Life is so busy that we often forget to tell our kids just how amazing they are (despite the cheekiness and the tantrums). So with Love From Santa, you can order a magical, personalised letter penned by Santa just for your child and let them know how special they are.
Our kids know that it's getting closer to Christmas when we sit down to write letters to Santa. It has become a family tradition and as the kids get older, their letters get more creative and elaborate. And even though the older ones may not be entirely convinced that Santa is real, they still love the magic of it all.
Time to Write a Letter to Santa
Right, it's that time of year when the carols are piped through the malls and the air is filled with the anticipation of Christmas. Santa is hitting the shops and packing up his sleigh but needs a bit of direction from you. It's time to sit down with the kids and write the man in red a letter. But where do we start?
We managed to grab some time with Pippa Lester, a Mum of two, Santa letter-writing pro and owner of Love From Santa, an Australian company specialising in unique Christmas products, to find out her tips on crafting the most fabulous letters to Santa.

Tips to Write An Epic Letter to Santa


Pick the right time when your child (and you!) are not too tired and tell your child in advance what the plan is so they can think about what they want to write.


Its always a good idea to remind Santa where you are going to be sleeping on Christmas Eve. Although he knows these things, it's never too silly to double check this with him!


Tell Santa a little about yourself – where do you live, your family, your friends, favourite things to do etc


Santa loves hearing about clever children. Tell him something you have achieved this year that you are really really proud of


Don't forget to mention a few of the things you are hoping to be given at Christmas time in your stocking! Maybe even some of the things Mummy & Dadddy don't even know about


Don't be afraid to sprinkle your letter with colour, sparkles and pictures. It's inspiring and makes the letter memorable for Santa!
Hot Tip – Order a
REPLY

Letter

Once your child's letter is finished, don't forget to order a 'Reply' Letter from Love From Santa. These are beautifully designed, personalized letters, which will make your child truly believe that this has been written, especially for them, by Santa. When you order your letter, you are asked a few questions about your child. The clever elves at Love From Santa then customise your child's letter based on the information you provide. Then sit back and wait for the letter to arrive in the mail and get ready for the biggest smiles you have ever seen.

Santa Letters from Love From Santa are only $11.95 each and this includes postage within Australia. Hurry! While the delivery reindeers at Love From Santa are super fast, they do need a bit of time to get your letter ready. They are posted at the beginning of Decmber- so order yours ASAP!


WHERE TO GET YOUR CHILD'S PERSONALISED LETTER FROM SANTA

Love from Santa produce the most beautifully designed and cleverly personalised Santa letters you will find, carefully created in Australia under Santa's strict instructions!

> Post marked from the North Pole

> Personalised wording and 3 letter design choices

> Sibling variations and special babies first Christmas version

> Premium paper stock – 100% recycled

> Choose 'Father Christmas' or 'Santa' wording

>Price $11.95 (P&P within Australia free)

> Love From Santa also sells personalised Christmas Stockings and gorgeous Santa Sacks
Reviews

Reviews get lonely too
Be awesome and write a review