Where To Buy A Real Christmas Tree Near Sydney
ellaslist COVID-19 update: Please note that all the information on the website is correct at the time of publication. Please check the relevant website before visiting a venue or destination for the latest COVID-19 information. ellaslist is not responsible for any cancellations or closures.
Oh, Christmas tree, Oh Christmas tree, how lovely are your branches….
Many of you have recently asked where the best place to go for real Christmas trees is in Sydney, so we have put together a list of Christmas Tree Farms that are around one hour (or under) drive from Sydney.
Dural Christmas Tree Farm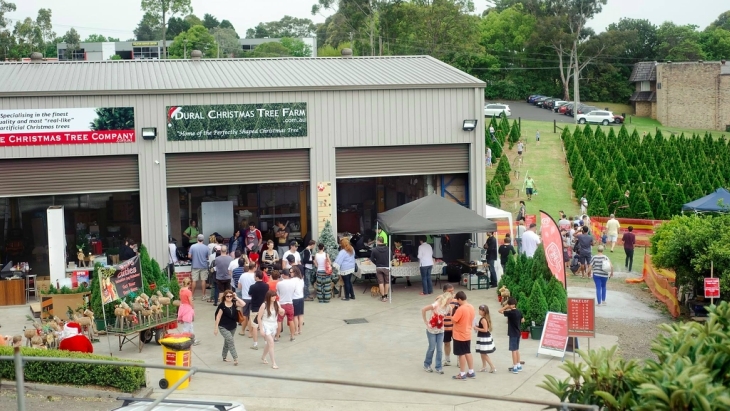 Address: 879 Old Northern Road, Dural
Phone: 02 9651 1010
Opening Hours: 9am - 6pm daily. The season starts on 16th November 2019.
Cost: Trees from $78 to $158+ according to size. Stands and delivery extra.
Pros:
Beautiful trees and lovely customer service.
They will also be at CarriageWorks Farmers Markets (formerly known as Eveleigh Markets) on 30th November and 7th & 14th December.
You can also order your tree online.
According to the Dural Christmas Tree Farm website, Santa usually visits on weekends and his reindeer are always roaming around. They also have jumping castles set up, Sausage Sizzles and cold drinks. Coming here is a wonderful family day out.
They have jumping castles, sausage sizzles and cold drinks so coming here is a wonderful family day out!
Cons:
Extremely popular (known to be the largest in Sydney) so be prepared to wait.


Sydney Christmas Tree Farm (formerly Namba Forest)
Address: 6 Namba Road, Duffys Forest
Phone: 02 9450 2027
Opening Hours: 4:30pm - 6pm Tues, Thur & Fri. 9am - 5pm weekends. The season starts on 29th November 2019.
Cost: Tree prices are from $60 up to $150 depending on size.
Pros:
Santa is often visiting on weekends!
Can pick and cut down your own Christmas tree. Cutting implements are provided.
Cons:
Delivery is limited.
Must bring your own rug to get tree home (no netting on offer).
Find out more about Sydney Christmas Tree Farm.
Willy's Christmas Tree Farm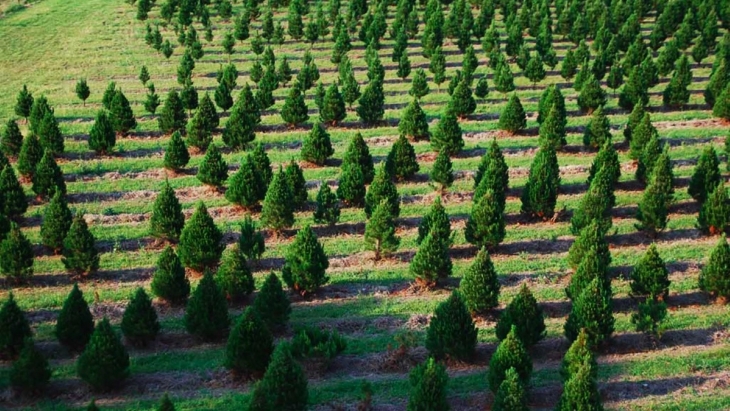 Address: 281 Windsor Road, Vineyard
Phone: 0417 330 663
Opening Hours: 9am - 6pm daily. The season starts on 23rd November 2019.
Cost: Trees from $90 to $120+ according to size plus stands and netting.
Pros:
Passionate people with lovely trees; you might recognise them from Telstra's TVC last year.
Only 20mins from Parramatta
You can purchase stands from them too.
If you're in a hurry/sleeping child/demon suddenly possess a child, you can select a pre-cut tree from their drive-by service.
Cons
Unfortunately, for 2019 people we will not be able allowed on to the farm to pick their own tree. There will be plenty of pre-cut trees available for choosing.
Find out more about Willy's Christmas Tree Farm.
Top 40 Orchard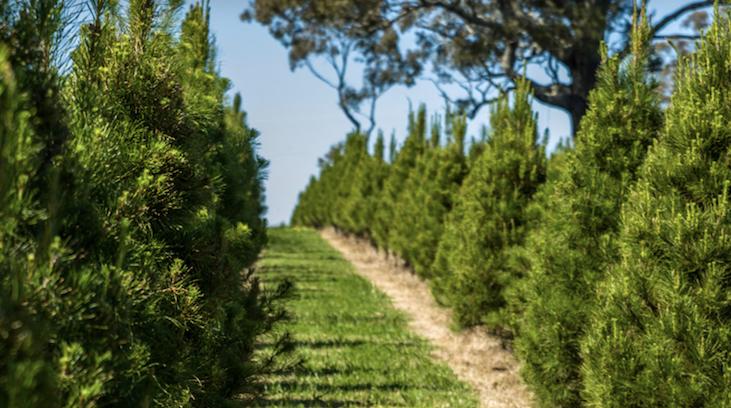 Address: 1755 Burragorang Rd Oakdale (near Picton/Camden)
Phone: 0429 300 474
Opening Hours: 3pm - 6pm weekdays and 9am - 5pm weekends.
Prices: Tree Prices from $50 - $90.
Pros:
You can reserve trees early in the season (October) then pick it up close to Christmas.
This is a 40 acres orchard so grab some fruit (Christmas pudding anyone?) whilst you're there. Depending on the time of your visit, you'll find a banquet of stone fruit, berries, flowers and vegetables, apples, citrus, melons and pumpkins…plus homemade goods like pies YUMMO
The gorgeous direction state " Head to our Christmas cottage to find our helpers".
Cons:
Very popular with locals so you'll often need to reserve your larger trees 12mths in advance. Best to call before you go to ensure your size is in stock.
Over an hour (approx 1.5) drive from CBD.
See Top 40 Orchard for more details.
Merlino's Christmas Trees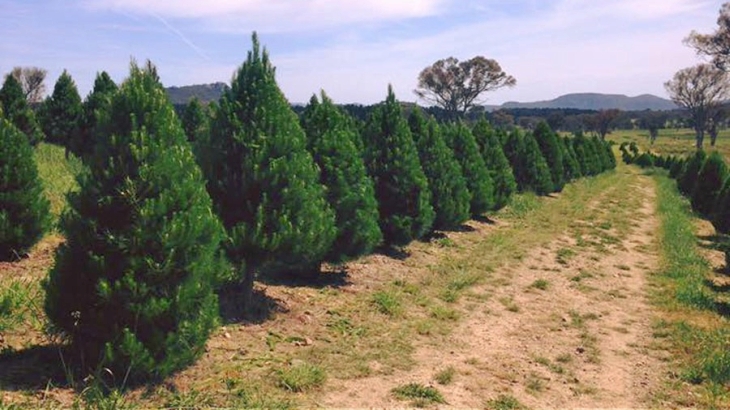 Address: 260 Great N Road, Wareemba.
Phone: 02 9713 2861
Opening Hours: 9am - 6pm daily. The season starts on 27th November 2019.
Cost: Tree prices from $70 to over $200 size dependant plus accessories.
Pros:
Though not technically a farm, this is an institution that's been around for more than 50 years.
In Sydney's Inner West, close to the CBD
Delivery is available.
Super friendly staff
Quality trees.
Netting is free when you make a donation to Sydney Children's Hospital
Cons:
On the expensive side compared to other farms we've mentioned
Trees run out quickly so get in early (best to call ahead for size confirmation).
You don't get to cut it down yourself.
See Merlino's Christmas Trees for more info.
Floraly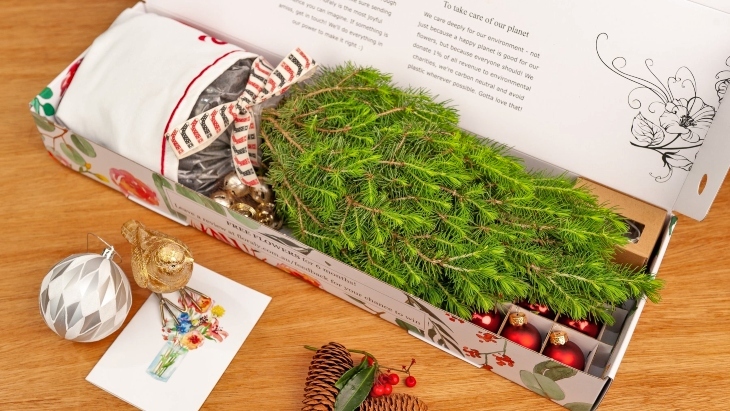 Address: floraly.com.au
Opening Hours: 24/7
Cost: The 'Tiny Christmas Tree' (60cm) is $79
Pros:
This cute, fresh Christmas tree comes with soil, fairy lights, batteries, baubles, a tree-topper and a pop-up pot, and can be re-planted so it will keep living on until next year.
All trees are sourced locally from Victoria and NSW and come with care instructions.
FREE delivery to Sydney, Wollongong, Central Coast, Brisbane & Melbourne
Boutique floristry sourcing the freshest flowers, minimising waste and supporting local flower growers.
Cons:
The tree is tiny!
There are no other size options available.
Get a Floraly Tiny Christmas Tree.

After More Festive Fun? Find It Here:
Have you signed up to our newsletter? Join ellaslist to get the best family and kid-friendly events, venues, classes and things to do NEAR YOU!