The Freshest Christmas Tree Farms in Sydney 2023
The Freshest Christmas Tree Farms in Sydney 2023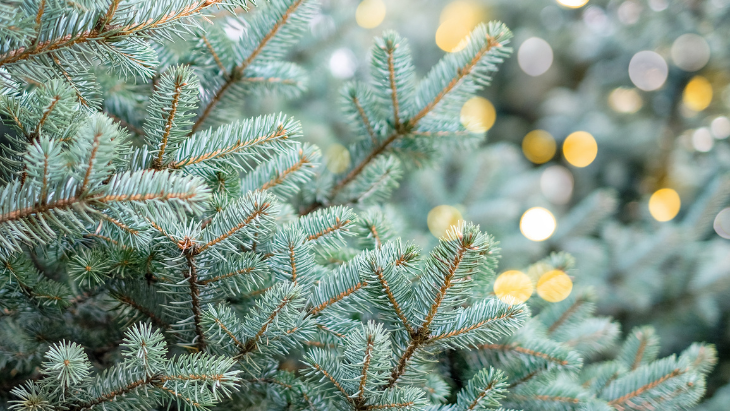 Nothing smells more like Christmas than a real Christmas tree, am I right? If you're keen to fill your house with the smell of fresh pine from a gorgeously full and lush tree, then you need to check out these Christmas tree farms in Sydney.
Christmas tree farms in Sydney usually start opening their doors to the masses in November, so get your boot ready to be filled with the smell of fresh pine and plenty of pine needles!
Make sure that you check each farm's website before stopping by to make sure they've started selling their real Christmas trees for 2023.
The Freshest Christmas Tree Farms in Sydney 2023
1. Dural Christmas Tree Farm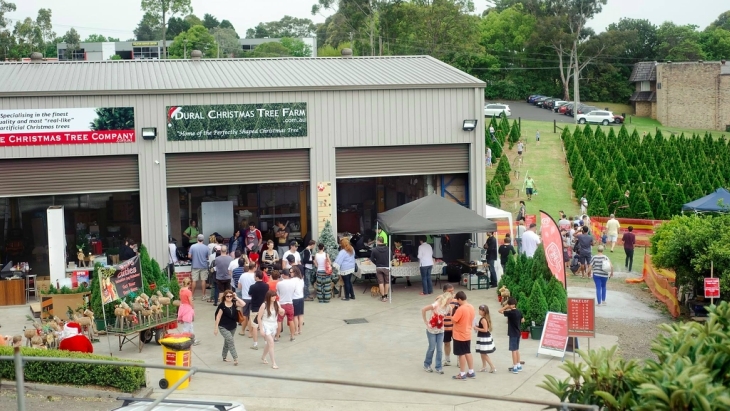 Address: 879 Old Northern Road, Dural
Phone: 02 9651 1010
Opening Hours: Open daily from 9 am to 6 pm starting 25 November 2023. For tree tagging, the season begins from 18 - 20 November 2023; bookings are essential for tagging.
Cost: Real trees range from $125 - $220+, varying by size.
Key Updates and Offerings for 2023
Christmas Tree Tagging: Families can tag their preferred tree from 18 - 20 November 2023. Booking is mandatory through trybooking.com.
Tree Selection: The farm offers freshly cut trees daily from local farms and Victoria. No booking required for selecting a tree.
Delivery Services: Available for business customers and for trees over 9ft (2.7m). Trees up to 8ft (2.4m) can be netted for easy transport at $5.00 per tree.
New Markets for 2023: Dural Christmas Tree Farm will be present at NSW Farmers Markets in various locations on select dates in December.
Large Tree Catalogue: Catalogue for mature, fuller trees (from 9FT) will be available mid-November. Contact the office to get on the list.
Family Fun Weekend: Scheduled for 18-19 November 2023, featuring Santa photos, a sausage sizzle, ice cream van, and more. Booking for tree tagging is required, but not for attending the event.
Why we love Dural Christmas Farm:
Beautiful natural trees and lovely customer service.
They are usually at CarriageWorks Farmers Markets (formerly known as Eveleigh Markets) during December.
You can also order your real tree online, and delivery and installation are available.
Santa is known to visit on weekends, and his reindeers are often roaming around. There are also jumping castles, sausage sizzles, and cold drinks.
RELATED:
Where to go for Festive Santa Photos in Sydney
2. Sydney Christmas Tree Farm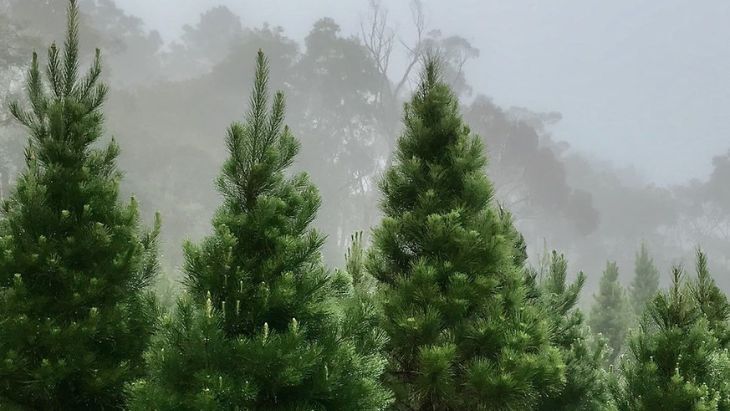 Address: 6 Namba Road, Duffys Forest
Phone: 02 9450 2027
Opening Hours: Bookings start from 16 November 2023 and open days are 1 December - 10 December 2023. Availability thereafter being subject to stock, with the farm closed on Mondays, Tuesdays, and Wednesdays.
Cost: Real trees: 5' from approx $120 and 6' approx $135, 7' tree approx $165 and 8' approx $210.
Please note: Customers must book an appointment online when bookings open to come and choose their fresh tree at Sydney Christmas Tree Farm.
Why we love Sydney Christmas Tree Farm:
You can pick and cut down your own real trees! Tools are provided.
New this year, tree netting is available for $5.
You can bring the whole family to choose a fresh tree from the farm.
3. Willy's Christmas Tree Farm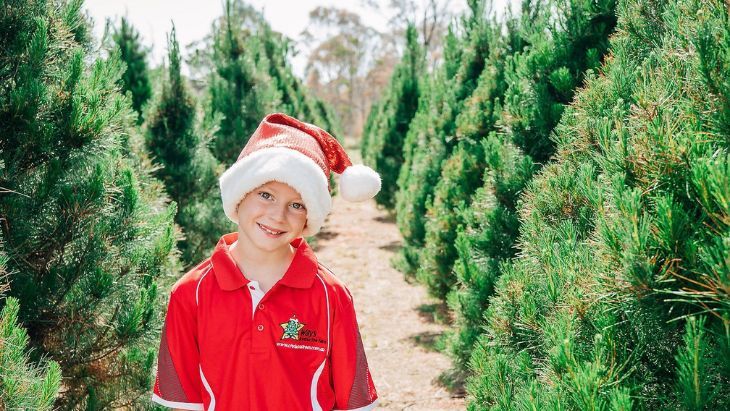 Address: 281 Windsor Road, Vineyard
Phone: 0458 653 555
Opening Hours: 9 am - 6 pm daily. Their season kicks off on 25 November, 2023.
Cost: Real trees from $90 to $350 depending on size
Please note: There are no EFTPOS facilities available at Willy's Tree Farm so bring cash.
Why we love Willy's:
Passionate people with fresh, beautifully shaped Radiata Pine Christmas trees.
The farm is only 20 minutes from Parramatta.
They have a netting service, and you can purchase stands from them too.
Willy's Farm is a family-run business and a great place to create memories with kids by picking real Christmas trees in Sydney.
4. Top Forty Orchard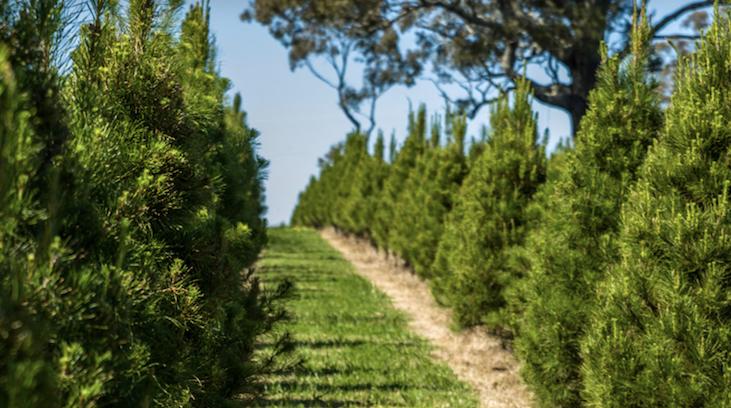 NOTE: All trees at Top Forty Orchard are already sold out for 2023
Address: 1755 Burragorang Rd Oakdale (near Picton/Camden)
Phone: 0429 300 474
Opening Hours: From 25 November, 2023.
Prices: Real trees start from $50
Please note: Top Forty Orchard is very popular with locals so you'll often need to reserve larger trees in advance. Call ahead to ensure your ideal tree is available.
Why we love Top 40 Orchard:
They have a Christmas Cottage with helpers on standby.
You can reserve trees early in the season and then pick them up close to Christmas.
You can walk through the expansive plantation and choose your hand-shaped Christmas tree. The helpers will cut it down for you and carry it to your car.
Top 40 Orchard is home to stone fruit, berries, flowers and vegetables, apples, citrus, melons and pumpkins plus delicious homemade treats.
5. Merlino's Christmas Trees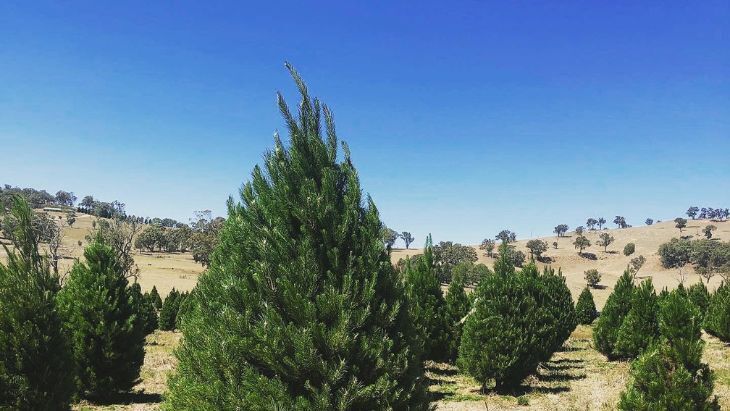 Address: 260 Great N Road, Wareemba
Phone: 02 9713 2861
Opening Hours: daily from 10 am to 4 pm. Open Saturday, 25 November 2023 - Friday, 22nd of December 2023.
Cost: Real trees from $70 to $250 depending on size
Please note: At Merlino's, customers are encouraged to come in-store to choose their real Christmas tree, and contactless delivery can be organised following purchase. Trees run out quickly so get in early or call ahead.
Why we love Merlino's:
Though not technically a farm, Merlino's is an institution that's been around for more than 50 years.
Merlino's is located in Sydney's Inner West between Five Dock & Abbotsford.
Their freshly shaped and cut Monterey Pine Christmas trees are top quality and smell amazing.
They also have live potted trees that will continue to grow beyond the festive season.
Netting is free when you donate to Sydney Children's Hospital.
6. Aussie Christmas Trees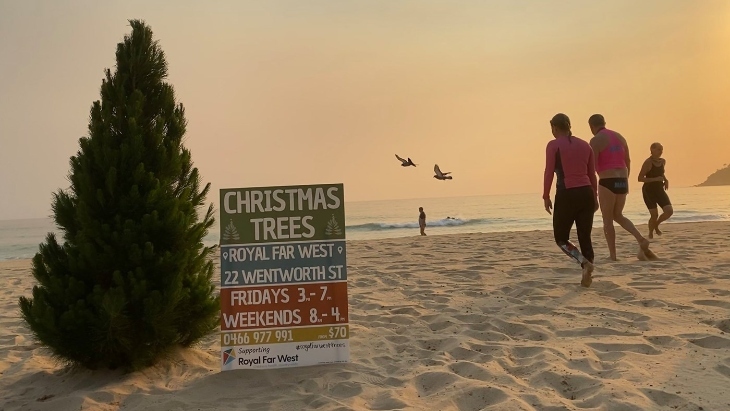 Address: 22 Wentworth St, Manly
Phone: 0404 824 285
Opening Hours: Open from 2, 3, 9, and 10 December, with pre-ordered trees available for pick-up between 6-8 am on Saturdays 2 and 9 December. Walk-ins are welcome on all sale days, but only after 8 am on Saturdays.
Cost: Real trees from $130 to $223 depending on size
Please note: Aussie Christmas Trees is a two-man show operating at Royal Far West in Manly, and also with locations at the Glebe Tramsheds and The Flour Mill in Summer Hill.
Why we love Aussie Christmas Trees:
By purchasing a tree from Aussie Christmas trees, you'll be donating to Royal Far West Children's charity.
They're conveniently located at Royal Far West in Manly and also make appearances at The Tramsheds in Glebe and The Flour Mill in Summer Hill throughout the festive season.
Their Radiata Pine, Potted Blue Spruce and cut Douglas Fir trees are of gorgeous quality and smell amazing.
Their batches of real Christmas trees in Sydney are freshly cut 12 hrs before you get to choose them.
7. Rockpine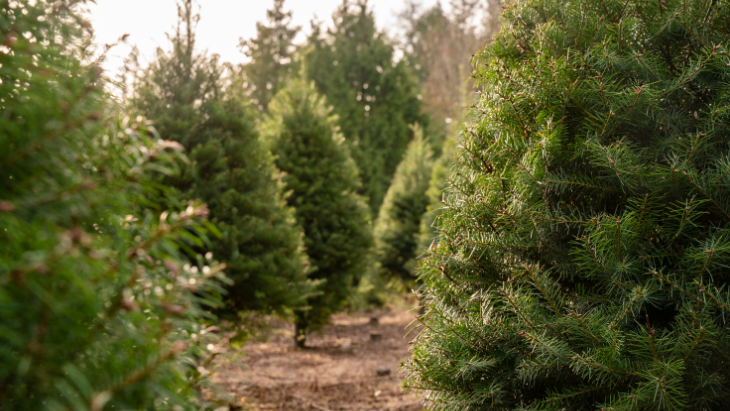 Address: 50 King Street, Rossmore
Phone: 0475 407 443
Opening Hours: Rockpine will be operating for Rossmere pick-up on Saturday 2 December & Saturday 9 December and for Little Bay pickup on Sunday 3 December & Sunday 10 December.
Cost: Real trees from $110 to $200 depending on size
Please note: Rockpine trees are available for preorder now, ready for collection in early December.
Why we love Rockpine:
There are two convenient Christmas tree farms in Sydney for you to collect your tree, either at Rossmere Farm Gate or Little Bay Markets.
Beautiful trees, Radiata Pine variety that smells exactly like Christmas!
Range of sizes from 5-foot to 8-foot trees.
8. Christmas World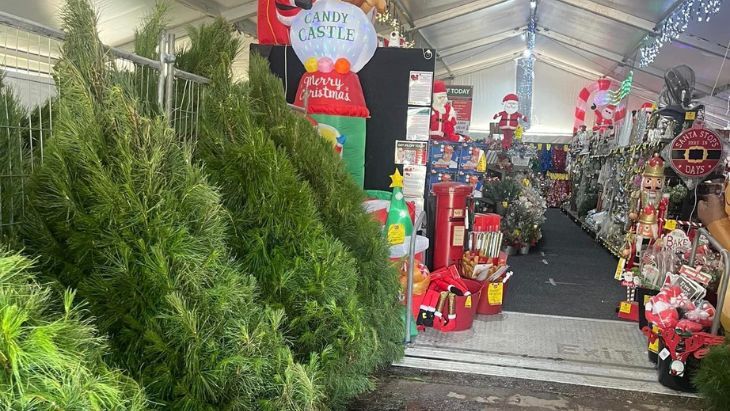 Addresses:
206 Forest Way, Belrose
82 McEvoy St, Alexandria
9 - 13 Aspen Street, South Penrith
47 Princes Hwy, Albion Park Rail, Wollongong
Phone: 1300 00 9627
Opening Hours: Christmas World Christmas Trees will be available every day from 25 November 2023.
Cost: Real trees from $90
Please note: Christmas World have multiple locations throughout Sydney and beyond—making it an easy and efficient choice to get yourself a real tree this year!
Why we love Christmas World:
It's a real one-stop shop for all things Christmas—while you're getting your tree you can also grab decorations aplenty, lights, inflatables—whatever your heart desires.
Range of sizes available
Affordable range, starting from $90
A visit to Christmas World would spark Christmas spirit in anyone. It's the most wonderful time of the year!
9. Floraly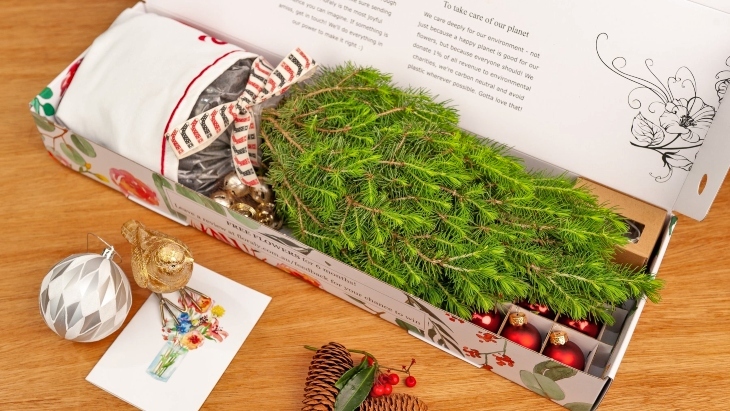 Address: Online at floraly.com.au
Opening Hours: 24/7
Cost: The Floraly Tiny Tree is $95
Why we love the Floraly Tiny Tree:
This cute, fresh Christmas tree is very small, but it comes with soil, fairy lights, batteries, baubles, a tree-topper and a pop-up pot, making it oh-so-cute!
Your tiny tree can be re-planted so it will keep growing and living until next Christmas and beyond. It comes with care instructions.
The Tiny Tree is delivered in a lovely, bespoke gift box.
Floraly is a boutique floristry sourcing the freshest flowers, minimising waste, and supporting local flower growers.
What Else to Shop for This Christmas
The Cutest Christmas Pyjamas for 2023
Adorable Personalised Christmas Stockings
The Best Advent Calendars for 2023

Have you signed up to our newsletter? Join ellaslist to get the best family and kid-friendly events, venues, classes and things to do NEAR YOU!