ellaslist reviews VR Kingdom - a premier Virtual Reality experience in Sydney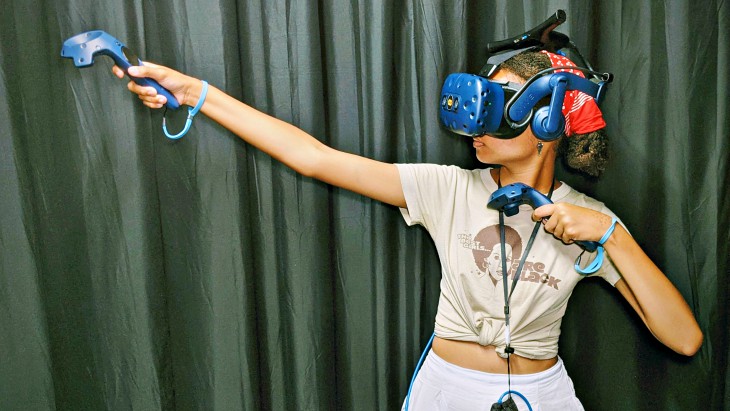 Finding the right group activity for 14 year olds is no easy task and nailing something that will satisfy a variety of interests, expectations and skill levels was a challenge in itself. Thankfully VR kingdom was perfect for a fun filled, risk free group activity.
Our session was booked for a Saturday morning and the premises was easy to find, close to public transport, allowed parking options out front as well as in neighbouring streets, and (thankfully) was fully air conditioned which offered respite from the 40 degree heat outside.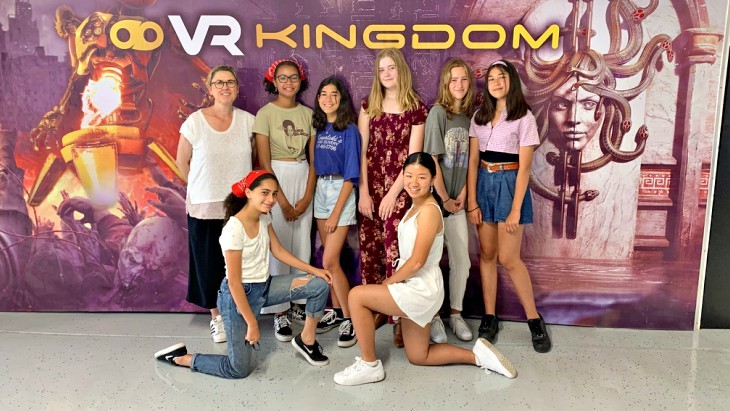 Having arrived a recommended 15 minutes early to check in/register, we were impressed by the general COVID procedures and practices immediately followed (staff wore masks, checked our temps, made sure our hands were sanitized and equipment and surfaces sterilized). The staff were welcoming and ran through basic rules and guidelines before dividing our group of 8 into 2 teams of 4. We were set up in a VR escape room with wireless VR head and hand sets and given a game briefing before heading off on our very own VR hero adventure. It took a few minutes to acclimatize to our new virtual world, motion and space, and we were encouraged to choose and customize our characters (using accessories such as moustaches, hats, helmets – bonus fun!). The game, Escape the Lost Pyramid – Assassins Creed Origins, is a multiplayer adventure which required us all to communicate with each other and work together to solve the mystery of the pyramid. Loads of gleeful squeals and 'ah ha!' moments were had as we figured out and shared info on how to move ancient platforms, fire bows and arrows, climb and swing from impossible structures and support each other through an obstacle course of cool challenges.

Our combined general experience with VR games was limited and this was the first time using VR equipment for most of us, but we were all blown away by how lifelike the graphics made the experience feel and how much fun it was to navigate this new world with the confidence of an adventurer, doing things too dangerous to do in real life. The wireless, light weight equipment allowed us to move around freely in our own designated spaces, providing a more immersive and safe experience.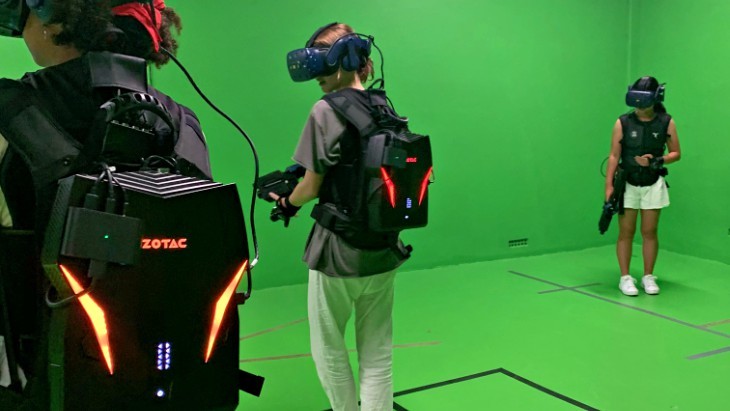 The arcade games area offered a variety of VR games between sessions (complete with egg chair VR roller coaster ride, space expedition and underwater shark adventure) and we moved on to our second session - a VR zombie shooting full immersion game called Safe Night. Again in groups of 4, we were kitted up with back packs and weapons to defend ourselves against an inundation of killer zombies. The sounds of shrieks and laughter coming from the room only heightened the excitement and anticipation for the team waiting on the outside. This game was also fully immersive and displayed a scoreboard tally at the end for us to be able to compare our efforts and victories.
The hosts Rob, Manoo and their helpful tech staff were awesome, being readily available to guide us through challenges and offer clues if we got stuck or needed support. We all felt welcome (they remembered all of our names), encouraged and well looked after. As part of the package we were offered drinks, snacks (chips and lollies) and a choice of pizzas at the end of our experience.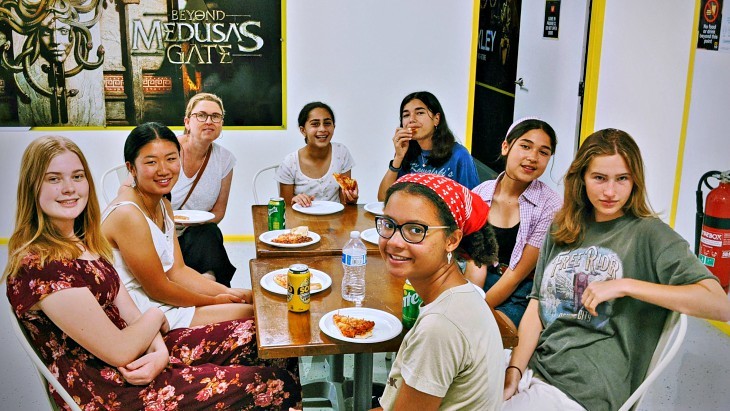 All in all, our VR Kingdom adventure was a load of fun, and judging by the laughter and super energized discussion over pizza, everyone had a great time. It's not easy to strike the balance at that age between activities that are not too 'kiddy' and not too grown up or difficult. Satisfying hyped teens, each with their own expectations, while also keeping their heightened excited energy in check was no problem here and this activity definitely ticked a whole lot of boxes.
A bonus treat at the end is being photos of the experience for lasting memories!
VR Kingdom – Essentials
Hours
Open Tuesday - Friday 11am - 9:30pm | Weekends 9am - 10pm.
Closed Mondays
Cost
Tickets for the VR experience vary based on the experience you choose but generally start at $25

Address
418 Gardeners Rd, Rosebery
Find out more and book now at VR Kingdom.
More ellaslist Reviews
Review: Madame Tussauds Sydney, SEA LIFE Sydney Aquarium & WILD LIFE Sydney Zoo
Sofitel Darling Harbour: A Luxury Family Staycation Review
ellaslist reviews Bitton Rose Bay - A Little Taste Of France
Have you signed up to our newsletter? Join ellaslist to get the best family and kid-friendly events, venues, classes and things to do NEAR YOU!