VR Kingdom - Escape Rooms, Shooting Games and Arcade Games
Kids
Teens
Family
Parents Only
VR Kingdom is the premier Virtual Reality (VR) destination in Sydney, which offers multiplayer, free roam VR escape room adventures, VR shooting games, VR laser tag and arcade games. With Sydney's largest range of VR games and experiences, we have something suitable for everyone.
Whether you're after adventure or sci-fi, you can escape reality in VR escape rooms for up to an hour and a half of fun! Beyond Medusa's Gate (Set in Assassin's Creed Odyssey) will transport you to ancient Greece. Huxley II will take you on a journey to the centre of energy. You can also Escape from the Lost Pyramid of Nebka or to Huxley in 3007 AD to a world where humans are replaced by machines.

The Escape Room adventures are for 10 years and above. Prices start from $49.00 and cater to 1 - 6 players depending and VR Kingdom has 2 dedicated VR escape room areas so you can run 2 games at the same time in 2 different rooms, enabling up to 8 players at the same time. VR Kingdom has more than 12 different VR escape room games.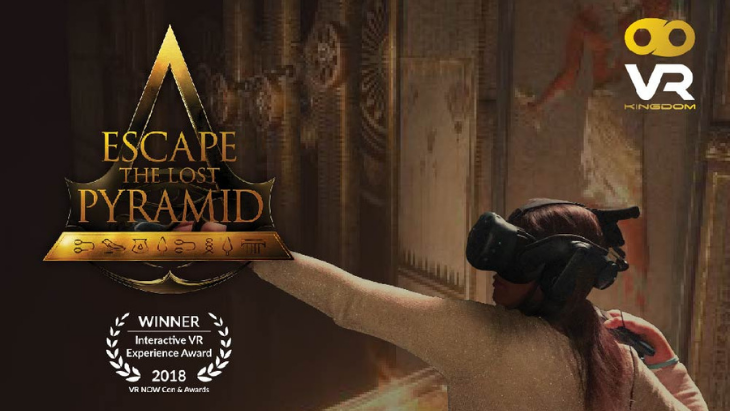 Get ready for a game of Safe Night or Shmooter for up to six friends.

Fight against your friends in either "everyone for themselves" or in a "team-vs-team" mode in the 6 player PVP shooting game Shmooter. With full-body tracking, haptic vests and high-quality graphics this game takes VR PVP shooting games to a whole other level. This game is suitable for those aged 10 years and above and prices start from $49.00.

Safe Night, the zombie shooting game, is set in 2041. The world has been in ruins for several years after the nuclear war. Radiation has affected all living creatures, turning those who survived into irradiated and mutating monsters. Only some people have not been affected - including you! This game can take up to 4 players at a time and are for those aged 16 years and above and prices start from $49.00.

Or try a VR Arena which is a futuristic PvP (Player-vs-Player) game for up to 8 people.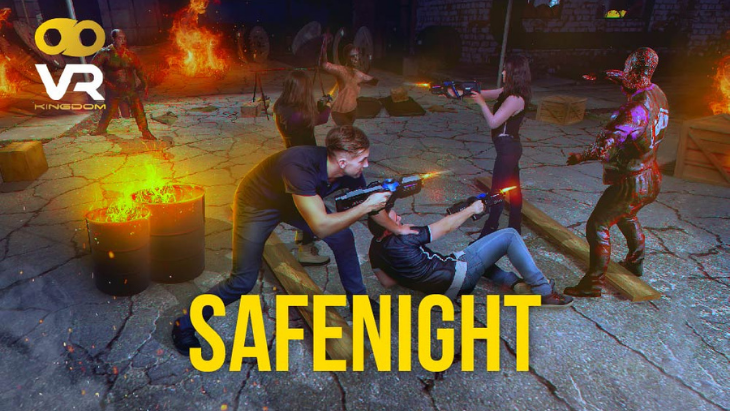 VR Mixed Session:
Try 3 different games in 30 minutes. Zombie shooting, Sci-Fi shooting and an Adventure game. Each game is 8-12 minutes each, depending on the game so the three of them will be around a 30-minute session.
For those with younger kids, there is Snow Slingers VR, Creed Rise of Glory and Angry Birds VR Isle Of Pigs, is suitable for kids aged 6 + and priced from $20.00. There are also other games for the 10+, 12+ and 16+ age group all starting from $25.00.
VR Kingdom is a great place for a fun and unique VR experience for any group bookings or celebrations including birthday parties, bucks/hens parties, corporate events or team building activities.
They also have VR games and experiences that they can bring to you at your home, office, function or event including escape rooms, shooting games and arcade games.
Bookings are essential. The experiences are generally for 2-8 players. With 5 different game areas, VR Kingdom can accommodate a total of up to 22 people per session, depending on the game or experience. Session times range from 30 to 90 minutes, depending on the game.
VR Kingdom is closed on Mondays and is open 11am - 9:00pm from Tuesday - Friday. On weekends they are open 10am - 10pm.
VR Kingdom is located at G/F, 418 Gardeners Rd, Rosebery. There is free parking at the front or free street parking nearby.They are located about 4.9 KM from central station. There is free street parking nearby. The closest station is Mascot, which is only a 17 minute walk (1.3km). The other station is Greensquare, which is 24 minutes walk (1.9km)

For more information, visit VR Kingdom's website.
Tell them ellaslist sent you!