Best Things To Do with Kids When It❜s Stinking Hot
Preschoolers
Family
Kids
Mums & Bubs
Teens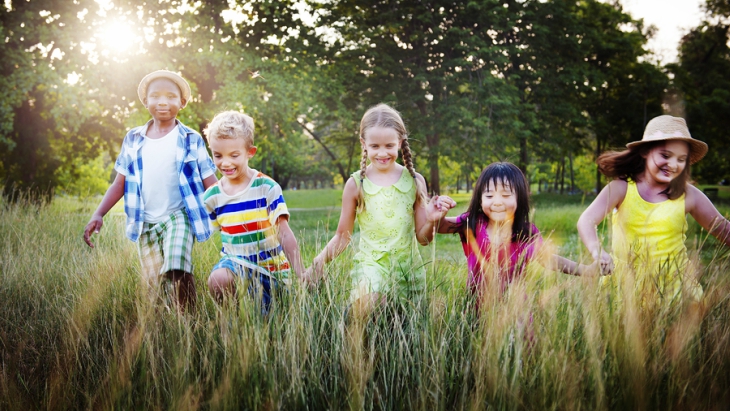 Wondering what the weather is like in Sydney tomorrow? We'll tell you - stinking hot! Sydney weather in summer can be pretty toasty, which leaves parents scratching their heads over what to do with hot and bothered kids. Don't stress, we've got your definitive list of the best things to do with kids when temperatures start to soar, and if you're heading outdoors, don't forget to slip, slop, slap!
Water Play
So much is happening in Sydney that will keep everyone wet and cool!
FREE Water Playgrounds
If you prefer something cheaper then come see these FREE water playgrounds. Sydney is spoiled for choice when it comes to this and they cater to kids of all ages. Find your closest FREE waterpark. Our favourites include Steel Park Marrickville and Blaxland Riverside Park and Playground that truly has the WOW factor! Check out the latest water play areas at Symbio Wildlife Park and Camden's First Water Play Park!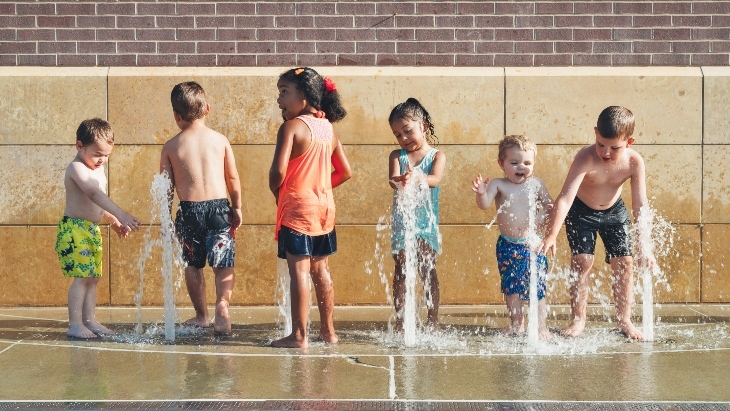 Awesome Waterslides
Everyone loves a good waterslide, especially on a hot day. We've hunted throughout Sydney and found the longest, curviest and most fun slides for kids in Sydney. Some reside in pop-up waterparks and others are open for the whole summer at aquatic centres. Travel throughout Sydney and tick off all these amazing water slides!
Indoor Swimming Pools
Sometimes it's best to avoid the sun altogether in this scorching heat. Every suburb has a range of indoor swimming pools, but we've found Sydney's est Indoor Swimming Pools for Kids. We adore the Sydney Olympic Park Aquatic Centre - it's like a water amusement park!
Hotel Pools
Did you know there are some Sydney hotels where you can walk right into the pool? That's right, this luxurious experience isn't isolated to expensive holidays and weekend getaways. Get access to a gorgeous Sydney hotel as the weather warms up, and make use of their delightful amenities, minus the pricey room rates. Check out our guide to the best Sydney Hotel Pools You Can Use Without A Room Booking.
Sydney Beaches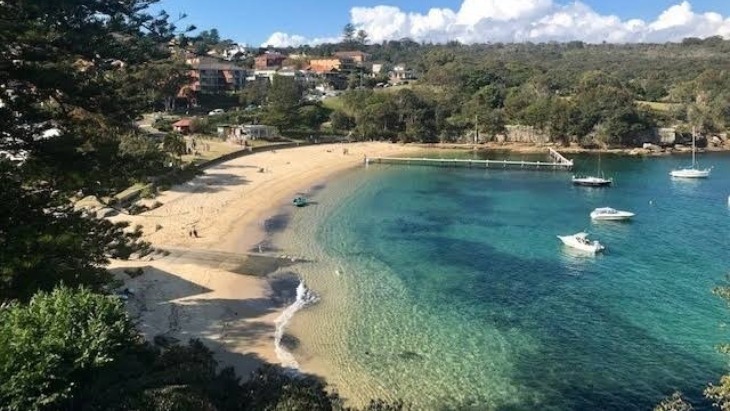 If you've got toddlers who love the water, a trip to one of Sydney's many beaches for toddlers will seal the heated deal. Check out our list of the best Sydney beaches for toddlers and preschoolers. Make sure you get there early!
Destination Stores
You can always count on stores having crispy cool air-conditioned aisles. Stores can be quite accommodating to kids, sometimes with free kids art activities, meet-ups and play centres. Shopping centres really do want families to visit (and shop more). Check out our list of the Six Best Destination Stores For Kids!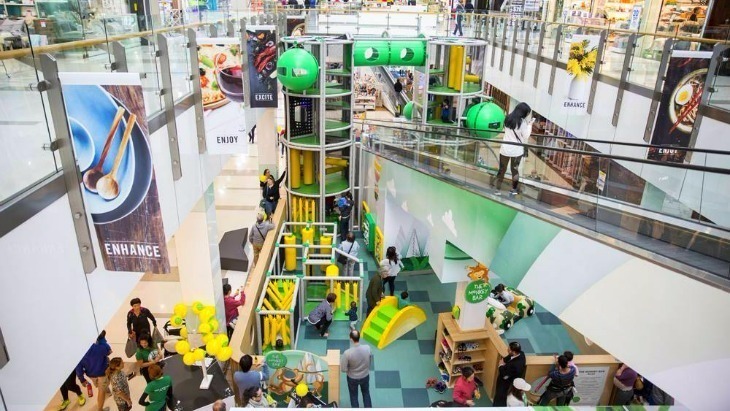 Playgrounds at Shopping Centres
If you've still got an air-conditioned place in mind, you'd be surprised by how many shopping centres have well-designed playgrounds. Take a drive to one of the Best Indoor Playgrounds in Shopping Malls in Sydney and spend a peaceful hour watching the kids play from a nearby chair - there are some great ones all over town
Indoor Play Centres
Outdoor playgrounds are out of the question on a sizzling day. Thankfully, there is no shortage of incredible indoor play centres in Sydney, catering to different age groups and each designed to make your child active and happy in a safe environment. Mark some of Sydney's Best Kid's Indoor Play Centres off your family-friendly bucket list. Some of our favourites include Skyzone and Ultimate Sydney. There's also Nubo in Alexandria for loads of indoor fun including a ball pool (with a slide), arts and crafts, imagination room and an awesome library.
Cafes with a Play Area
It's a rare combination…good coffee and happy, preoccupied children. This summer, don't settle for anything less than a perfect and enjoyable cafe experience with kids at a cafe that'll make them satisfied! From toys and books to mini-farms and healthy kid menus, check out Sydney's Top Kid-Friendly Cafes with a Play Area.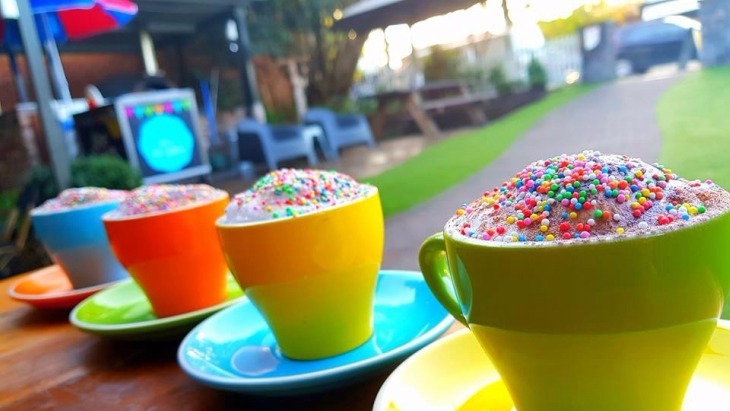 Cool Ice Cream Parlours
There's not a more delicious way to cool down in Sydney heat. While we're on the subject of food, you can't survive a hot day without some ice cream. After much searching, we've found Sydney's Top Ice Cream Parlours For Kids, and if you want to curb the sugar, or at least try to, you can test out one of these Healthy Ice-Cream Spots in Sydney - the kids will never know!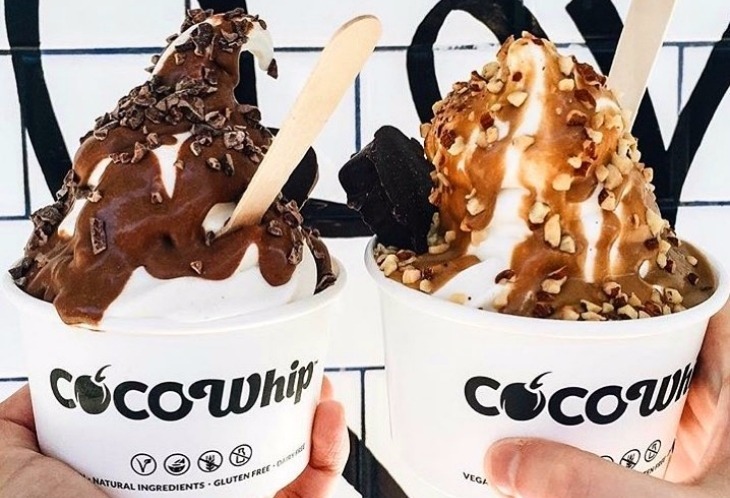 Icy Milkshakes
You still need a cold drink and don't settle for a plain, simple flavour. On hot days, everyone should indulge in some chocolate coated, Nutella flavoured, doughnut filled milkshakes. All these places have their own specialty that you won't find in many places. So go and sink your teeth into the best milkshakes in Sydney!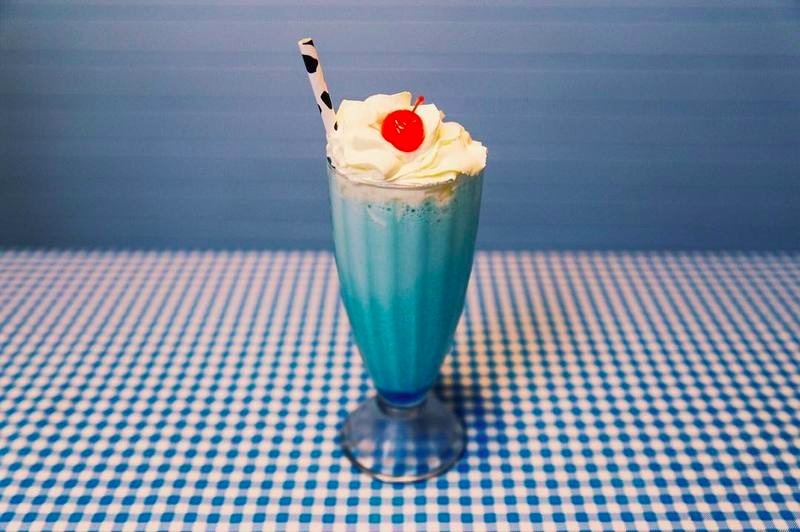 Exploring the City (indoors)
There's always something new and exciting to do in the city or a new exhibit for kids at your favourite gallery or museum! You can still head out on a hot day and stay nice and cool. Here's a taste:
Check out the dedicated children's space at Sydney's Museum of Contemporary Art and take a journey through the current exhibitions from a child's eye view.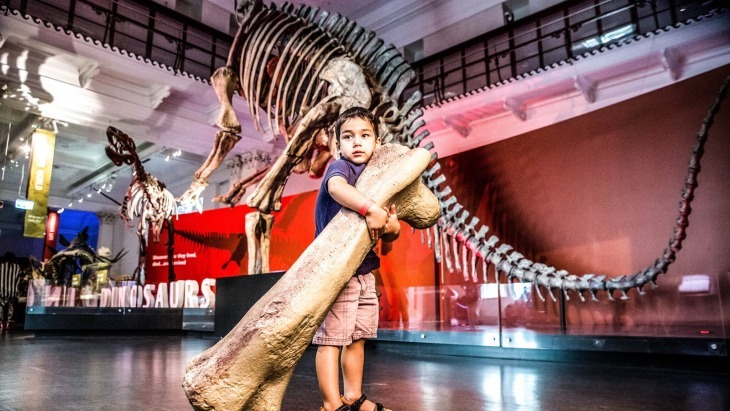 The Powerhouse Museum is an extremely interactive, family-friendly museum, boasting FREE entry for kids under 16 years of age! And after a mega renovation, the Australian Museum is finally open to the public. Bring the kids along to witness ginormous dinosaurs reemerge from the Cretaceous period and into their new blockbuster gallery!
To get a comprehensive idea of the best kids activities in the city on a hot day check out our top ten indoor places to go with kids!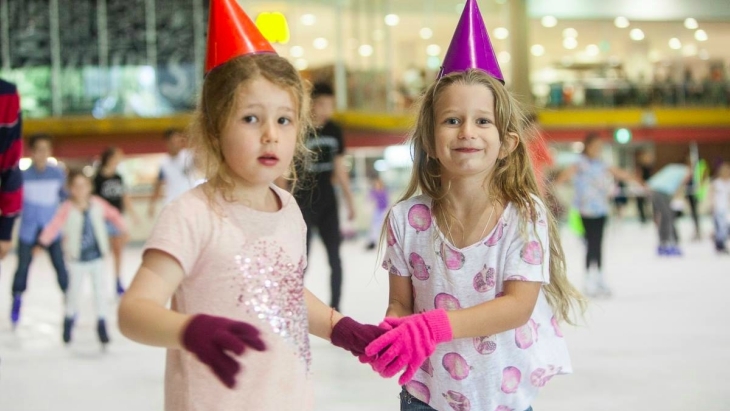 Ice Skating
You definitely won't be getting hot by going ice-skating. Here are some of our favourites:
Liverpool Catholic Club Sports Complex
Not only do they offer children's skating lessons, but they also have Playgroup on Ice for kids aged 2 - 6! The Sports Complex is built as a leisure haven with a fully equipped gym, and Mini Golf, as well as a Cafe.
WHERE: 424-458 Hoxton Park Road, Prestons
COST: Under 15yrs - $17; Over 15yrs - $20; Family (2 adults + 2 children) - $62
Canterbury Olympic Ice Rink
They have a reputation for being the friendliest and best value rink in the inner west.
WHERE: Phillips Avenue, Canterbury 2193
COST: Under 5yrs - $11; 5 -12 years - $19; 13yrs and over - $22; Family Pass - $69
Penrith Ice Palace
These guys have a canteen for all your parental needs as well as skating programs to help beginners.
WHERE: 7 Patty's Place, Jamisontown
COST: Adults – $20, 17 yrs and under – $18, 4 yrs and under – $10, Family Pass -$70
Macquarie Ice Rink
There's an awesome Kiddies Club that runs with Coffee Club - a perfect match for parents and kids! Plus, the first 3 hours of parking are FREE in the centre. Check out their special discounts during the last hour of every general session, plus their Lunchtime Special and Monday Cheap Skate Night.
WHERE: Macquarie Shopping Centre, North Ryde
COST: Under 16 yrs $20, Adult $22; Lunchtime Special and Monday Cheap Skate Night - $20 flat rate

Bowling
Have a swing and enjoy competing against one another at bowling. Bowling ramps are always provided to help kids make those strikes and you can have the option of putting up the alley ramps so no one has to miss a pin!
Manhattan Superbowl
Stroll into the 60s with this quirky and fun bowling alley! This meshes kid-friendly play and arcades area with adult luxury like drinks at the Pontiac Bar, and a sun-drenched Beer Garden and Bistro.
WHERE: 549 Gardeners Rd, Mascot
COST: For Kids - 1 Game - $13.00; 2 Games - $21.00; 3 Games - $25.00
Zone Bowling
With over 30 venues across Australia, Zone offers a state-of-the-art bowling experience with a unique mix of amusement games, laser tag and dining. Check out there off-peak and school holiday deals.
COST: Standard Peak Bowling starts at $16.90pp for 1 game for adults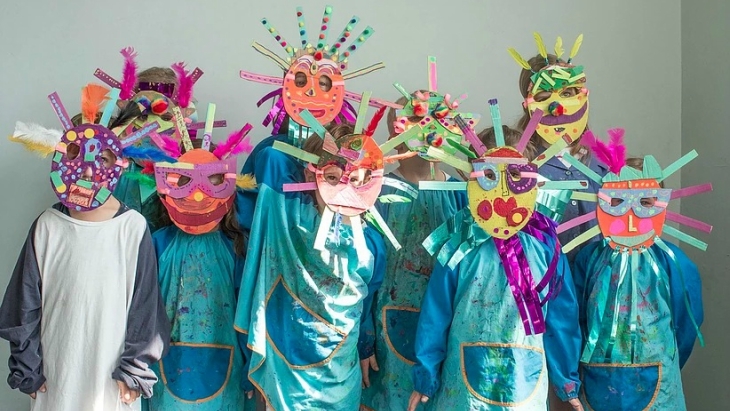 Art and Craft Centres
Get messy and let someone else clean up! We love a good art centre. Here are our favourites:
Little Ginger Studio
Their Saturday drop-in classes are incredible. 5-12-year-olds are welcomed to the 'Secret Garden' where each week they will engage and experiment with new materials from printmaking to sculpture.
WHERE: Randwick Literary Institute (out the back), 60 Clovelly Road (Cnr Market Street cul-de-sac)
Little Plaster House
Come in for a day filled with cake, coffee and creativity with a wide selection of plasters that will satisfy anyone; from butterflies, wands and ladybugs to Lego men, castles and lighthouses.
WHERE: F76 / 24-32 Lexington Drive, Bella Vista

Jenny's Painted Pots
Jenny's Paint a Pot & Sweet Shop is a fun place to let your imagination go wild. Go along and choose from a wide range of ceramic animals, plates, mugs – the list is almost endless.
WHERE: Suite 5, Macmillian Court, 11 Avalon Parade, Avalon
What Else Is On In Sydney Over Summer
The Best Christmas Events In Sydney
Entertainment Park - Sydney's Newest Entertainment Venue
Best Parks For Summer Barbecues

Have you signed up to our newsletter? Join ellaslist to get the best family and kid-friendly events, venues, classes and things to do NEAR YOU!