Best Places To Trick Or Treat In Melbourne
All Ages
Toddlers
Preschoolers
Kids
Teens
Family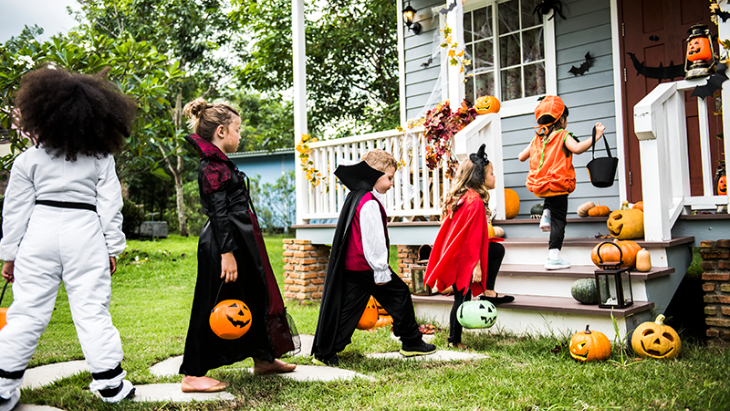 ellaslist COVID-19 update: Please note that all the information on the website is correct at the time of publication. Please check the relevant website before visiting a venue or destination for the latest COVID-19 information. ellaslist is not responsible for any cancellations or closures.
Halloween's the time to get your spook on and rock your favourite horror costumes (psst, our fave Melbourne costume shops are listed here). If you're hoping to get in the spirit this year and treat your kids to a little too much candy, here are some the best places to Trick or Treat around Melbourne.
Bring your camera!
Pro Tip: This year take a few bags of lollies with you to donate to the houses you visit. Don't just take, give back to the community too.
Finch Street, Malvern East
Finch Street is famous for the best trick or treating in Melbourne on Halloween Night. Almost all the houses in the street participate in decorating their front yards. Some residents get in the spooky spirit as well by dressing up in costumes to welcome the trick or treaters.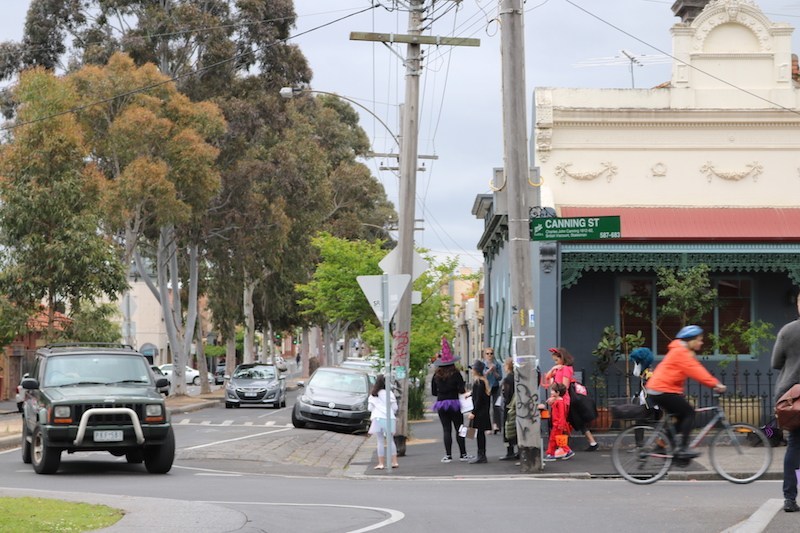 Canning Street, Carlton
Giving Finch Street a run for its money is the uber-pretty Canning Street in Carlton - plenty of houses participate along the strip, and in the surrounding streets. Get the fright of your life and some decent lollies to boot.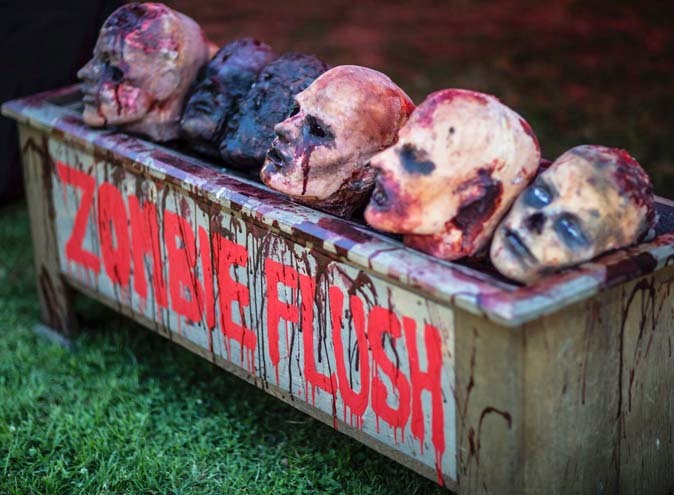 Shinners Avenue, Narre Warren
ellaslist reader Susan recommends this street with just one house that goes all out for Halloween. They have digital displays, competitions for best dressed and plenty of lollies to giveaway to the kids!
Victoria Parade, Pakenham
Another one recommended by Susan, this area gets into the spirit with live actors and props for a walkthrough experience. It's a gold coin donation (which goes to the children's hospital) and it gets very busy with up to 500 people every year - so be prepared for some waiting time!

Children's Halloween Tour, Melbourne General Cemetery
Melbourne General Cemetery in Parkville is hosting a Halloween tour for children on Thursday October 31 by a Halloween-themed tour guides ready to terrifically terrify you with tales of gruesome truths and historical facts.
Ghoulish giggles guaranteed and fancy dress welcome... so dress up and bring your friends (who knows, you may bump in to a few people from the past)!
Suitable for children ages 6+ All children must be accompanied by an adult. All participants must wear closed-toe walking shoes and bring a torch.
Tickets from $20, available here.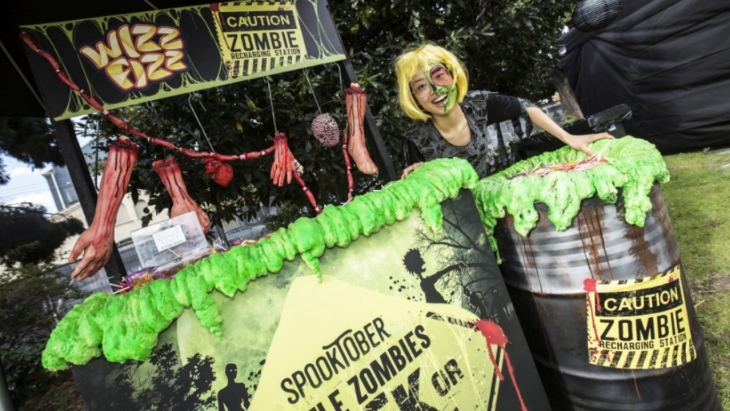 Spooktober Halloween Festival
For the sixth year in a row, Spooktober Halloween returns to scare Melbournites and provide the people with a place to celebrate and experience the fun of Halloween between October 27 and 31.
See the grounds around St Kilda Town Hall dramatically transformed to include two Haunted Houses before hitting the ultimate Trick or Treat Trail (sponsored by WIZZ FIZZ, so lollies aplenty!), Stick around after for Halloween-themed games and activities, costume contests and more Halloween fun!
Halloween dress-up is highly encouraged, as the spooktacular Count Carisle will be personally handing out prizes to the most scarily dressed Trick or Treaters every hour during the festival hours.
See more here.

Halloween Street Party, Burwood Village
Get ready for goosebumps: the Burwood Village Halloween Street Party from 3.30pm on October 31 is set to be a spooky spectacular!
Get your face painted for free and walk through the village for some trick or treats (mainly treats) with the shop owners and businesses in the local area around Toorak and Warrigal Roads, Camberwell.
For more fun, scramble around the creepy Haunted House at Prohibition Food and Wine and meet special characters from Magical Princesses Entertainment on the night.
See more here.
Popular Trick-or-Treat Suburbs
We hear good things about Brunswick, Malvern, Tarneit, Fitzroy North, Brighton, Hampton, and Greensborough for trick-or-treating. How does your suburb stack up? We'd love to hear!
More Halloween Fun On ellaslist
Amazing Pumpkin Carving Ideas
Last-Minute Costume Ideas For Kids
Top Halloween Movies For Kids
Have you signed up to our newsletter? Join ellaslist to get the best family and kid-friendly events, venues, classes and things to do NEAR YOU!
Reviews
The Shinners ave address in Narre warren is call Eerie Hollow Manor they have a Facebook page. I live in Narre warren south so close by, it was our first time there and I found via the trickortreatme app. It's the best house in the whole area, the display is amazing and one of a kind, apparently the owner makes all the props himself, so you won't see the props they have anywhere else. The digital ghosts in the windows are creepy and got a lot of ohhh and ahhhh's. They are super friendly and we heard a lot of people thanking them for doing the display. If you check out the Facebook page they made the local paper and there's a write up about the props and how long he takes to set it up. I tried to send photos but it wouldn't let me, so here's the link to the Facebook page https://www.facebook.com/109286677182546/posts/109287997182414?d=n&sfns=mo
Hi, Just like to share two properties. First would be Shinners Avenue Narre Warren. It would be one of the best displays in Australia, their the only house on the Avenue that does a display but it's worth 30 houses displayed on one street. They have digital displays consisting of ghost, singing pumpkins, props that you will not see anywhere else, cemetery and a best dressed contest. Spoke to a lady who is a family member and she said "that the owner did the first display in 2015 and only 5 people showed up, but at 7pm they had around 200 plus people and given away 6kgs of lollies and 7 boxes of mars bars. And that the owner only did the display for his niece, but now liked how it brings the community together" we got there at 9pm and there was at least 50 people at the front of the property. The best dressed prize drawn at 7:30pm $50 Jb Hi Fi gift voucher. We drive 30mins from Chadstone to see this display (This will be our third year) and only found out about it via a family member who lives off the Avenue. Best time would be 8:30pm And onwards as the digital displays really start standing out as it gets darker, plus all the led lighting they have gives it that really spooky feel. The second property is in Pakenham on Victoria parade. But this is a full walk through with live actors and props and must be the best walkthrough in the country they have a gold coin donation (but that's optional and goes to the children's hospital) the kids love it, but, they get 500 people every year so expect a long line and parking is a problem at times but it's well worth it. It's all under a massive marquee so if it rains he can still run the show. So we do all our local display's in malvern and then head to pakenham first and then narre warren second, these houses are better than anything we have seen. The Narre Warren house gives out peanut free lollies and are all sealed, the Pakenham house doesn't give out lollies (they may but we have never got any) Kind regards Susan