How To Make The Spookiest Halloween Treats
How To Make The Spookiest Halloween Treats
Parents Only
Toddlers
Preschoolers
Kids
Teens
Family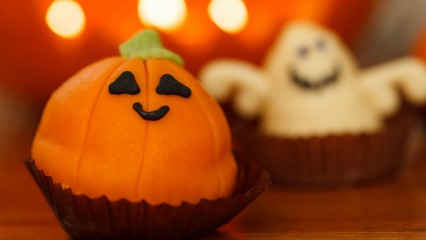 Candy (and lots of it), is probably the biggest reason our kids are excited for this Halloween. If you're keen to get your home in the festive spirit with a bit of Halloween-themed food prep, or even if you're keen to swap sugary treats with some healthier Halloween options, here are some awesome treats and recipes to give a go. Thanks to Wiltshire for these spooktastic recipes.
How To Make The Spookiest Halloween Treats
Mummy-Bread Biscuits by Wiltshire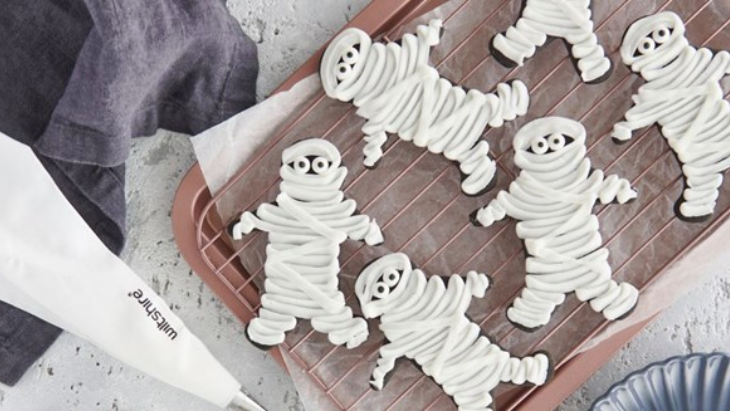 Prep Time: 30 mins (plus resting)
Cook Time: 15 mins
Serves: 14-18 biscuits
Ingredients:
Biscuits:
50g butter
130g brown sugar
1/2 cup golden syrup
1 egg
1 tsp vanilla essence
Black gel food colour
2 1/2 cups plain flour
2 tsp ground cinnamon
2 tsp ground ginger
3/4 tsp ground cardamom
1/2 tsp bicarb soda
1/4 tsp baking powder
Pinch salt
Small candy eyeballs
Royal Icing:
2 1/2 cups pure icing sugar, sifted
1 egg white
1/2 tsp lemon juice
Method:
In a small saucepan, combine butter, sugar and golden syrup over low heat and stir until butter has melted and sugar has dissolved. Pour into a large bowl and set aside to cool for 10 minutes.
Add egg, vanilla essence and black food Colour Gel to the butter and stir to combine. Sift over the flour, spices, bicarb soda, baking powder and salt and mix until it forms a dough.
Turn out onto a floured bench top and knead until smooth (adding a little extra flour if needed). Shape the dough into a disk, wrap in cling film, and refrigerate for at least an hour.
Preheat the oven to 160°C (fan forced). Line two baking trays with baking paper. Divide the dough in two and leave one half wrapped in cling film. Generously flour your benchtop and roll the first batch of dough until 5mm thick. Cut cookies from the dough and place them on prepared trays. Repeat with the remaining dough.
Bake for 12-14 minutes. Allow to cool on trays for 10 minutes to cool before transferring to a wire to cool completely.
To make the royal icing, combine the egg white and lemon juice in a bowl and whisk with a fork to combine. Add the sifted icing sugar and mix until you have a very thick (but still pipeable) royal icing. Transfer to a piping bag fitted with a small ruffle tip.
To decorate, stick some candy eyeballs onto the biscuits and then pipe on the mummy bandages. Set aside to set completely. Notes - Uncooked dough will be kept for up to 2 days in the fridge if covered in cling wrap and stored in an airtight container - Baked and iced cookies can be kept in an airtight container for up to 5 days.
Halloween Mochi Donut by @uptoknowfood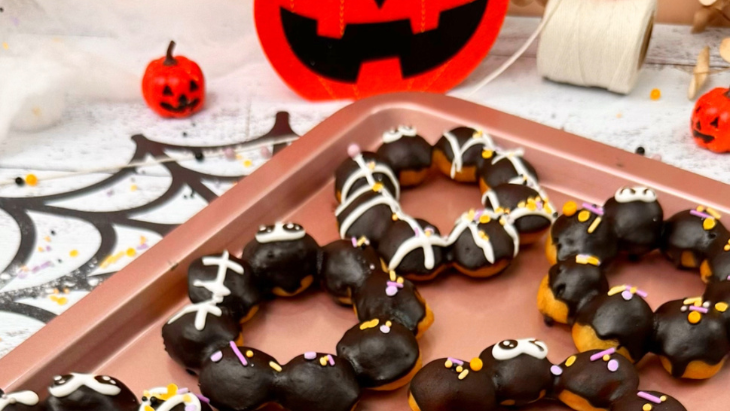 Ingredients:
Mochi Donut:
150g glutinous rice flour
120g tapioca starch
1/2tsp baking powder
1/2 tsp salt
75 g white sugar
1 large egg
140g full cream milk
25 g butter (at room temperature)
Oil, for frying
Glaze:
120g of icing sugar
20g of cocoa powder
30g of full-cream milk
1/4 tsp of salt
1/2 tsp of vanilla extract
10g of corn syrup
Method:
In a large bowl, whisk to combine the glutinous rice flour, tapioca starch, baking powder and salt.
In a medium bowl, mix an egg into the sugar, breaking it up. Add the full cream milk and combine. Add the butter and break it down to pea-sized (the wet ingredients will have lumps).
Add the wet ingredients into the bowl with the dry ingredients and mix it all through. You will end up with a very thick batter.
Pipe the batter using a piping bag (or ziplock bag) eight 2.5cm circles on a piece of baking paper to form a ring. The batter will spread slightly, and you can use your finger to push down any peaks.
Fry the donuts on their individual pieces of baking paper at an oil temperature between 168-177 degrees Celsius, ensuring to submerge it when first placed in the oil. Cook for a minute until it is lightly golden brown before removing the baking paper and flipping it over, cooking for another minute. Ensure not to overcook as the residual heat will continue to cook and brown the donut when it's been removed from the oil.
For the Glaze: Combine all the glaze's ingredients. You may add more milk or icing sugar as you make the glaze until the desired consistency.
To Glaze and Decorate, dip a mochi donut face side down and lift to remove excess glaze. I used royal icing for the eyes and sprinkles for a Halloween appearance!
Ghost Meringues by Wiltshire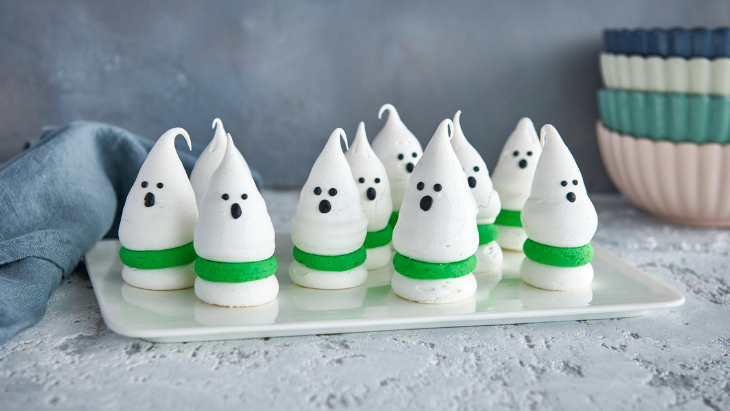 Prep Time: 30 mins
Cook Time:1 hr
Serves:16
Ingredients:
100g egg whites
100g caster sugar
100g icing sugar
250g white chocolate, chopped
100g thickened cream
Green food colouring
Melted dark chocolate or black royal icing, for decorating
Method:
Preheat the oven to 100°C fan forced.
Place egg whites in the bowl of a stand mix with the whisk attachment and whisk to stiff peaks.
Mix the caster sugar and icing sugar together in a bowl and then with the mixer on medium speed, add the sugar 1 tablespoon at a time ensuring the mixture returns to stiff peaks after every addition. Continue until all the sugar is incorporated and then mix on high for another 3-5 minutes until the mixture isn't grainy when rubbed between your fingers. Transfer to a piping bag with a large round tip.
Pipe 16 round short bases and 16 tall ghost shapes onto a large lined baking sheet. Bake for 1 hour until crisp then turn the oven off and leave the meringues in there for another hour.
Cool completely then pipe faces onto the tall ghost meringues with a little melted dark chocolate (or black royal icing).
While the meringues are cooking and cooling, make the ganache filling. Place the white chocolate in a large glass bowl and set aside. In a microwave-safe bowl, heat the thickened cream in short 30-second bursts until the cream is bubbling at the edges and then pour onto the white chocolate. Allow the cream and chocolate mixture to sit for 2-3 minutes, then add green food colouring and mix until the white chocolate has melted and combined with the cream to form a ganache. Set aside the ganache at room temperature to cool and thicken.
Transfer the ganache to a refrigerator until chilled, then whip in a stand mixer (or with a hand mixer) until the mixture is fluffy and lighter in colour. Pipe a round of ganache onto the base meringues and top with a tall ghost meringue. Serve.
Halloween Monster Soup Bowl by @omgheebyjerilee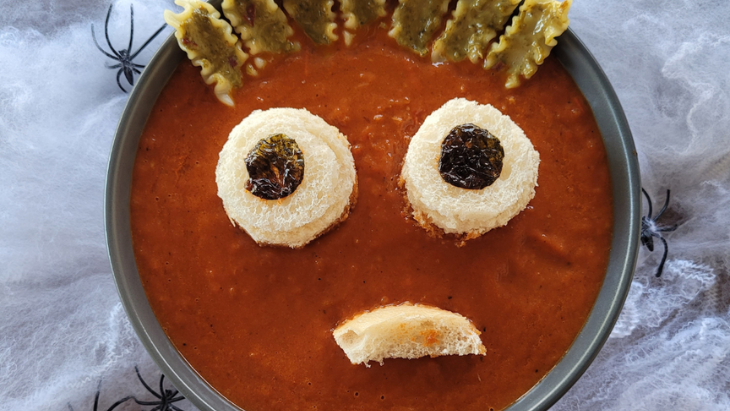 Serves:1
Ingredients:
1 large red bell pepper
1 yellow onion
2 garlic cloves
3 tbsp tomato paste
Salt & pepper to taste
1 tsp dried herbs mixed
1 tsp chilli flakes
1 tsp smoked paprika
500ml vegetable stock
Method:
Preheat the oven to 200°C.
Chop the red peppers into chunks and place in a large baking tray. Drizzle with olive oil and sprinkle with salt. Roast in the oven until slightly charred.
In a pot, sauté the onion and garlic in a little olive oil until translucent. Add the tomato paste, herbs and spices listed. Mix in the roasted peppers and add the vegetable stock.
Simmer for 10 minutes, remove from heat and blend until smooth.
For the monster face, you can use bread slices and seaweed for the eyes using a cookie cutter and cooked pasta and pesto on top for its hairs. Voila!
Essentials for Your Spook Kitchen
As you prepare these delightful Halloween treats, it's essential to have the right tools in your kitchen. The Wiltshire Rose Gold Smart Stack Bakeware 7-Piece Set is perfect for baking and storing your goodies. For those who love a touch of elegance, the Wiltshire Petite Petal 13-Piece Set is a must-have. And don't forget the Wiltshire Easycook Blue Non-Stick Frypan 30cm for all your frying needs!
More Halloween Fun
The Best Halloween Costume Shops in Sydney
Halloween Costume Ideas for Kids
Spooktacular Halloween Movies for the Whole Family

Have you signed up for our newsletter? Join ellaslist to get the best family and kid-friendly events, venues, classes and things to do NEAR YOU!