Best Places To Go In Melbourne For Autumn Colours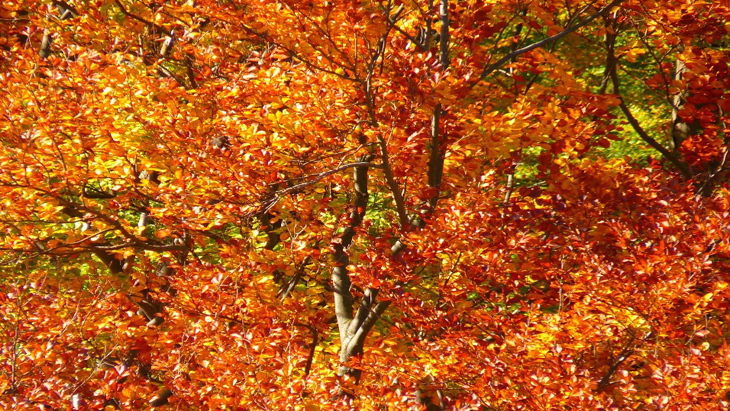 ellaslist COVID-19 update: Please note that all the information on the website is correct at the time of publication. Please check the relevant website before visiting a venue or destination for the latest COVID-19 information. ellaslist is not responsible for any cancellations or closures.
By: Claire Halliday, ellaslist
Ah, autumn. It's that magical time in Melbourne when the trees turn into artist's palettes of gorgeous, bronzed colours and children find some natural fun in our amazing parks and gardens.
Native plants are wonderful things but there is nothing like the autumn chill to rejoice in our European settler heritage – and all those incredible deciduous trees they planted all those years ago.
There are lots of leafy spots filled with crunch and colour that are just made for autumn frolics. Here are some of our favourite places to find autumn leaves in Melbourne:
Fawkner Park
Tell the kids that this sprawling parkland is named after Melbourne's co-founder, John Pascoe Fawkner, to help perpetuate the myth that parents really do know everything.
The meandering paths were first laid back in 1862 and the tree have only become more impressive, with Moreton Bay Figs, elms, poplars and great oaks. For autumn leaf-lovers, the effect is European village green. Crunching through the litter of leaves is just one happy activity to plan and the sporting fields and playgrounds only add to the family-friendly fun.
What You Need To Know
Address: 24-88 Commercial Road, South Yarra
Fitzroy Gardens
Love the crunch of autumn leaves underfoot?
You'll find all that – and more – in this heritage-listed park. Bring a container to scoop up some of the richly-hued foliage and not only do you have a great park visit – you'll have a fun craft activity to enjoy back home, as all those lovely leaves inspire pasting and sticking on pieces of paper that will add some amazing autumn touches to your fridge or art wall. With 26 hectares to roam, it's the perfect excuse to pack a picnic and go exploring. The carvings from artist Ola Cohn, on the iconic Fairies Tree, is another reason to love this park and the nearby Tudor Village of miniature buildings just adds to the charm.
What You Need To Know
Address: Wellington Parade, East Melbourne
Carlton Gardens
Reds. Oranges. Browns. And piles big enough to lose some of the day (and possibly a small child!) in. This 19th century example of public parkland space is home to some natives but it's the European trees that show off their bronzed finery in autumn, with a litter of leaves raining from the sky for some crunchy, colourful child's play. BYO bucket and spade for some delightful digging or just crunch your way to the Melbourne Museum to turn the trip into a great day out.
What You need To Know
Address: Carlton Street, Carlton
Ardrie Park
Leaf angels anyone?
The elm trees that surround the oval were moved here back in 1918, after starting their lives in one of the surrounding streets in this leafy suburb. It's an ideal place for family photo shoots and fun, with plenty of leaves to throw and frolic in. An added pleasure of this stunning park is the toddler-friendly playground that offers a perfect place to play in a securely fenced and shady setting.
What You Need To Know
Address: It's hard to find and the locals like it that way – enter via Repton Road, East Malvern
Royal Botanic Gardens
It's one Melbourne's most popular tourist attractions and one of those places that locals sometimes forget to appreciate fully. Traversing the 38-hectare space makes it a tiring day out for young ones, so make sure you've got the pram/pusher for little legs. Of the 50,000 individual plants on show here, not all of them are producers of falling autumn leaves but there's bound to be enough to keep you occupied. You won't find huge piles to play in (the team of gardeners work hard to keep this place looking its best) but it's worth at least one visit each season to see how it's earned its reputation as one of the world's best botanic gardens.
What You Need To Know
Address: Birdwood Avenue, Melbourne
Phone: 9252 2300
More information: https://www.rbg.vic.gov.au
Cloudehill Gardens
Planning a drive out of the city? You'll find peace and picturesque beauty here in the Dandenong Ranges. It's not the place to throw a ball around but it is a stunning combination of formal and rambling gardens, with things to delight the senses at all times of the year, as flowers bloom and foliage falls onto the manicured lawns. In autumn, it's particularly stunning and the colours range from burnt oranges to deep reds and rich browns.
What You Need To Know
Prices
Adults: $10/ Children: free.
Open: 7 days, 9am-5pm.
Address: 89 Olinda-Monbulk Road, Olinda
Phone: 9751 1009
More information: http://www.cloudehill.com.au