At What Age Should Kids Be Allowed To Use Public Toilets Alone?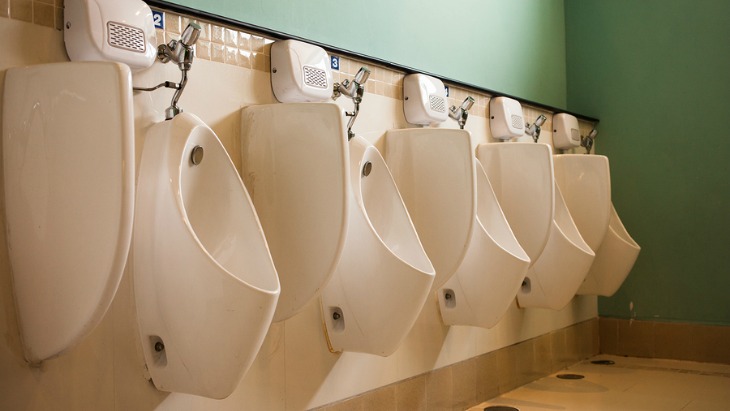 Recently a sign on a public bathroom went viral and opened up a debate, well, mostly rage and a very one sided debate by parents on the issue safety in public bathrooms.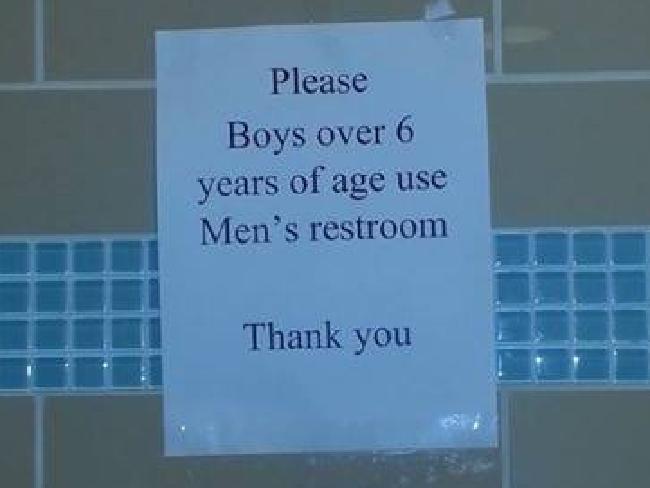 The issue it sparked is, what age is old enough to send our boys to a public bathroom alone? From the comments on Facebook, the majority believed that six was far too young.
My son is only three so I feel no way about taking him into a female bathroom with me, he can't even un-button his jeans without me, and no one has ever complained about me taking him in with me. I know he will soon be able to use the bathroom without me or anyone there, but I cannot fathom sending him into a men's restroom at the age of six without me. Six years old just seems far too young for me - without being precious, he will still be a child and far too innocent to be in view of grown men. There's also the problem of how capable he is - at that age, can he use the bathroom locks? Can he reach the taps and soap to wash his hands?
Of course, there's the more sinister issue, the very apparent dangers of leaving him alone with strangers and the things he may be exposed to. Sadly this will be the biggest concern for parents, who wants to put their child in a risky situation? I would say no parent.
I wouldn't have a problem with a father taking his daughter into a female bathroom, so why should our sons be left to fend for themselves when they are out with their mothers?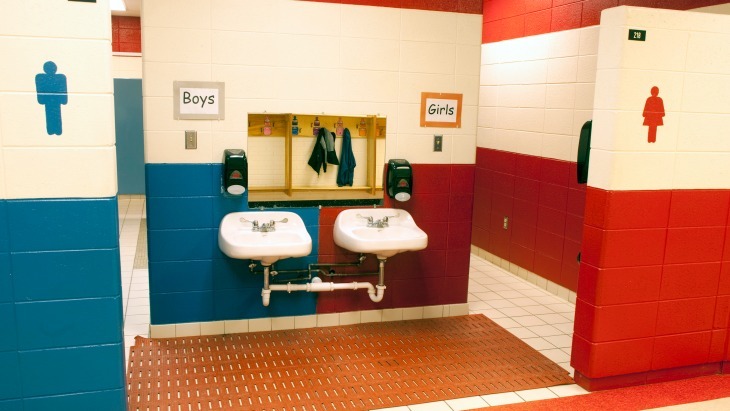 The Other Side Of The Story
Of course it's very easy for me to say this, I have a son and my instincts will always have his best interests in mind. But what about the issue of boys in female changing rooms with their mums? Many parents of girls that will tell you they don't feel comfortable with boys being in change rooms while their daughters are getting undressed. What are mums of young boys supposed to do here? As stated above, we don't want to send our sons into men's change rooms alone - then again we don't want to make anyone else feel uncomfortable either.
A Fair Solution
The only thing that can solve this conundrum, as far as most parents can see, is by having access to family rooms so that boys and girls can comfortablly use the bathroom or get changed with only their family in view. Unfortunately, us parents know all too well that these family rooms are like finding a unicorn in the wild. And when you do find them, often in public pools, they are taken - because there's just not enough of them!
Until this changes, all parents need to be mindful of the choices they make. I'll be taking my son to the female bathroom for as long as I feel comfortable - but the older he gets the more aware I will be of other children's privacy in these areas.
More Sydney News For Parents:
Have you signed up to our newsletter? Join ellaslist to get the best family and kid-friendly events, venues, classes and things to do NEAR YOU!