Glamping On Cockatoo Island Makes For The Perfect Fuss-Free Family Camping Staycation
Glamping On Cockatoo Island Makes For The Perfect Fuss-Free Family Camping Staycation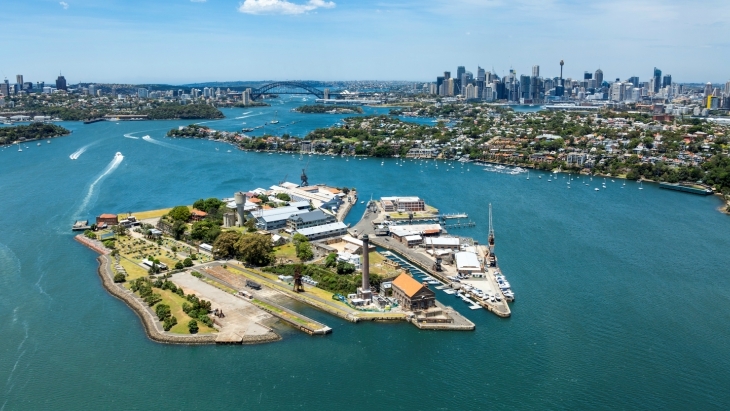 Love camping but hate the work? Glamping is your answer. It's made all the more glamorous when someone sets up camp for you against a stunning Sydney Harbour backdrop. Cockatoo Island only is the harbour island where you can stay overnight, so we packed an overnight bag and made tracks for this unique Sydney staycation.
Getting There
We took a bus to Circular Quay and then hopped on the ferry to Cockatoo; it's about a 30-minute ride. We checked in close to 6pm, which is considered afterhours, so the security guard got us sorted. It was easy to find our tent and unpack. Then all we had left to do that night was BBQ our dinner and enjoy.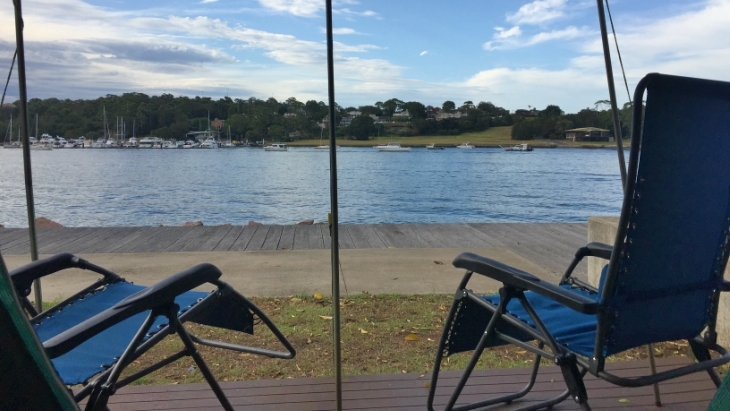 Why Glamping?
Glamping takes only about a fraction of the work as it normally does to camp, but you get to reap all the benefits—sleeping in a tent, playing outside with your family and eating under the stars together. Glamping at Cockatoo was a breeze. Even though there were 3 of us, they only had 2-person glamping tents available on the night we could go. So they suggested our daughter (she's 8) bring a sleep bag for the floor. It was cozy, but it worked out fine. At check-in, you get a lantern to use, which she thought was pretty neat. The tent came locked (you hang on to the key) and had two beds set up (with linens and pillows) and even had a little toiletry set. There were also two sun lounges.
What To Do
From tossing a few bites on the barbie to playing the (already set up) bean bags or rings to the audio tour where you'll learn about the history of the island and the people who used to inhabit it, there's heaps to do while you're there. Or just kick back and enjoy the gorgeous view and watch the boats whiz by. We kind of did a little of everything, just at a slower pace than normal.
Wild Weather
The day we glamped was hot and cloudy with rain was on the forecast. But that didn't stop our fun! We made sure to pack a few extra layers of clothes, in case something got soggy, and then didn't rest anything up against the edge of the tent. (That's the best way to prevent leaks.) It rained just before their 7pm kids' movie started and the timing of the storm worked well with the video. Unfortunately, because of the weather, they didn't run the campfire that night. But we ate the marshmallows and chocolate we brought anyway. Because we'd picked up the headsets at check-in already, we did the audio tour in the morning before the restaurant opened. There was so much more to see than I'd expected before we'd arrived!
Meals
There are plenty of BBQs available as well as a communal kitchen, microwave, toaster and sinks. We grilled up dinner ourselves but opted for brekkie and coffee at their on-site café. You can also order pre-packed food to grill ahead of time to make for breakfast and dinner. If you truly don't want to cook, eat dinner before you get on the ferry or bring takeaway with you and eat at the café in the morning. That would definitely cut back on the packing, since you need to bring plates, cutlery, cleaning supplies and cooking utensils with you.
What We Loved
It was such a unique experience to glamp! I've only camped out in forests on the ground inside a tent, but being on an island with both water and city views was magical. I loved the fact that you didn't have to think much about anything once you arrived and having a bed for the night was sooooooo nice. The glamping tents are on raised wooden platforms, so we didn't worry much about the rain. They also have a curfew at 10:30pm, so that took away anxiety of any neighbors keeping us up.
Something to Note
Grab the complimentary earplugs when you arrive. Our neighbors were quiet, but the seagulls weren't! They seemed to squawk all hours of the night and the earplugs at the desk are a must. Don't forget to grab them. If you have a little sound machine with white noise that'll last through the night without a charge, bring it. We didn't bring our daughter's iPad that has a great noise app and we regretted it in the morning.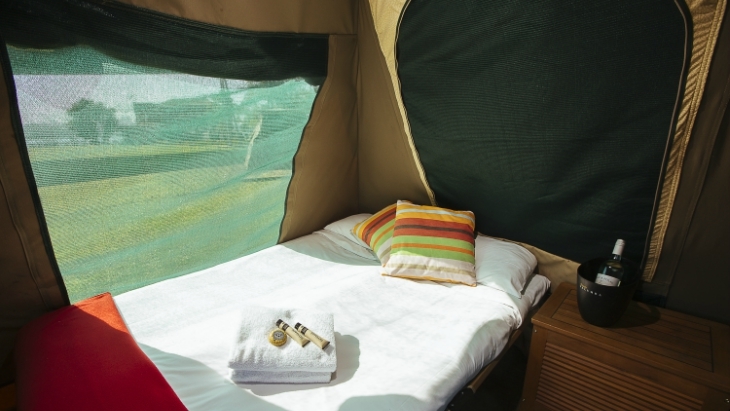 You can't beat the panoramic view of the Sydney Harbour, especially after dark and just at sunrise. Waking up to the water was lovely and I enjoyed watching the ferries cruise by before I even got out of bed.
Please note: BYO alcohol cannot be brought onto the island unless you are a guest staying in an Apartment or House on the Upper Island.
For more information on Cockatoo Island glamping, visit the website.