ellaslist Reviews: The Gold Coast - An Action-Packed Getaway in Australia's Holiday Playground
ellaslist Reviews: The Gold Coast - An Action-Packed Getaway in Australia's Holiday Playground
Kids
Teens
Family
All Ages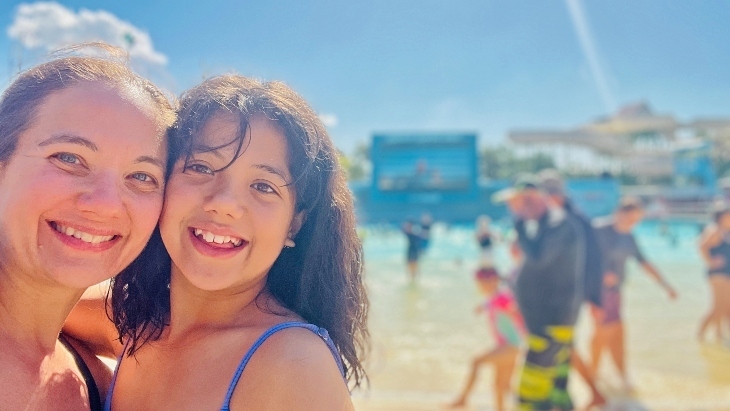 It has been decades since I immersed myself in the legendary wonders of the Gold Coast. While I have in fact ventured along its periphery to Brisbane and Byron Bay, I was yet to revel in the glittering jewel of the east.
My daughter, on the cusp of 12, is of course well-versed in theme park folklore and has been desperate to take that rite of passage. Finally, at an age where she can appreciate its exuberant and hidden gems, Something for ALL, a joint initiative between ALL - Accor Live Limitless and Destination Gold Coast, made its serendipitous debut.
Something for ALL is on a mission to debunk the cliches, proudly proclaiming that there really is something for everyone on the Gold Coast. Modern families of all kinds are invited to uncover the diverse breadth of experiences that await them in the quintessential holiday playground, a sentiment that wholeheartedly resonated with me: my little family is certainly not nuclear, and I am always on the lookout for getaways that will indulge both me and my tweenage sidekick.
From the moment we landed and breezed down the Gold Coast Highway, past the calm shores of Currumbin, where countless families waded in the calm waters, and bustling Burleigh Heads, a mecca of surfers and cool cafes, there was an overwhelming sensation that a wondrous new world has evolved since I was here last.

Thankfully, the perpetual promise of warmth and sunshine still holds true. However, while Gold Coast platitudes abound and the beautiful beaches and monumental thrill rides are undeniably enticing, there is so much to discover beyond the buzzwords.
Our Gold Coast Getaway: Where We Stayed
Mantra Crown Towers Surfers Paradise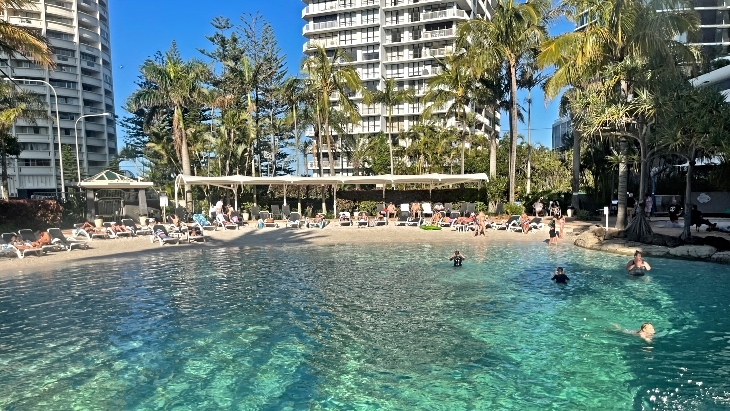 With our pick from a diverse collection of 26 Accor properties on the Gold Coast, we couldn't resist being in the thick of the action in Surfers Paradise, taking up our short-term residence at the vibrant Mantra Crown Towers. The images alone exuded all the tropical holiday vibes we wanted and the reality met our grand expectations.
Mantra Crown Towers is a classic high-rise resort-style apartment hotel in a perfect location, just off the Gold Coast Highway and within walking distance to the beachfront and Cavill Mall hub. Entering the expansive foyer feels like stepping onto a cruise ship. The wide open space is surrounded by multiple balconies, each with a myriad of doorways, across 35 levels, all looking into the abundant atrium adorned with terracotta hues, unique sculptures and a water feature that hints of what is to come beyond the glass walls behind it.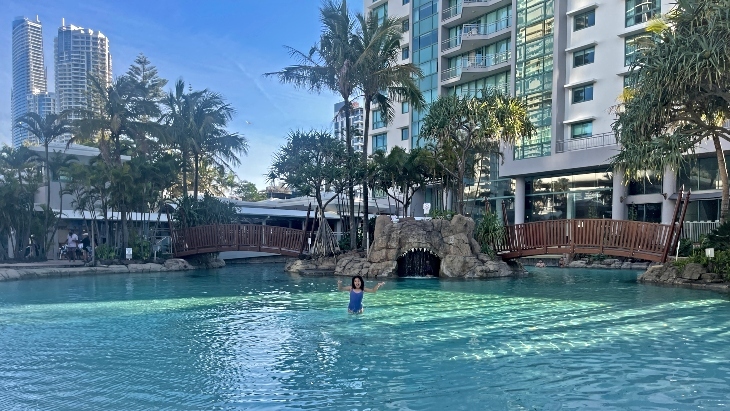 Mantra Crown Towers offers a range of self-catering apartments with all the mod cons that make travelling with offspring a breeze - separate bedrooms, a full kitchen, coffee and tea supplies, laundry and a TV with Foxtel. Every apartment has a balcony and ours was a generous retreat that boasted spectacular views of the ocean at Surfers Paradise beach all the way across to the sunset over the Nerang River.
Although Mantra Crown Towers radiates warm, laid-back, family-friendly hospitality, with reliable accommodation that is clean, comfortable and convenient, there is a far more compelling reason the property is abuzz with eager, excited families. They are, as we were, lured by the extraordinary backyard.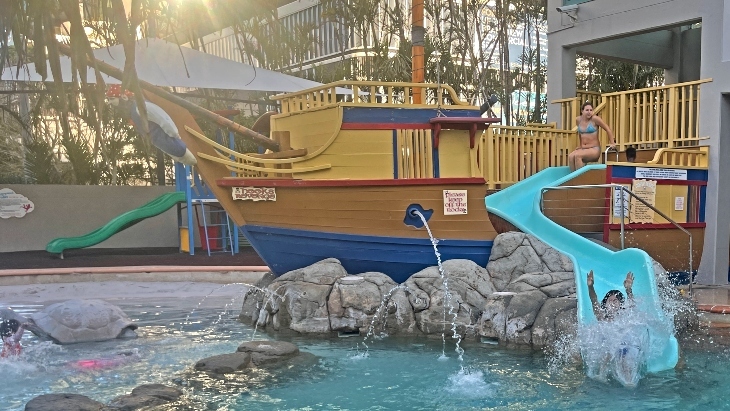 Step out into the sun-soaked, palm-tree-lined oasis and you would be forgiven for thinking you had landed on a tropical island. The massive lagoon pool is incredible, adorned with rock formations, water features and a little cave, ebbing against the shore of the man-made beach aglow with clean, white sand and dotted with deck chairs. There is also a serene rockpool-inspired spa, shaded under a canopy of lush foliage. My mini-me and I loved nothing more than luxuriating in this outdoor sanctuary after a day of action-packed adventure. Bliss!
A dedicated children's wading pool with a pirate ship and a slide keep a consistent stream of enthusiastic little ones endlessly entertained and when the temperature drops the fun doesn't stop, as there is also an indoor heated lap pool and spa, plus steam rooms and saunas.
Mantra Crown Towers also boasts a games room, a full gym and a BBQ area, and the gorgeously authentic, award-winning Chiang Mai Thai Restaurant, replete with elaborately carved elephants and traditional wooden karts.
Top Travel Tip: Before you go, join the Accor Live Limitless lifestyle loyalty programme for exclusive member perks at the property including complimentary WIFI and pool towels, plus late checkout.
Our Gold Coast Getaway: Where We Played
SkyPoint Observation Deck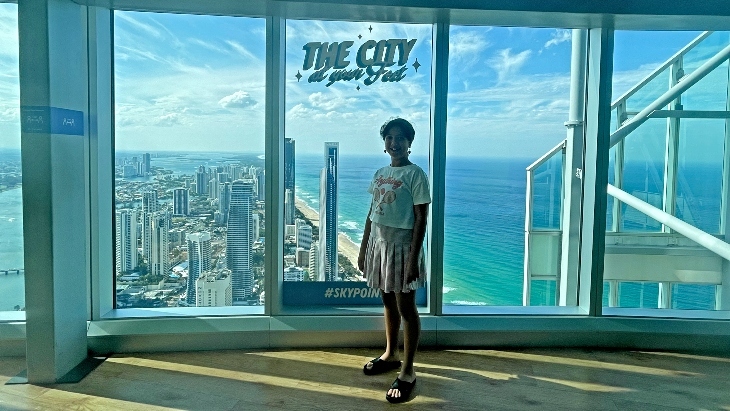 As if being on holiday on the Gold Coast isn't enough to make you feel on top of the world, one of Australia's fastest elevators will transport you a lofty 77 floors in record time (40 seconds to be precise) up one of the tallest buildings in the country.
SkyPoint Observation Deck showcases a 360-degree vista of Mother Nature in all her splendour from the rivers to the mountains and the hinterland, and across what surely has to be one of the longest stretches of beach in the world. Perched on top of the iconic Q1 building, it is a beacon in the Surfers Paradise skyline. The viewing platform is a whopping 230m above sea level delivering an unrivalled view of the entire Gold Coast, rendering us awe-struck at the enormity and beauty of what enveloped us.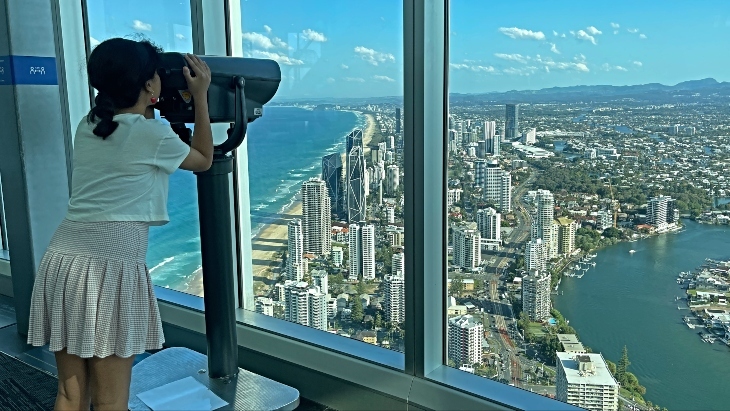 Around the perimeter of 'Australia's only beachside observation deck' are binoculars, giving my little eagle-eyed daughter the opportunity to scope out some hidden gems in the surrounding neighbourhood - she spotted the Surfers Paradise beachside markets and we made a note to visit that night - and there is also a series of fun facts printed along the edge, like New York being a mere 15,488 km away.
SkyPoint also has a well-stocked bistro and bar with an ample all-day dining menu, so we indulged in the SkyPoint Deck & Dine ticket - which includes a dining voucher with admission to the observation deck - feasting on a hearty lunch of hamburgers (her) and nachos (me) with the best view in town.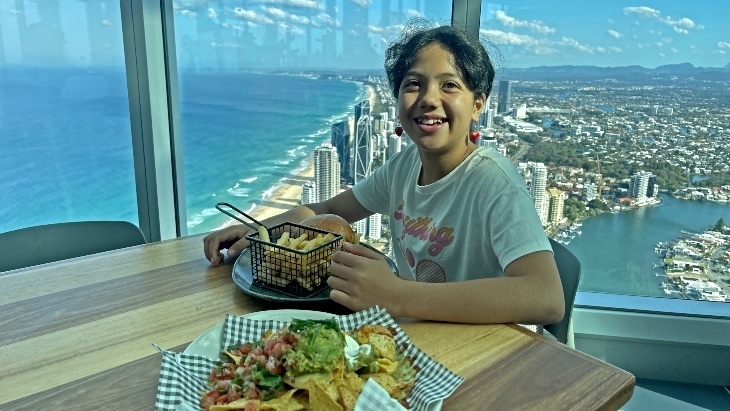 Currumbin Wildlife Sanctuary Koala Breakfast
Currumbin Wildlife Sanctuary has legend status. It has been caring for animals for 75 years (it even has its own Wildlife Hospital - one of the busiest in the world) and offers unique and intimate encounters to commune with our native fauna, surrounded by serene natural bushland. My daughter, with a sweet soft spot for all things cute and cuddly, had opted for the Koala Breakfast and not even the early start and the 40-minute drive could abate our excitement.
Approaching the gates, the sanctuary's signature sound permeates the air. Every day at 8am (and again at 4pm) a chattering flock of colourful wild lorikeets gather for their morning meal, eating straight from the hands of brave bird-lovers. This beautiful ritual has been a Currumbin favourite for decades and is free for everyone to enjoy, without having to enter the park.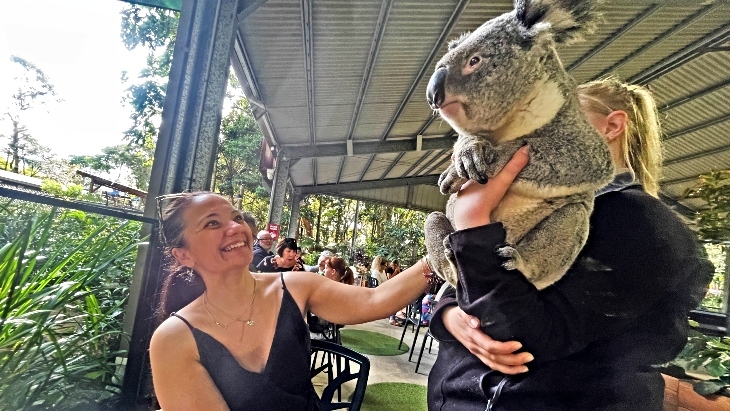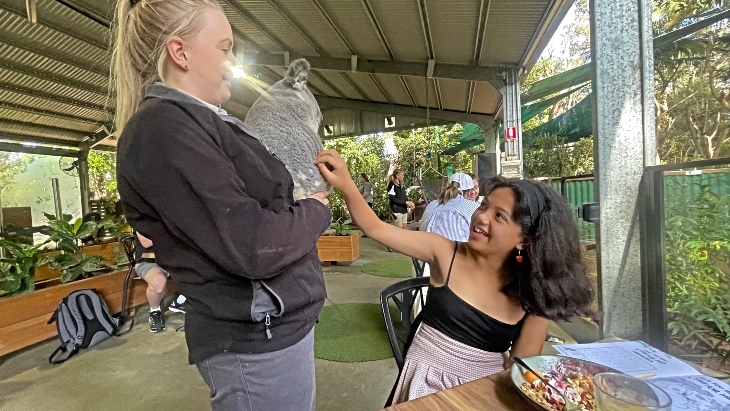 Alas, our breakfast was calling and we were met at the gate by our lovely host who took our coffee (phew) and drink orders and guided us to our exclusive seat in the koala habitat precinct among a few other lucky couples and families besotted by the adorable 'bears'. We had pre-ordered our acai bowls from the gourmet menu and relaxed among the gum trees as the koala keepers captivated us with fascinating facts. Two resident koalas were brought table-side for a close-up view and a feel of their super-soft fur before we were called up for our photo opportunity.
Both my daughter and were snapped holding a koala and received two photos and two keyrings to memorialise it - now prized possessions. Following our early-bird experience - the closest we have ever come to these beloved Aussie icons - we were treated to VIP access to the koala enclosure where we walked amongst the huddle of trees as the cuddly creatures were immersed deep in their down-time, dozing on the branches above us.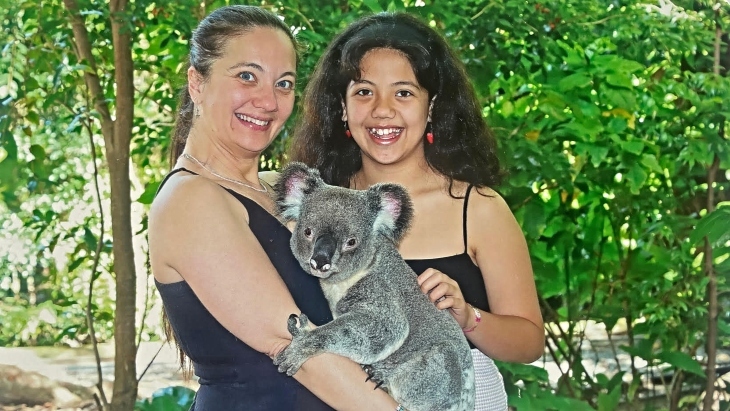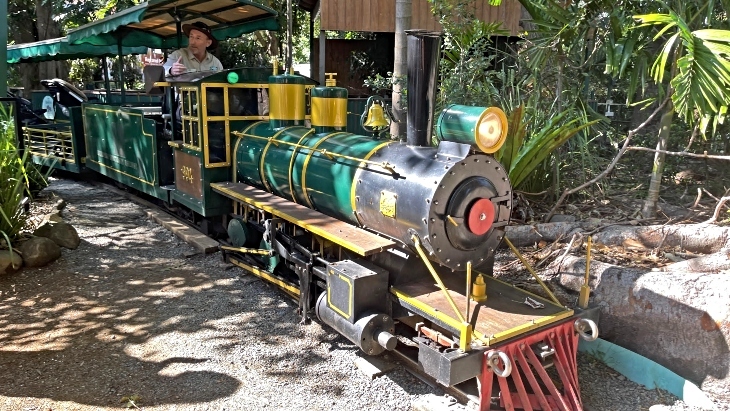 Fulfilled by our delightful encounter with our furry friends, we jumped aboard the Currumbin miniature railway system for a quick tour of the sanctuary - the most efficient way to explore the park for both time and energy. It's so much fun and a saving grace for tired little legs. The train makes its journey approximately every 20 minutes on a loop around the sanctuary, stopping at four stations.
Greeted along the way by roaming snakes, goannas and bush turkeys, and passing a prehistoric park full of dinosaurs and the Wild Island adventure playground, we couldn't resist the urge to disembark at Kangaroo Crossing where an abundance of roaming red and grey kangaroos roamed freely through the gardens, happy for us to pat and feed them as they lazed in the spring sun. Well worth the pitstop!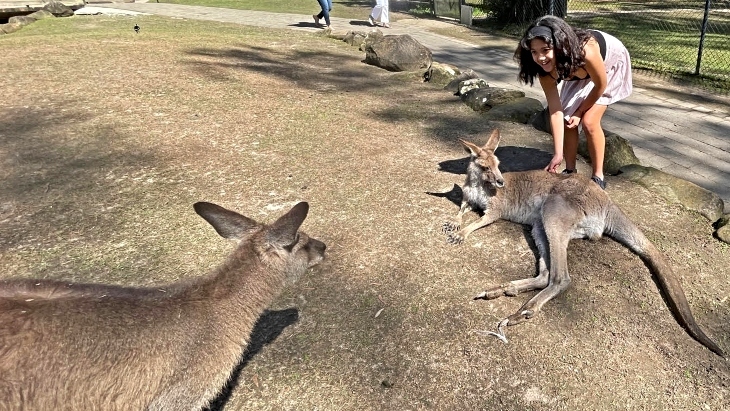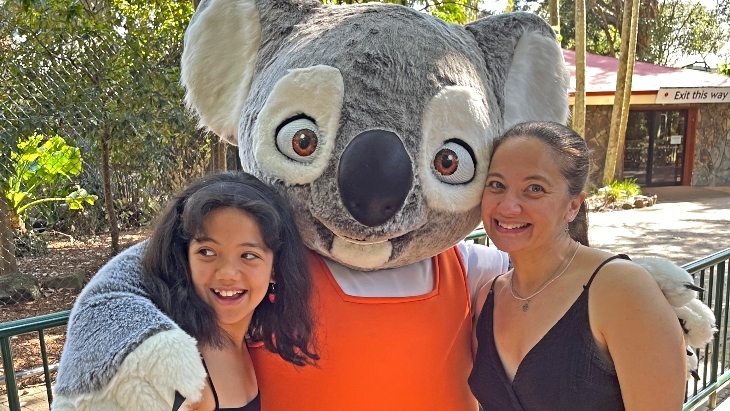 Warner Bros. Movie World
"This is the most insane place I've ever been. It's like we're in a movie!"
It was heartwarming to hear the wonder of my almost-teenager as we explored Warner Bros. Movie World, still in awe of the magical dreamscapes and enchanted by the roaming characters. The idea of this illustrious theme park loomed large in my imagination, however, I was relieved by the manageable size that allowed us to meander through the streets without rushing around desperately trying to take it all in.
We strolled down Main Street and beyond, past the Roxy Theatre, through the Wild West, intrigued from the outset by the incredible building facades and themed boutiques including Harry Potter movie memorabilia and a Charlie & the Chocolate Factory candy store.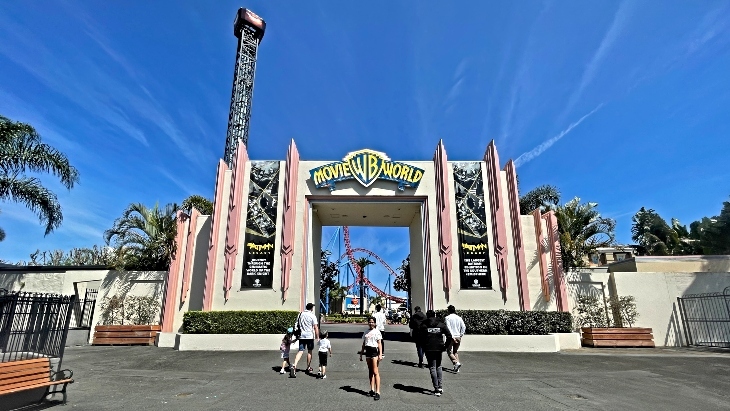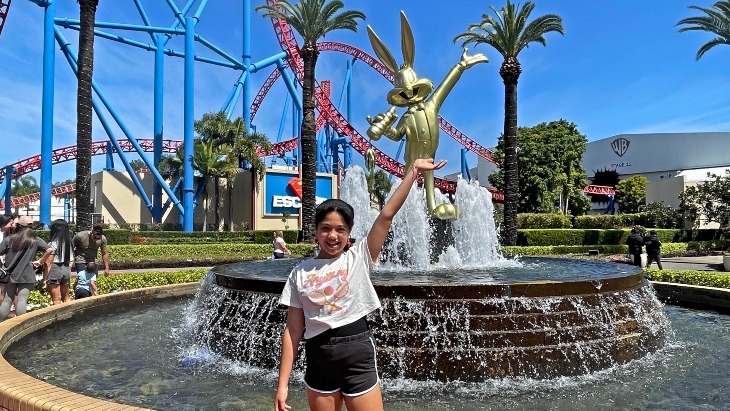 Home to the 'tallest, longest and fastest HyperCoaster in the Southern Hemisphere', Warner Bros. Movie World boasts seven epic thrill rides including the Wild West Falls Adventure Ride splash-fest and the beloved indoor Scooby-Doo Spooky Coaster. While they were undoubtedly impressive, the fear factor (confirmed by the spine-tingling screams that echoed from them, and compounded by some hefty waiting times) was insurmountable for my tween, who was elated enough with her feet on the ground, exploring the amazing fantasyland, stopping for photos with Tweety Bird, Harley Quinn and Catwoman and shopping for souvenirs.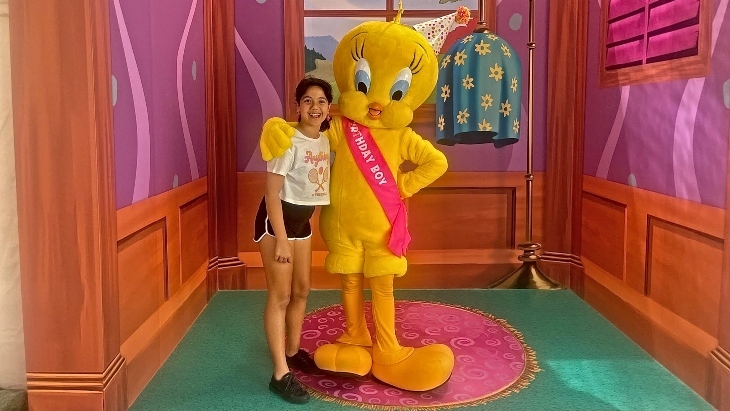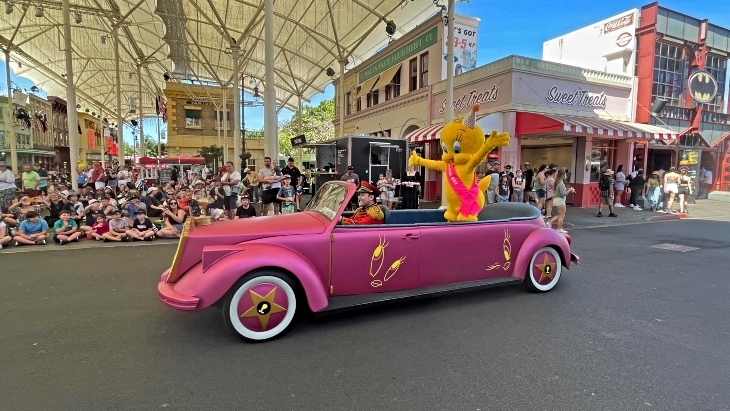 The Kids' WB! Fun Zone is a vibrant Looney Tunes-inspired precinct with a collection of kid-friendly attractions including the Road Runner Rollercoaster, Yosemite Sam Railroad and the phenomenal Junior Driving School where little ones can get behind the wheel and drive around a mini version of Warner Bros. Movie World.
The new Batman Legacy exhibition in the WB Studio Showcase - the largest official Warner Bros. Batman exhibition in the Southern Hemisphere - was a breathtaking catacomb of sets featuring original costumes, props and cars from the cinematic life of the Gotham City superhero. We also made it to the Movie World at the perfect time to join Tweety Bird's 80th birthday celebrations and the Disney-esque Tunes on Parade featuring a cast of favourite Looney Tunes characters was a highlight of the day.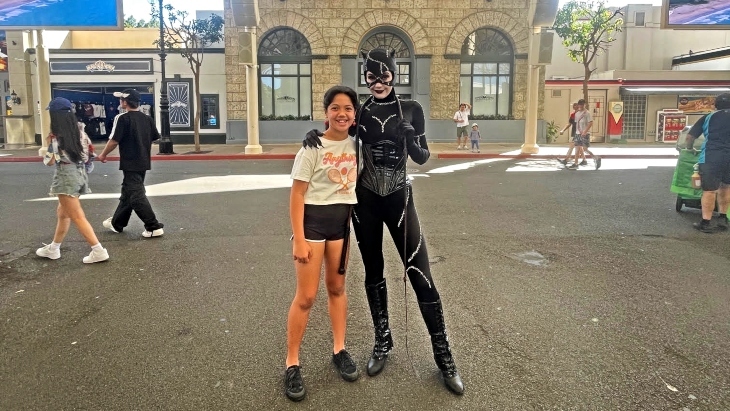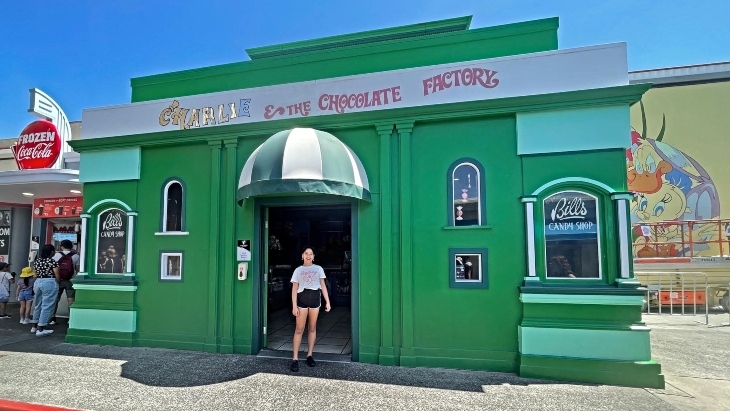 Top Travel Tip: At the Gold Coast theme parks, any number of rides can be closed on any given day, so check with the park before you go so you don't miss out on something you really want. The Village Roadshow Theme Parks App is great for this and for planning your day around shows and special events. Of course, queues for attractions can range from 5 to 60 minutes so be prepared. You can also check waiting times on the app.
Slideways Go-Karting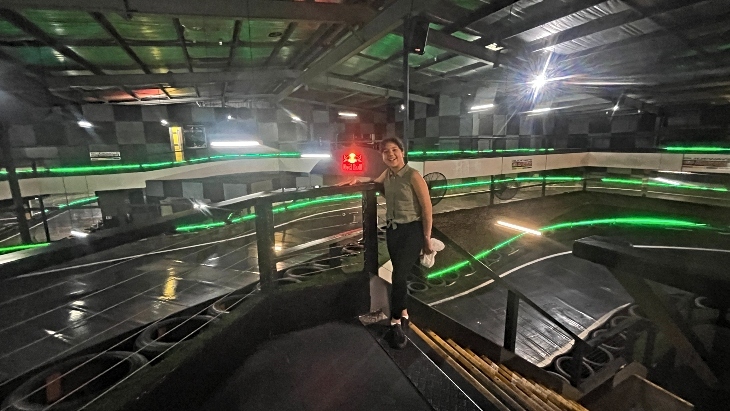 On a holiday full of thrilling first times, my daughter's favourite experience of the entire trip was putting the pedal to the metal on the speedway, such is the adrenaline-pumping joy of chasing (and lapping) your mum around a 500m indoor/outdoor track that twists and turns over three thrilling levels. Tucked away in an unassuming back street in Nerang, a short drive from Surfers Paradise is Slideways Go Karting, where both my intrepid playmate and I got our go-karting initiation.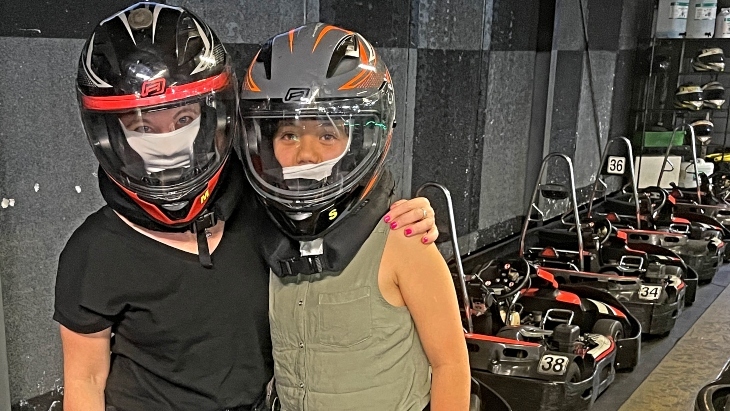 When we arrived, the track was in all its illuminated glory with a group of thrill seekers drifting around its bends in full Fast & Furious flight. We managed to abate my trepidation by playing a few games in the awesome arcade room, before being summoned for our twilight session.
Being rookie drivers, we listened attentively to the safety briefing, got kitted up in our balaclavas and helmets and were buckled securely into our Intermediate low-rev karts. Despite a packed track both before and after our session, nobody else was booked into our 20-minute evening 'family session' (designed to include younger and less practised speed demons) so we fortuitously had the course all to ourselves, contributing to its status as 'the best thing ever!'.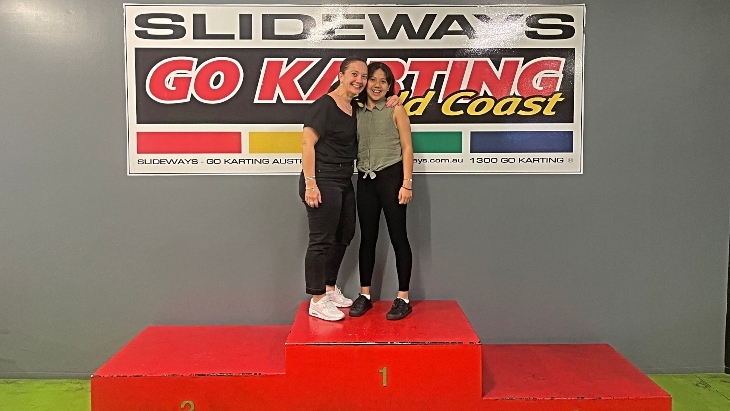 There is definitely something intoxicating about having the freedom to brazenly zoom around a racetrack at maximum velocity, testing your mettle through caves and down ramps, feeling the balmy breeze against your skin as you whizz through the outdoor stretch, all while tucked away in your high-speed cocoon.
We loved the encouragement from the Slideways pit crew, intermittently holding up the Great Job! sign which never failed to make me smile underneath my sturdy headgear. They also wielded safety reminders including No Bumping, Move Over and One Pedal at a Time before finally waving the checkered flag to reluctantly usher us back to the parking pit and speed-limited reality.
Wet'n'Wild Gold Coast
I can fully appreciate an experience that beckons me to unabashedly liberate my inner child and Wet'n'Wild is that for me. With our possessions safely tucked away in a locker, we were completely unencumbered, with nothing but our swimming costumes, a wristband and a generous lathering of sunscreen as we plunged into a day of playful fun at Australia's biggest water theme park. No mobile phone. No modesty. There was zero room for body consciousness for this middle-aged mama - it all washed away. Liberating!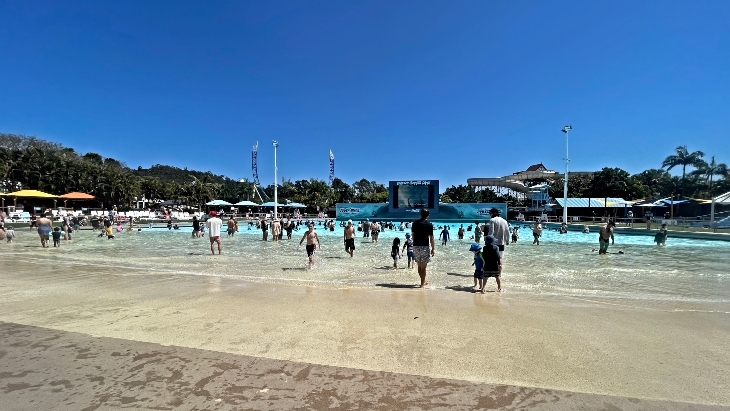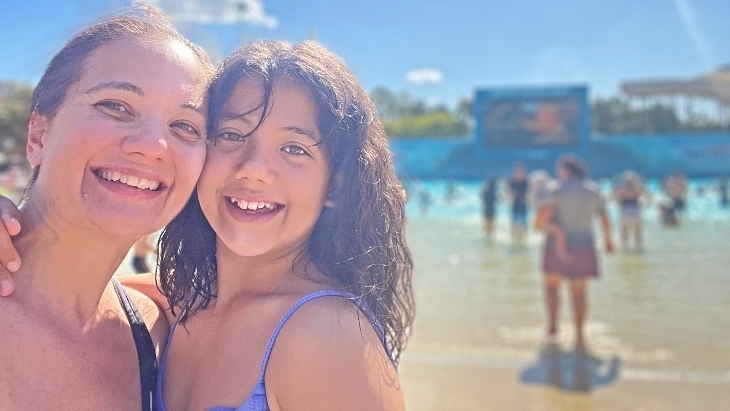 Compelled by both the awesome attractions and sizzling sunshine, we couldn't wait to dive right into the aquatic wonderland, starting out at the Giant Wave Pool, a beachside lagoon holding 3 million litres of water that releases a ripple of undulating waves every 10 minutes, to the delight of all the buoyed bathers.
From the energising 'ocean' to the relaxation of the 'river', we drifted downstream in our inflatable tube along Calypso Beach among verdant tropical gardens and the relics of a colourful Caribbean Shantytown. We luxuriated in Whirlpool Springs, a wonderland of warm individual in-ground spas, and satisfied our daredevil urges with the thrill and spills of the Rocky Mountain-themed River Rapids water slides.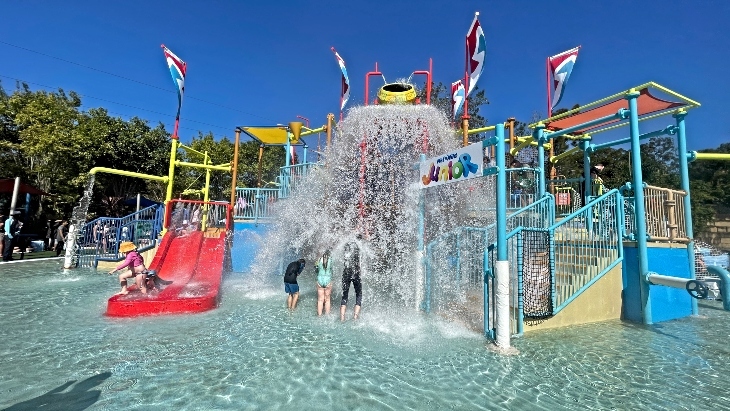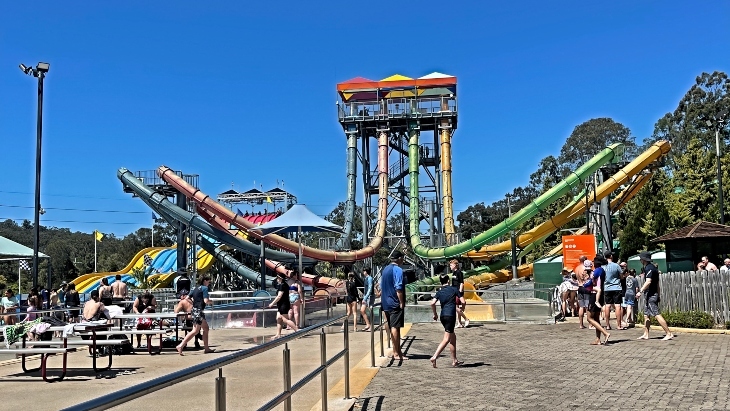 The Wet'n'Wild Junior precinct is an abundant multi-faceted adventure playground of shallow pools, junior slides and fun water features including a giant tipping bucket. It also has cool mini versions of some of the park's larger thrill rides and is a lively and laid-back place to escape for a little respite from the action. All splashed out after a fervent few hours, my daughter made a beeline for the Twisted DIY Soft Serve Parlour where she customised her delicious swirl of ice cream with an array of candy.
HOTA Gallery
"Kids; please supervise your adults at all times."
The first rule of HOTA Gallery underpins its entire philosophy: art is for everyone, even the most youthful aesthetes. The dedicated, hands-on children's gallery is the first one you enter at HOTA, making a bold and intentional statement from the ground up that children are welcome here - not just to look, but to make and create, in a space designed especially for them. The current exhibition is Postcards from The Edge by Brisbane artist Martin Edge transformed the gallery into a beachside holiday escape that encourages young imaginations to run wild.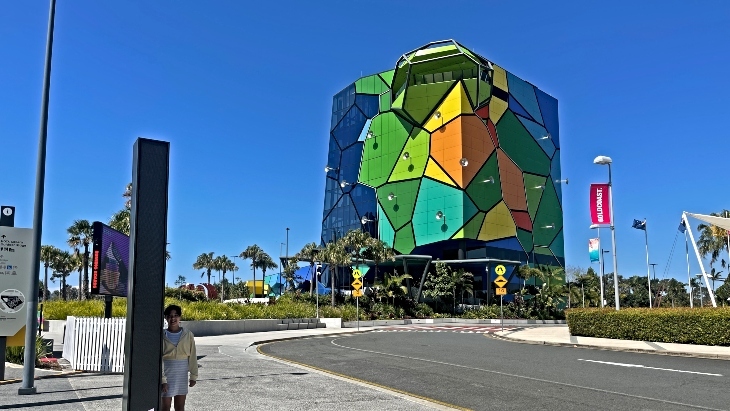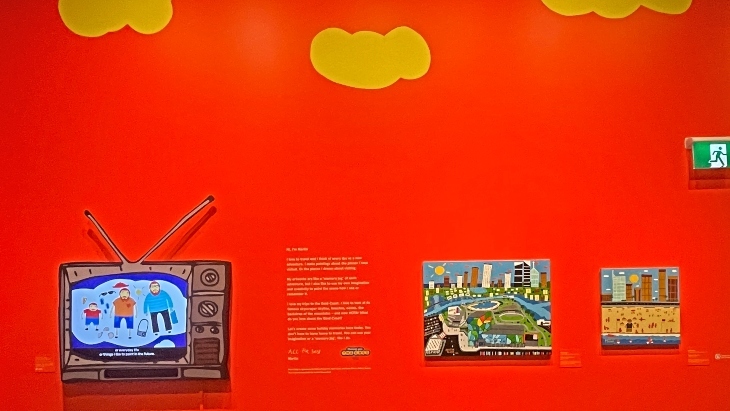 There is a kiosk to 'purchase' postcards that you can adorn with your favourite holiday memory at the colouring station to exhibit on the art wall or send to Martin himself via the customised postbox. My daughter and I succumbed to the seaside sojourn and took a mindful moment to colour our postcards. She did however stash her masterpieces away to keep as souvenirs.
Edge is refreshingly open about his autism and indeed celebrates it by sharing his vibrant view of the world. The inclusive exhibition offers the opportunity to connect with the work through reading and writing but also delivers stories visually through a movie and symbols. The artist has also created a personal Spotify playlist to complement his work.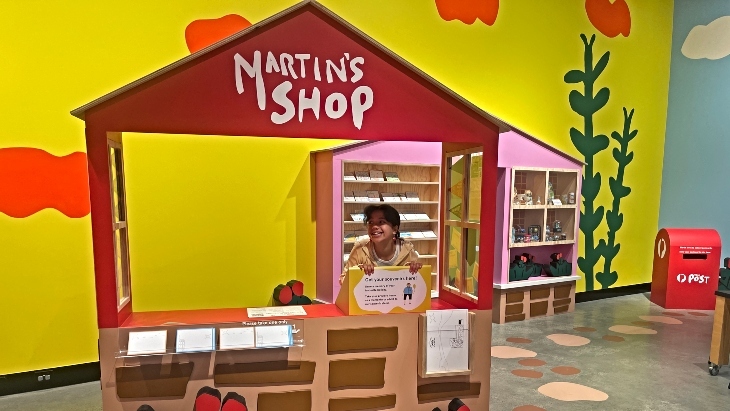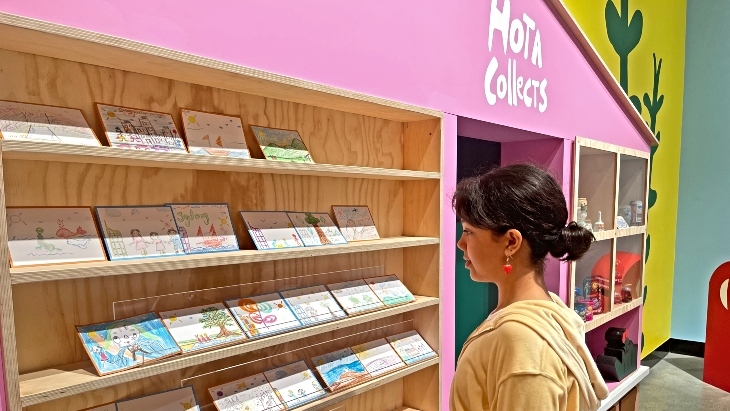 Since its inception in May last year, HOTA has established itself as the Gold Coast's premiere art and culture precinct transforming the riverside district into a hub of diverse events including shows, films and festivals, outdoor yoga, concerts on the lake and a community market every Sunday, across the expansive parklands and the gallery's adjacent Art Centre. There are sculptures and installations dotted throughout the precinct and school holiday workshops happening outside in the sunshine.
The $60.5 million HOTA Gallery is the striking centrepiece of the visionary destination and is now Australia's largest regional art gallery. With superbly curated exhibitions spread over four floors including the spectacular Josephine Ulrick and Win Schubert Photography Award, Energies - showcasing the incredible artistry of local year 11 and 12 students - and two levels of the HOTA Collects stunning permanent pieces, it offers a contemplative artistic journey. Plus, The Exhibitionist Bar that occupies the rooftop has a delicious menu, a sundrenched outdoor terrace and an incredible view of the Gold Coast - the perfect end to a sublime experience.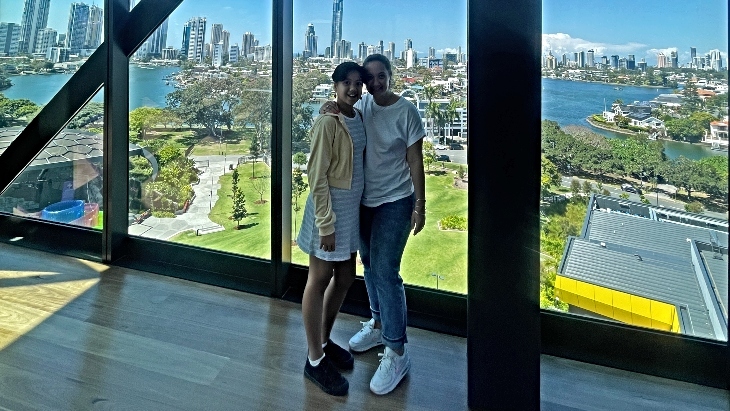 Very special thanks to ALL - Accor Live Limitless and Destination Gold Coast for our unforgettable Gold Coast getaway. Book your escape in Australia's holiday playground where there is Something for ALL.
Book with ALL – Accor Live Limitless on ALL.COM
More Family Holiday Inspo
The Best Family Resorts in Fiji
Australia's Most Beautiful Campsites
Resorts With Kids' Clubs in Australia
Have you signed up for our newsletter? Join ellaslist to get the best family and kid-friendly events, venues, classes and things to do NEAR YOU!