The Best Kids Clubs In Australia
The Best Kids Clubs In Australia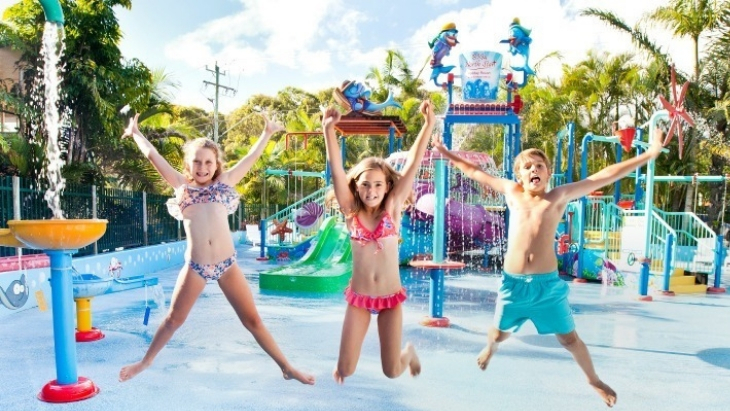 ellaslist COVID-19 update: Please note that all the information on the website is correct at the time of publication. Please check the relevant website before visiting a venue or destination for the latest COVID-19 information. ellaslist is not responsible for any cancellations or closures.
Has anyone else noticed so many of us Aussie families leave our sparkling clean beaches, great produce, stable governments and functioning hospitals to holiday in locations which are, let's face it, often artificial bubbles of first world luxury that sit amidst poverty, unclean drinking water, third world diseases and unstable governments?
The obvious candidates here, of course, are Fiji, Bali, Thailand. Most people will tell you that it is often cheaper to holiday in these locations than on our own continent. But I beg to differ.
Luxury resort plus flights to these locations are often on par with lovely accommodation in Queensland. Perhaps the reason is the phenomenal quality and dirt-cheap price of child-minding and child-engaging activities offered by our overseas destinations.
So where are the great Aussie Kids Clubs?
After much research, I have come to the realisation that the options close to home are few and far between. But I have uncovered a handful that do offer the luxury of a real Kid's Club, and at amazingly affordable prices. So, my first-world-loving friends, here we go. If you know of any others to add to this list, we would love to hear from you!
BIG4 North Star
The BIG4 North Star Holiday Resort and Caravan Park has it all for families. The Neptune's Castle Kid's Club (ages 3-12) will help kids have the holiday of their dreams complete with a gigantic indoor play area, themed and supervised activities and arts and crafts. The play centre has a three-level spiral slide, ball pit and mirror maze. The best part? It's FREE! Families can also often be found at Sammy's Adventure Lagoon- a water park with some serious thrills and spills. Set amidst tropical surrounds, the 2-storey aqua play has 4 waterslides and 65 interactive water features including water slides, water cannons, giant fibre glass fish, and a 600 L bucket that spills water every 6 minutes! Other park features include a giant outdoor playground that is fully fenced and shaded, and a the Little Treasures play corner for some under 3 years old fun.
Accommodation: North Star has a range accommodation including five star, fully self-contained luxury poolside spa villas and spacious family cabins, as well as caravan and camp sites
Rates: Holiday Lodges start from $147 per night for a 2 bedroom, 1 bathroom residence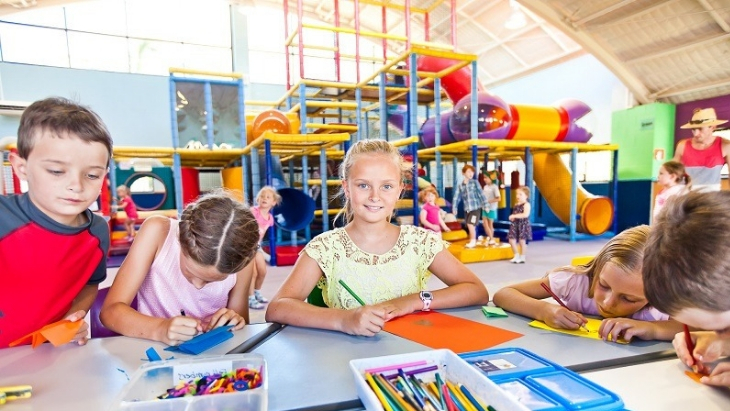 Hamilton Island, Whitsundays,
QLD
Hamilton Island is a fabulous Whitsunday's resort that simply has it all! The Clownfish Club Caters for all ages – from 6 weeks to 14 years of age. It offers a large range of supervised fun activities. It's open Tuesday to Saturday and Mondays during school holidays.
We love that you can fly directly from Sydney to Hamilton island and once you settle in, there is so much to do. Choose from water sports, mini-golf, go-karts, quad bikes and wildlife. Or hire a golf buggy and take a tour of the island.
There are many resort-style accommodations to choose from. We like Whitsunday Apartments which are lovely self-contained, fully equipped apartments.
Rates start from $320 a night for a garden view apartment.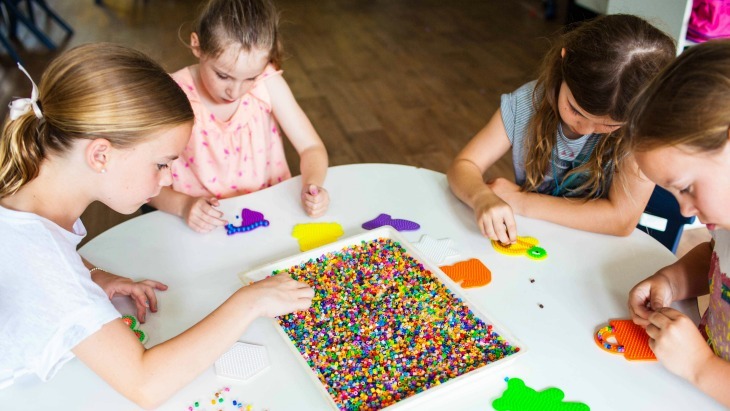 Kingfisher Bay Resort, Fraser Island
QLD
Kingfisher Bay Resort boasts a unique Junior Eco Rangers programme which teaches children to care for the environment and everything in it. It includes activities such as Low ropes course and canoeing, Bush and beach walks, Sand sculpture, art and craft Campfire songs, Spotlighting for bats, sugar gliders and frogs and Stargazing.
The programme is available on weekends and school holidays and it's available for kids aged 5 – 14 years.
Accommodation in the resort is varied with a choice of resort rooms, villas, houses and lodges.
Rates start from a very reasonable $169 for a standard room.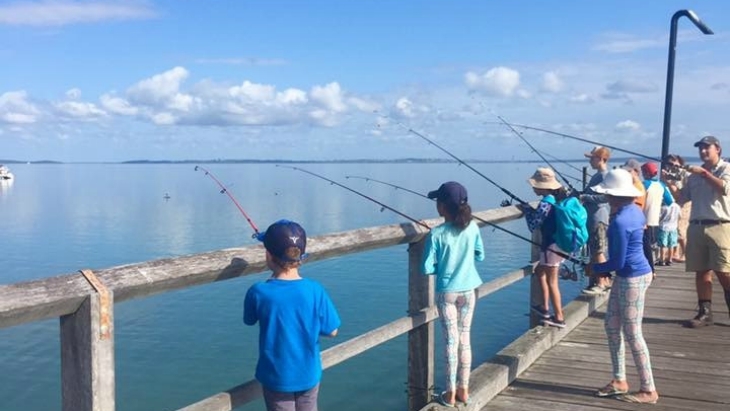 Zagame's Paradise Resort, Gold Coast,
QLD
Paradise Resort has it all – an ice-skating rink, waterpark and kids' club and it's just minutes walk from the centre of Surfer's Paradise.
Zone 4 Kids Club (Z4K) offers a range of fully supervised sessions daily for children 0 – 12 years of age.
Z4K is a mini fun park featuring themed play spaces such as Astro's Space Station with pedal powered space buggies, Under Water World with submarines and slides, and the Magic Garden with its colourful ball pit. It's school holidays everyday in Z4K and Mum and Dad get some time out too!
The whole family will love Z4K Water Park – a giant water playground, featuring a refreshing lagoon pool, large heated spa and a giant bucket that fills with 600 litres of water before emptying every few minutes over guests below in one enormous splash.
Little swimmers have their own smaller version including a slippery slide, water cannons and giant tipping water bucket. There's also a paddling area especially for them with a gently sloping beach entry.
There is also a fully equipped playground and rock-climbing area.
Accommodation is in a variety of different styles of rooms, including family rooms and suites.
Rates start at $249 for a resort room, which sleeps two adults and two kids.

Daydream Island,
QLD
Daydream Island is a luxurious resort located in the centre of Queensland's Great Barrier Reef.
At the dedicated Skipper's Club, excellent childcare is available for children aged from six weeks to 12 years. There are two different programs which cater for kids from 0-5 years and 6-12 years. Supervised activities include art 'n crafts, treasure hunts, fish feeding, basketball, coconut bowls, tennis, nature walks, mini golf, group games and much more!
Younger kids will love the Jungle Jumble Kids Playground – a fun climbing maze while older children will enjoy hand-feeding barramundi, sharks and stingrays at the resort's Living Reef Lagoon.
There are loads of family-friendly activities on offer such as – snorkelling, jet-skiing, tennis, volleyball and the fabulous themed mini-golf course.
Daydream island also boasts a huge aquarium and outdoor cinema for moonlight movies.
Accommodation is in a variety of rooms, suites and family rooms.
Rates start from around $340 per room for a standard room and $690 for interconnecting family rooms.
*NOTE - Daydream Island reopened in May 2019. Find out what to expect here.*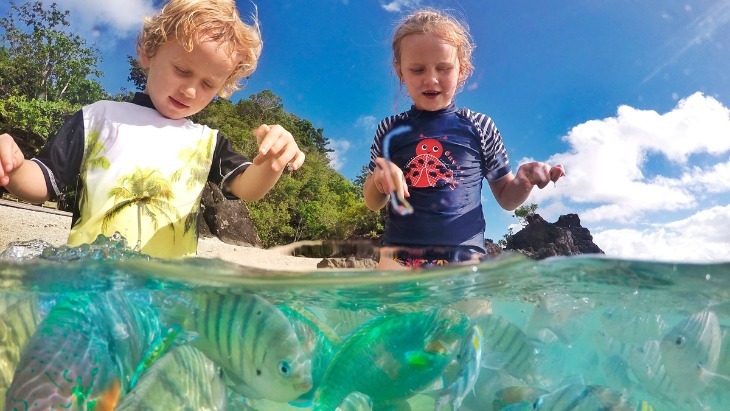 Merimbula Beach
NRMA

Holiday Park,

NSW

Merimbula Beach Holiday Park is situated south of Canberra. There are direct flights here from Sydney or else it's about a 6-hour drive.

This economical resort offers an action-packed kids club. Kids club activities include outdoor activities including Rockpool Activity, Tug of War, Sand Sculpting, Facepainting, Board Games, Drawing, Magic Show, Arts and Craft, Table tennis, air hockey and Tennis.

The holiday park offers a resort-style pool, a kid's wading pool, a fountain, Giant jumping pillow, Brand new Children's playground, New Balanz Bikes and Go-karts
and a Games room with table tennis and pool table. Magic Mountain Family Fun Park is a short drive away.

Accommodation consists of a large range of modern one, two and three bedroom villas and cabins as well as camping and caravanning sites. Most of the rooms enjoy gorgeous ocean views.

Rates start from $142 per night for a one bedroom cabin.
Sea World Resort and Waterpark, Gold Coast,
QLD
The Sea World marine-themed resort in Sydney's answer to Las Vegas offers a Kids' Club with specially designed SpongeBob SquarePants and Dora the Explorer activities and programs that the kids will love.
The Kids Club boasts the latest X-Box 360 games, a kids movie theatre regularly screening children's movies and a host of fun games and activities like face-painting, arts and craft and team sports.
Children must be aged 4yrs to 12yrs to attend without supervising adult.
However, kids under the age of 4yrs can still utilise the Kids Club provided that they are supervised by an adult.
The resort offers direct monorail access to Sea World Waterpark. There are over 400 rooms, most of which accommodate four people. You can choose from a garden, pool or beach view.
Rates start from $270 per room per night. However, Sea World offers great deals that include passes to the waterpark.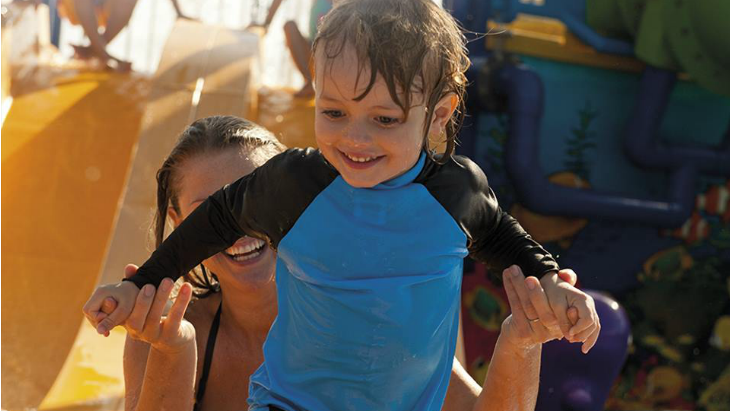 Turtle Beach Resort – Gold Coast,
QLD
Totally family-friendly. Their Club Turtle Kids Club offers pre-arranged activities including big screen interactive games, arts and crafts sessions, X-Box's, movie screenings, and kid's discos and dances in the evenings. Children aged 4-12 years are welcome here, able to get right in there and join in the fun, or just watch on if they are a little more timid. Children will be fed fruit in the morning sessions, lunch in the afternoon sessions and dinner, if you pre-select it, at night-time sessions.
Other family-friendly aspects of the resort include a 15-hole putt putt course, an arcade games room, pool with water slide, wading pools, a playground, a 22-seat cinema with 4 shows daily, a tennis court, gated children's areas, BBQs and so much more.
Rates Family apartments are available from around $400+ per night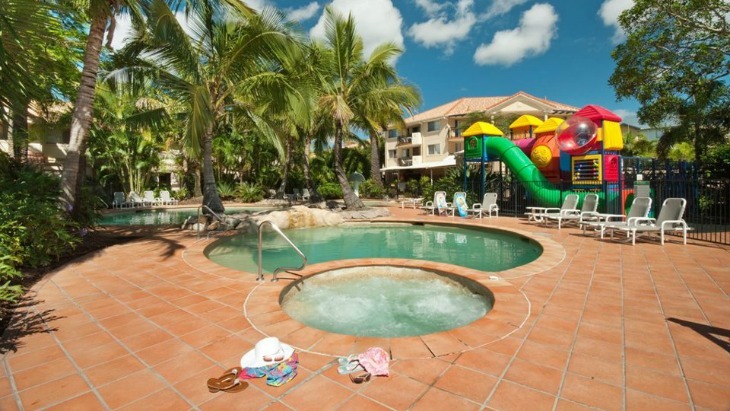 Lady Elliot Island Eco Resort, Great Barrier Reef,
QLD
The Eco Resort on Lady Elliot Island gives families a genuine eco-tourism experience through magnificent natural encounters in and out of the water. Here you will learn about sustainability, the natural world, conservation in what is not just a holiday, but a completely immersive experience.
For kids, there is a shaded children's playground, babysitting services and a Junior Reef Rangers Kids Club. Not only will they be having fun, but kids aged 5-12 years will be learning about marine life and the beautiful coastal environment they're staying in with this program. They will be taken out for 2-hour sessions as a guide talks to them about the reef, and gives them an opportunity to share their island experience with other youngsters.
There are no TVs in the rooms, so families will have a rare chance to truly disconnect with the online world and re-connect with each other. The Lagoon provides the perfect family snorkelling spot, as well as te opportunity to enjoy glass bottom boat tours and Turtle Tours when eggs are hatching.
Rates There are a range of units and Island Suites available, starting from just $185 for a family during peak season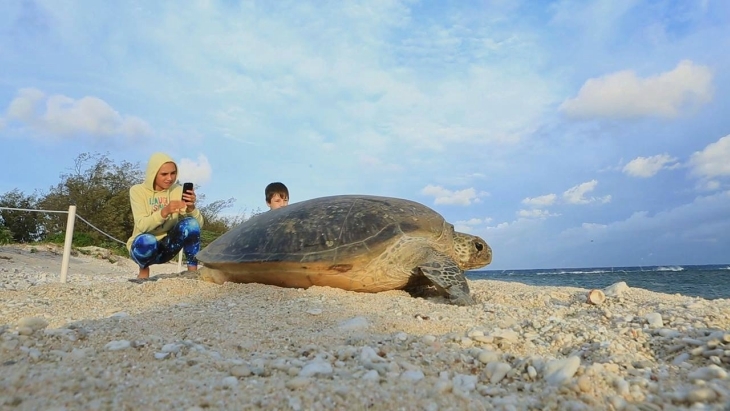 Kids' Clubs Top Tips
Personally I don't want to go on holiday and check my kids into a Kids Club like oversized luggage that I won't see until I land back on my home tarmac. In saying that, it would be great to have more and better quality options in Australia, even if it is just for a few kid-free hours of my holiday stay.
When looking for a great resort or villa that has kid's club or child-minding facilities, we suggest that you refer to Choice's top tips before you book!


Age Appropriateness: When searching through kid's clubs and the activities they offer, make sure they aren't things that your children will get bored with, for example, only arts and crafts sessions for your pre-teens might get a little dull. Look for kid's discos, talent shows, fishing and outdoorsy adventures, cooking classes, and even spa treatments for your pre-teen. Educational programs (like turtle conservation clubs in coastal vacation spots) will keep your children engaged for the whole stay.


Age Matters: Make sure the kid's club caters to your child's age- some won't if they are too young, or too old. You might get lucky and find a teen-appropriate one with more advanced activities such as film editing and jewellery making. Also, note if your children of different ages will be split up into age appropriate groups and if this is a problem or not.


Safety: Do your research on whether a hotel has met Australian safety standards or not. This includes staff background checks, childcare/

CPR

qualifications, plenty of staff per child ratio, do they cater to dietary requirements?, water and sun safety procedures, etc.


Nannies: Perfect for a night out when the kid's clubs have closed down for the day. Safety is key here, and it's always best to go through an Australian agency operating in Bali/Fiji etc where our safety standards are met, but which need to be booked well in advance. If you are getting someone local, make sure they come from a trusted recommendation, you can meet them first, give them lists of anything they must remember, etc.
Have you signed up to our newsletter? Join ellaslist to get the best family and kid-friendly events, venues, classes and things to do NEAR YOU!