Family Resorts in Fiji: 10 of the Best in 2023
Family Resorts in Fiji: 10 of the Best in 2023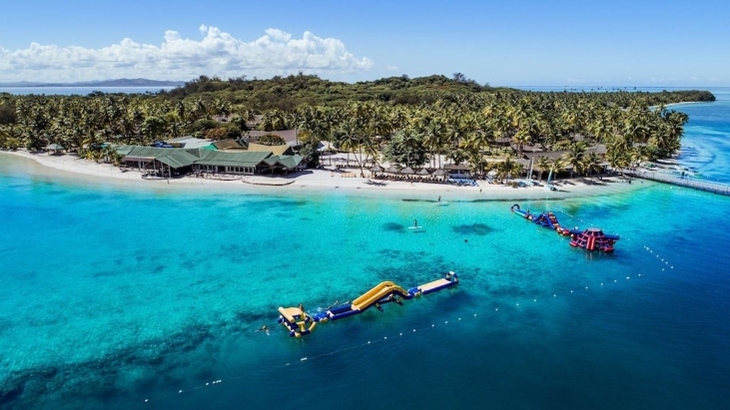 Bula! You know the drill—we dream about a tropical island holiday, but the thought of dragging the kids and the kitchen sink halfway across the world sounds more like a nightmare. This is why we are lucky to have the paradise of Fiji on our doorstep (well, a mere four hours flight away from Sydney and five from Melbourne).
But the big question is, what are the best family resorts in Fiji? Should you pick a convenient mainland resort or venture off to the islands? Are you after luxury or rustic comfort? Is a kids' club a must? We've done the research for you (gee, that was a tough assignment!) and have come up with ellaslist's top picks for family-friendly resorts in Fiji. We're sure you won't be disappointed.
Family Resorts in Fiji: 10 of the Best in 2023
1. Radisson BLU Resort Fiji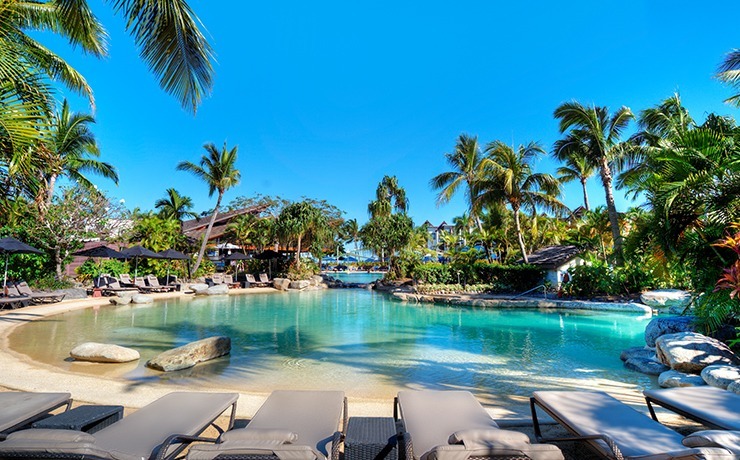 Out of all the best family resorts in Fiji, Radisson Blu Fiji gets our prize for being one of the most family-friendly places to stay.
We love that the resort is situated on Denarau Island, which is a private oasis just a 20-minutes drive from Nadi airport. There are four gorgeous pools at the resort, and the largest one boasts a swim-up bar. There are two pools perfect for little ones and an adult-only pool when the kids are in the kids' club. There is even a fun water slide that kids (and grown-ups!) will love.
The Blu Banana kids club is run by the super-energetic and fun Banana Bunch. Kids from one to three years can attend the morning session where they are supervised by their own nanny. Kids four years and older can attend the different sessions held throughout the day. There are always arts and crafts in the indoor club room and each day is action-packed with activities - from shell picking on the beach to movies and the nightly torch lighting ceremony.
Location: Denarau Island
RELATED:
The Best Family Resorts on the Gold Coast
2. InterContinental Fiji Golf Resort & Spa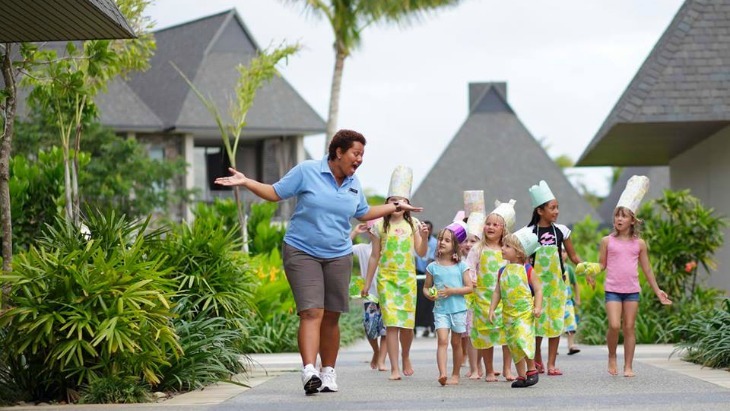 Luxury for the parents and plenty to see and do for the kids - we're there!
The InterContinental is set amongst coconut palms and lush native flora and offers plenty to do, with non-motorised water sports, snorkelling or diving, a spa and an 18-hole golf course all to choose from. There are heaps of onsite dining options, an adults-only infinity pool, and a 105-metre-long family activity pool where families can usually be found having hours of fun and relaxation.
The kid's club is called Planet Trekkers and operates three sessions each day. They really have thought of everything!
Location: Natadola Bay
3. Sheraton Fiji Golf & Beach Resort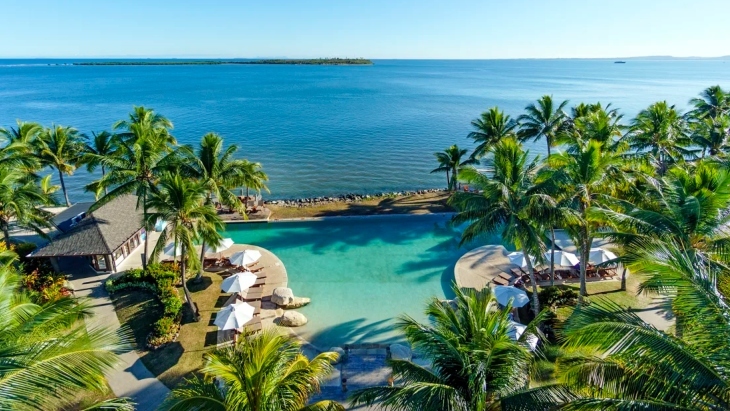 Nestled along the picturesque Denarau Island in Fiji, Sheraton Fiji Golf & Beach Resort is a true tropical paradise for families seeking one of the best family resorts in Fiji.
This enchanting resort combines pristine beaches, lush greenery, and world-class amenities to create an unforgettable holiday experience. With spacious and modern accommodations, families can relax in comfort and style. The resort offers an array of activities for all ages, including a championship golf course, multiple swimming pools, and a dedicated kids' club.
Parents can indulge in rejuvenating spa treatments while the little ones enjoy supervised activities and games. With stunning ocean views and direct access to the beach, Sheraton Fiji Golf & Beach Resort provides a dreamlike setting where families can create lifelong memories in the heart of Fiji's natural beauty.
Location: Denarau Island
4. Outrigger Fiji Beach Resort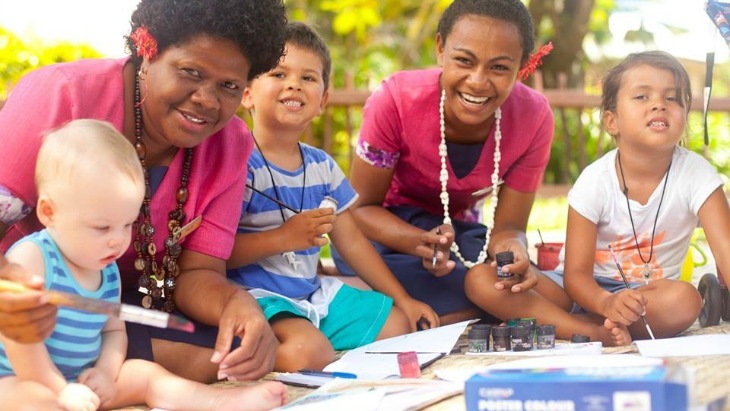 At the Outrigger, kids eat free! Talai butlers, traditional bure bungalows, spectacular sunsets and Meimei nannies await you and your family in a resort that takes care of both kids and parents.
There are beaches and water volleyball, table tennis, a tennis court, a decadent Bebe Spa, swimming pools, whirlpool spas, daily Fijian ceremonies and shows, as well as a kids' club and teens' activities.
The Little Riggers program caters for three to seven-year-olds and the Beach Riggers program caters to eight to 12-year-olds, where activities are known for being culturally enriching and making the most of the outdoors.
The teen program consists of spear-making, sand dune adventures, hikes, and even a local Fijian high school trip! Every age group is truly catered for, including mum and dad: there are five adults-only zones! Situated on the beachfront on the mainland's Coral Coast, the resort is one hour from Nadi International Airport.
Location: Sigatoka, Viti Levu
5. Fiji Marriott Resort Momi Bay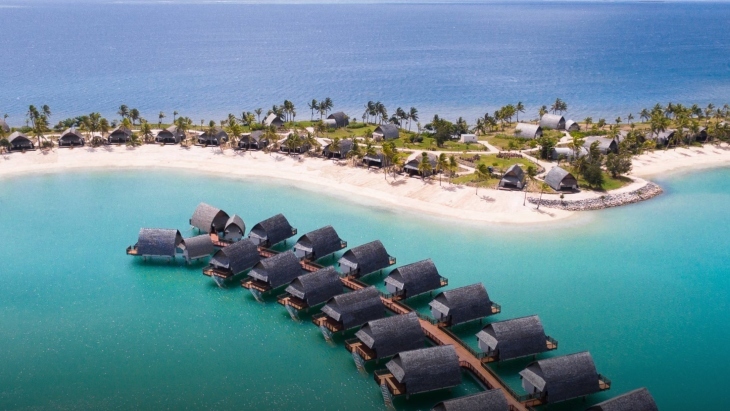 Nestled along the tranquil shores of Momi Bay, Fiji Marriott Resort Momi Bay offers a luxurious and unforgettable escape for families seeking the perfect tropical getaway.
This stunning spot amongst the best family resorts in Fiji combines modern elegance with traditional Fijian touches, creating a harmonious blend of comfort and cultural immersion.
With spacious and beautifully appointed rooms, families can unwind in style while enjoying breathtaking views of the lagoon or the resort's lush gardens. The resort boasts a range of exciting amenities, including a sparkling infinity pool, a private man-made lagoon with overwater villas, and a dedicated kids' club that offers an array of activities for children of all ages.
From water sports adventures and snorkelling to indulging in delectable cuisine at the resort's restaurants, Fiji Marriott Resort Momi Bay promises an enchanting and rejuvenating experience for the whole family amidst Fiji's natural beauty.
Location: Momi Bay
6. Castaway Island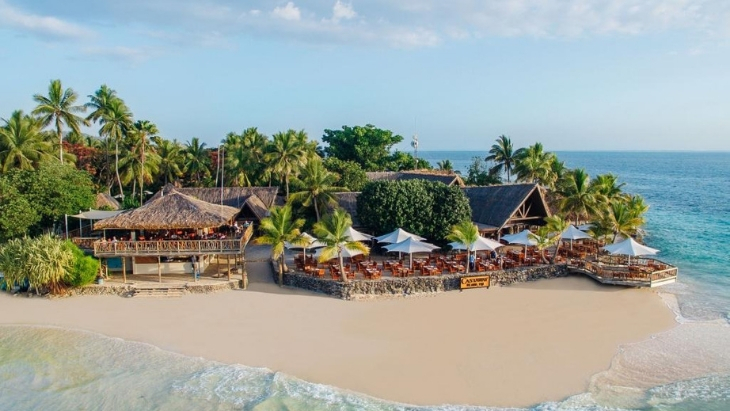 A pristine private island four-star resort located in the heart of Fiji's Mamanuca Island group. Castaway is home to vibrant coloured reefs, lush tropical rainforests and white sand beaches, making it a hot contender for one of the best family resorts in Fiji.
Kid-friendly highlights include their FREE kids' club for ages three and above, with activities on the agenda including coconut hunting, husking and tasting, sandcastle competitions on the beach, ice-cream eating competitions, torchlight ceremonies with drum-playing, and classic games like Simon Says and Traffic Lights set right on the beach. The kids' club runs from the morning till around 10 pm so that parents can have some much-needed alone time.
The Nuku Family Pool is where families can cool down, sunbake, and get a bite to eat including Poke, sushi and other delights.
Location: Castaway Island, Mamanuca Islands
7. Jean-Michel Cousteau Resort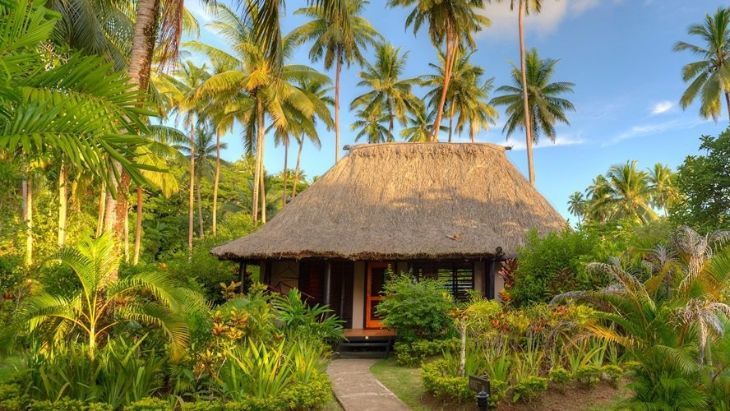 There's almost TOO much to love about the Jean-Michel Cousteau Fiji Islands Resort!
First off, all meals are included and served to you alfresco just a few steps away from the shore of Savusavu Bay. There is paddle boarding, snorkelling, hiking, and exploring the island, as well as world-class diving at the Cousteau Dive Centre.
The Bula Kids' Club is free throughout your stay and caters for kids aged zero up to 13 years. Each child under five will have their own assigned 'nanny' for their stay, and kids aged six to 12 will be grouped in fives and assigned a 'buddy'.
The kids' club will: feed your kids, they will play games and music, have fun at the swimming pool with a water slide and toddlers' pool, play on the jungle gym, trampoline and zip line, and get creative at the arts and crafts centre, take part in the 'junior chefs' program and sometimes take short incursions within the resort. Whilst the kids are being well looked after, adults can have a romantic meal, relax by the pool or take part in a Fiji yoga class or have an indulgent massage. Guess we'll race you there?
Location: Savusavu, Vanua Levu
8. Club Wyndham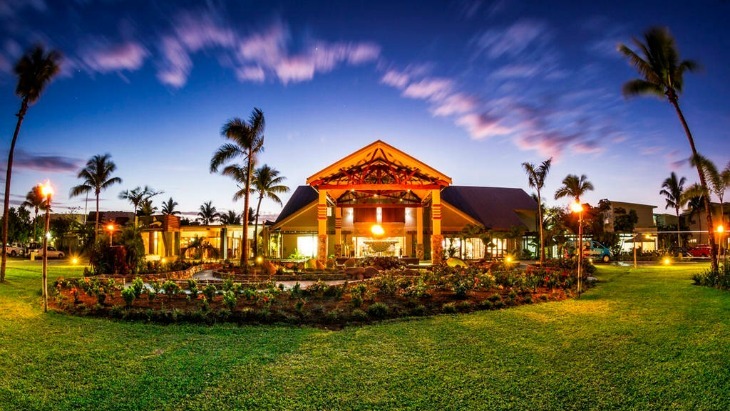 As far as family resorts in Fiji go, The Wyndham is fantastic value for money.
The Wyndham has everything families need and is only a 15-minute drive from the airport. There's an adult's retreat with a swim-up pool bar and spas, a fun Mexican-themed restaurant, babysitting services so parents can duck out to a candlelit dinner on the beach, and a kids' club complete with a cubby house, slide and a large sandpit.
There are also a heap of activities to engage in on Denarau Island, including cruises, whitewater rafting, scuba diving, the Kula Eco Park full of native flora and fauna, parasailing, and water skiing, jet skiing, banana boat rides and wakeboarding. It ticks all the boxes!
Location: Denarau Island
9. Plantation Island Resort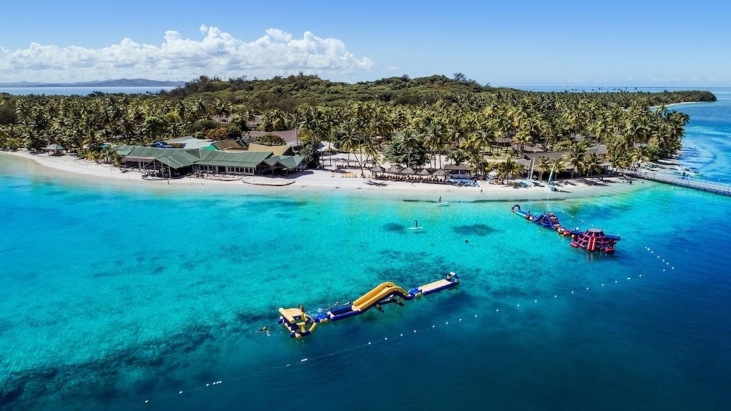 Plantation Island Resort offers affordable luxury and endless fun for families.
Boasting one of Fiji's largest pools, a water park with giant water slides, and a range of water activities, this resort ensures that laughter and smiles are never in short supply.
With a range of accommodation options to suit all budgets, Plantation Island Resort promises a delightful family holiday where unforgettable memories are made.
Location: Malolo Lailai, Mamanuca Islands
10. Malolo Island Resort Fiji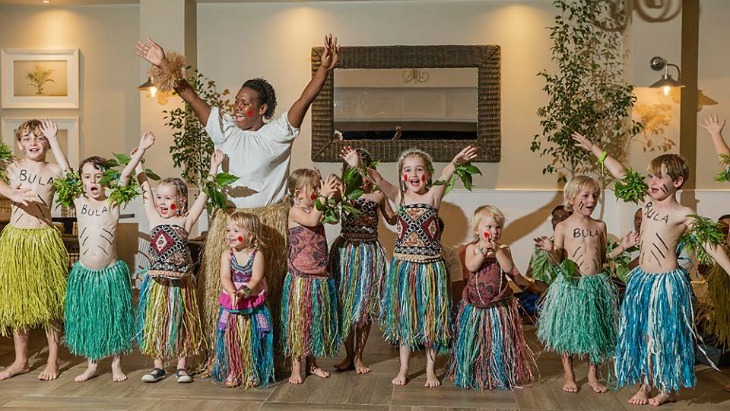 Both kids and parents are sure to rate Malolo up there with the best family resorts in Fiji.
The highlight? The fantastic kids' club, Tia's Treehouse. It can be found on the hillside under a giant mango tree, boasting a fully fenced playground, equipment and games, and some of the friendliest staff you'll ever meet. The 'Yanu Yanu' kids' club program is carefully designed and sure to impress, each day based around a different theme including Marine and Natural Environments, Fijian Culture, Coconut Trees, Tradition, Fijian Food and Arts and Crafts.
Typical activities include herbal medicine and endangered species tours, fish feeding, traditional costume making and face painting, Fijian language lessons and visits to the local island primary school and neighbouring islands. The best part? It's FREE for children aged four to 12 years.
Located only 25km (16 miles) from Nadi International Airport, Malolo Island Resort can be reached by fast catamaran, private speedboat or seaplane. Read all about our recent trip to Malolo Island here!
Location: Malolo Island, Mamanuca Islands
Hero image: Tourism Fiji
*ellaslist is part of the Booking.com affiliate program. Although ellaslist will receive a commission for bookings made through clicking on the 'booking.com' link, all of our opinions and suggestions are unbiased.
Need Some More Travel Inspo? Check These Out
Australia's Most Beautiful Campsites
The Prettiest Beach Towns in NSW
Tips for Choosing the Right Gold Coast Theme Park

Have you signed up to our newsletter? Join ellaslist to get the best family and kid-friendly events, venues, classes and things to do NEAR YOU!