We Get Swept Up In The Magic Of Malolo Island Resort, Fiji
We Get Swept Up In The Magic Of Malolo Island Resort, Fiji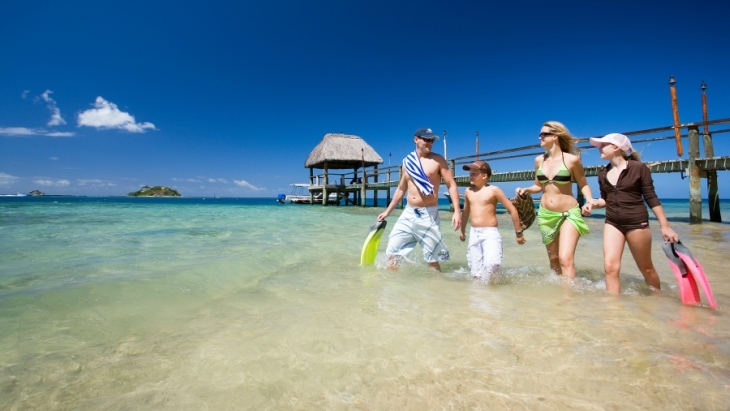 For families, Fiji is the elixir to our busy modern lives. A place where smiles are permanently fixed on faces, Bula's are infectious and being on Fiji time isn't an excuse to be late, but a relaxed way of life.
The cliche about happy parents = happy kids (or is it vice versa?) rings true when everything is in equilibrium. And this only seems to happen when we are on holiday, when we're taken away from the pressures of reality, away from the hustle and bustle of modern life, away from the mundanity of household routines. But a holiday to Malolo Island Resort? It's more like divine intervention.
Take Me To Paradise
Upon arrival you'll hear the sweet sounds of Polynesian music as you saunter towards the jetty that becomes your entrance (and sadly exit) to the stunning Maololo Island Resort. You'll be adorned with shell necklaces, given a sweet, refreshing welcome drink and thus begin your transformation into pure relaxation mode.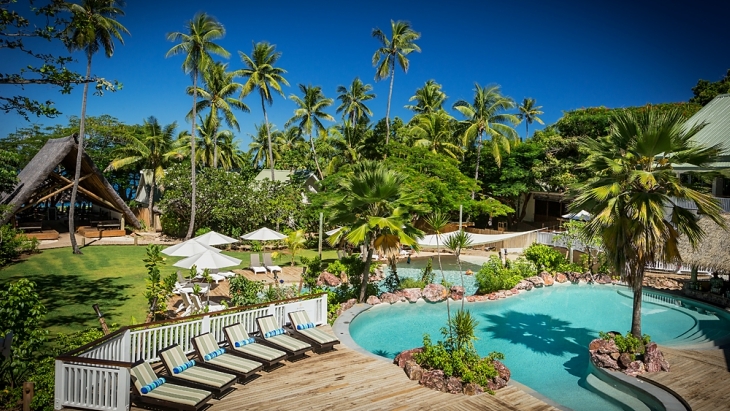 The island of Malolo is found in the Mamanuca Group, just 25 kilometres from Nadi International Airport, meaning your journey to paradise isn't prolonged by extensive transfers. In Fijian 'Malolo' means where the sun comes to rest – just try and visualise that for a moment. A place where even the hard working sun comes to relax. Even the biggest workaholic will get swept away in the contagious Malolo magic.
Here the WiFi connection is pretty lax, dipping in and out by the pool areas and, rather poignantly, you can't get it in your room. It might take some getting used to, but eventually you won't even be looking for your connection. After all, this is a place for making family connections.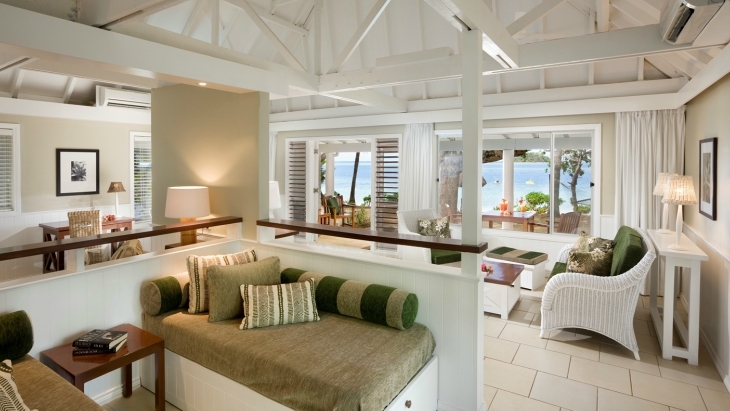 The resort is spacious enough to never feel crowded, but dotted around you'll notice families playing in the water, paddle-boarding or kayaking, while others relax in the sand, some sipping on cocktails as they watch their kids in the distance. It's strangely quiet, with the sweet sounds of happy kids reverberating through the breeze like wind charms.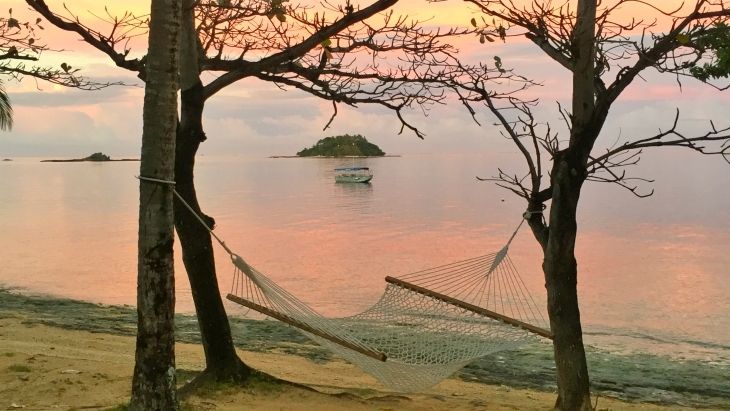 The family bures overlook the calm ocean and each have their own shaded hammock for lulling yourself into a state of pure relaxation. If you are to wake at sunrise you're treated to a delicious fairy floss pink sky and the soft sounds of the ocean gently lapping the sand. There are no alarm clocks, no rushing out of bed for morning routines, and no TV noise in the background. The toughest thing is having to decide how you want your eggs cooked at breakfast. The beautiful colonial style restaurant offers a full buffet breakfast for families with a short-order chef whipping up eggs to your liking. This is the happiest way to start your day as you gaze out to sea from the terrace dappled in sunlight. A place where cookie crumbs are literally on the breakfast menu to be sprinkled on your pancakes. And parents are so relaxed they are powerless to say no. Now that's magic.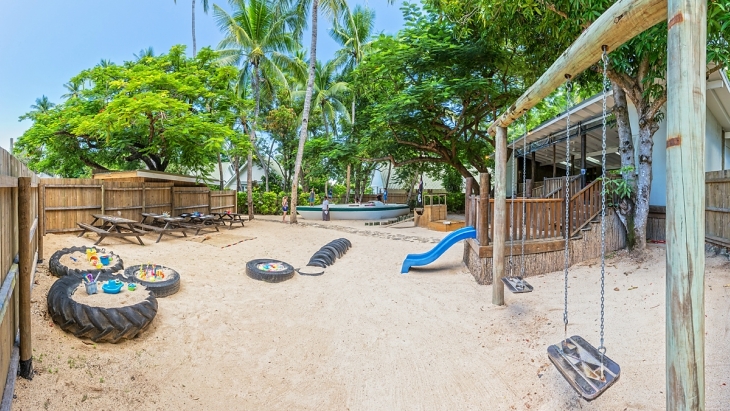 The Glorious Kids Club
Let's face it, what's a Fijian holiday without some kid-free time? The resort has a fantastic Kid's Club – Tia's Treehouse – and by all accounts the kids will be begging you to go here! Under a giant mango tree the friendly Fijian staff offer a fun and educational kids club program called, "Yanu Yanu". Kids will discover how to live like a local as they learn about herbal medicine and endangered species, fish feeding, Iguanas, traditional costume making and the Fijian language. For an extra cost they can even visit the local island primary school and neighbouring islands. I guarantee your children will be teaching you a thing or two about Fijian culture on the journey home to Australia.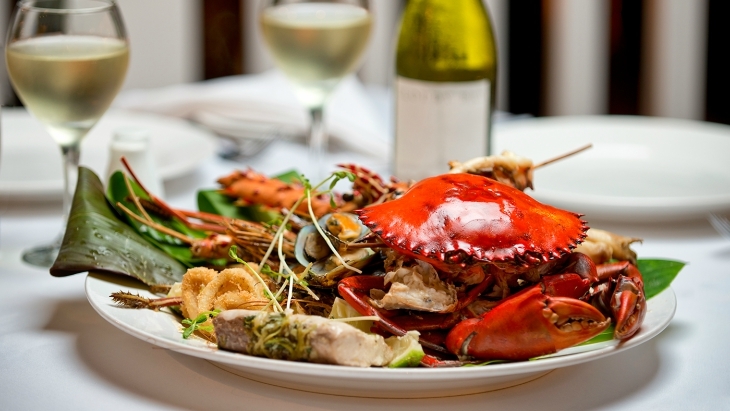 Dining In The Treetops
If the kids are happily occupied at Kids Club, parents can reconnect with each other at Treetops, the adults-only restaurant. Bringing his extensive experience from the two-hatted Gallery Of Modern Art (GOMA) Restaurant in Brisbane, Ryan Ward and his partner Bridie are showcasing the fresh produce of Fiji. And it's fresher than fresh. Mud crabs, lobsters and tuna are plucked from nearby waters and garnished with herbs from the resort's own garden.
Next door is the Terrace Restaurant which is catered to families with a relaxed menu, including a make your own sandwich bar for kids who like to call the shots (read: all kids).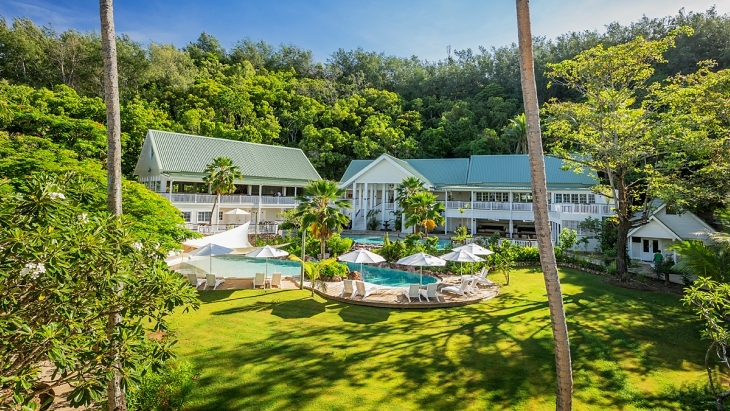 Even The Iguanas Don't Want To Leave
A Malolo Island native, the Fiji Crested Iguana was put on the endangered species list in 2006. They were referred to as the 'Panda Bear of Fiji' in terms of their level of being critically endangered. But do you know what? They're back. They just don't want to leave Malolo. In the last five years, more and more have been found and as a result, there is now a Captive Breeding Facility that has stunned and attracted scientists and conservationists from all over the world.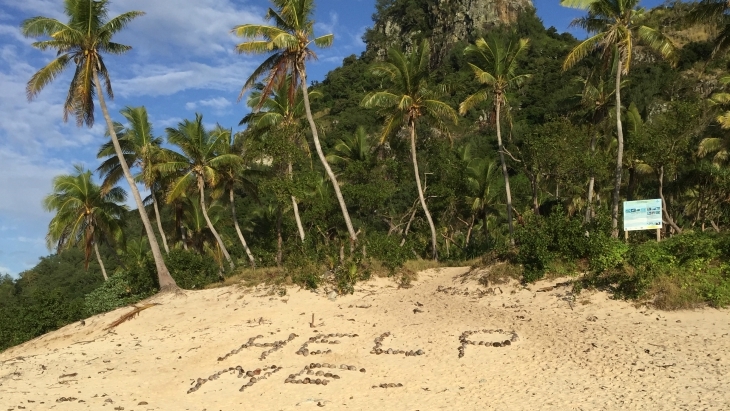 Island Hopping
Talk to the friendly staff about taking a day trip to one of the many nearby islands. MonuRiki Island is one of the jewels in the crown of the Mamanucas, you might even recognise it from the film Cast Away with Tom Hanks. Upon arrival you'll see coconut shells spelling out the words 'help me'. I'm sure everyone makes the same obvious joke when they're here, "oh why would you want to be rescued from this??"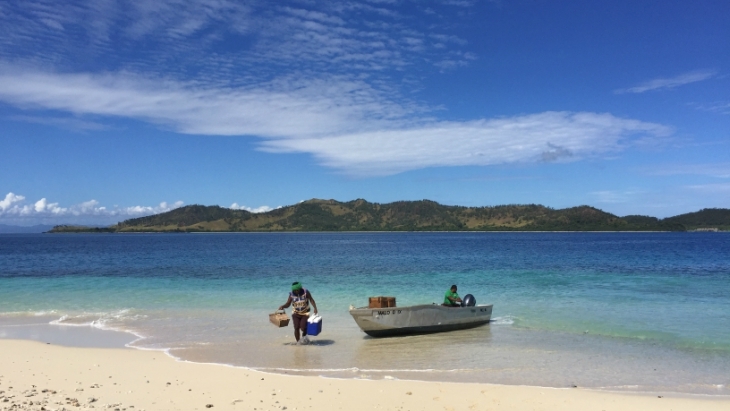 Hopeless romantics simply must nip over to nearby Honeymoon Island where you can have a private picnic on the secluded island. Drop the kids at Kids Club for this one, it is truly spectacular. Sitting on the deserted sandy shores after a bountiful seafood lunch provides you with an outer-body, ethereal experience. You'll be pinching yourself and saying, "I can't believe this is real life."
Don't forget to pack the ointment cream because a holiday to Malolo Island provides many of these pinch yourself moments!
Getting There
Malolo Island is 25km from Nadi Airport and can be reached by catamaran, speedboat or seaplane via Port Denerau.
Rosie's Transfers will take you to and from Nadi Airport to Port Denerau.
Pacific Island Air will get you to Malolo if you'd like to arrive by seaplane or helicopter.
Otherwise speedboats go to and from Port Denerau, catch the Mamanuca Express
South Sea Cruises offer day trips from Malolo Island.
Rates and Packages
For Malolo Island Resort Rates & packages, head to the website.
All inclusive meal package options are listed here.

Look how relaxed I look! Send help - NOT!
Have you signed up to our newsletter? Join ellaslist to get the best family and kid-friendly events, venues, classes and things to do NEAR YOU!