The Ultimate Guide to Rainbow Beach Camping in 2023
The Ultimate Guide to Rainbow Beach Camping in 2023
Toddlers
Preschoolers
Kids
Teens
Family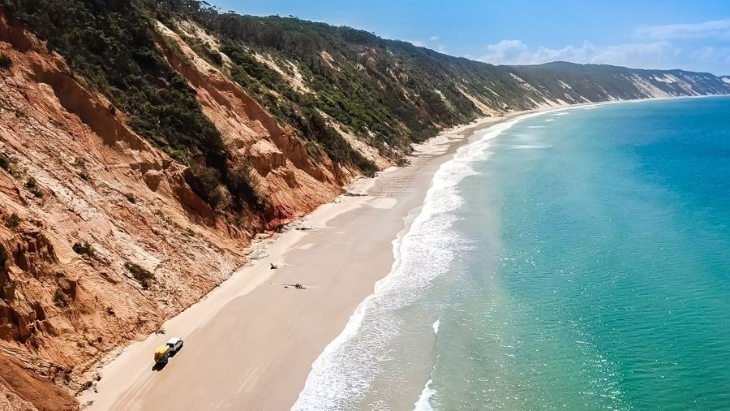 If you're a family who loves the great outdoors, Rainbow Beach camping is likely high up on your family holiday bucket list. With kilometre upon kilometre of gorgeous sandy beaches, near-perfect weather and some of the best swimming spots in Australia, a camping holiday at this epic beach ticks all the right family holiday boxes.
Before you embark on what's likely to go down in history as one of your best camping holidays, here's everything you need to know about camping on Rainbow Beach.
The Ultimate Guide to Rainbow Beach Camping in 2023
Can you Camp on Rainbow Beach?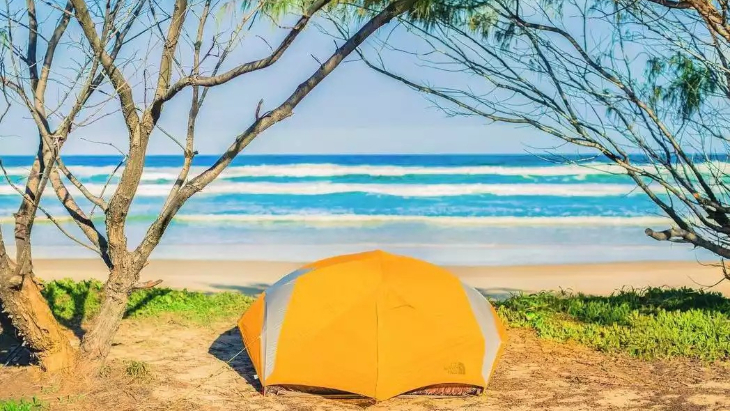 We hate to start things off on a negative note, but sadly, no, you cannot camp on Rainbow Beach itself.
Why? It's a common misconception that you're allowed to camp on the beach because many people assume that since you're four-wheel-driving along the beach, why can't you just set up camp on the sand once you're done?
Rainbow Beach is one of the most popular 4WD routes on Australia's east coast, so it wouldn't be the smartest idea to whip out your camp chair in the middle of one of the busiest stretches of sand. But don't stress, a Rainbow Beach camping holiday can be done at one of the many nearby camping beaches.
RELATED:
Free Campgrounds Near Brisbane
A Guide to Byron Bay Camping
Camping Sites Near Rainbow Beach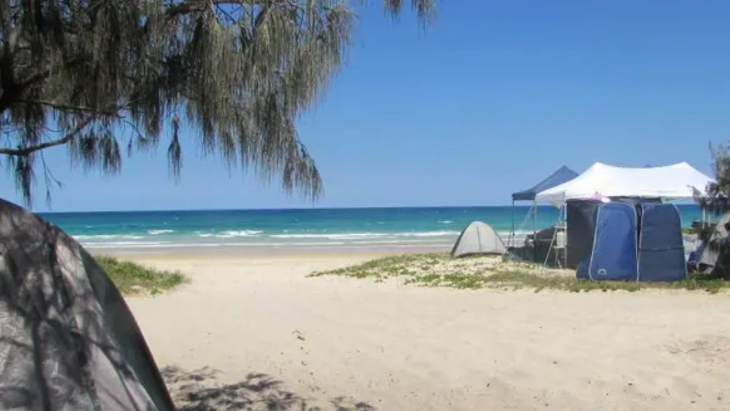 Camping near the beach is the only option if you're looking to do a camping holiday in this neck of the woods, and there are plenty of camping options to choose from!
Before we get to the camping part, let's first look at the geography of Rainbow Beach.
Rainbow Beach is a quaint beach town in the Cooloola Recreation Area which is part of the Great Sandy National Park. This stunning part of Queensland is located about 250 kilometres north of Brisbane and welcomes thousands of holidaymakers every year looking to experience one of the best 4WD holidays in Australia.
Please note that most of these camping grounds are only accessible with 4WDs, and all camp bookings must be done in advance via the Queensland National Parks Booking Service.
Teewah Beach Camping
Starting just south of Rainbow, Teewah Beach is also part of the Great Sandy National Park and the Cooloola Recreation Area, roughly 40 minutes from Rainbow.
Be warned that Teewah Beach camping is for serious campers as there are no toilets, no running water and pretty much no facilities, so come prepared. The Teewah Beach camping zone is split into seven zones across 15 kilometres and can usually fit around 2,000 campers.
Freshwater Beach Camping
Nearby, the Freshwater Beach campsite offers a tented campsite and a trailer campsite, plus you'll be happy to know that both campsites have toilets and running water, making this a great spot for Rainbow Beach camping.
The 60 marked campsites at Freshwater are surrounded by scribbly gums and are adjacent to the beach - heaven!
Poverty Point Camping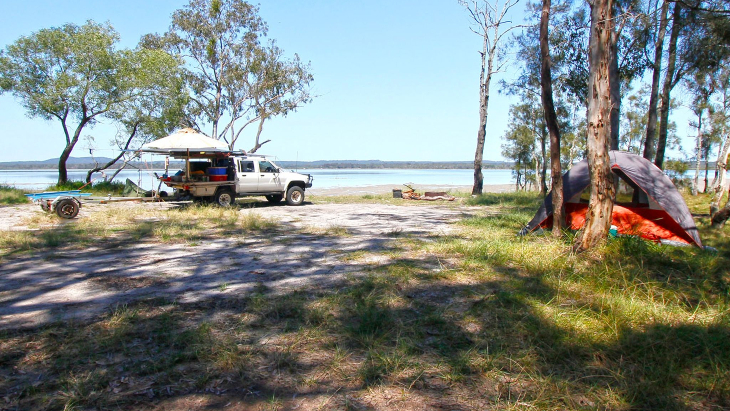 If you're after a smaller campground a little bit further inland, Poverty Point Campground is 30 minutes from Rainbow in the Tin Can Bay Inlet and is the perfect spot to throw a line out for some fishing while the kids hunt for yabbies.
There are no facilities at the Poverty Point campground, so come prepared.
Inskip Point Camping
For Rainbow Beach camping a little further north, Inskip Point camping is very popular with families and offers seven camping sites to set up house at.
The Inskip Point camping grounds are part of the Inskip Peninsula Recreation Area, and you've got seven options to choose from:
Like many of the other campsites near Rainbow, the Inskip Point camping grounds offer limited facilities and are best toured with a 4WD, although some can be accessed with a 2WD it's best to check ahead.
Tin Can Bay Camping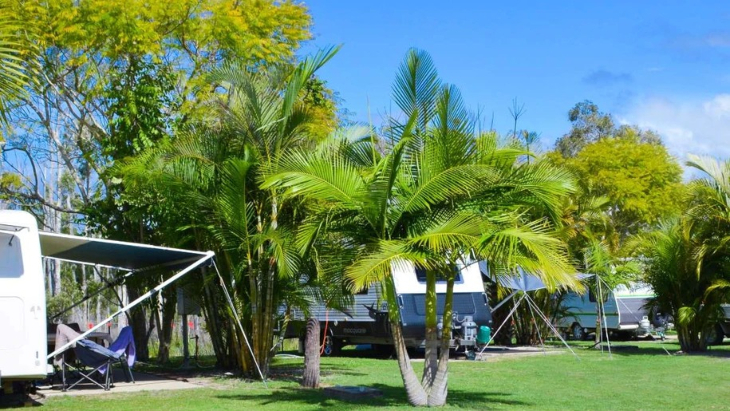 If you don't own a 4WD but are still keen to soak up the camping vibes, Tin Can Bay Tourist Park and Kingfisher Caravan Park are in nearby Tin Can Bay and are geared up for family holidaymakers, plus, they're only a 10-minute drive from Rainbow.
Beach Camping Permits
Along with packing sleeping bags, insect repellent and plenty of water, you must check which permits you will need for camping at the beach.
The Queensland Government requires all families wishing to camp in a National Park to apply for a camping permit before embarking on their holiday. A Vehicle Access Permit is also required to drive on beaches in the Cooloola Recreation Area.
Things to do at Rainbow Beach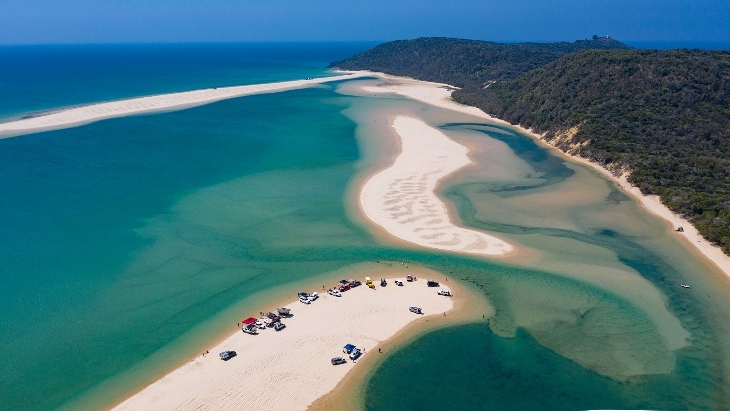 Beyond the camping grounds, Rainbow Beach offers a myriad of activities for outdoor enthusiasts. From exploring the iconic coloured sands and the towering sand cliffs to embarking on coastal walks that unveil hidden treasures, there's no shortage of adventures awaiting you.
1. Visit the Coloured Sands
Immerse yourself in the unique and vibrant hues of the famous coloured sands. Take a leisurely stroll along the shoreline, marveling at the natural artistry created by iron-rich minerals, which have painted the sands in a spectrum of reds, yellows, and oranges.
2. Trek Along the Cooloola Great Walk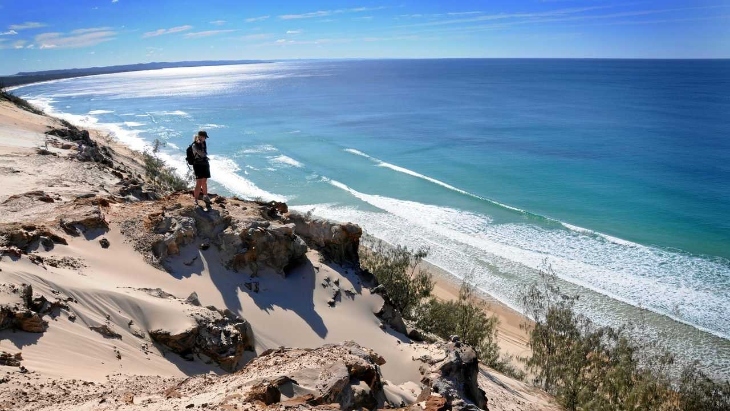 Embark on the Cooloola Great Walk, a multi-day hiking trail that takes you through diverse ecosystems, including coastal woodlands and pristine beaches. This trek provides a unique opportunity to witness the natural beauty and biodiversity of the region.
3. Explore the Carlo Sand Blow
For unique things to do at Rainbow Beach, head to the Carlo Sand Blow, Rainbow's impressive 'moonscape' of windblown sand that also offers amazing views over the coast and K'gari, plus the chance to spot local kangaroos, birdlife, reptiles, and marine creatures.
4. Check Out Double Island Point
Take a scenic drive to Double Island Point and explore the historic lighthouse. The panoramic views from the top are breathtaking, providing a perfect vantage point for whale watching during the migration season.
Other Holiday Adventures to Check out
Have you Heard of Australia's Floating Salt Lake?
The Best Family Resorts on the Gold Coast
Beach Camping in NSW


Have you signed up to our newsletter? Join ellaslist to get the best family and kid-friendly events, venues, classes and things to do NEAR YOU!