You Can Help Name The New Baby Koala at WILD LIFE Sydney Zoo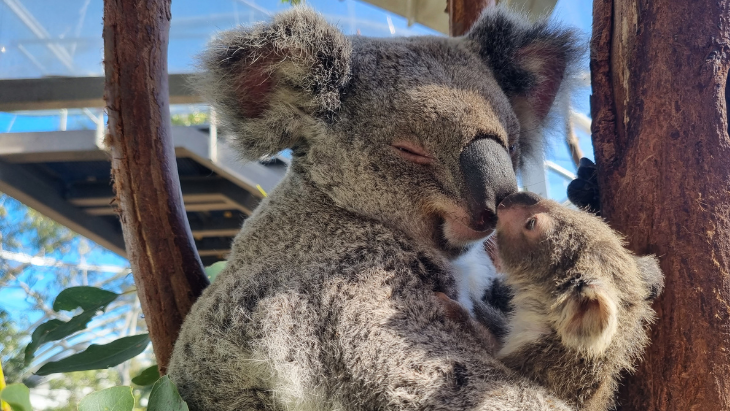 All together now, nawww. WILD LIFE Sydney Zoo have celebrated the arrival of its fifth Koala Joey, with a little boy being born last week.
The joey weighed just over 300kg, and boasts to having some of the fluffiest ears the WILD LIFE team have ever seen.
And despite being just over a week old, he's been bravely out of his mum Iluka's pouch and been showing off his acrobatic moves, including eating upside down. Adorable.
Senior Keeper at WILD LIFE Sydney Zoo, Ashely Wombey said, "It's been a tough couple of years for Koala populations in Australia so we're pleased that our breeding program has been so successful this year, welcoming five happy and healthy joeys to the WILD LIFE Sydney Zoo family."
RELATED: Best Animal Experiences You Can Live Stream Now
The joey is the fifth koala baby the team have welcomed in recent months . And in true tradition, the keepers are asking for help in naming him.
"Our newest little Joey is settling in really well, he's very inquisitive, but also loves snuggles and kisses with his mum. All he needs now is a name and this is where we need your help! Following convention, his name should start with the letter 'B' - the same as the first letter of his dad's name: 'Banks' – can you help us name him?"
The winning entrant will win a family pass to WILD LIFE Sydney Zoo once Sydney is out of lockdown and the zoo is open again.
You can submitt your name suggestions via the WILD LIFE Sydney Zoo website.
The winning name will be announced on the WILD LIFE Sydney Zoo Facebook and Instagram pages on Monday 9th August.
Go On, Keep Reading...
Simple Cooking Ideas for Beginners While You're Stuck At Home
Where To Get Groceries Delivered In Sydney
Which Shops Are Open Doing Lockdown?
Get Creative with Playdough
Cosy Cabins We're Booking Into Once Out of Iso