Where to go in Sydney to learn to Stand Up Paddle Board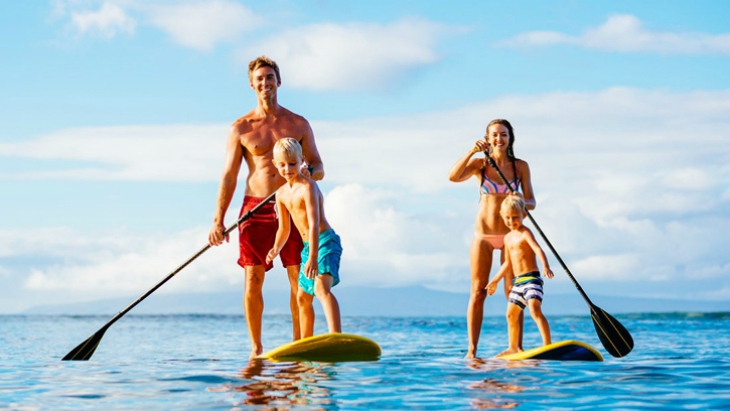 By Hayley Dean, ellaslist
Over the last few years, the interest in this sport has gone through the roof. Stand Up Paddle boarding as we know it today stems from the ancient Hawaiians and is now considered as Sydney as the bridge itself. Why not make this year your year to learn new things? Take up a new hobby? Spend more time in the great outdoors? If this sounds like something that you'd like to do, then we have out together for you a list of places that you can learn to Stand Up Paddle Board (or SUP as the pros say it) around Sydney.
Watsons Bay Stand Up Paddling (WBSUP)
You'll find this school on the beach, right out the front of the famous Watson Bay hotel (near Doyles and the ferry stop). The owners have a huge amount of experience on the water (you'll might recognise them from TV). For beginners they offer private, semi private or group classes for adults/kids over 12 plus a really cool kids program for children 7-12 years and (adult and kids) parties. For those more experienced in the sport, WBSUP run Sunset cruises on a Friday night and sunrise cruises on Tuesdays, Thursday and Saturday morning.
Website: http://watssup.com.au/
Where: Beachfront of Robertson Park (in front of Watsons Bay Hotel) Watsons Bay
When: Check website for details.
Price: Adult group classes $70 per person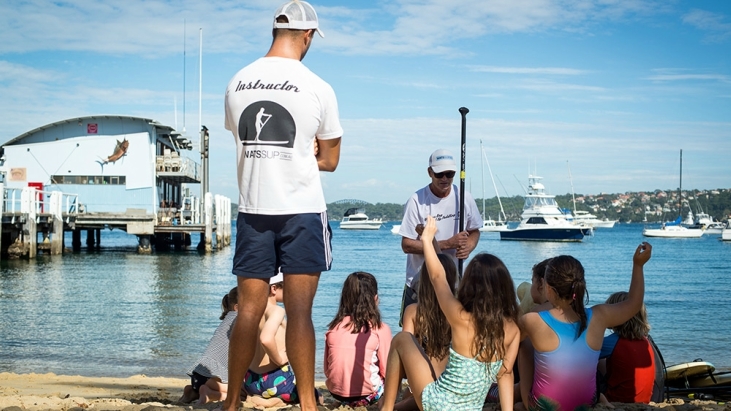 Image: WATSUP website
Oz Stand Up Paddle Centre
These guys claim they will have you up and paddling after one lesson or they'll give you your money back. Sound like a good deal to us!
Group classes are run by experienced professionals and with a strong emphasis on fitness, exercise and health. For something a bit different on that next special date, try a couple's private lesson. It runs for 2 hours and promises to provide lots of giggles. They run school holiday camps for kids aged 7 years and older.
Website: http://www.ozsup.com.au/
Where: Boat ramp outside Woollahra Sailing Club, 4 Vickery Ave Rose Bay
When: 9am-5pm weekdays, 7am-2pm weekends (check website for early morning class times)
Price: Adult Group lesson $40 per person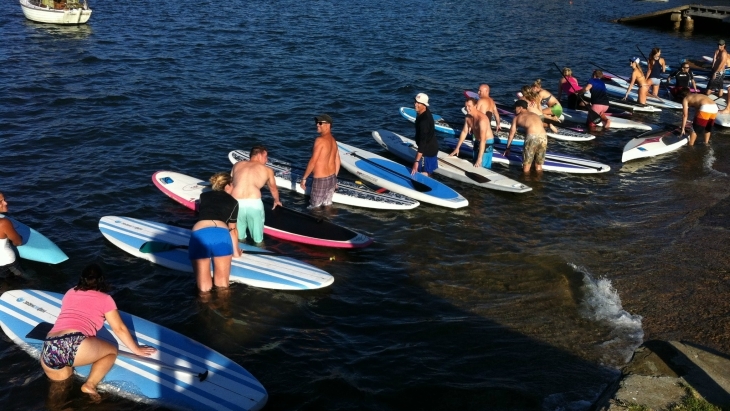 Image: Oz Stand Up Paddle Centre website
Cronulla Stand Up Paddleboard Shop & School
Starting up back in 2009, Cronulla Stand Up offers both flat water classes and the more challenging Stand Up Paddle boarding in waves. Like the other schools, they also have parties for adults and kids (seems to be a very popular hens party idea) plus they run regular open days which is a great way to check it all out. Follow their Facebook page for open day dates and times. These guys seem to be more open to a younger audience which is great news for families; When asked if there were age restrictions for their classes, the school responded by saying "Its more about how good they swim but we usually say 7 years & up. You must be able to swim 100 metres unassisted to eligible"
Website: https://cronullasup.com.au/
Where: Shop 3/13-15 Kingsway Cronulla Beach (The Shop)
When: Flat water classes Thursday, Saturday and Sunday. Check website for more details.
Price: Adult Group lesson $60 per person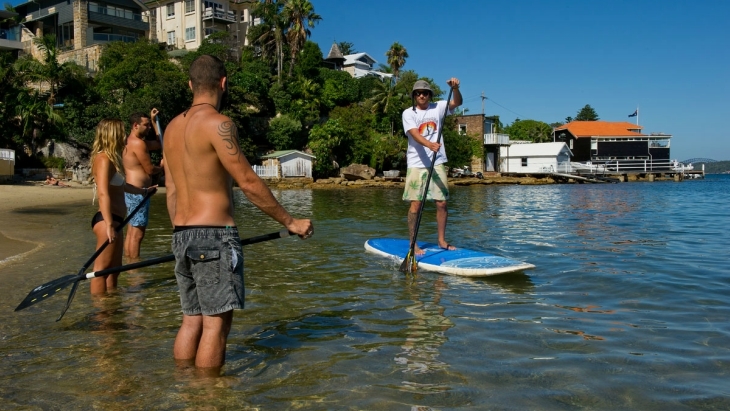 Image: Cronulla Stand Up Paddleboard Shop & School website
Balmoral Paddle Surf
Balmoral is such a family friendly beach so it's no surprise to find a Stand Up Paddle Surf school here. They offer fours styles of lessons; private or group classes, larger groups and one they call fast track" which involved a one hour private lesson plus a 30min follow up session. Most lesson happen first thing in the morning before the sea breeze come ups.
Website: http://www.paddlesurfing.com.au/sup-school/lessons/
Where: The Balmoral Sailing Club – The Espalande Balmoral Beach
When: See website for details
Price: Adult group classes start from $45 per person.
Manly Kayak Centre
Why not learn this trend sport at one of Sydney's iconic trendy locations. Like all SUP schools, they run both private and group lessons but likely due to its popular location, the centre also offers cheaper weekly "Public" group classes for first timers. These introductory sessions provide a basic outline of the skills needed to get started. Included in the price is an additional hour hire so you can put what you have just learnt into practice around Manly Cove. Open to kids 8 years and over. Visit their website to book your lesson online.
Website: http://www.manlykayakcentre.com.au/sup-lessons
Where: East Pier, Manly Wharf, Manly
When: Public lessons during Peak Summer season are on Thursdays 11:30am, Saturdays 2:30pm and Sundays 2:30pm.
Price: Public Lessons are $50 per person (included 1 hour class plus bonus 1 hour board hire)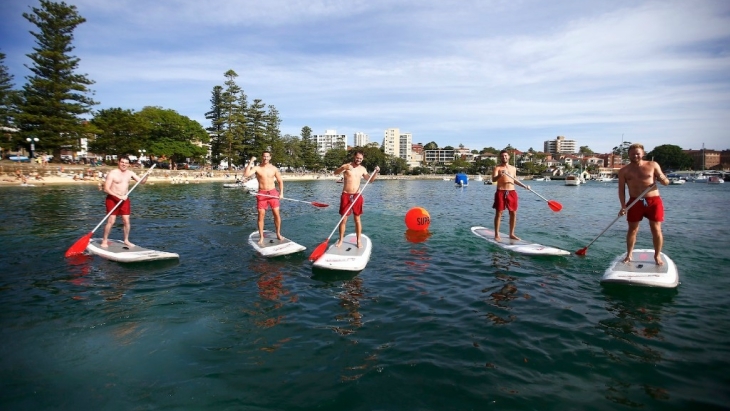 Image: Manly Kayak Centre website
Reviews

Reviews get lonely too
Be awesome and write a review