At What Age Should My Child Start Swimming Lessons?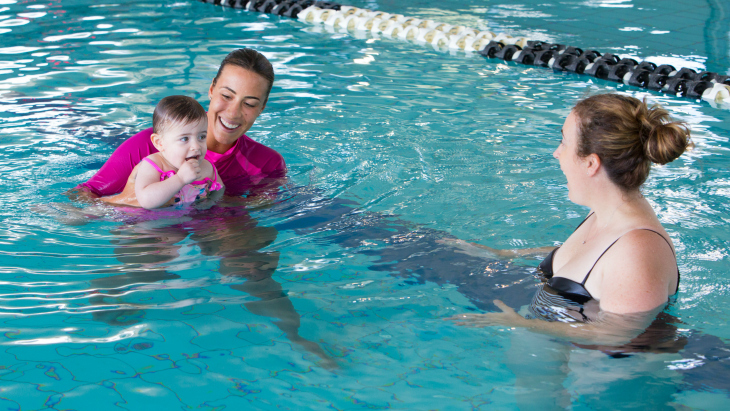 By: Alex Harmon, ellaslist
Swimming lessons are a great opportunity for your child to learn an essential and potentially life-saving skill. They're also a great way to bond with your bub while doing something active and fun with other parents. Living in Sydney you're never far from beautiful beaches, lakes or a even a backyard pool so learning to swim is part and parcel of growing up in this great city.
So, what age should you start?
The experts say infants from six months of age are ready to jump into aquatic activity programs. Any younger and they may not be physically or developmentally ready for formal swimming lessons. Six months is also the age when babies have been immunized which is why most swim schools recommend it's the best age to start.
Rob Tweddle the Manager of Sports Programs at Macquarie University Swim School says the benefits of swimming lessons are more than just water familiarisation and social interaction. "Our lessons also give babies the chance to explore their surroundings, while engaging them through play and developing their hand–eye coordination and other cognitive skills."
Isn't it just fun and games?
Some parents may feel that their child won't learn much at such a young age or that it's just a lot of splashing around in mum's arms. However, Rob explains the lessons are designed for maximum learning. "It may look like we are just having fun and playing games in the water – and we are, of course – but the activities are based on the basics of movement in water," he explains. "These movements are the building blocks for basic swimming and water safety skills, which are done in a fun, friendly, non-threatening and progressive manner."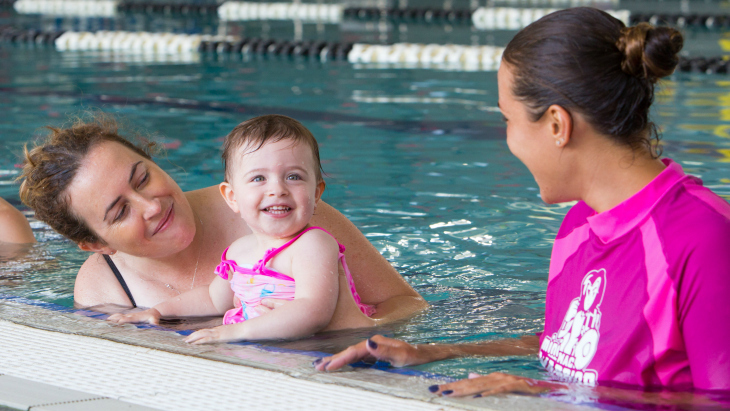 When Mum is the nervous one
It's often the parent who is most hesitant in the water while your baby is literally diving out from your arms! At MQ Swimming the lessons are focused on making everyone feel as comfortable as possible. "The first thing we do is to ensure you are comfortable in the water," explains Rob. "How you support and interact with your baby in the pool and during the lesson are really important, as any feelings of anxiousness may transfer to your baby. We show you how to correctly hold your baby in the water, reassure your baby during the lesson and minimise any fear through play."
Priceless skills
How much do you really know about pool safety and what to do in the event of an emergency? Water safety awareness should be integral to swimming lessons and even more so at this young age. "We are constantly reminding parents of the dangers and risks associated with all aquatic environments and how we can keep our little ones safe," says Rob.
Still think you should wait?
The earlier your child starts, the easier it will be to integrate them into the aquatic environment and the more comfortable the child will both in, and around, the water. Providing lessons at an early age also makes it easier for their child to progress as they have more time practicing their newly learnt skills and thus greater opportunities to learn. Remember your baby's brain is like a sponge at this age! "The neuroplasticity of a child's brain also has an increased ability to develop the various motor skills required to complete the countless physiological tasks required throughout each lesson," says Rob.
Swim for life
Although you might believe your child is destined to be the next Thorpey, be prepared for lessons to be a gradual progression of skills. Swimming is a continuous learning process that requires time, development and consistent participation. By starting at an early age you are giving your child the best head start in life!
Rob has over 20 years' experience in the world of swimming, including as an elite athlete competing international. Rob has owned and operated swim programs around the world including the first privately operated swim school in the Middle East. In recent years he has been heavily involved in both Learn to Swim and competition level across Australia working with, Swimming Australia, AustSwim and Royal Life.
Macquarie University has swim classes for kids from as young as 6 months. Find out more here.