Sydney's Best Farmer's Markets for Kids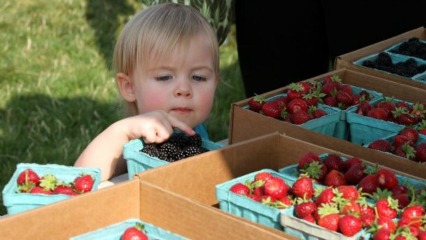 By Zoe Crane & Phoebe Ackland, ellaslist explorer
Visiting the local farmers' market is one of our favourite things to do. We get to eat delicious wholesome food, grocery shopping is actually fun and we get to meet all the growers and producers that are so passionate about their food: it is infectious!
I love that my daughter gets to see that food doesn't just come from the supermarket. "See those bees? They made this honey" I say as she watches, fascinated. More than just a celebration of good food, a farmers' market is a community event. Stalls can change from week to week, including the kid's entertainment. You can often find info on which stalls will be coming on the market's Facebook page.
The number of farmers' markets in Sydney is blossoming. Here's our pick of the best!
1. Bondi Farmers Markets, Bondi Beach Public School, every Saturday
Calling this Bondi Food Market might be more appropriate than Bondi Farmers Market, because while some stalls sell quality fruits and vegetables, and there is organic meat and milk, the majority of the stalls are selling food that is ready to eat. The long lines at the corn fritter house move fast, and it is worth the wait for some the best corn fritters in town. The stall opposite sells "the best cheese toastie in Sydney" made with gooey raclette cheese. The yummy sweet things here are mostly of the raw, organic or sugar-free variety, after all, it is Bondi.
The coffee can take a while so try the chai stall instead, or grab a take-away from Harrys across the road. The large grassy area is perfect for little ones to run around, and sometimes hosts activities like yoga or cooking classes. There is often a local musician playing in one corner. As it is in the school, there is also a busy playground and there are usually arts, crafts and bubbles. Kids' activities like farmyard animals and storytelling pop up from time to time. Make sure to pick up some fresh flowers before you go home, they are fantastic value. Plus it is right across the road from the beach so come for brunch, then head over for a swim. Markets usually run from 9am-1pm.
Source: Business Hippie
2. The Beaches Market, Pittwater Rugby Park, every Friday
The Beaches Market usually hosts a petting zoo, jumping castle, face painting and pony rides, not to mention plenty of space to run around. As well as fresh fruit and vegetables, both organic and regular, meat, bread, cheese, yummy things in jars (like jams and such), pasta and even wine, there are also stalls selling homewares and clothes. Pick up a bacon and egg roll or crepe, there are tables and chairs and live music, and plenty of space to spread your picnic blanket. Runs from 8am-1pm.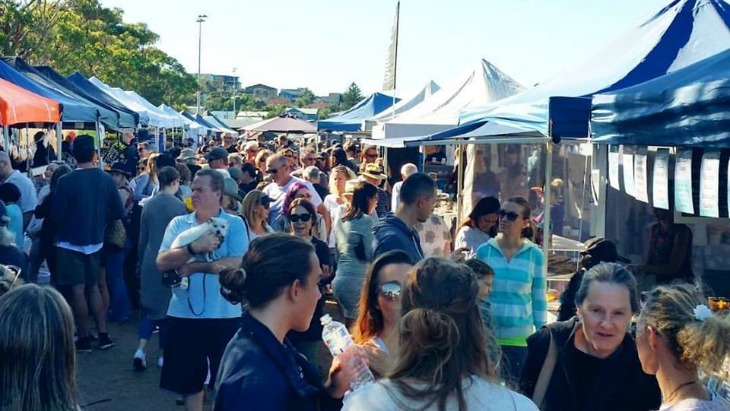 3. Frenchs Forest Organic Food Market, Parkway Hotel Carpark, every Sunday
Despite being located in a car park, Frenchs Forest Organic Food Market is surprisingly family-friendly with live music, an old-fashioned roundabout swing, an animal farm and sometimes even a jumping castle. The fresh food selection is huge, from fruit and vegetables to meat and fresh pasta. It is also the perfect place to pick up everything for the perfect picnic including artisan breads, dips, gourmet cheeses, hot smoked salmon and even gluten-free baked goods. Or just pick up a bacon and egg roll or a bowl of Pho (Vietnamese soup). Keep an eye out for the yellow signs denoting stalls selling organic produce. It's a great place for fresh flowers and you can even shop for some new threads, as there are clothes on sale here too. From 9am-1pm.
4. Double Bay Organic Food Markets, Guilfoyle Park, every Thursday
This weekday market is perfect for families, with pony rides, a jumping castle and petting zoo. Double Bay Market has a grassed area for kids to run around and musicians in case your little one feels like a boogie. There is great fresh produce like fruit and vegetables, organic beef, cheese and artisan bread, as well as plenty of food to eat on the spot, including gluten free goodies, pork rolls and gozleme. You can even pick up some fresh flowers or visit one of the clothing stalls. Runs from 8.30am-2pm.
5. Castle Hill Farmers and Fine Food Markets, Castle Hill Showground, 2nd and 4th Saturday
The Castle Hill Farmers Market gathers growers and producers from the Hawkesbury region to bring fresh seasonal produce to shoppers twice a month, with everything from sourdough, pasta and goats cheese to Australian native foods and fresh cut flowers. There is plenty of fruit and veg to choose from, both organic and regular, and free-range meats and eggs. The organic nut butters look delicious as do the handmade chocolates. Grab a bacon and egg roll and coffee to keep your energy up trawling through all the wonderful produce in offer. Most of the stallholders here personally produced the goods on sale, and kids will enjoy learning about all the food that comes from this fertile region. Runs from 8am-12pm.
Can't get enough of kid-friendly markets?

Here are a few more markets for you to explore.