Sydney's Most Over The Top But Crazy Delicious Desserts
I don't know what came first, social media or the over the top dessert? I don't think they can exist without each other, to be honest. I know I have been guilty of ordering something purely because I know it will make my Instagram shine! Yes, I know it's sad but it seems I am not alone. A cafe can put itself on the map by creating a dessert that goes viral on social media. Just take a look at these amazing, OTT creations that everyone is talking about. These ones taste delicious too....
Madame and Yves

Madame and Yves know all about temptation (gettit? Adam and Eve....?) and they've gone full OTT with their newest creation, Eclairzilla. Behold, the giant éclair that is 4 times longer and double the width of Madame and Yves' signature éclairs! Priced between $25 to $35 depending on design, Eclairzilla will be available for purchase from Madame and Yves in Clovelly every weekend, but only in limited quantities - so Yves' recommends pre-ordering your éclair so as to not miss out. With flavours such as salted caramel and vegan pina colada - you'd be a monster not to want one of these.
Gram Cafe, Chatswood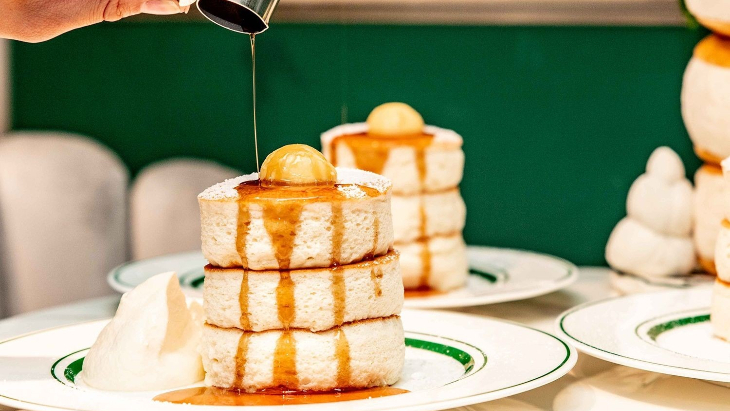 Can the newest, most OTT obsession stack up with the rest of them? We think these ultra fluffy pancake stacks are a true contender. The Gram Café phenomenon is nothing new, having opened in Osaka, Japan back in 2014, however, their wobbly soufflé pancake stack is certainly a new phenomenon for Sydney. Since launching in 2020 the lines have been crazy, the reason? Sweet toothers of Sydney are so keen to get their hands on one of the 8 pancake flavours on the menu, in particular their legendary soufflé pancakes (pictured above).
Vogue Cafe, Macquarie Centre

This place has been on our radar for years - for the best milkshakes in town - and for always outdoing themselves in the Willy Wonker stakes. Their dessert menu is constantly changing and just when you think it can't get any better it does - hello Rocky Road Donut Fries (pictured above). We also loved their Teenage Mutant Ninja Turtle shakes, their Redskin Raspberry Iced Drink, their Bueno Cronut Burgers and their classic Nutella Shakes with ice-cream cone toppers. If you can dream it, they can make it!
Find out more here.
Saga, Enmore

The cafe is tiny but the cakes are HUGE! Bring your appetite and your sweet tooth because the inner west's cult cake maker, Andy Bowdy, is OTT AF! We especially love his boozy banana cream pie, made with Jack Daniels gel, fresh banana, a chocolate biscuit base and shaved chocolate. He's regularly changing his menu so follow the FB page for tasty inspiration, such as the Karl (pictured above) with layers of Chocolate fudge cake, dark chocolate mousse, salted caramel, roasted peanut, choc cookie crumb, torched meringue.
There's also a smaller version of the cafe located in the CBD - Saga Lyte can be found in the 'Makers Dozen' Ground Floor, The Exchange Building, Haymarket.
Flour Drum, Newtown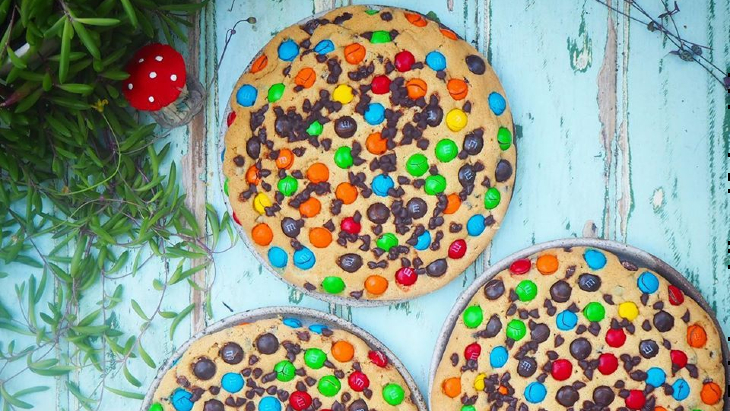 Giant cookies. We repeat giant cookies. These bad boys are just $8 a pop and are mixed in with M&Ms and choc chips. We would say share them with the kids but who are we kidding? The lovable Newtown cafe also does delicious home made cakes, tarts, croissants, buttermilk pancakes and more.
Find out more here.
Aqua S, Chatswood + CBD + Macquarie Shopping Centre

One of the first dessert bars to really make us all say WOW whilst simultaneously drooling. All their ice-creams are picture perfect but the most OTT would have to be the aqua blue sea salt soft serve in a charcoal cone with a cloud of fairy floss. But don't stop there, add some popping candy, flame-toasted marshmallows and caramel popcorn to make your soft serve really pop!
Find out more here.
XS Espresso, Wetherill Park + North Parramatta + Prestons & Bondi Beach

Like Texas, everything is bigger and better at this western Sydney cafe! Last year they even brought in Australia's first choc-kebab experience — shavings of milk and white chocolate overloaded and stuffed into a fluffy pancake with various additions such as Nutella, strawberries, banana and whipped cream! Oh my! You can also get a towering dessert platter which includes a Nutella brownie, Belgium chocolate souffle, a Gaytime doughnut, mini bambino gelatos, waffles, fondue and two shakes — Nutella and Oreo — and that's just the tip of the chocolate iceberg!
Find out more here.
Soda Cakes By Andres Fatso

This Sydney baker became an internet sensation when she created the Soda Pop cake in a plastic soft drink bottle "cake tin"! The Sprite cake is matcha flavour, the Fanta cake tastes like Reese's Peanut Butter Cups, and the Coca-Cola cake is Nutella flavour. The cakes are custom made, take around six hours to make and look a-freakin-fizz-maze-ing.
Find out more here.
Holy Shake, Mascot

It's not just about Nutella shakes, you can make a bubble tea OTT too if you try! Just take a look at the Light Bulb Bubble Tea at Holy Shake. It's just like it sounds - a bubble tea served in a light bulb - but when you press a button on the globe the tea lights up and flashes like a Christmas Tree!
Find out more here.
Milky Lane, Bondi + Coogee + Cronulla + Parramatta + Crows Nest

It's not just the burgers which are OTT. They really knock their desserts out of the park. For instance the Belgian waffle sandwich: the waffles have caramelised banana in them, with Ferrero Rocher gelato between, and a deep-fried Ferrero Rocher on top. It's then topped with maple syrup and liquid Nutella, before being garnished with crushed Ferreros. They also do a Nutella cheesecake on a stick covered with milk chocolate, Frosties, roasted hazelnuts and honey and the famous Churros ice-cream cones (pictured). You might need a lie down on Bondi Beach after dining here.
Find out more here.
More Sweet Ideas Here
Where To Get The Best Cinnamon Scrolls In Sydney
Best Milkshakes In Sydney
Sydney's Best Hot Cross Buns
Have you signed up to our newsletter? Join ellaslist to get the best family and kid-friendly events, venues, classes and things to do NEAR YOU!