The Best Desserts in Sydney
Whether you're after a simple slice of cake or a bells-and-whistles dessert, Sydney has got some seriously drool-worthy options that are as delicious as they are Instagrammable. From ice cream and pancakes to waffles and pastries, this list is brimming with sugar-laden treats and sumptuous delights.
11 of the Best Desserts in Sydney
1. Madame and Yves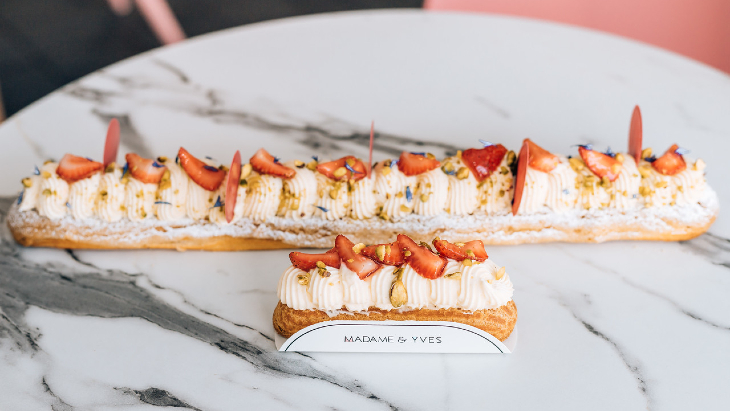 Madame and Yves know all about temptation (get it? Adam and Eve..?) and they really bring their A-game in creating drool-worthy desserts in Sydney.
This French patisserie and bakery specialise in creating universal flavours with a modern edge—as the chef dreams up new OTT sweet and savoury filled delights each week. Their headline creations include an "Eclairzilla" (a "beast" of an eclair serving 4-6), the "Crioche" (a flake-free, caramelised, croissant-brioche hybrid), and all-new salted caramel and banana dessert spreads. Race you there!
Location: 343-345 Clovelly Rd, Clovelly
2. Gram Cafe & Pancakes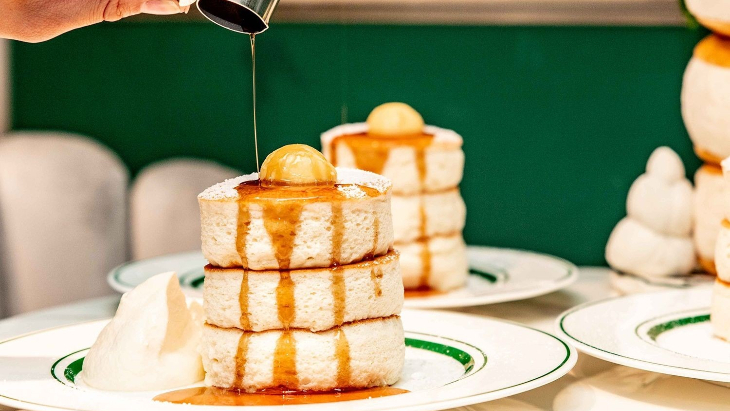 The Gram Cafe phenomenon is nothing new, having opened in Osaka, Japan back in 2014, however, their pancake stack options are certainly a new phenomenon on the Sydney dessert scene.
Since launching in 2020 the lines have been crazy—and the reason? Sweet toothers of Sydney are so keen to get their hands on one of the drool-worthy pancake flavours on the menu, in particular their legendary soufflé pancakes.
Location: Shop 67, Level 3/436 Victoria Ave, Chatswood
3. Saga Enmore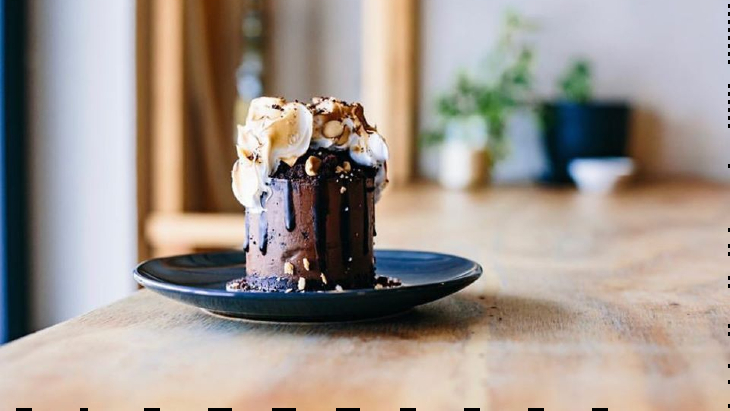 Saga Enmore offers some seriously drool-worthy desserts on its ever-changing menu—sweet treats abound alongside coffee, sandwiches and other savoury goods.
Our current favourite? The Izzy—a vanilla butter cake with strawberry mousse, coconut chew, pandan custard, salted caramel, milk crumb and torched meringue. Our minds = blown!
Location: 178 Enmore Rd, Enmore
4. Flour Drum
Giant cookies. We repeat giant cookies!
These cult-favourite bad boys from Flour Drum are mixed in with M&Ms and choc chips. We would say share them with the kids but who are we kidding? The lovable Newtown cafe also does delicious homemade cakes, tarts, croissants, buttermilk pancakes and more.
Location: 531 King St, Newtown
5. XS Espresso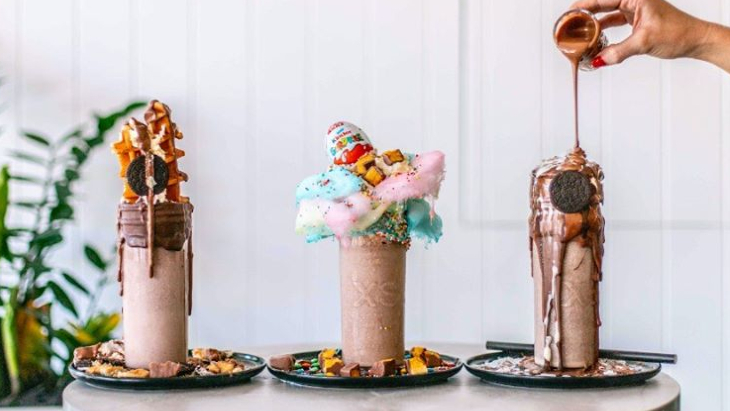 With plenty of locations sprinkled throughout Sydney, XS Espresso is an absolute stalwart of the Sydney dessert scene.
It's the place to get your morning coffee fix, satisfy your late-night dessert cravings and everything in between! Last year they even brought in Australia's first choc-kebab experience — shavings of milk and white chocolate overloaded and stuffed into a fluffy pancake with various additions such as Nutella, strawberries, banana and whipped cream. You can also get a towering dessert platter which includes a Nutella brownie, Belgium chocolate souffle, a Gaytime doughnut, mini bambino gelatos, waffles, fondue and two shakes — Nutella and Oreo — and that's just the tip of the chocolate iceberg!
Locations: Multiple throughout Sydney—check out XS Espresso Locations for more details.
6. Black Star Pastry
Known for their sought-after slices of delectable cake, Black Star Pastry is a mainstay when it comes to the best desserts in Sydney.
Their strawberry watermelon cake is the world's most Instagrammed cake—and for good reason! There are vegan options available and a selection box if you can't decide.
Locations: Multiple throughout Sydney—check out Black Star Pastry Locations for more details.
7. Milky Lane

It's not just the burgers which are renowned at Milky Lane—they really knock their desserts out of the park.
For instance, the Belgian waffle sandwich: the waffles have caramelised banana in them, with Ferrero Rocher gelato between, and a deep-fried Ferrero Rocher on top. It's then topped with maple syrup and liquid Nutella, before being garnished with crushed Ferrero. They also do a Nutella cheesecake on a stick covered with milk chocolate, Frosties, roasted hazelnuts and honey and the famous Churros ice-cream cones. Suffice to say, you might need a lie down after dining here!
Locations: Multiple throughout Sydney—check out Milky Lane Locations for more details.
8. Flour & Stone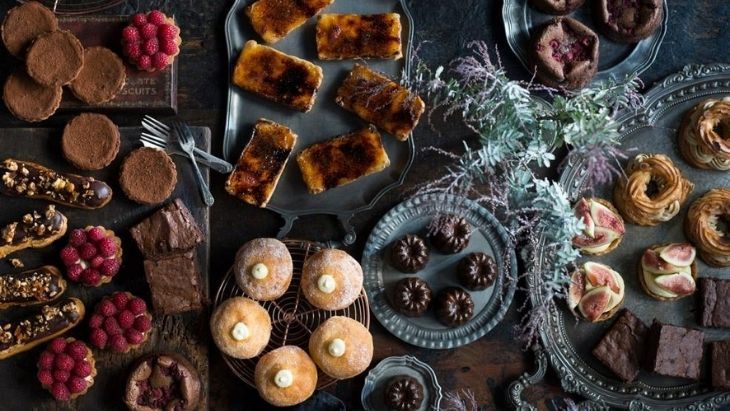 This premium bakery in Woolloomooloo is a go-to for impeccable desserts Sydney-wide.
While they might not be as over the top as some of the others on our list, the quality at Flour and Stone is second to none. Alongside savoury picks like sandwiches, pies and sausage rolls, the menu is graced with delights like pistachio, raspberry and rose cake, the infamous pannacotta lamingtons and chocolate, raspberry and buttermilk cakes. Drool!
Location: 43 Riley St, Woolloomooloo
9. Aqua S
For soft-serve done really, really, REALLY well—look no further than Aqua S!
All their ice creams are picture-perfect but the most OTT would have to be the Aqua Blue—sea salt soft serve in a charcoal cone with a cloud of fairy floss. But don't stop there, add some popping candy, flame-toasted marshmallows and caramel popcorn to make it soft serve really pop!
Locations: Multiple throughout Sydney—check out Aqua S Locations for more details.
10. Kürtősh
An institution Sydney-wide, Kürtősh's cakes are sold by weight—meaning everyone is catered to with a variety of choices and serving sizes.
From rich, fudgy chocolate slices to featherlight cheesecakes and fruity gluten-free sponges, Kürtősh has something for everyone. Drool!
Locations: Multiple throughout Sydney—check out Kürtősh's Locations for more details.
11. Old School Kafey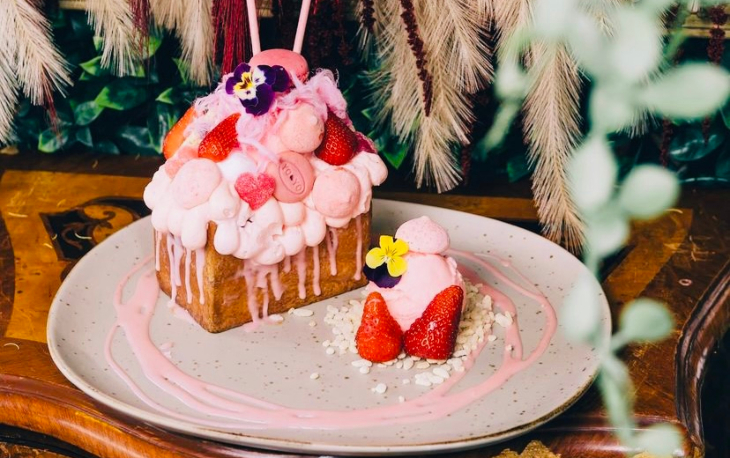 You know you're in for a sweet treat when you're visiting a cafe that only serves sweet treats.
Old School Kafey in Haymarket serves some of the best Korean desserts in Sydney, including their famous bing soo (shaved ice dessert with sweet toppings) and Shibuya toast aka brick toast.
Their sweet concoctions are the real deal when it comes to Korean desserts and have to be seen (and eaten!) to be believed. Our favourite is their Matcha Brick Toast - yum!
Location: 459 Pitt St, Haymarket
More Sweet Ideas Here
Where To Get The Best Cinnamon Scrolls In Sydney
Best Milkshakes In Sydney
Sydney's Best Hot Cross Buns
Have you signed up to our newsletter? Join ellaslist to get the best family and kid-friendly events, venues, classes and things to do NEAR YOU!