Study Finds That Being A Full-Time Working Mum Is Seriously Stressful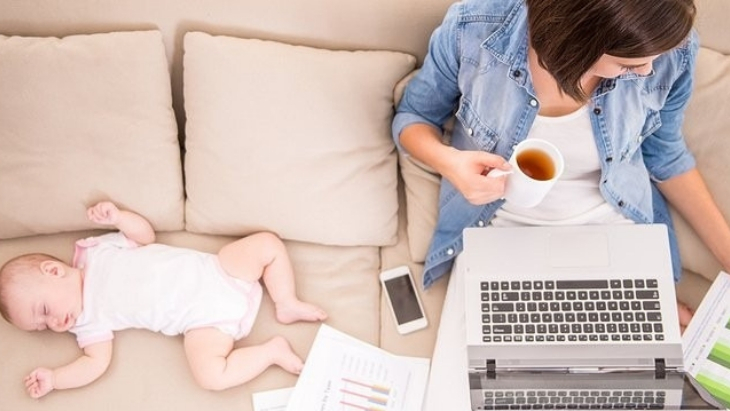 So, it turns out that being a full-time working mum can be pretty stressful. Who knew?!
New research by The University of Manchester and the Institute for Social and Economic Research at the University of Essex revolved around analysing data on 6,025 participants from the Understanding Society's UK Household Longitudinal Survey, which collects information on working life and readings of the stress response, including hormones levels and blood pressure. And, their findings are pretty much what you'd expect.
It's A Stressful Job, But Someone's Gotta Do it
It's been found that biomarkers for chronic stress are 40% higher in women bringing up two children while working full-time, says the article published in the Journal of Sociology.
The results show that the overall level of 11 biomarkers related to chronic stress, including stress-related hormones and blood pressure, was 40% higher if women were working full-time while bringing up two children than it was among women working full-time with no children. Women working full time and bringing up one child is associated with an 18% higher level of stress. Either way, it's damn stressful!
Is Part Time The Answer?
Interestingly, in an age where working from home and terms like 'flexitime' are all the rage, it was found that this flexibility and the ability to work from somewhere more convenient to you actually bore no effect on a woman's level of chronic stress—and that putting in fewer hours at work is the only thing that actually reduces the stress.
They also found that women with two children who worked reduced hours through part-time work, job share and term-time flexible working arrangements had chronic stress levels 37% lower than those working in jobs where flexible work was not available.
The Constant Juggle
Any working parent will tell you, the struggle is real. It's a constant juggle and stream of sacrifices. The researchers noted that "work-family conflict is associated with increased psychological strain, with higher levels of stress and lower levels of wellbeing. Parents of young children are at particular risk of work-family conflict. Working conditions that are not flexible to these family demands, such as long working hours, could adversely impact on a person's stress reactions."
Hero image: The Muse
More Parenting News Here:
Have you signed up to our newsletter? Join ellaslist to get the best family and kid-friendly events, venues, classes and things to do NEAR YOU!