Six of the Best Reasons to Visit Featherdale Wildlife Park with under 5❜s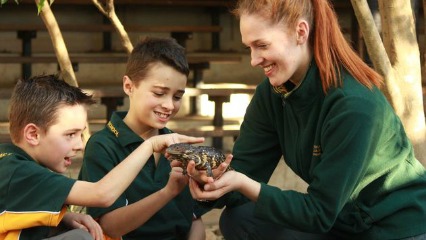 There's nothing more wondrous for kids than exploring the fascinating world of furry and feathery creatures – and Featherdale Wildlife Park is the ultimate place to do it. This thoughtfully designed wildlife retreat is just a hop, skip and a 45-minute drive away from the Sydney CBD, and located in such a natural setting you'll feel like you've ventured deep into the bush.
With more than 300 unique species of wildlife, the park is home to the world's largest collection of Australian native animals and birdlife- with opportunities aplenty for babies, toddlers and pre-schoolers to encounter, learn and play.
We've rounded up six of the best reasons you should plan a visit to Featherdale Wildlife Park. Plus we have an exclusive ellaslist entry discount if you plan on visiting on a weekday.).
1. Get Up Close and Personal

The park is sheer heaven for little wildlife lovers, with so many opportunities for close encounters with animals they may have only previously seen from a distance.
From 9am to 5pm everyday, at no extra charge, you can grab a rare photo opportunity with a koala. Whether they're sleeping or climbing the trees, you won't want to miss the chance to cuddle up to one. For another taste of native Australia, the kangaroos are always ready to be fed and patted, and are so friendly and tame your little ones will definitely want to stay for a chat. As you walk along the pathways, the park continues to deliver a range of animal delights- from echidnas and emus to crocodiles and dingoes, you won't know where to look first. It also houses a range of enchanting and interactive enclosures, including a barnyard. Here the kids can roam free amongst the sheep, goats, geese, lambs and bunnies.
Don't forget to check the schedule to find out about the various close encounters on offer, including the chance to handle some scaly reptiles and watch the prickly echidnas get fed. There are also other opportunities to see feeding time with crocodiles, pelicans, flying foxes, dingoes and Tasmanian devils.
2. Perfect Size Park
One of the best parts of the park is its compact size, making it easy to get around with the little ones, whether they're in a pram or roaming free.
Even though it's located on 7-acres of bushland, its child-friendly design means there's only a minimal amount of walking for little legs. With so many fascinating attractions and active animals, there's so much to maintain the kids' attention. And because it's so well thought out, children can explore the maze of animal habitats without getting lost.
3. Accessibility for all Ages

It's often tough for the little ones to see into animal enclosures – but not here. The transparent viewing areas or wire fencing on majority of the enclosures mean you won't have to spend the day breaking your back trying to lift the kids to see. But of course, with curiosity often comes risk. So be mindful of keeping them from holding onto the fencing, as some of the bigger birds might be tempted by tiny fingers.
If you're coming with a pram you'll be pleasantly surprised by the wide pathways and double gates for easy access, as well as ramps located next to any stairs.
4. Fun Filled facilities

The park is undoubtedly geared towards mums and bubs, with five bathroom blocks throughout, equipped with change tables and breastfeeding rooms.
Lunch or snack time is made easy with two shady picnic areas that are well positioned for short breaks during your visit, and allow you to look onto some of the enclosures. There are also BBQs for self-catering and plenty of tables, making it an easy place to relax.
Alternatively, you can head over to the Billabong cafe, which serves a range of kids' meals, and the friendly staff are happy to assist with heating baby food. If it's raining, this is also a great option because of the undercover seating area.
5. Getting There is Easy
The park is located just 45 minutes from Sydney's CBD, at the junction of the key link motorways – M2, M4 and M7, making it simple to find. There's also plenty of FREE parking so you can start the day hassle free.
If you prefer public transport, take the number 725 bus from stand 9 outside Blacktown train station. From there it's just a ten minute ride and will drop you right outside the park's gates.
6. Value for Money
One of the best reasons to visit Featherdale Wildlife Park is its excellent value, especially when taking little ones, as under 3's always go FREE. Weekdays is the perfect time to visit with toddlers. With the older kids at school, the park is quieter during the week. Plus you can also take advantage of the exclusive ellaslist discount- 20% off adults and kids entry for mid-week entry during school term, excludes weekends, school holidays and public holidays. Find out all the details here.
Featherdale is located on 217-229 Kildare Road, Doonside, NSW 2767 (near Blacktown) AUSTRALIA.
Opening times: 9am – 5pm daily (closed Christmas Day).
For more information visit the Featherdale website, ring +61 2 9622 1644 and keep up to date on Facebook.
FEATHERDALE

WITH

A

TODDLER

IN

TOW
Our ellaslist explorer recently visited Featherdale Wildlife Park with her toddler and shares her experience and top tips. Read all about the fun they had.