Six Of The Best Dinosaur Activities To Do In Sydney With Kids
Preschoolers
Family
Kids
Mums & Bubs
Parents Only
Teens
By: Marie Ashworth, ellaslist
Calling all Dino-fans! Is someone in your family madly asking you questions about the Cretaceous Period? Is their toy cupboard overflowing with strange-looking scaly creatures? Do they go silent when an episode of 'Dinosaur Train' comes on ABC Kids? For anyone with a child who is fascinated by dinosaurs that roamed the world 65 million years ago, take a look at these fantastic dinosaur activities to do with kids and wait for the roars of excitement!
1. Dinosaurs Exhibition At The Australian Museum, Sydney

For a dino-lover of any age, top of the must-do list has to be the superb Dinosaurs exhibition at the Australian Museum. A huge space on Level 2 houses over 10 complete dinosaur skeletons and 8 life-sized models. There are heaps of interactive displays to get kids watching, listening, playing and learning about every aspect of these ancient species. A favourite display of ours is the floor-to-ceiling projection showing a encounter between a small herbivorous dinosaur and two hungry carnivores at a watering hole. It's massive, it's loud and every child (and adult) is engrossed. Just make sure your little ones are close by as they might find it a bit scary. Don't forget, kids under 16 years are FREE entry into the Australian Museum!
The Dinosaurs Exhibition at The Australian Museum is open 9.30am to 5pm daily (except Christmas Day). Children under 16 year FREE. Adult entry $15 ($8 concession).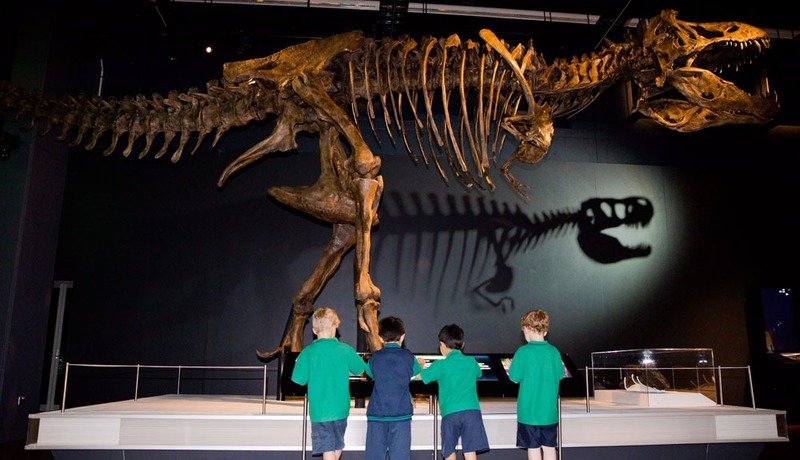 2. Erth's Dinosaur Zoo at Mount Annan

This is for one day only so make sure you don't miss it! On April 17, 2018 come and meet awesome dinosaurs and prehistoric creatures, from cute babies to some of the largest carnivores and herbivores that have ever walked the planet! At the Australian Botanic Garden Mount Annan Erth's dinosaurs are unmistakably alive and mostly friendly in this fun, educational and unique performance that will delight all audiences from ages 5 years and up.
Tuesday, 17th April 2018, 10:30am and 1:30pm (show duration is 50minutes) at Marquee Lawn, the Australian Botanic Garden Mount Annan. Tickets: $22.50 per person (or $86 for 4)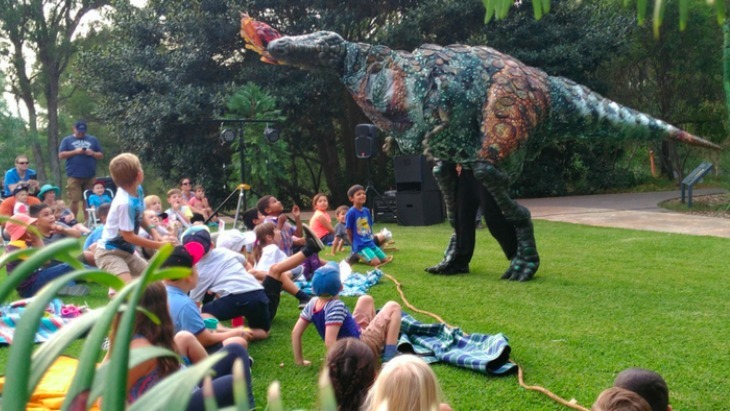 3. Go Fossil Hunting At The Northern Beaches

Recreate an Indiana Jones-esque adventure and set off to the headlands along the beautiful Northern Beaches for some fossil hunting fun. OK, so you're unlikely to discover anything incredibly rare, probably a fern or horsetail, if you're lucky a fish or amphibian, but the kids are going to love the thrill of the search. Turrimetta, Avalon and Warriewood beaches are the best bets for a fossil find. Make a day of it and pack your swimmers and a picnic.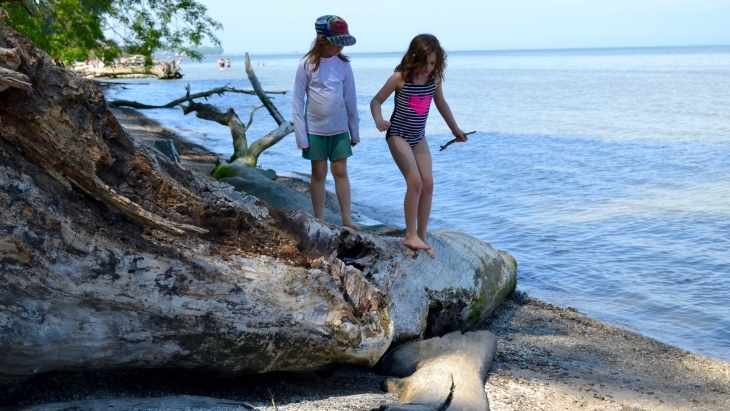 4. Dinosnore Sleepover

It's not cheap but this is special! Grab your torch and sleeping bag for a night next to the colossal Dinosaur exhibits in the Australian Museum's huge hall. The Dinosnore Sleepover kicks off with a yummy buffet followed by a fun dino-inspired craft activity, a torch-lit tour, a movie (Ice Age, of course!) and finally, once the excitement has worn off, some ZZZs. And a continental breakfast the next morning for all. Children also receive a goodybag to take home which includes a soapstone carving kit!
Dinosnore Sleepover at The Australian Museum is next on May 11-12, 2018. Suitable for children aged 5-12 years. Adult $180, Child $140 plus booking fees. Children must be accompanied by an adult. Adults are not permitted without a child.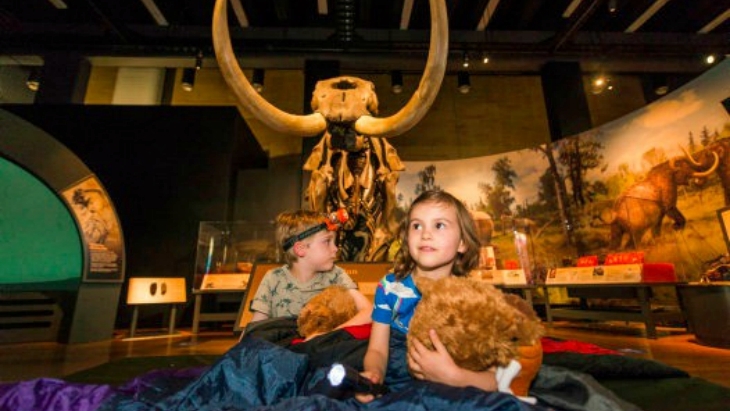 5. Celebrate A Birthday Dino-Style

For a birthday they'll never forget, let them roar and stomp their way around the Dinosaurs at the Australian Museum with their friends on the 'Roars, claws and dinosaurs!' birthday party package. As well as their own guided tour, the party includes making a clay fossil, party food and a party bag with hatching dinosaur.
Dino-mite Birthday Parties at The Australian Museum are suitable for children aged 4-7 years and can be booked for Saturdays 11am-12.30pm. From $42 per child inclusive of catering for children only. Minimum 15, maximum 20 children. Minimum 2, maximum 5 adults required.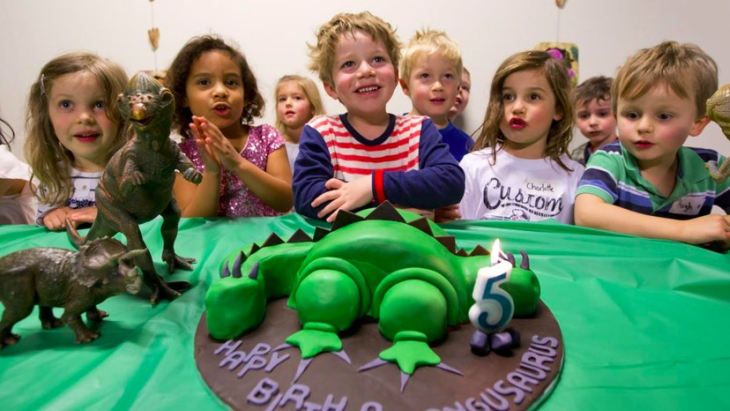 6. The National Dinosaur Museum, Canberra

OK, so it's not in Sydney but The National Dinosaur Museum in Canberra is well worth the trip for any dinosaur fanatic. It's home to Australia's largest display of dinosaur and prehistoric exhibits. If you don't want to pay the entry fee then you can hang around outside to see the huge, life-like fibreglass dinosaurs roaming the grass in front of the building. Inside you'll get access to lots of fantastic interactive exhibits to inspire kids to learn everything there is to know about dinosaurs but there's no doubt the highlight will be the enormous animatronic models.
The National Dinosaur Museum is open 10am – 5pm, every day except Christmas Day. Family pass $45. Adults: $16 Children: $10.50, Under 4: Free.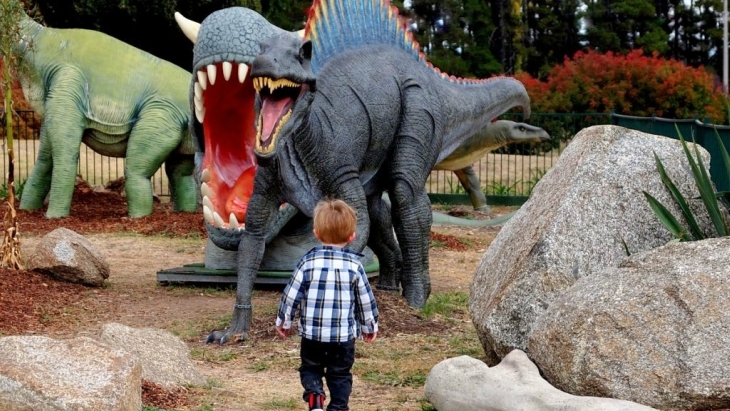 Got any other suggestions for places to go or things to do with your dinosaur-crazy kids? Tell us in the comments below.
Reviews
We have spent many hours hanging out with the large dinosaurs in the carpark of Kellyville Pets also.