Six Of The Best Destination Parks In Sydney
By: Megan Gibson, ellaslist explorer
A destination park is more than just a few swings and a patch of grass. These are the parks you won't mind making an effort to visit, so pile the kinds in the car, pack a picnic, fold-up the scooters and stay all day long!
1. The Australian Botanical Garden, Mount Annan
Mount Annan is such a huge space with things to do for the whole family. Acres and acres of walking and cycling paths and an amazing fenced playground with flying foxes, swings and rope bridges. There is also a mountain bike trail, café, plant bank and numerous themed gardens. Entry is free and the gardens are well worth the drive from anywhere in Sydney. Picnic shelters can be reserved for gatherings. And don't forget to visit the strange but fascinating blue tree. Read my review!
MORE INFO HERE.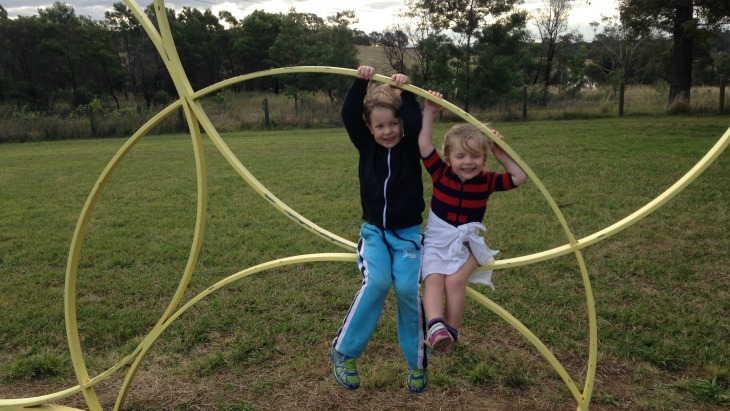 2. Lizard Log
Did you know: Lizard Log was voted the BEST playground in NSW! This garden is part of the Western Sydney Parklands and its best feature is the children's nature playground, also known as 'Nature's Wonderland'. This playground is made, as far as possible, from natural materials, a massive sandpit filled with log formations for climbing and rope walls, rock scramble entry to the slides, water spouts, sand digging, triple flying fox, basket swings and more. Additionally, there are miles of paths for walking and scootering, natural features like mountains, lookouts and dams and a bathroom with an interesting water plant feature. There are plenty of picnic tables and electric BBQ's for an all day visit. Read my review!
MORE INFO HERE.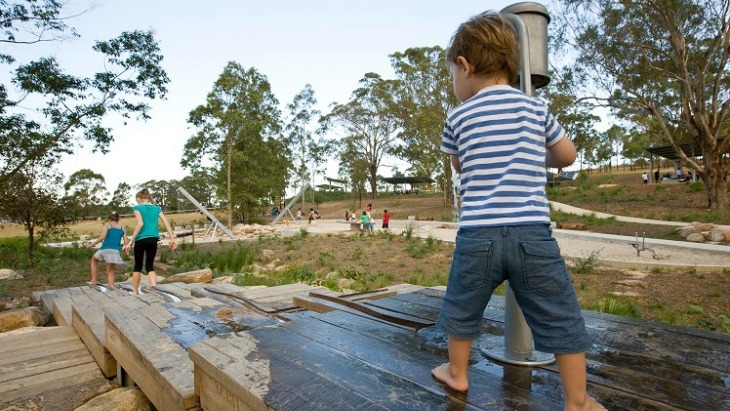 3. Sydney Park and Cycling Centre
Conveniently located near train stations and on major access roads right near the city this large park offers a cycling centre (currently being renovated) large open areas for walking, cycling and ball games as well as an off-leash dog park. There is a small café, toilets, a lake full of eels and lots of bushland to explore. Children will love the playground with a large slide hill, wall of swings, rope bridge, elevated sandpits and a tactile garden to stimulate the senses. Read my review!
MORE INFO HERE.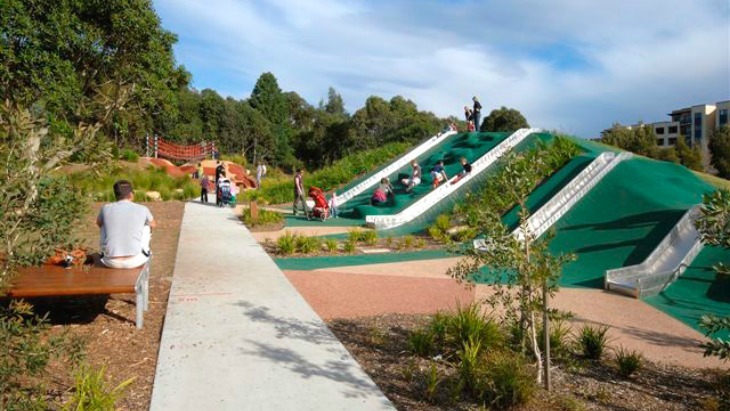 4. Blaxland Riverside Park
A part of the Olympic precinct this is touted as the biggest and best playground in Sydney. The different play areas are separated allowing for close supervision while you explore each individual element. There is a great water play area (bring old swimmers as the kids love to slide down the sloppy sides resulting in many worn bottoms), climbing frame, swings, tunnels, rope swing, flying fox and more. A café is available in peak periods and you can access other parts of the Olympic precinct via ferry and footpath. Read our review here.
MORE INFO HERE.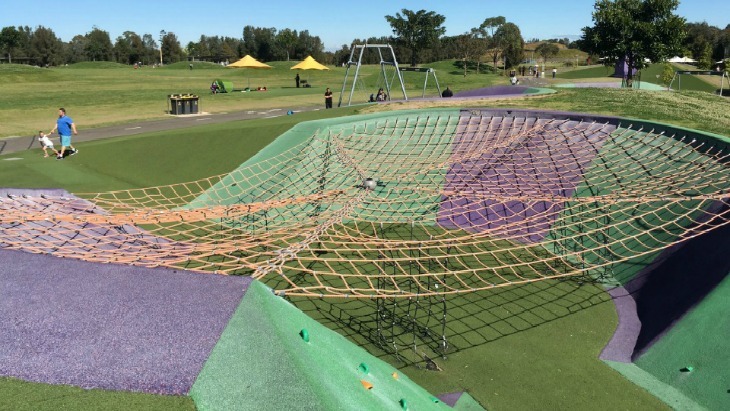 5. Darling Quarter Kid's Playground
Although frequently busy, this park is a great place for kids to run off some steam on a visit to the city. The large 3D basket swing is great for all the family, and even Mum and Dad can have a ride on the flying fox. There is also swings, an 8m slide, climbing net and sandpit. But the main draw card is the water play area with water spouts, gates, pump station and water screw – swimmers and a towel are recommended year round. Read our review here.
MORE INFO HERE.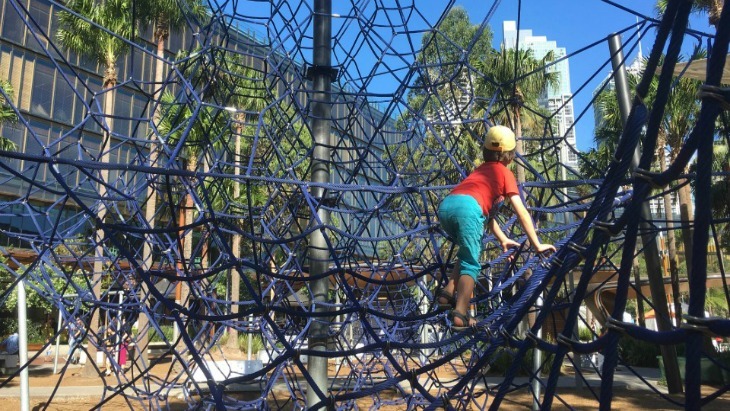 6. Carss Bush Park
Hidden down a quiet suburban street this is a picturesque spot on Kogarah Bay. Swimming areas, enclosed sandy beach, a fantastic café (and less fancy kiosk), lots of walking paths and a variety of playgrounds makes a day here suitable for all the family.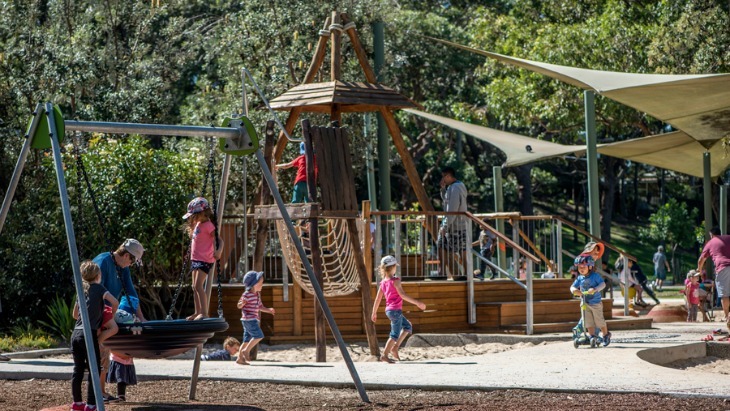 I am a Sydney-sider born and bred, but spent 12 years living in Wagga, Canberra and London. I am married to an Englishman and we have three children, Eli age 5, Allegra nearly 3 and Cooper who is just 5 months.
I am a stay at home Mum and keep myself sane by getting out and about and exploring all that Sydney has to offer. The kids and I enjoy parks, museums, picnics, playgroup, gardening, walking, cycling and road-tripping. I am the typical "crafty" mum and love getting my hands dirty, taking photos, and running (sort of). You can read my blog here.
Reviews
We are lucky enough to live very close to Sydney Park and can't recommend it highly enough. The bike track is excellent, and now the updates are complete it has plenty of new areas to explore. The track is always busy with bicycles, tricycles, balance bikes and scooters and kids of all different ages and abilities! The track has traffic lights, street signs, a tunnel, bumpy road, etc. Plenty of seating for parents now too, but unfortunately not in the shade so remember your sun lotion and hat! The park is big and open, it's an off-leash park which being a dog lover I like :) The lakes have had a recent overhaul and now have fab new paths making it easy to get around even with a toddler on a bike and baby in a buggy. The play area is vast, plenty of swings, 4 (maybe even 5) slides which range from very short for the tinies and very long for the bigger/braver kids. The elevated sand pits are where we always finish up and usually end up making new friends! Be warned, there is a water spray (presumably to help with building sand castles) and this is the main attraction for many kids including mine - it is possible to avoid the water but take swimmers or a change of clothes if you're happy for your tike to get involved :-)