Australia's Big Things: Six to see on Your Next Road Trip
Australia❜s Big Things: Six to see on Your Next Road Trip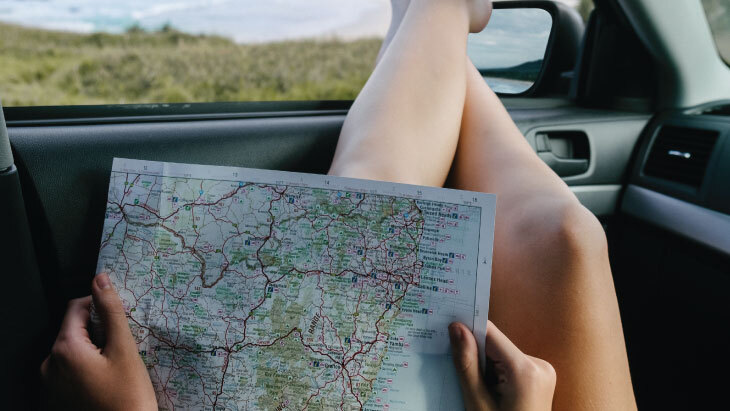 Australia is a vast country, rich with interesting natural sites, unique landmarks and expansive open roads, and Australia's big things are certainly one of the country's most iconic attractions.
It's no wonder Australia's big things have become such beloved destinations for road-trippers. As a matter of fact, there are so many roadside sights Down Under worth visiting that people might get carried away and miss some true gems.
So we've put together a list of the top six big things in Australia to see on your next Aussie road trip.
Australia's Big Things: Six to See on Your Next Road Trip
1. Big Merino, New South Wales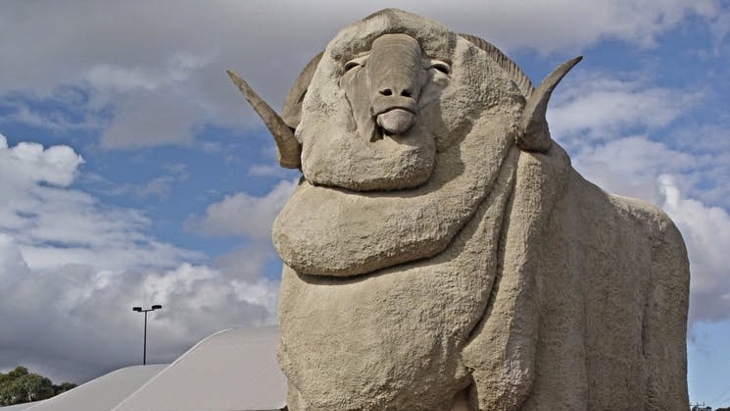 Sheep wool is one of the most popular export products of Australia, so it's little wonder you might see a huge statue of the merino sheep in Goulburn, New South Wales. On the road leading from Canberra to Sydney, there's a 50-feet tall sheep, dominating the surrounding landscape! It was built in 1985, modelled after a local ram named Rambo.
Tourists can climb inside this structure to view the world through Rambo's eyes. You can buy sheep souvenirs here too.
Location: Corner of Hume and, Sowerby St, Goulburn
RELATED:
The Best Weekend Getaways in NSW
2. Big Mango, Queensland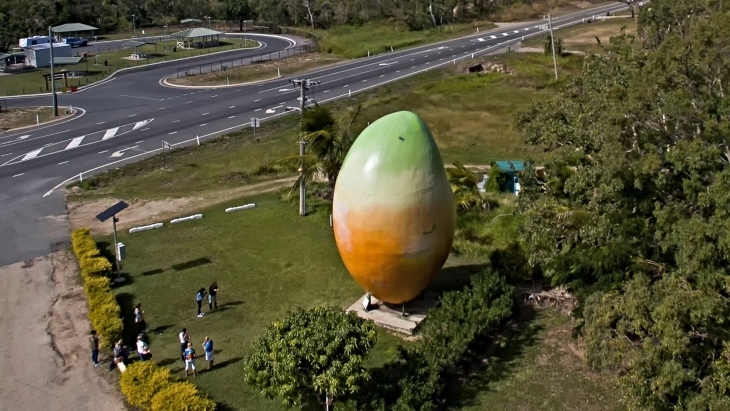 There's a mango-growing area around Bowen, in Queensland which goes some way to explaining the huge mango by Bowen Beaches, near the Bruce Highway. It's a 10-ton fruit that represents the most important products from this part of Australia.
So, leave the highway and head to Bowen to see the massive mango and try the beautiful Whitsunday beaches behind the mango. The entire setting is visually enticing, so make sure to take some photos here, as well.
If you're planning to spend an entire day on the beach, bring sand toys, books and beach equipment to keep your kids entertained all day long.
Location: 236 Bruce Hwy, Bowen
3. Giant Koala, Victoria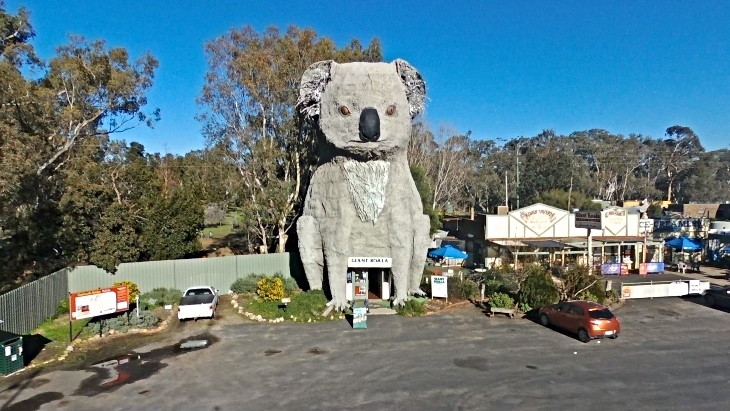 Families travelling around Australia should visit the giant koala in Dadswells Bridge, Victoria. Perched on the route from Melbourne to the Grampians, it's a 45-foot-tall model depicting these cute animals in a naturalist albeit ginormous way!
You can have a picnic outdoors and take a break from your trip or go inside the wildlife centre behind the Giant Koala.
Location: 5829 Western Hwy, Dadswells Bridge
4. Big Banana, New South Wales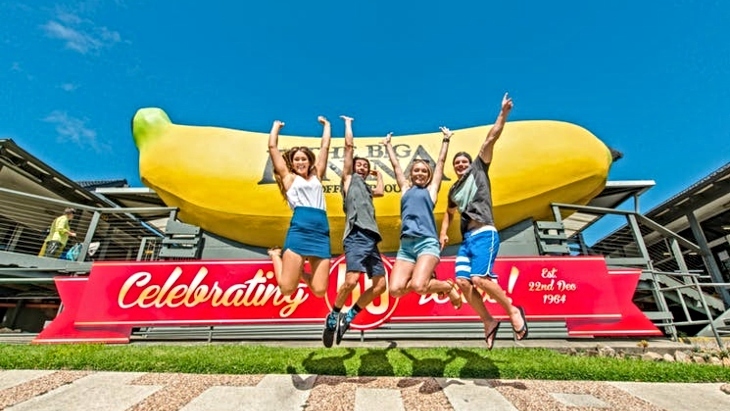 The first thing that started the whole big thing craze Down Under in the 1960s was the Big Banana in Coffs Harbour. It's now a tourist resort between Sydney and Brisbane.
This massive model was put up when bananas were the main export product of this area. In the meantime, Coffs Harbour has become a popular tourist destination and the banana is a reminder of the old days.
Locals have now blended tourism and fruit farming, to create the Big Banana Fun Park, one of the best water parks in Australia, and the Big Banana was one of the winners of Wotif's awards for unique Aussie attractions in 2020.
Location: 351 Pacific Hwy, Coffs Harbour
5. Big Pineapple, Queensland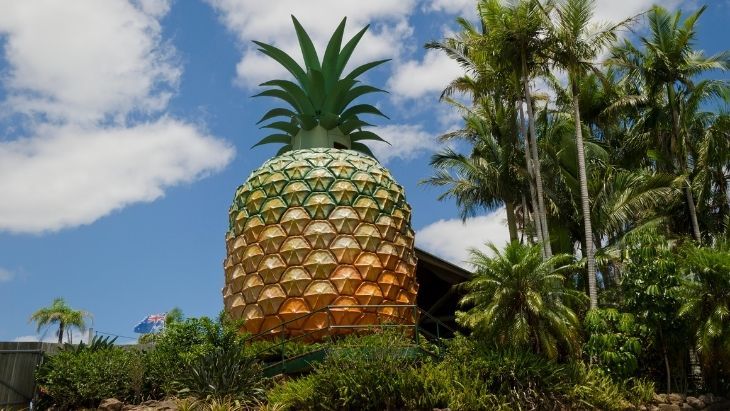 The Big Pineapple in Woombye looms high above pineapple fields, with the picturesque Sunshine Coast in the background. Close to the Bruce Highway, this statue is a popular landmark for locals and travellers, especially families with children.
There's also an annual Big Pineapple Music Festival and local authorities are planning to add a brewery and an amusement park to the local offer.
Location: 76 Nambour Connection Rd, Woombye
6. Big Penguin, Tasmania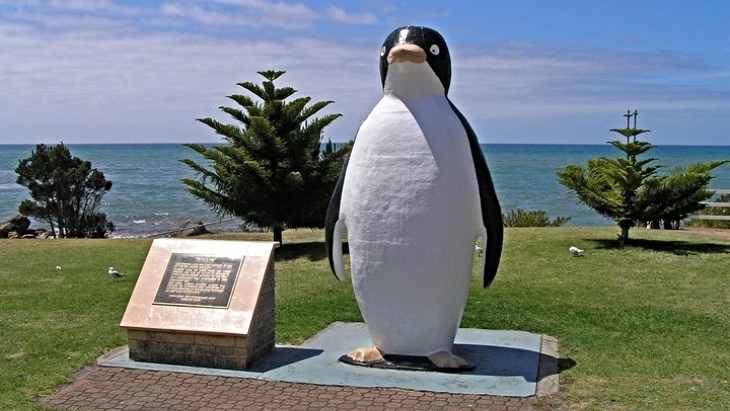 If you're planning to leave mainland Australia, you can extend your road trip to Tasmania. However, depending on how long you'll be away from your home, safety and storage can become issues, so do your homework beforehand.
When in Tasmania, don't miss the Big Penguin in the north coast town of Penguin, between Burnie and Devonport. The town got its name from the penguins that gather on the coast here from September to March, and the huge model dominates the view of the ocean in the background. On Christmas Day, the local people dress the penguin in Santa Clause's suit.
There's a souvenir shop accompanying the Big Penguin, where tourists can get different penguin-shaped items.
These roadside attractions are just the tip of the iceberg for people planning to drive around Australia. There are so many other attractions where families can take some wonderful photos and spend quality time, enjoying fun facilities and doing relaxing activities. So, pack up and set off for a crazy road trip in Australia.
Location: 74 Main Rd, Penguin
More Must-See Places in Australia
Visiting the Magical Noosa Everglades
The Pink Caves are the Perfect Hidden Gem
Capertee Valley: Visit The World's Second Largest Canyon

Have you signed up for our newsletter? Join ellaslist to get the best family and kid-friendly events, venues, classes and things to do NEAR YOU!