Leave Your Fear of Heights Behind and Head down Melbourne's Coolest Playground Super Slides!
By Stacey Roberts, ellaslist
When the regular slide at your local just won't cut it, up the ante with some truly spectacular slippery dips opening up across Melbourne. You're in for loops galore, towering heights, and almost jet-speed that will bump anyone's slide experience out from the ordinary.
No chance of bad friction or burnt butts on these super-rad super-slides, so leave your fear of heights at home and get going!
1. Booran Reserve Adventure Playground
Booran Reserve has just undergone a massive refurbishment to turn it into one of the most amazing and challenging adventure playgrounds Melbourne has to offer.
The standout feature is the gigantic blue slide atop the huge (we're talking 10m high) double-dome rope climbing net that only older kids and the more adventurous of younger ones can access. The slide is one of the longest and highest we've ever seen, and if I ever have the nerve to climb 10m into the sky to test it out, you'll be the first to know! My 6yo gave it a double thumbs up.
Find it: Cnr Booran Rd and Glenhuntly Rd, Glen Huntly
2. Bicentennial Park Playground
Not one, but two big "Mt Chelsea" mound slides are found at Bicentennial Park, one slightly longer and slightly faster than the other. Pick your poison!
Find it: Cnr Thames Promenade and Scotch Pde, Chelsea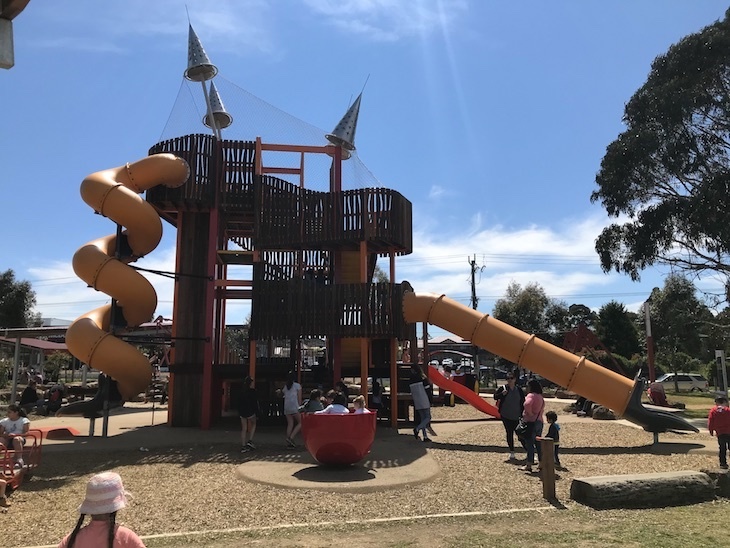 3. Community Bank Adventure Playground
This great new playground boasts three slides from its gigantic central climbing structure, each at a different level of climb. The lowest is a double wave slide easily accessible by littler kids, the second level features a straight slide, and from the very tippy top, your reward is a bright yellow triple-twister tunnel slide sure to never bore.
Find it: Hadfield Park, Queen St, Wallan
4. Ron Barassi Snr Park
Just about right under the Bolte Bridge in Docklands sits the mega-high, mega-pointy climbing fort, home to two fantastic metal tunnel slides. Take your pick from steep but gently curved, or steep and twisty – I'll bet it's hard to choose which is better!
Find it: 509-529 Docklands Dr, Docklands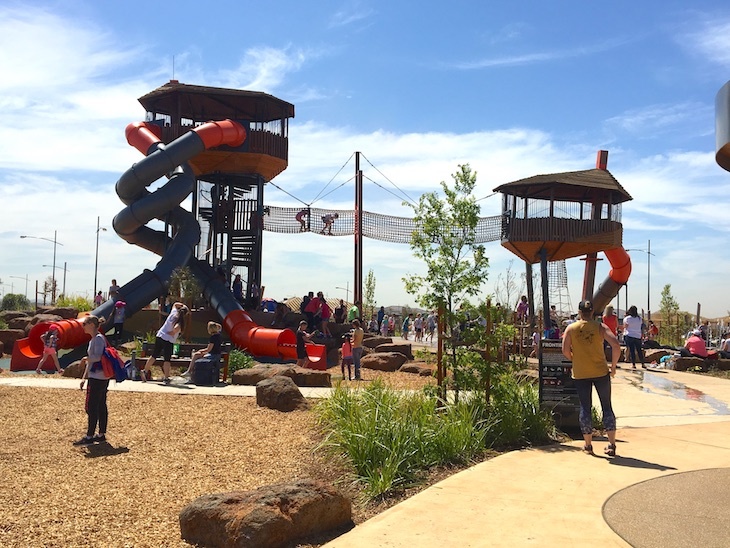 5. Frontier Park Playground
The gigantic tunnel slides at Frontier Park need to be seen to be believed! Curling down tower one are two intertwining tunnel slides that end up on opposite sides of each other on the rainbow soft play area, and tower two boasts a shorter but faster spin down the chute that shoots you out over near the natural play area.
Each slide is accessible by stairs, or for the more adventurous, rope and chain bridges.
Find it: In the new Woodlea Estate, on Frontier Avenue (at the end of Woodlea Blvd), off Leakes Rd, Rockbank.
6. Casey Fields Regional Playspace
For lightning-speed mega hill slides, Casey Fields certainly delivers. One of the longest and fastest playground slides in this area of the city, the blue, twisty, half-tunnel half-open slippery dip is accessed by a landscaped soft-play mountain, and spits you out in soft sand.
Find it: 160 Berwick-Cranbourne Rd, Cranbourne East
Have you spotted a super slide around Melbourne? We'd love to hear about it!