6 of Melbourne's Most Creative Playgrounds to Have Fun in
Mums & Bubs
Toddlers
Preschoolers
Kids
All Ages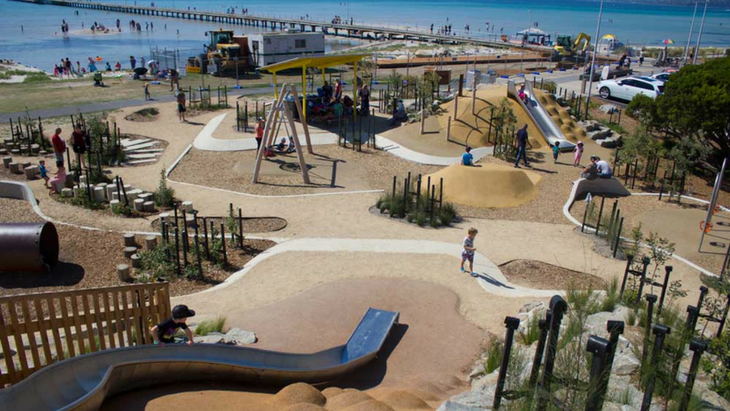 The playgrounds in Melbourne are among the best in the country, and it's not hard to see why - some of the newer ones are absolutely outdoing themselves when it comes to creative and unusual play experiences for our kids.
From high ropes courses and extensive water play to art, sculptures, and visual and auditory elements designed for extra sensory fun, there are some fantastic out-of-the-box play spaces for children across the city.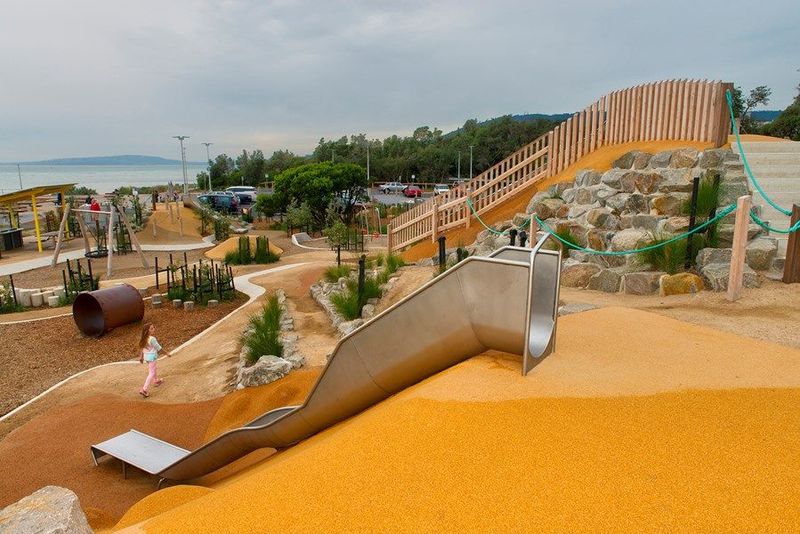 Rosebud Foreshore Playground
This beautifully-laid out playground right on the water's edge is a huge drawcard for kids both large and small. The huge hill with climbing stones, ropes, and slide is often the first spot kids run to, and right at the top of the hill you can see what other equipment catches your eye for the next play adventure.
The usual swings, birds nest swing, and flying fox are joined by a roundabout, stepping stones, and the magic of the foreshore just across the walkway. The water is low and perfect for paddling, once you can drag yourself away from the epic fun of the playground.
Hay's Paddock Playground
Hays Paddock Playground was built with inclusivity and accessibility for everyone in mind, including children with the most limited mobility.
There's no shortage of your usual climbing frames, fortresses, slides, roundabouts, sandpit and bridges, there are also swings of different sizes and shapes for children of differing ages and ability. Plus, a roundabout that comfortably fits a wheelchair, and a large, low seesaw that's much easier to manage than the old-fashioned style.
There are four main areas, and a special cubby house overlooking the wetlands. Made predominantly of wooden structures, the kids can choose from climbing, swinging, or even digging around in the large sandpit.
Where things get really creative is at the multicoloured "windows" along the boardwalks that give a coloured filter depending on which one you look through. The pipes along the edges make musical sounds when hit, and there are spinning blocks with sign language icons on them to help children learn.
The beautiful bushland setting is a fabulous backdrop to all the brightly-coloured fun.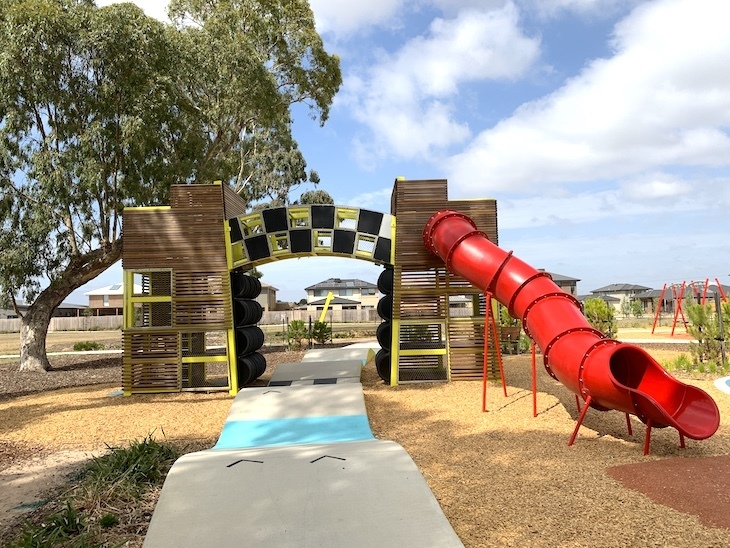 Grand Prix Playground at Berwick Waters in Clyde North.
Grab your wheels, it's time to get speedy at this super-excellent Grand Prix-themed play space in Berwick Waters.
This awesome and creative playground opened in 2019, it's a hugely popular space with little speed demons.
Inspired by the world's greatest raceways, the track has dips and turns galore, which swirls around the playground itself.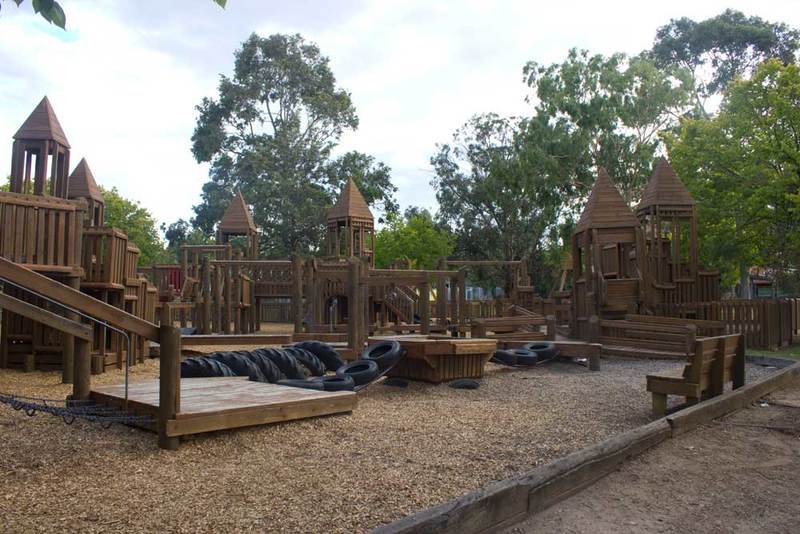 Victory Park Playground
One of a few similar structures across Melbourne, Victory Park in Moonee Valley is an almost-totally-fenced wonderland of wooden fortresses, enough swings so there isn't a lineup, plenty of places to run between items, and something interesting to do every single time you turn around.
The lower monkey bars are particularly good for the younger folk, and shorter kids should have no trouble being able to reach all parts of the park. There are slides aplenty, turrets and towers from which to do battle with imaginary dragons, and even a sandpit for when you just need some good sand play.
There is a lovely walking/bike trail around the park, memorials to see, and picnic/bbq facilities to enjoy. The Ascot Vale Leisure Centre is right next door with handy toilets and a cafe.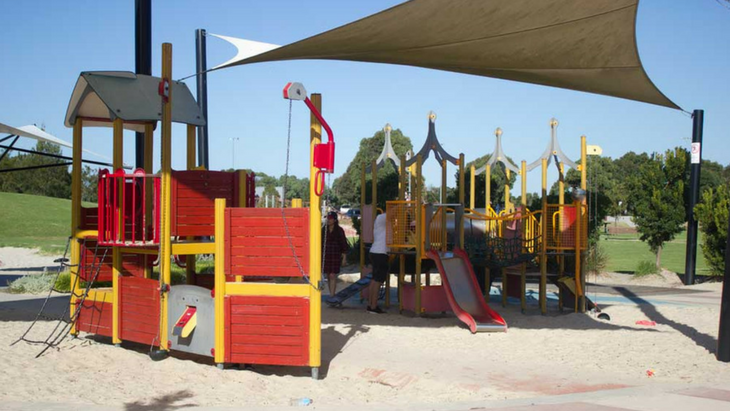 Casey Fields Regional Playground
Casey Fields has an amazing array of play equipment for both little and bigger kids, including a very popular pirate ship situated on a huge sandpit area.
Climbing mounds, adventure hill with birds nest swing, and even interactive art abound to keep the little ones occupied across the three hectares. The play gyms and sandpits are popular, but the best fun of all is the giant blue slide snaking its way down the rubber climbing hill, which even tiny tots can manage on. There are plenty of covered seats and BBQs too if you want to make a day of it.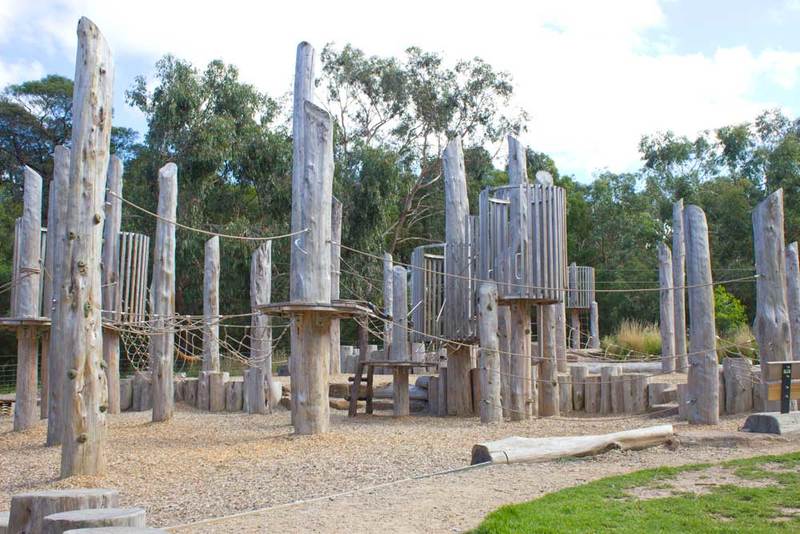 Valley Reserve Adventure Playspace
The Valley Reserve Adventure Playspace is a natural wonderland chock-full of fun and without a piece of plastic in sight. It won the Parks and Leisure Australia Award for Excellence for the best playspace in Australia last year, and it is thoroughly deserved.
In amongst the rope-climbing courses (shoes off or shoes with good grip are best for some parts, my heart is in my throat half the time I'm watching my kids navigate them!), cool treehouse, huge bird nest swing quite a way off the ground, regular swings, slides, bird-shaped climbing structures, which all blend seamlessly into the surrounding nature reserve, thanks to the natural materials used to build them.
There are two flying foxes, one with a regular disc-shaped seat, and one with a much larger bucket-style seat for smaller folk – although it does get quite a bit of speed up so make sure they're holding on tight, or someone is at the other end.
There is also a small water pump and creek play area, tons of shaded seating and barbecues, and plenty of space to spread out and spend the day. It was the council's vision to create a SPARC area: a Socially Inclusive, Playful, Active, Relevant and Connected playspace and they've totally outdone themselves.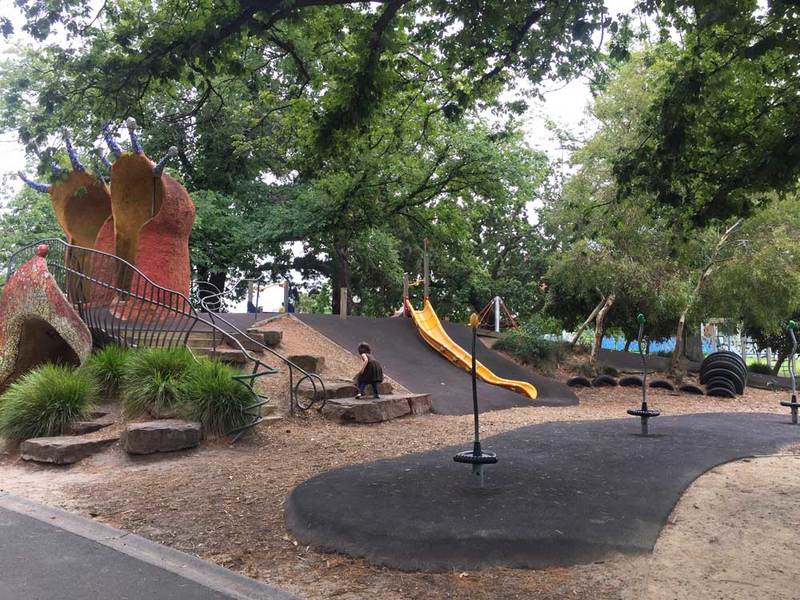 Alma Park Playground
Alma Park is fantastic to run around in, and there are plenty of swingy, slidy, climby things to keep kids of all ages occupied. Everything is quite spread out, but visibility is pretty clear, in case you have several kids all running in different directions.
Fabulous big picnic areas with tables, rotundas and toilets abound, and the wetlands area through the middle and the public art dotted around help this play area stand out from your bog standard. You could spend all day here with a footy or cricket set and nobody would be bored. I especially liked the community-run lending library in a little book nook near the junior playground.
We're not lacking in creative places for kids to play, that's for sure! Which is your favourite?