It's Pancake Day: Fun Pancake Idea for Kids
Preschoolers
Family
Kids
Mums & Bubs
Parents Only
Teens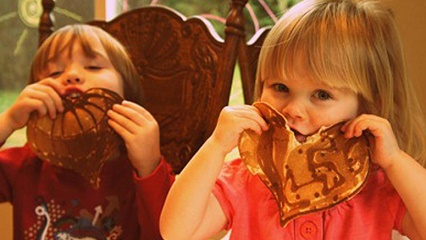 By: Serina Hajje, ellaslist
Did you know that it's International Pancake Day. Sounds like the perfect excuse to roll up your sleeves and have some fun making and decorating a stack of pancakes! Pancakes make the perfect snack for a trip to the park but can also be dressed up with bananas, berries, honey, maple syrup, yoghurt or cream.
Let's get started with a simple recipe
Ingredients
Plain flour: 130 grams
Baking powder: a pinch
Salt: a pinch
Caster sugar: 2 tablespoons
Milk: 130 ml
One egg
Butter: 2 tablespoons
Method
1. After you've sifted the flour, add the baking powder, salt and sugar into a large bowl.
2. Set that aside and whisk the milk and egg together, then melt the butter and whisk together.
3. Beat both mixtures together until you have a smooth batter.
4. Add some butter or oil onto the frying pan and wait for it to heat before you add the batter.
5. When you see bubbles forming on the side, flip it over.
6. When the pancake is golden brown, remove it from the pan and put it on a plate
And Now for the Fun Bit…Decorating
Now that's done, let's have some fun decorating! Why not let the kids use toppings to make funny faces on their pancakes: strawberries, bananas and blueberries are perfect toppings and it's easy to make cute faces with them. You can also make a butterfly or a spider with honey or nutella. If you're feeling confident, grab some hundreds and thousands and add it to the batter then leave it to cook.
For some more adventurous and fun pancake shapes, check out this video!
And for the even more creative, you can even make an Frozen Elsa Pancake!
Pancake Day is also called Shrove Tuesday, a religious tradition, which marks the final day of indulgence before the Christian 40 day period of abstinence. Pancakes use all the ingredients that observant Christians don't eat during Lent: fats, eggs and milky foods.