ellaslist Reviews: Madame Tussauds Sydney, WILD LIFE Sydney Zoo and SEA LIFE Sydney Aquarium
What do you do with a stir-crazy, housebound 10-year-old, 7-year-old and 1-year-old on a rainy Sydney day?
You take them to Sea Life Sydney Aquarium, Wild Life Sydney Zoo and Madame Tussauds Sydney and become the 'Number 1 Best, Most Popular Parent/Aunty in the World'.**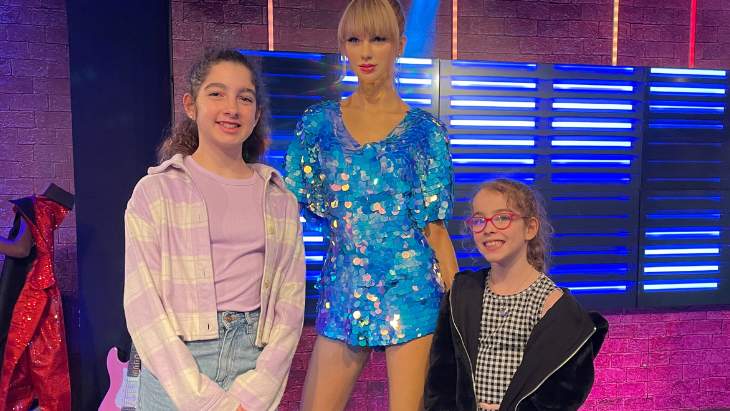 This weekend as the rains poured in across Sydney and the school holidays were just about to begin, my nieces told me they were bored.
Rather than reminding them that only boring people get bored, we decided to take the whole family to Darling Harbour and see not just one but three of Merlin Entertainments' most popular Sydney City attractions.
Sea Life Sydney Aquarium, Wild Life Sydney Zoo and Madame Tussauds Sydney were the perfect way to spend the day with all three kids, with something exciting for every age. Plus, we could use our Parents NSW Vouchers - double win.
Seeing all three attractions in a row is a full day, not for the faint of heart (we're talking to you; the parents here, the kids all made it through NO worries, but I needed a nap on the way home).
So if you doubt your child's attention span or energy levels, it's easy to break the attractions into a two- or three-day site-seeing expedition.
Here's how we went.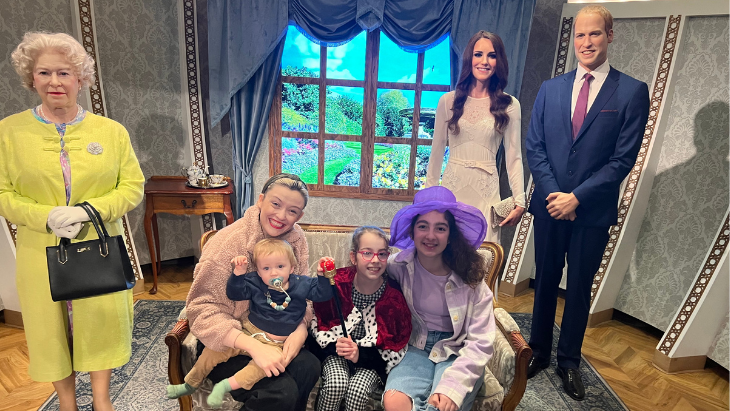 Stop one: Madame Tussauds Sydney
Of all three attractions on that rainy Sunday, Madame Tussauds Sydney had the shortest line and the fastest walk-through experience, so we decided to start here to see how the kids would go in the longer, animal-focused attractions.
I honestly have never heard the word 'WOW' expressed more. My one-year-old was even saying it by the end, and I'm sure he couldn't say it before we went in.
From sitting next to Captain Cook to taking pictures with Taylor Swift on stage, joining some celebrities for the New Years Sydney Fireworks and popping in for a visit with the Queen, the wax-figure journey is truly one for everyone.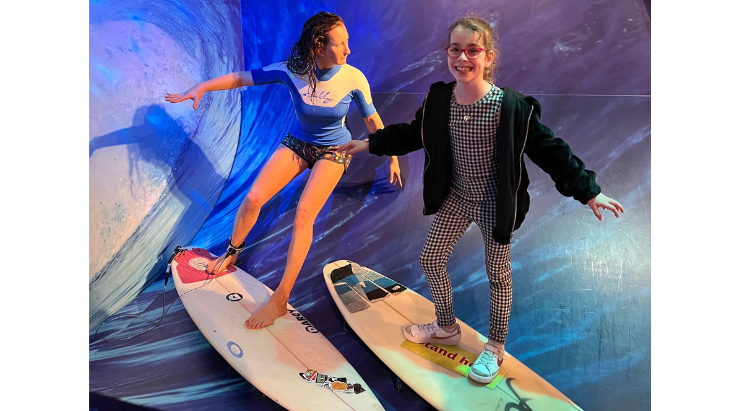 The ten-year-old and seven-year-old were so excited to investigate the interactive elements in each new room and loved surfing with Layne Beachley and posing up a storm with Marvel Super Heroes.
The walk-through was entirely pram friendly and well organised for photo opportunities. As well as celebrities, singers and superheroes, there are political figures ( I politely smiled and nodded at Barack Obama, thinking he was in line to see the Queen until I realised he was a wax figure), sporting heroes, historical figures and fashion stars.
It's a surreal experience and one I highly reccomend for the whole family for something different this school holidays.
Where: Madame Tussauds Sydney
When: 9:30am - 5pm daily (last entry 4pm)
Cost: $36.80/person (online) or $58 for 2 attractions in the Merlin Group
For more information visit the Madame Tussauds' website.
Stop two: WILD LIFE Sydney Zoo
The next stop for us was the sensational Wild WILD LIFE Sydney Zoo. Straight away, I could see this would be a highlight for everyone. Who doesn't love cooing over cute Australian animals?
The mix of Australian animals is fantastic, with the cuddly and scaley variety featured to the great excitement and awe of everyone venturing through.
Just like our first stop, the pram friendliness of WILD LIFE wins it more parent points.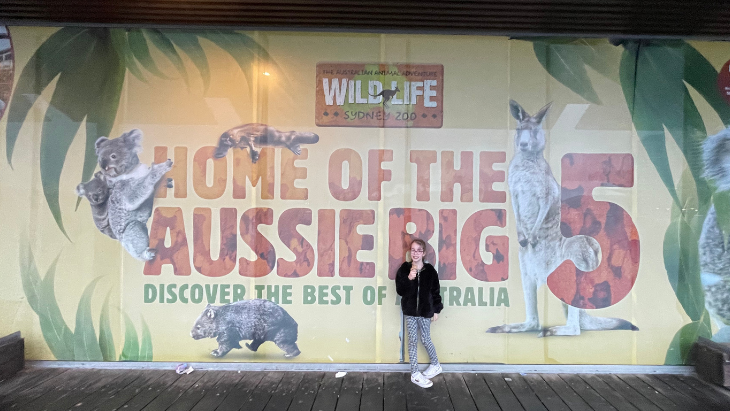 We made a game out of who would be first to spot all of The Big 5: Kangaroos, Koalas, Wombats, Platypus and... the giant Saltwater Crocodile. Scray, unless you're my one-year-old who thought it was fantastic.
There are ten interactive zones, including one home to Frankie the rescue Numbat from WA, Kofi the Goodfellow's Tree Kangaroo and some very shy Echidnas.
It was an extraordinary adventure to see all these rare native Australian animals up close, and I can say with great certainty that the adults like it just as much as the kids.
Stop three: SEA LIFE Sydney Aquarium
After stopping to recap all of our favourites and highlights so far over a quick lunch, we joined the line for SEA LIFE.
While my legs may have been getting tired, this was not the case for anyone under eleven. They were jumping (or clapping, in the baby's case) for the next adventure.
The Aquarium sucked you into a magical underwater world as soon as you stepped into the first exhibit, all thoughts of adult weariness forgotten. Perhaps the most crowded and longest of the attractions for us, the way the attraction is set up means no one misses out on seeing each display and enclosure.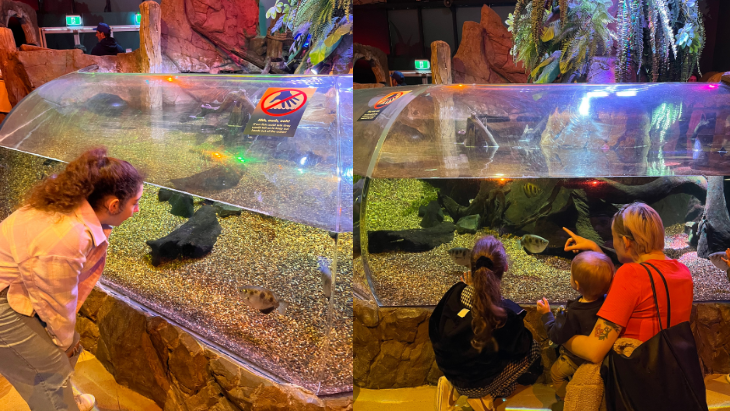 There was so much for all the children (one-year-old included) to get involved with, including walking through underwater tunnels seeing scary sharks and stingrays, and beautiful dugongs swimming next to your and over your head was an unforgettable experience.
I'm worried I've set my one-year-old's expectations too high by letting him experience the underwater adventure too young. How can I possibly top walking next to a shark? (There is shark diving available for an extra fee, but I may wait until he's at least 5 for that one.)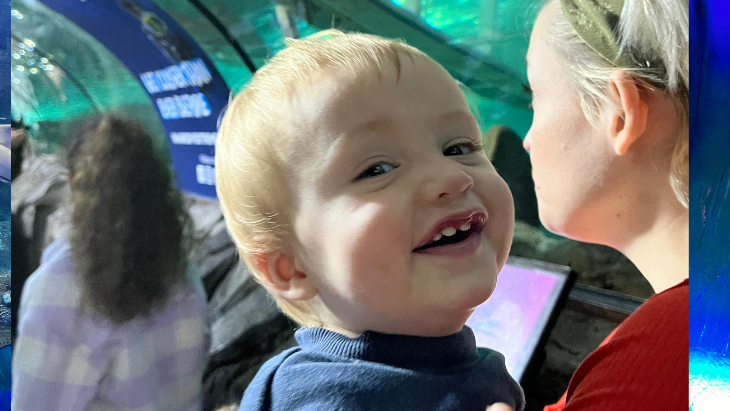 The rock pool was a fantastic way for the older girls to connect and get hands-on with marine life. You could easily spend more than an hour just letting kids explore everything on offer to see and feel here, from shark eggs to prehistoric shark teeth and starfish and sea urchins.
Make sure you stop to take in the captivating penguin exhibition. I've certainly never had the ability to feel so close to such extortionary creatures, and again, I may have been more excited than the kids at this exhibit.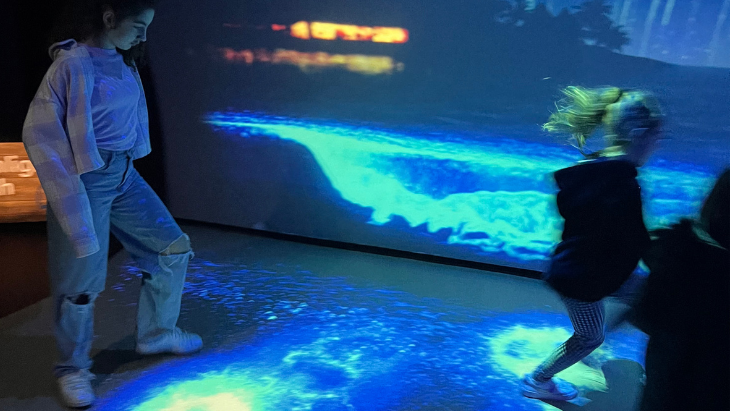 Get double the fun!
You can buy a 2 Attraction Pass and save over 35%. Make a day of it and visit both attractions (situated next door to each other) at Darling Harbour or spread your visits out over two separate days.
Visit SEA LIFE Sydney Aquarium & WILD LIFE Sydney Zoo this Winter for the most colourful experience
Visit your second attraction within 30 days
Price includes Digi Photo Pass with 8 digital photos included
2 Attraction Pass is $58
Create your very own Adventure Booklet
Fly and Dive into a vibrant world of creation. Fill out a free activity adventure book as you wander through the attractions, meet the bright creatures and be the author of your very own colourful story.
Where: SEA LIFE Sydney Aquarium & WILD LIFE Sydney Zoo, Darling Harbour, Sydney
When: 7 days a week during the school holidays, 9:30am - 5pm (last entry 4pm)
Cost: Child (4-15yrs): $41 for 2 attractions. Adult (16yrs+): $58 for 2 attractions
NSW Parents vouchers are also accepted, creating incredible value this Winter.
For further information, visit SEA LIFE Sydney Aquarium or WILD LIFE Sydney Zoo.
Beat the rain by visiting one, if not all three of these sensational Darling Habour attractions, and you too could become the best the 'Number 1 Best, Most Popular Parent/Aunty in the World.'**
**Note, no one explicitly gave me this title, I gave it to myself, but I think I deserve it.
More Great Finds
Leave Your Worries at the Door: Parent Poppin' Review
A Bright New Adventure Playground Has Opened In Western Sydney
ellaslist reviews Bitton Rose Bay - A Little Taste Of France
Have you signed up to our newsletter? Join ellaslist to get the best family and kid-friendly events, venues, classes and things to do NEAR YOU