ellaslist reviews Claris High Tea - the Chicest High Tea in Sydney!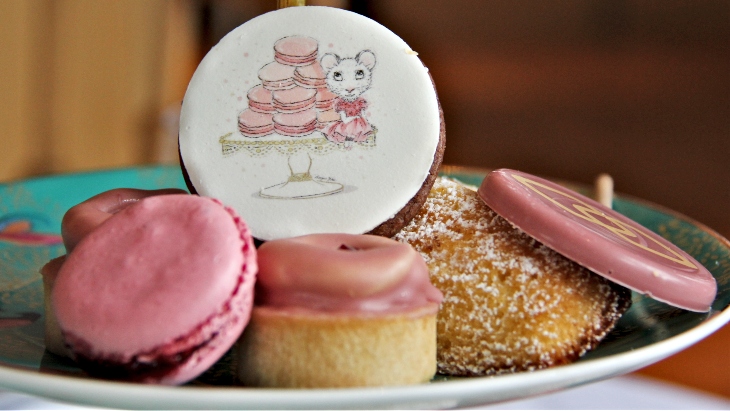 To two nine-year-old girls, the promise of Claris High Tea was a fun excuse to get dressed up and eat scones for lunch! I, on the other hand, knowing the divine work of Megan Hess and the transformative power of walking through the doors of a five-star hotel, knew it was going to be a bit more than that.
Making the special trip to Darling Harbour and through the turnstiles into the golden-hued foyer of the luxurious Sofitel was the perfect way to embark on this delightful culinary adventure. Following the welcome from the concierge and the elevator ride up to the world-class Atelier restaurant on the third floor, there was little doubt left that we were in for something extraordinary.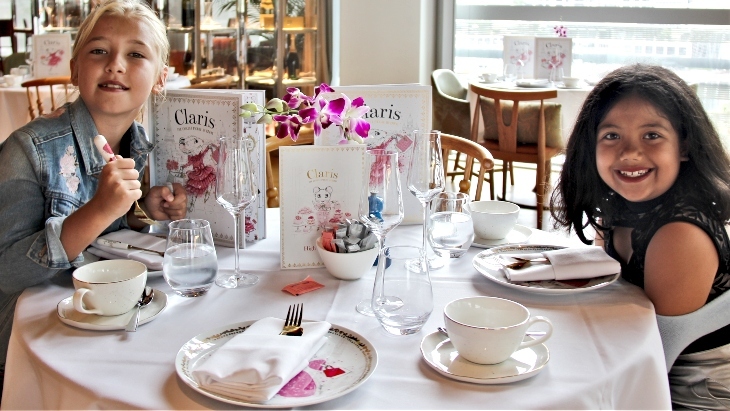 .
The dedicated seating area for the Claris High Tea is an elegant, expansive space with fabulous views of Darling Harbour and out toward the city. The tables are immaculately laid out with gorgeous detail, befitting The Chicest Mouse in Paris, with signature Claris menus, plates and cutlery.
We were seated and our lovely waiter explained the menu, but I'm not sure my pint-sized companions heard anything beyond his opening statement: "you can go ahead and help yourself to the chocolate fountain. Have as much as you like!" The chocolate buffet had an array of fruit, pretzels, marshmallows, churros, donuts and more, at the foot of a lush fondue waterfall. We started here.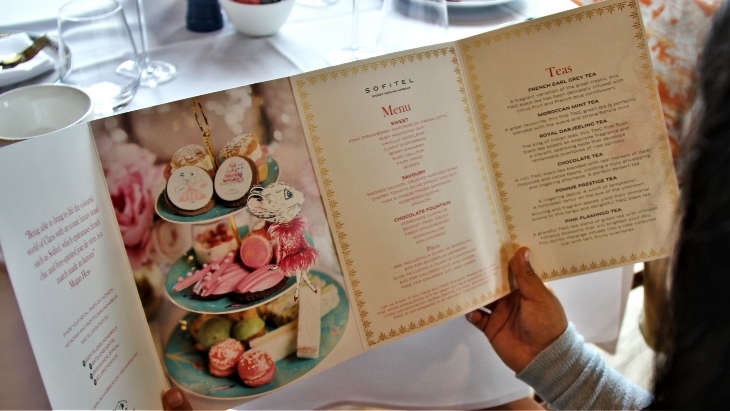 Seated again with our petite plates of goodies, I was faced with a near-impossible choice - which tea to have. There are six varieties to choose from, all sounding just a touch fancier than my usual morning brew. I opt for Pomme Prestige (assured I could try another one later!) and the girls are served the pinkest-of-pink lemonades.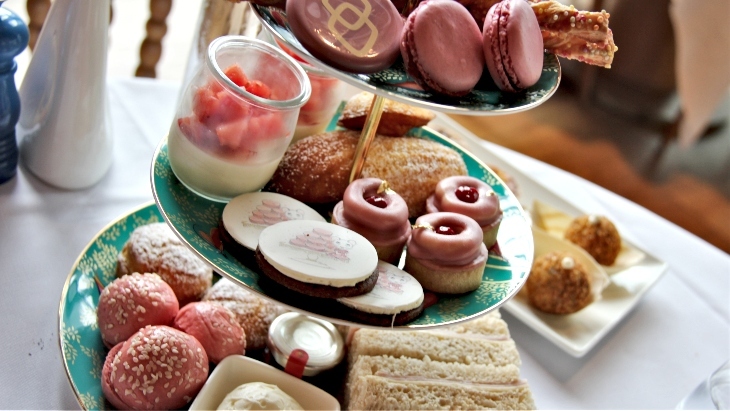 Next, we were presented with the three tiers of goodness that put the high in high tea - pretty sweet and savoury treats that look almost too good to eat. Almost. There is an overflow of food with the delicious arancini balls and mushroom quiches set beside our triple-decker tower. Despite our chocolate entree, we start from the bottom up, working our way through tasty warm bites like "the best ham and cheese sandwich ever", salmon pinwheels and the cutest mini pink brioche buns.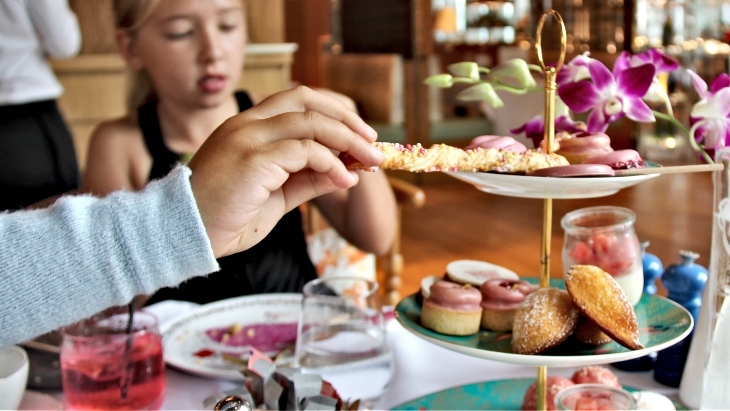 Now these are bite-sized morsels, and there are three of us to eat them, but what seemed only moments ago like a perfectly undaunting feast appears all of the sudden insurmountable. Still, we are determined and continue through the flavourful macarons, fluffy madeleines, charming Claris cookies, quintessential scones with jam and cream, and more adorable delicacies. The heavenly panna cotta with strawberry and watermelon was my personal favourite.
Eventually, after multiple trips to the chocolate buffet, and my afore-promised second pot of tea, we concede sweet defeat, but happily sit back for a while reading the beautiful Claris books that the girls are thrilled to learn they can take home.
The Claris High Tea was a truly special and deliciously decadent experience that added a bit of sparkle and sophistication into our average Saturday. It was the perfect treat for my tweens who gratefully declared it "the best high-tea ever". Though I graciously accepted the brownie points for the delightful day out, I enjoyed it as much as they did.
Claris High Tea is at Sofitel Sydney Darling Harbour every Saturday afternoon from 1pm to 3pm from February 2020. For more details and bookings, visit Claris High Tea.
More Fun Dining In Sydney
Your Guide To A Sustainable Family Picnic
Where To Get Frozen Yoghurt In Sydney
The Most Fun Dining Experiences for Kids in Sydney
Have you signed up to our newsletter? Join ellaslist to get the best family and kid-friendly events, venues, classes and things to do NEAR YOU!