The Most Fun Dining Experiences for Kids in Sydney
Preschoolers
Family
Kids
Mums & Bubs
Teens
ellaslist COVID-19 update: Please note that all the information on the website is correct at the time of publication. Please check the relevant website before visiting a venue or destination for the latest COVID-19 information. ellaslist is not responsible for any cancellations or closures.
There are times when sitting at a restaurant with your kids can be described as anything but fun. But don't despair, because taking the kids out to eat can be some of the most memorable times you have as a family and finding somewhere fun for everyone makes it all seem worthwhile again.
Here are the most fun dining experiences in Sydney for families, guaranteed to make memories, and maybe even start some family traditions.
Karaoke
If you've ever been embarrassed by your kids singing loudly in restaurants (or if they are embarrassed by your singing), then this is definitely for you!
Karaoke is an absolute cracker of a family night out.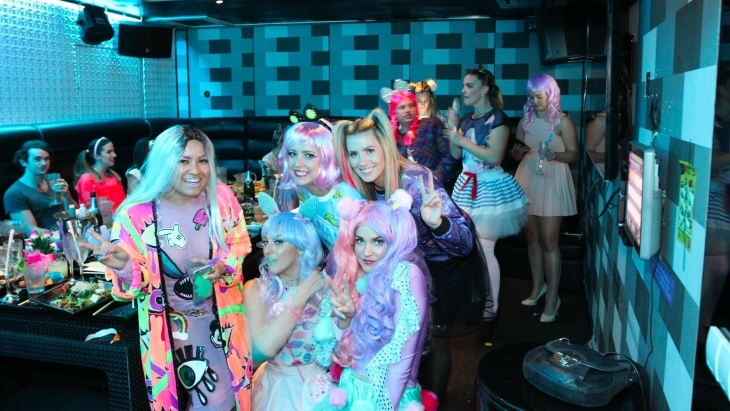 MIZUYA JAPANESE RESTAURANT & KARAOKE in Sydney CBD is a family-friendly option that matches melodic musings with a delicious dining. The food here is Izakaya style, which is like Japanese bar food. Order from a touch screen menu with a selection of meticulously prepared Japanese tidbits to choose from. There is no kids menu, but there are plenty of small dishes children can eat.
You can eat in one of their booths but that would defeat the whole purpose of your visit, so head to one of the 24 private karaoke rooms. Room hire is $10 per person for two hours during the day, or a minimum spend of $20 on food and drink. At night, there is a $30 minimum spend plus $3 per person room hire charge and on Friday and Saturday nights the minimum spend is $45 plus $10 per person. Kids under four are free and children from ages four to eight are half price.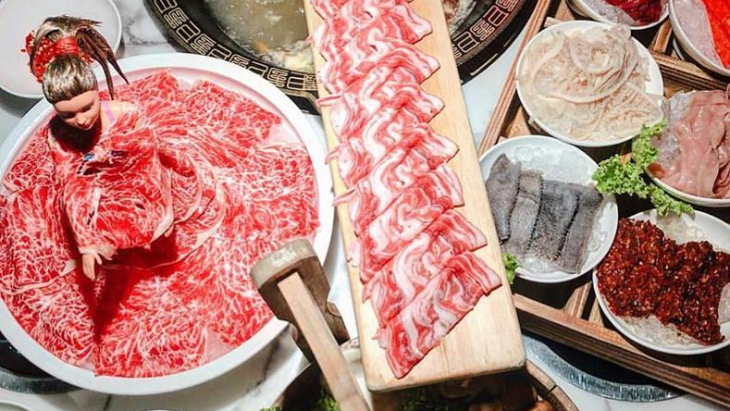 And while it doesn't offer karaoke, Spice World in Haymarket deserves a mention - and we reckon it will make you sing! Picture this: robot waiters, Hello Kitty Hotpots, wagyu beef dressed Barbie dolls and a station to create your own custom dipping sauce from a row of 23 different sauces, oils, chilli powders and chopped vegetables. This restaurant is all about the fun factor!
A Fifties Diner
The American diner has made a bit of a comeback in Sydney lately, fuelled by diners embracing nostalgia for an age many never even lived through.
While your kids may not know what "the fifties" was, they will love the décor, music and food at these buzzing establishments. Walking into the DOUGHBOX DINER in Enmore (plus one Brighton Le Sands) feels like you've stepped back in time.
Instead of serving burgers, they sell "crepe cones" that are savoury crepes rolled into a cone that you can pick up and eat like an ice-cream. Speaking of ice-cream, they have a huge and hugely-tempting selection of thickshakes and soda floats, as well as sundaes, waffles and sweet crepes for dessert.
DAISY'S MILKBAR in Petersham is styled like a 50's milkbar and is best known for its milkshakes with specials like fairy bread milkshakes otherwise known as "what kids dreams are made of".
Because diners and drive-in cinemas go hand in hand you simply must check out BLACKTOWN SKYLINE DINER for a fun night out with the kids. Enjoy 50's style burgers, hot dogs and shakes then hop in your car to enjoy a movie in style.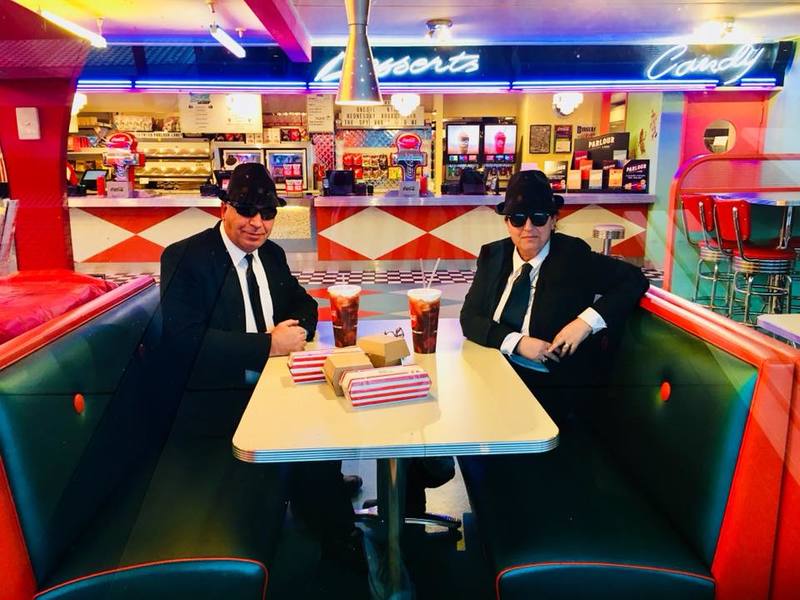 Cat Cafés
All the rage in Asia, cat cafes have made it to Australia in all their cute and fluffy glory. The strange but tantalising concept is a café with lots of cats that you can cuddle while sipping coffee. What's not to love? An obvious choice for anyone that loves animals, it is especially good for kids that love pets but can't have one at home.
CATMOSPHERE is a space themed cat café in Surry Hills, because a café full of cats isn't weird enough! Twenty dollars will get you a coffee and a cookie (shaped like a cat) and an hour with their "catstronauts" or $22 for 30 minutes in the kitten room, called the Space Academy. It's best to book in advance as there are limits on the number of people in with the cats. If you are looking for something even zanier, they also have Yoga with the catstronauts and a new cat cinema so you can snuggle while you watch a film.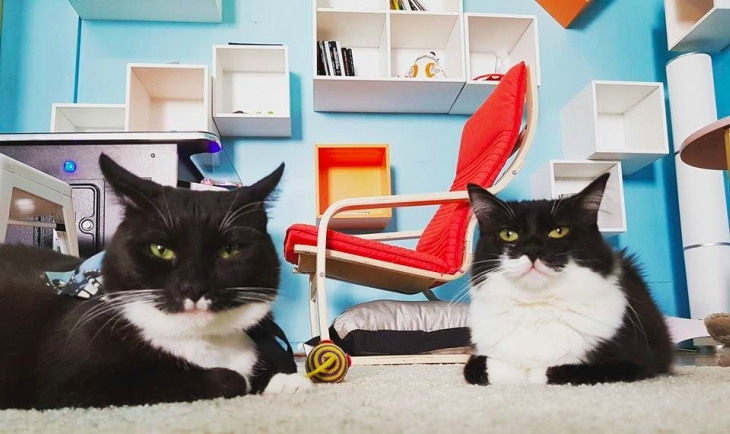 More Cat Cafe's in Sydney here.
Teppanyaki
Kids love watching chefs prepare the meals at restaurants and Teppanyaki takes it up a notch (actually a few notches). Because the Teppan grill is right at your table, the entire meal becomes a production designed just for you. Rather than just watching someone sizzle a steak in front of you, a Teppanyaki chef creates a dramatic production with towering flames and may even have you trying to catch your dinner mid-air.Combining a traditional Japanese grill with Western ingredients, like steak, the food is top notch but it is the Chef's flair and skill that makes this a top pick for fun dining.
HISSHOU on George Street in the city has set banquets ranging from $41 to $57 per person, plus a $19 lunch special. There is no kids menu, however kids can share an adult's portion. They even have a school excursion menu.
GARLIC TEPPANYAKI in the Big Bear Shopping Centre in Neutral Bay has two sessions, the more family-friendly one from 7 pm to 8:30opm and another from 8:30 until 11:00 pm. They have a set menu ranging from $28 to $36 per person, plus a children's menu for $17, or you can order a la carte.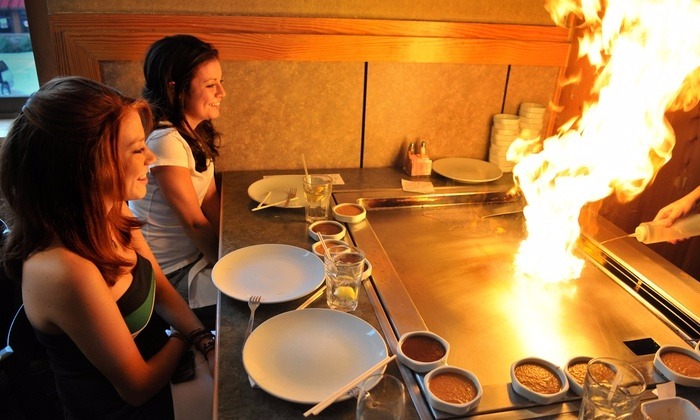 KOBE JONES has Wharf Teppanyaki at King Street Wharf and The Rocks Teppanyaki, both in the city. They have a dinner special set menu for $39.50 per person but no kids menu.
In Beverly Hills, ASAHI TEPPANYAKI proudly make their own sauces and offer set menus, starting at $62 for two people, and a la carte.
OSAKA TEPPANYAKI in Crows Nest offers a kids' menu and a good variety of Teppanyaki options. It's been around for over 15 years so they certainly know what they're doing here.
Read our guide to Teppanyaki with kids in Sydney!
Just be aware that teppanyaki does offer have an open flame so this could be dangerous for little kids who want to touch everything. Close adult supervision is strongly advised.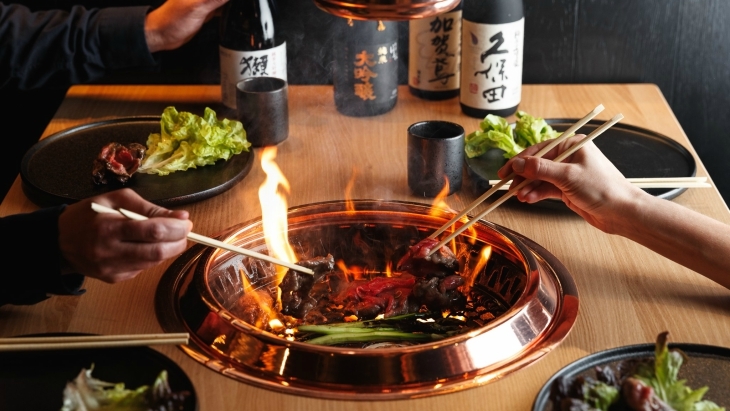 For a DIY teppanyaki experience, try this brand new Japanese barbeque restaurant. Gyūsha (above) is a fresh meat market in Chippendale where you shop for your supplies and then head to your table to cook up a storm! We promise this is much more fun than doing it at home - plus you can involve the kids in the cooking here. And it's not just meats, you can purchase crab legs, chicken wings, sausages, ribs and a selection of fresh veggies.
Picnicking
When the weather warms up, it's time to head outdoors and a picnic is the perfect way to spend some quality time with the family on a warm summer afternoon, evening or even for breakfast.
If your kids won't sit still or haven't quite mastered their inside voices yet, a picnic lets them run and shout and be themselves. The best part is that the food can be as simple or opulent as you choose. Everything from takeaway pizza to a hand prepared feast works well, and you can even throw in a bottle of wine for the grown-ups.
If you are looking for the picnic experience but don't have the time to prepare it yourself, try Pop Up Picnic, who will deliver a perfectly prepared picnic hamper with a range of choices to suit your needs. They also do a kids' picnic box for $20 that includes a sandwich, fruit and marshmallow skewer, popcorn and a juice.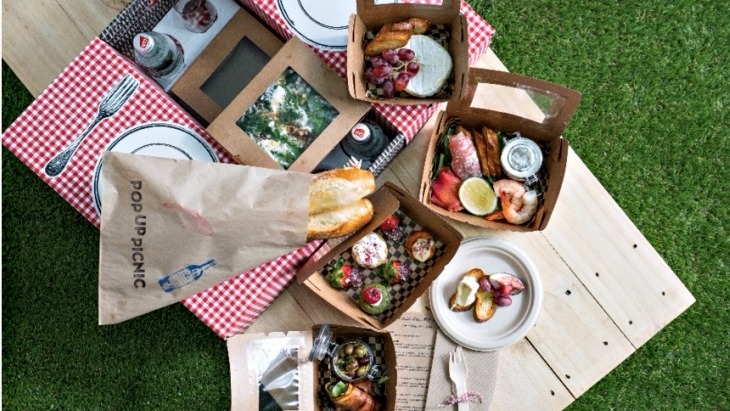 If you are heading to Centennial Park for a picnic, pop by the kiosk where they sell ready-made picnic hampers for two, four or six people and can even sell you a blanket if you forget yours.
Some Helpful Picnic Tips:
Best Takeaway Boxes For Picnics
Best Picnic Spots in Sydney
How to Make the Perfect Picnic
Ghost Tours
Feeling a little spooky? Because most ghost tours are held at night, it is the perfect addition to a family dinner.
Q STATION at Manly hosts a family-friendly ghost tour suitable for ages five and up, which is a little bit spooky and a lot of fun. Hear the stories of those that passed through this former quarantine station and you might even learn something while you are at it. Adults are $38 and kids are $29, or there is a family ticket for $125, not including dinner.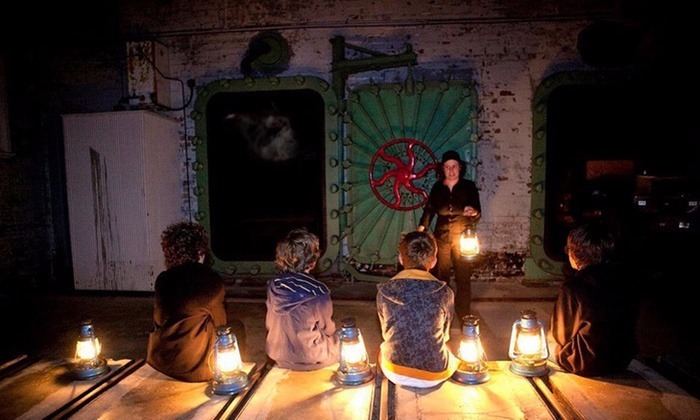 Dinner at the Boilerhouse Restaurant starts from 6pm but the engine room bar has all day dining on weekends and a good kids menu for $12.50. Tours run on Saturday and Sunday nights and start at 6pm in winter and 7pm in summer and last for two hours. If it's a bit late to get the kids home afterwards, they also have accommodation.
THE HERO OF WATERLOO in the Rocks has a long history (by Australian standards at least) and there is a secret tunnel leading from the cellar to the harbour, believed to have been used for rum smuggling, and dragging drunk sailors out to the boats where they would wake up onboard and forced to crew the clipper. You can even see the shackles still hanging in the downstairs cellar. Rumours that in 1849, the publican pushed his wife down the stairs have led some to believe her ghost remains in the bar, and they take patrons on free ghost tour walks. The menu is fancy pub grub, and while there is no kids menu the tapas menu has plenty for little ones – like beef sliders or meatballs, all under $10.
Here are our favourite Ghost Tours For Kids In Sydney.
Dinner Theatre
While the options in Sydney are currently suited more to adults and families with older kids, it would be remiss not to mention dinner theatre as a fun dining option. Fright Night in Campbeltown has a spooky variety show while Dirty Dick's Theatre Restaurant in Rydalmere and The Entrance is a medieval themed night with an interactive comedy show. There is no swearing or crudity, but plenty of innuendo and adult humour so parental guidance is needed.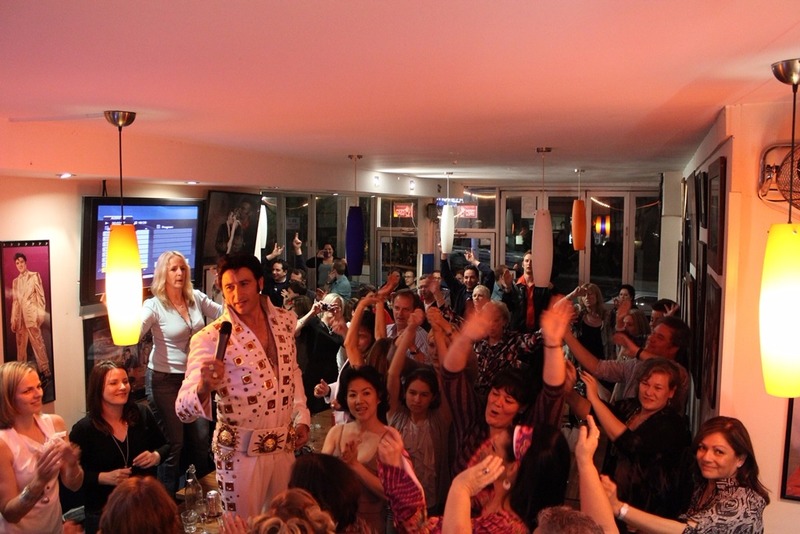 Elvis Pizza in Rushcutters Bay has one of Australia's best Elvis impersonators perform on Friday and Saturday nights. This show is totally G-rated and recommended for kids over 4, but only starts at 9:30 pm so will be a late night for the little ones. The cost is $59 per person for a set menu of Pizza, Pasta and Salad and the show, with kids 4-10 years old paying $30.
Even More Dining In Sydney
Best Buffets For Kids
Best Pizza Experiences For Kids
All You Can Eat Sushi In Sydney
Have you signed up to our newsletter? Join ellaslist to get the best family and kid-friendly events, venues, classes and things to do NEAR YOU!