ellaslist Reviews: A Family Day at Calmsley Hill City Farm
ellaslist Reviews: A Family Day at Calmsley Hill City Farm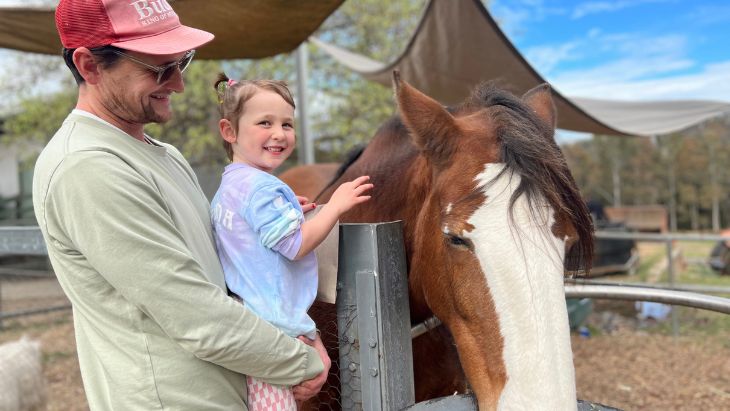 As true blue city slickers through and through, it's safe to say that my little family and I don't tend to inhale a whole lot of country air—usually opting for playgrounds, parks, and the beach as our destinations of choice.
We recently switched it up for a day—trading in our Saturday morning caper at the beach for something a bit different: a trip to Calmsley Hill City Farm.
It's hard to believe that this incredibly rural-feeling farm experience is actually just a hop, skip, and a jump (read: a 50-minute drive) from Sydney's CBD, and it's safe to say my very-beachy Ms 4 and Mr nearly-2 had a ball exploring their change of scenery; jumping headfirst into everything the farm had to offer. Here's how our day went.
ellaslist Reviews: A Family Day at Calmsley Hill City Farm
Hands-On Fun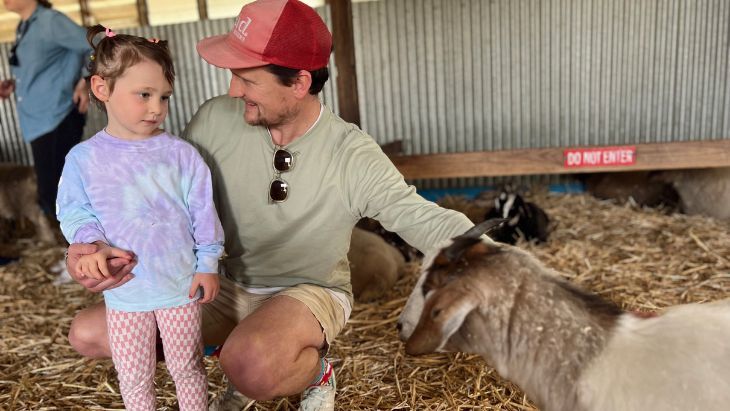 When we arrived at Calmsley Hill City Farm, my partner and I remarked on the sheer sense of space—the farm is so well planned out and truly feels worlds away from the busy city from which we just came. We got straight down to business, greeting the resident camel and donkeys before grabbing our bags of animal feed and heading straight into the nursery.
As the kids warmed up to the roaming sheep and goats, we practiced patting the animals and feeding them with our hands flat. The only other animals my two have seen at such close quarters are dogs and the occasional cat, so it was a great experience for them to be so up close and personal with such a range of farmyard residents!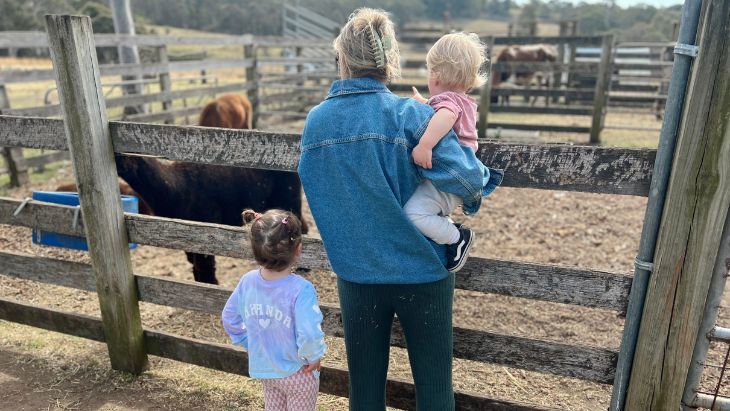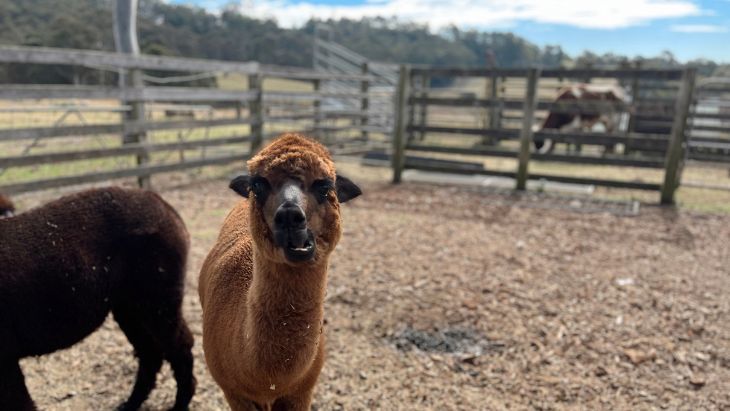 After making our way through the plethora of animals, with the pigs and alpacas reigning as supreme favourites, attention turned to the diverse range of activities, talks, and shows on offer for the rest of the day. Calmsley Hill City Farm is so much more than just a place to visit native and farmyard animals, offering plenty of interactive experiences that aim to educate, inform and engage.
A Tractor Experience to Remember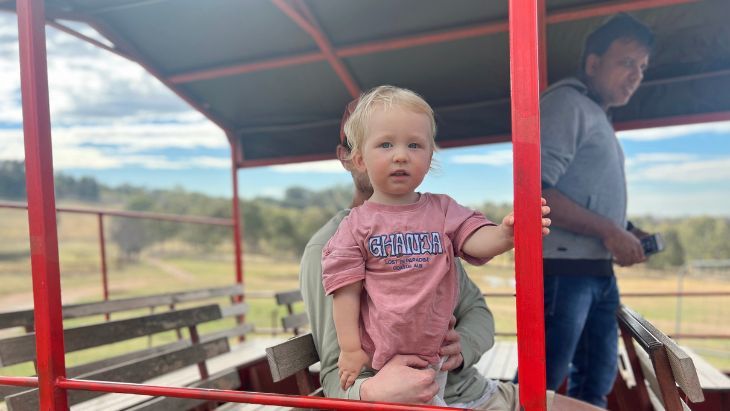 One of the highlights for my kids (and everyone else judging by the aahs, oohs, and squeals from every other child in the vicinity), was the tractor ride around the farm. The round trip through the farm's paddocks took only around 15 minutes but it was engaging, educational, and clearly adored by children and grown-ups alike.
Tractor ride tickets are an added extra on top of entry, but a non-negotiable in my book. So much fun!
Daily Shows Aplenty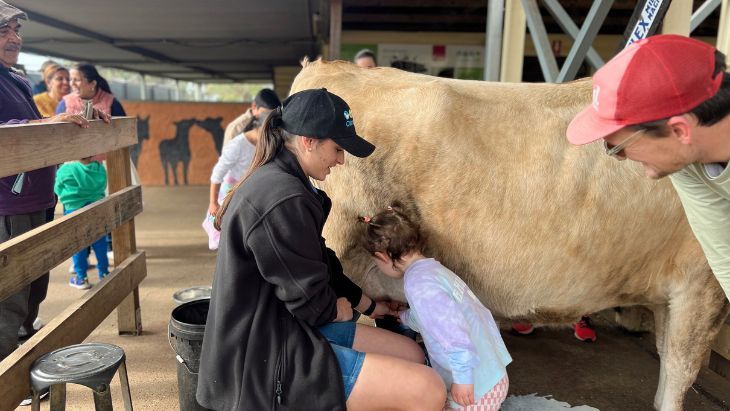 After everyone had calmed down from the excitement of the tractor trip and had a chance to grab a snack or fifty from their lunchboxes, we wandered to some of the other daily shows taking place around the farm. Ms 4 loved milking the cow; another hands-on experience that really engages little people and helps them learn about the milk that they slosh onto their cereal.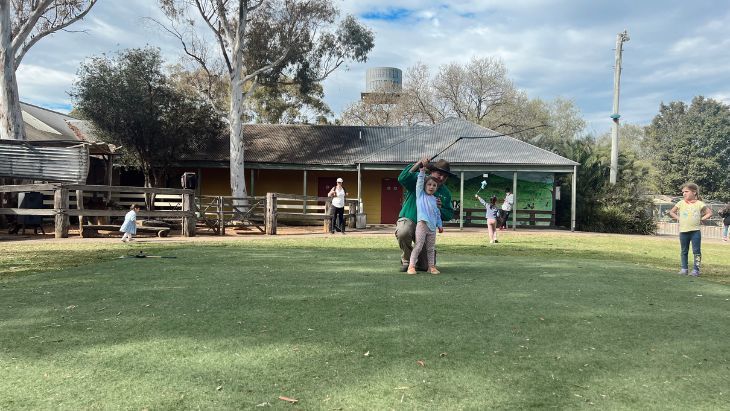 After we'd blown off some steam in the playground (yep, there's an awesome onsite playground at Calmsley Hill City Farm that offers the perfect respite from activities!), it was time for the daily Stock Whip Show. After engaging the audience with demonstrations of some (pretty impressive) stock whip tricks, Farmer Logan invited kids to come up and have a go at cracking the whip themselves. Our girl hung back for a few minutes, before deciding it was something she wanted to have a go at—and just look at that height!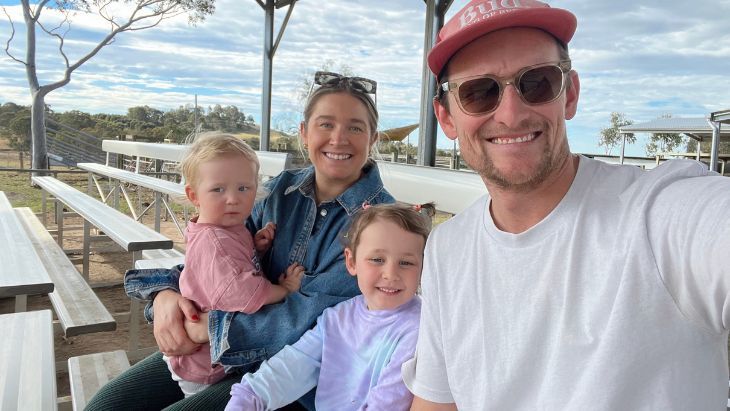 The Working Dog Show was another incredibly educational experience for us all; as the Farmers discussed the role of working dogs as well as offering advice surrounding what breeds of dog to choose when living in a place like Sydney.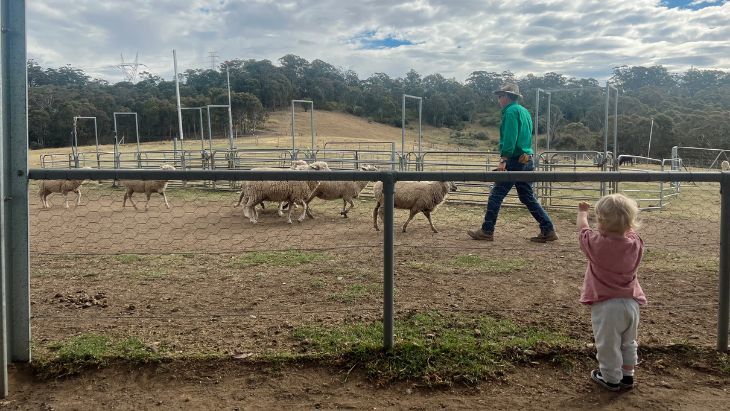 The Sheep Shearing Show and Koala Talk also kept us entertained (shout out to Barbara the sheep for taking her haircut so well!), and brought such a fun, yet educational angle to the day. Ms 4 hasn't stopped asking a myriad of farm-related questions since; which tells me that she really took something away from the whole experience.
An All-Day Extravaganza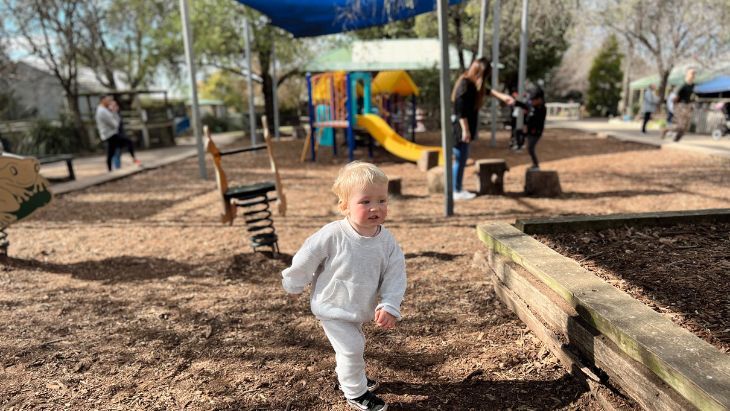 Perhaps our favourite thing about Calmsley Hill City Farm was how easy it was to while away an entire day there. Thanks to the wide range of both native and farmyard animals to visit, as well as the playground and on-site cafe, there wasn't really a reason to leave (until Mr nearly-2 demanded we head back to the car to facilitate a little snooze for himself—it's a hard life, isn't it?).
Between the talks, shows, animals, and open space that is ripe for exploring, it's simple to see why Calmsley Hill City Farm offers such an enticing and enriching experience for Sydney families. The whole day was a unique reminder of the importance of keeping kids in touch with animals, wildlife, and the great outdoors. We're already fielding "Can we go back to the farm?" questions from Ms 4; which has a Calmsley Hill City Farm Annual Pass high up on my radar. Safe to say, we'll be back!
The Details
Location: 31 Darling St, Abbotsbury
Opening hours:
School Term: Monday - Friday: 9 am - 3 pm
Saturday, Sunday & Public Holidays: 9 am - 4 pm
School Holidays: Monday - Sunday & Public Holidays: 9 am - 4 pm
Cost: $32 per adult, $17 per child (3 - 17 years), children under 3 FREE
The Scoop On More Family Fun
ellaslist Reviews: Hijinx Hotel and Holey Moley - A Family Fun Zone
ellaslist Reviews: It's all Fun and Games at Strike Bowling
ellaslist Reviews: Our Wanderlust Took Us to Wonderful Western Sydney
Have you signed up for our newsletter? Join ellaslist to get the best family and kid-friendly events, venues, classes and things to do NEAR YOU!