ellaslist Reviews: It's all Fun and Games at Strike Bowling
ellaslist Reviews: It's all Fun and Games at Strike Bowling
Kids
Teens
Family
All Ages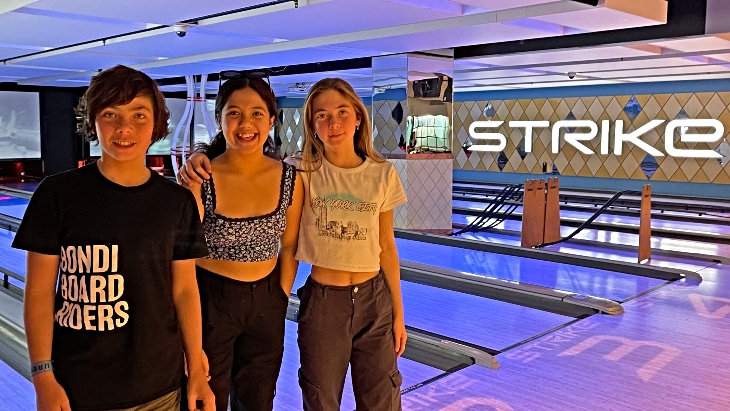 Just the idea of heading to Strike Bowling at Sydney's Entertainment Quarter had us abuzz with excitement. My daughter had her last birthday party there, so it is already established as a firm favourite for the ultimate day out. The chance to revisit the thrilling venue for some family fun, with some besties in tow, was just the winter-blues-busting antidote we needed.
It's all Fun and Games at Strike Bowling
As endearing as they are, Strike is not one of those retro bowling alleys you see in classic movies. On the contrary, they have most certainly kept up with the times!
This multi-sensory fun factory offers an absolute treasure trove of innovative entertainment. Even the funky bowling shoes have come a long way.
Strike has packed so much into this vibrant two-story complex that any day can in fact feel like a party.
So let the games begin…
Ten Pin Bowling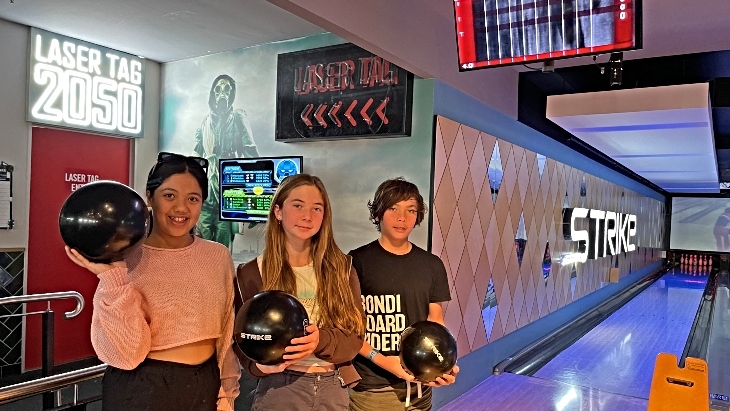 The top-floor bowling alley is a hive of activity that immediately transports us away from the daily humdrum into an illuminated world of unabashed fun. The state-of-the-art venue has sleek lanes, cosy seating and a buzzing atmosphere, with film clips on big screens and a lively soundtrack of everything from Tina Turner to Taylor Swift. A party, I tell you!
For this working parent, it was also a welcome mid-week reprieve - a much-needed break from the daily grind, to shake off some stress, connect with the kids and let my own inner child run wild.
Back-to-back lanes were in action with ten-pin bowling families in the throws of 'friendly' competition. What is so heartwarming about this scene is that everyone is playing. Little ones have bowling ramps and bumpers to get them on a roll, parents are bestowing their technique tips, there are balls in various sizes and weights to experiment with, and family cheer squads are in full force whenever anyone knocks down those pesky pins.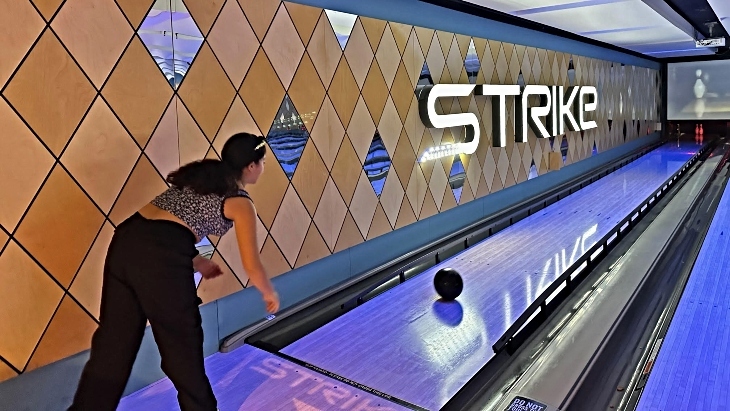 Kids and adults all love the bowling challenge, and joy, laughter and post-strike celebrations abound. It is loads of fun for everyone, regardless of your skill level. Phew!
After working up an appetite during our closely-contested ten-round game of bowling we were ready to fuel up on some hearty comfort food.
Fuelling Up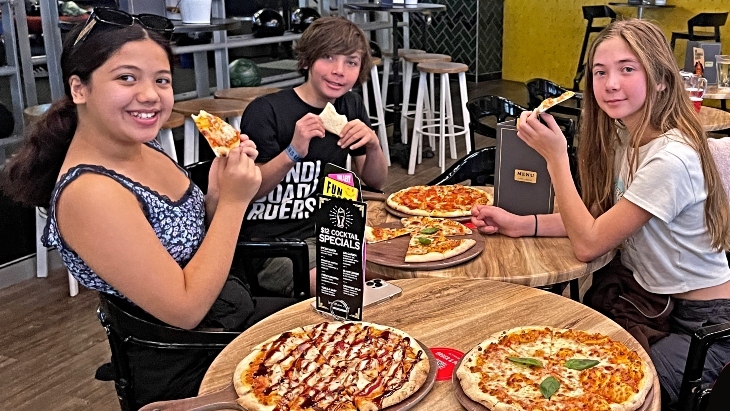 Taking a breather in the cafe-style diner, the always-attentive staff had our table laid out with a smorgasbord of delicious pizzas in no time - a selection of Margherita, Pepperoni and BBQ Chicken - plus jugs of Coke and Pink Lemonade.
We opted for these sure-fire crowd-pleasers for our crew and were not disappointed with their generous size and plentiful toppings, however, there is an extensive mouthwatering menu of tasty treats to choose from including main meals, share plates, combos and kids meals.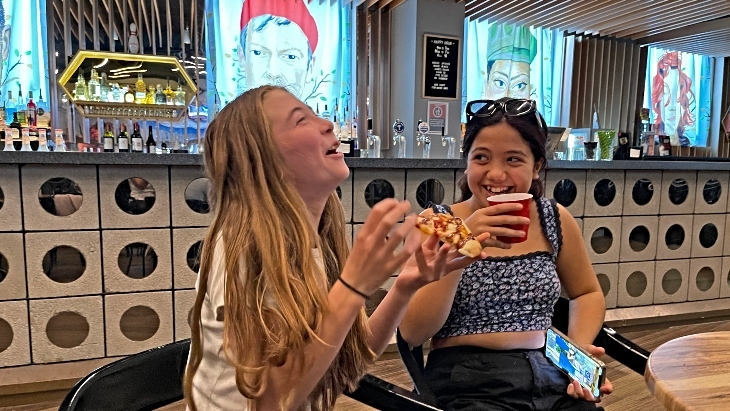 There is also a full bar for those grown-ups that like a cheeky tipple!
With taste buds delighted and energy restored we were ready for our next action-packed activity.
Laser Tag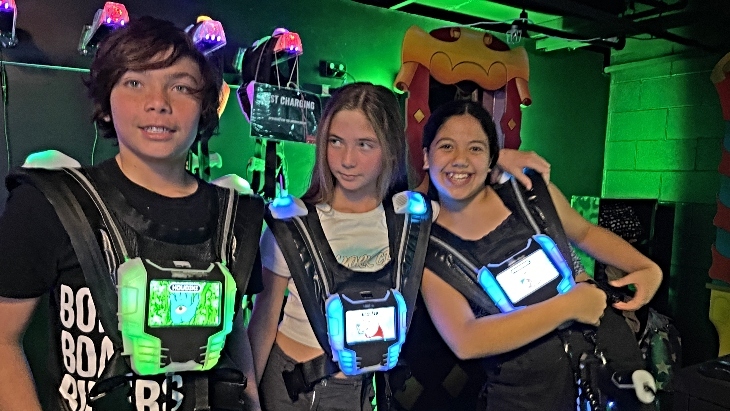 There is no other way to say it: Laser Tag is so much fun. For the grown-ups as well as the kids. We loved it!
We stepped into the Laser Tag zone, got split into teams, kitted up into our hefty vests and watched a tutorial video. Then we were released into the darkness to fend for ourselves.
The immersive experience transports players to a combat zone, scouring the maze-like battleground for the best vantage points to protect yourself while assailing your opponents. It's a fast-paced, adrenalin-pumping adventure where the aim of the game is to accumulate the most points by hitting your moving targets.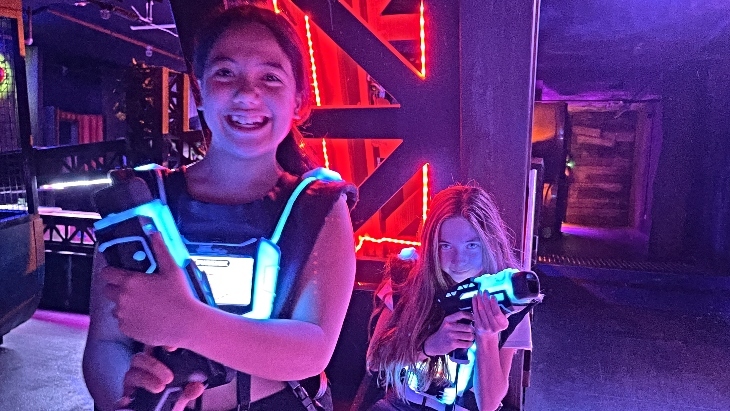 The 15-minute Laser Tag session at Strike Bowling is an absolute thrill, being constantly on the prowl, dodging laser beams and conspiring with teammates. The advanced Laser Tag technology is super precise and far-reaching, makes for an exhilarating game that, again, everyone could get involved in. We all had a blast!
Calling a truce on our epic combat, we redirected our aim downstairs to Strike's own in-house games arcade, B Lucky and Sons.
B. Lucky and Sons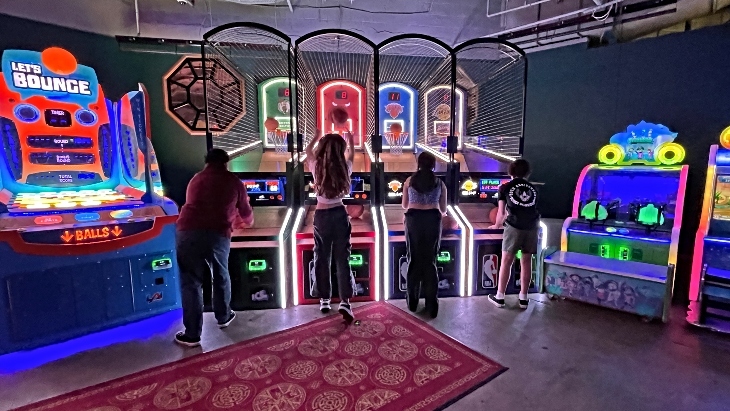 With our gaming cards stocked up on credit, we all let loose around the illuminated carnival-inspired fun fair that is B. Lucky & Sons, with its mix of retro icons, skill-testers and cool new games.
The grown-ups both took a nostalgic trip down memory lane with the super-sized Space Invaders Frenzy, albeit a modern twist on the unforgettable classic from our youth, while the kids went head to head on the vivid adventures of Mario Kart Arcade GP. These favourites were closely matched by seemingly endless rounds immersed in NBA basketball shooting, Air Hockey, Ring Toss, Tomb Raider, Cruis'n Blast racing, Ice Ball (another favourite!) and many more - a dreamworld for our wide-eyed, awestruck tweens.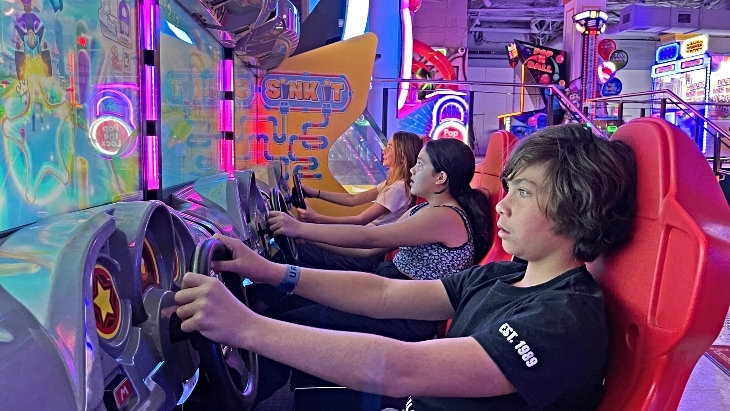 And so you see…
Make Any Day A Celebration
Strike Bowling is a high-energy, mood-boosting experience with a world of entertainment packed into its inner-city hub. It offers year-round, all-weather escapism for fun-seekers of all ages, where parents can get the kids out of the house, join in on the action and actually have fun doing it!
Whether you want to hone your Bowling skills, go to battle in the Laser Tag arena, or indulge in arcade games galore, Strike Bowling turns any day into a celebration.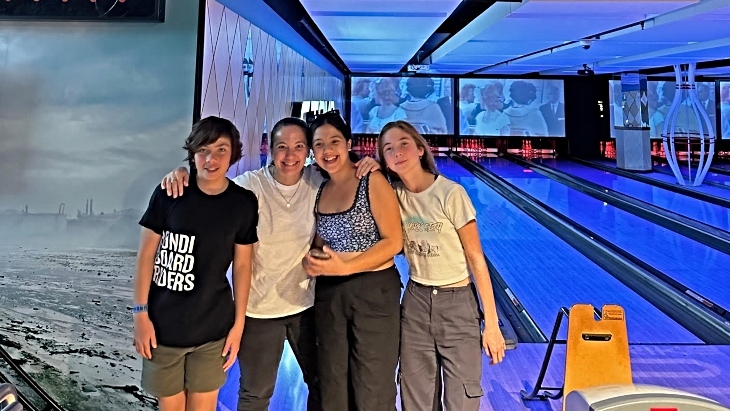 Where Is Strike Bowling?
We visited Strike Bowling at the Entertainment Quarter in Moore Park, Sydney.
Strike Bowling has various locations across NSW including Castle Hill, North Ryde, Chatswood and Darling Harbour, plus venues in Victoria, Queensland and Western Australia.
So, go on… let the good times roll!
Find your nearest location and book your visit at Strike Bowling.
The Scoop On More Family Fun
ellaslist Reviews: Hijinx Hotel and Holey Moley - A Family Fun Zone
ellaslist Reviews: A Luxury Escape at the Amora Hotel Jamison Sydney
ellaslist Reviews: Our Wanderlust Took Us to Wonderful Western Sydney
Have you signed up for our newsletter? Join ellaslist to get the best family and kid-friendly events, venues, classes and things to do NEAR YOU!