ellaslist Reviews: Hijinx Hotel and Holey Moley - The Brand New Fun Zone in Alexandria!
Kids
Teens
Family
All Ages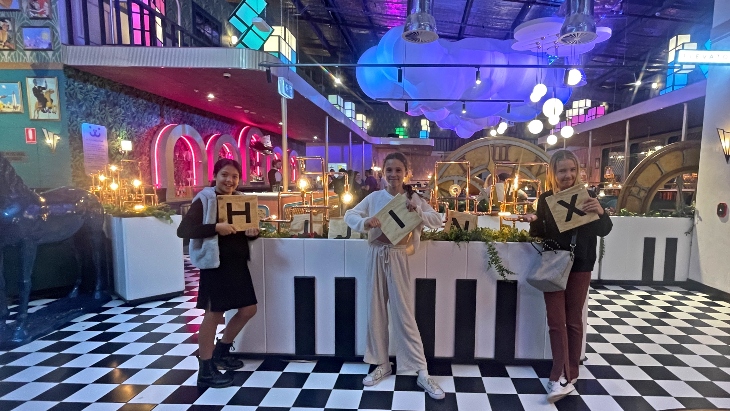 Expectations were high and excitement was at fever pitch as I rallied three tween girls for an inner-city adventure to the industrial hub of Alexandria. The buzz around a brand spanking new entertainment venue - dubbed the world's first challenge room hotel - had dominated the headlines of all the best-things-to-do hotlists and, despite not really knowing what a challenge room was, we jumped on the cool-kids bandwagon!
Now, some parents might recall the shared heartbreak of Skyzone shutting the doors of its popular trampoline mecca due to the pandemic. Kids adored that place, and it's hard to imagine anything could reclaim its former glory. However, the colossal site that once housed the bouncing behemoth, in the entertainment precinct of Sydney Corporate Park, has risen from the ashes and been completely transformed, reincarnated as an absolutely extraordinary establishment - two in fact.
The new Hijinx Hotel, and its equally flashy neighbour, a state-of-the-art new Holey Moley mini-golf course, have gone to great lengths to create mind-boggling, larger-than-life experiences, oozing fun and creativity. We walked the red carpet and followed the velvet rope to find out if these latest FunLab venues live up to the hype. Game on!
Hijinx Hotel
Entering the foyer of this fictional hotel - made for playing, not staying - is a sensory overload in itself. Adorned with endless paraphernalia, the Hijinx Hotel entrance is a treasure trove of neon lights, giant unicorns and countless meticulously-sourced props, books and pictures. So many knick-knacks to explore, so many selfies to be snapped.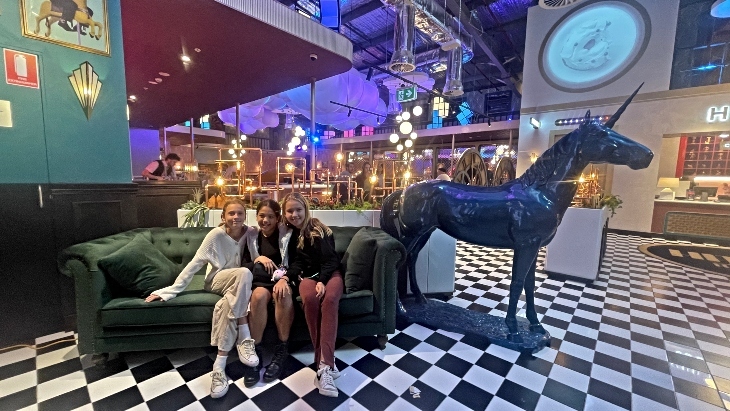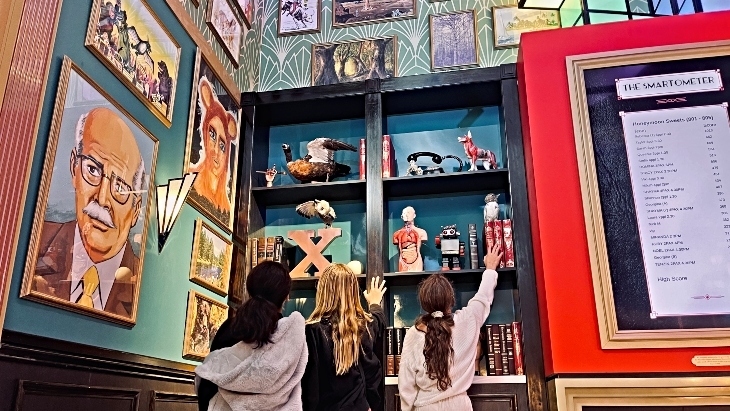 With extraordinary attention to detail, the grand Hijinx Hotel has all the whimsical wonders of an actual art-deco hotel, with a cool bar and diner, slippers and robes on display, a concierge to check you in and a room key to start your adventure. "This is amazing!" was a common exclamation between gasps of awe and delight.
From the outset, my enthusiastic, and somewhat overwhelmed, trio proclaimed Hijinx Hotel was 'sooo cool', 'the best place I've ever been' and 'the coolest place I've seen in… in… forever' - and we hadn't even left the lobby.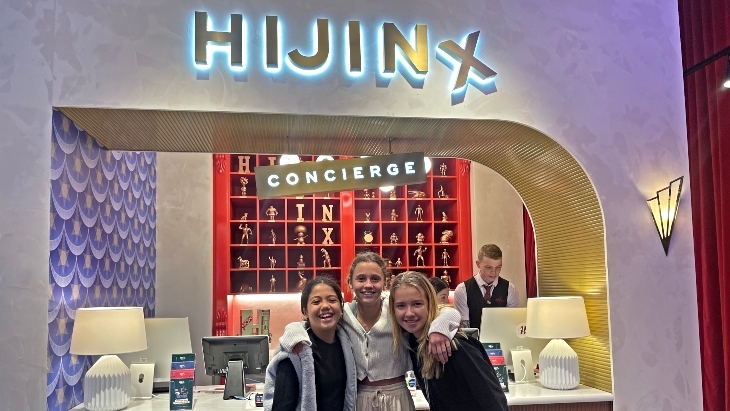 Eventually, we summon the elevator and travel up eight (imaginary) floors. As the doors open, we are delivered to the hotel hallway, fully decked out like a real New York-style hotel, with opulent decor, plush furniture and quirky art. Along the myriad halls are 15 rooms each transformed into a unique, quick-play challenge room. A session at Hijinx Hotel includes one set of five rooms and is designed to last around 30 minutes.
We are led into the Upside-Down Hallway and given a brief introduction to the immersive gaming experience we are about to dive into. The aim? To work together to earn the most amount of points in each challenge room and beat the other competitors. With the swipe of our hotel key, the door opens and the games begin!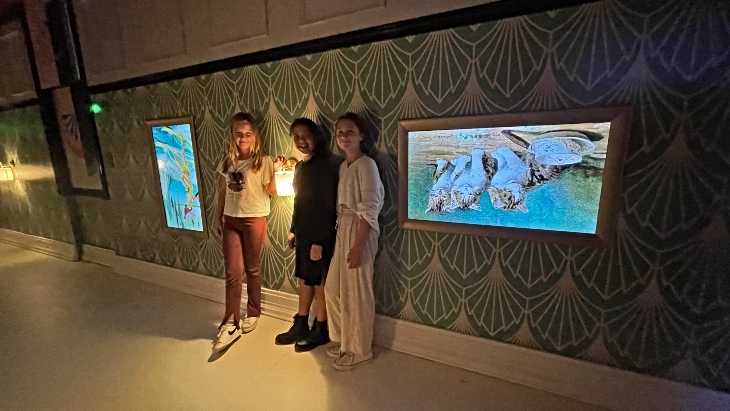 Hot tip: Try to abate your excitement long enough to listen to the instructions at the beginning of each challenge, to avoid losing valuable point-scoring time trying to work it out. You only get around 5 precious minutes in each room!
Let The Hijinx Begin
Unlocking the door on each challenge room in our set was met with complete amazement as the tweens were immersed in outlandishly decorated spaces of colour, light and sound.
First up, Poke A Dot was a darkened room ablaze with luminous fluorescent circles and intermittent flashing lights. We had to race around the room pushing the lit-up buttons as quickly as possible to nab the points!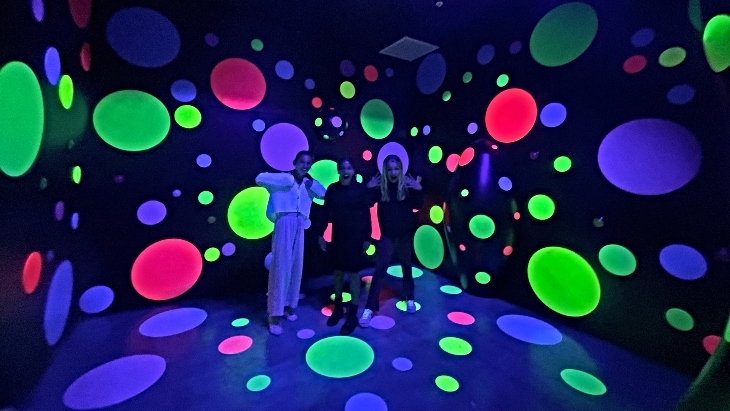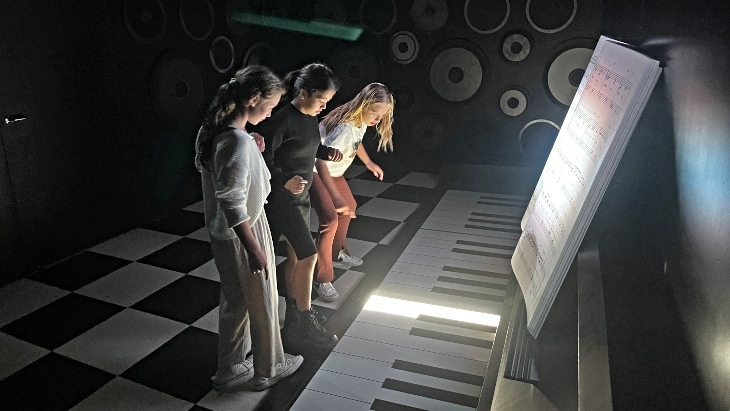 Major Minor was a slightly more complex musical test with a floor piano that lit up its keys in a sequence of notes. The task? To accurately repeat back the tune by stepping on the keys.
Next, Carnivalley was a cinch for my crew of netballers who had to throw as many balls as possible into the mouths of the retro carnival characters.
Scrambled was a super cool game where my little wordsmiths had to decode a clue and spell the correct answer with giant lettered cubes.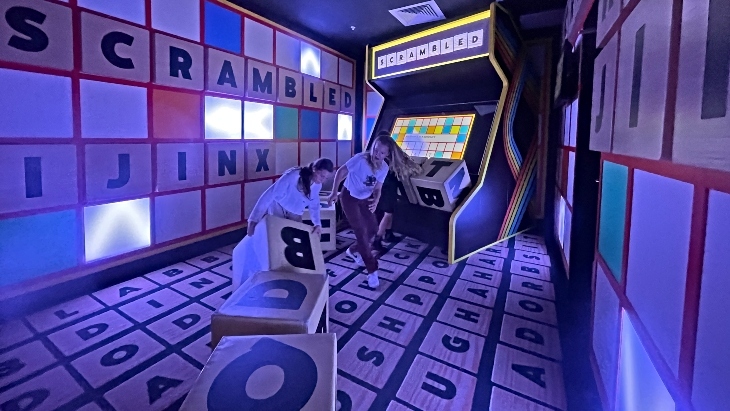 Lastly, the pièce de résistance was Adore-a-ball, a giant pastel-hued ball pit where we hunted down the prized gold balls and released them into a chute in exchange for points. This was the highlight of the night for my three party animals!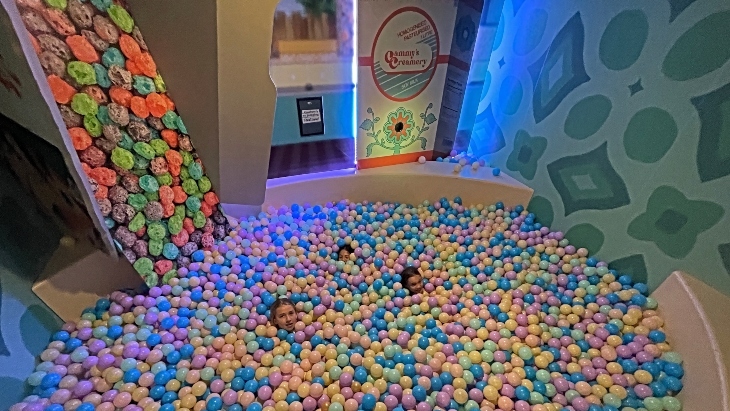 Before we knew it, our high-energy fun frenzy was over. Truth be told, the girls didn't care where they placed on the collective Smartometer leaderboard. For them, it was all about experiencing the entertaining, adrenaline-pumping games together.
The allotted time flies and our gang desperately wanted to do another round in the other challenge rooms. While it was tempting to splurge on a double session, we were lucky to be able to tee off right next door at Holey Moley straight after. Crisis averted.
Holey Moley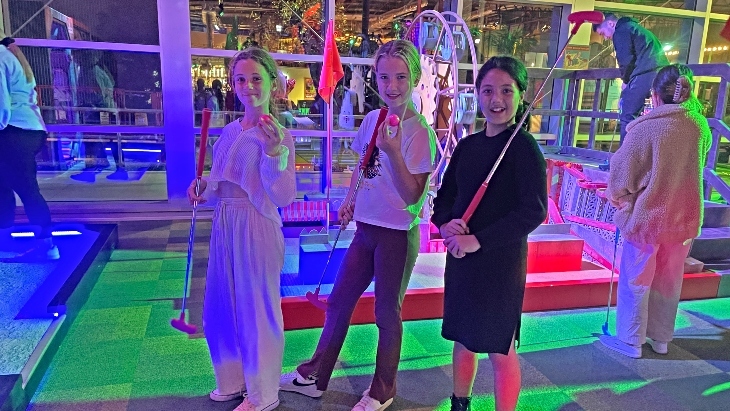 We measured ourselves up for clubs, deposited our tokens into the gumball machines to claim our golf ball colour of choice and got lost in a pop-culture wonderland of 27 monumental mini-golf holes, once again in awe of the depth of creativity that has transformed this colossal space.
Alive with vibrant graphics, super-sized sculptures and joyful energy, the brand new Holey Moley boasts three incredible courses with some never seen before mega holes including the Empire State Building, the world's biggest avocado, a massive game show set and a giant bird's nest.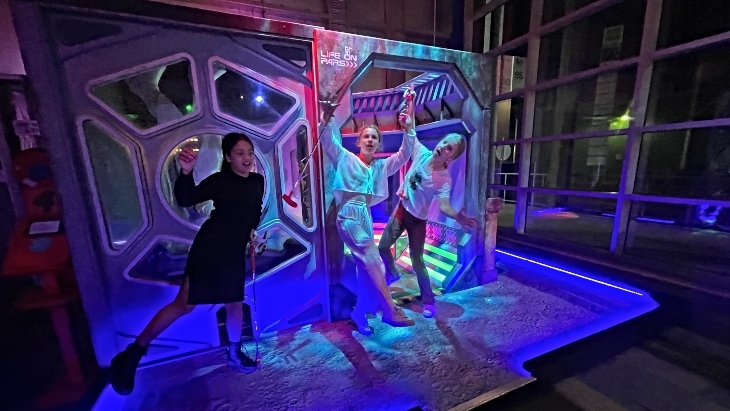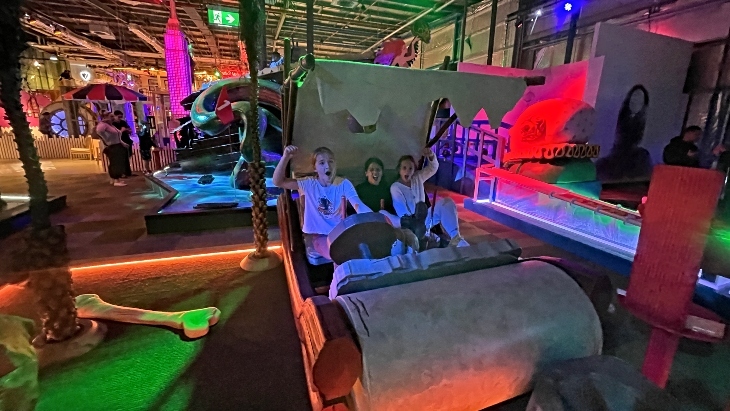 We played an awesome 9-hole course that included fun themes like Squid Goals, Crappy Gilmore and Ferris Wheeler's Day Off. We putted on the moon, through a ship-wreck, down a carnival slippery slide and around Fred Flinstone's car.
A definite favourite was You Can't Handle The Tooth - the girls could not resist the urge to jump into the enormous basin, albeit surrounded by dentures and cavities!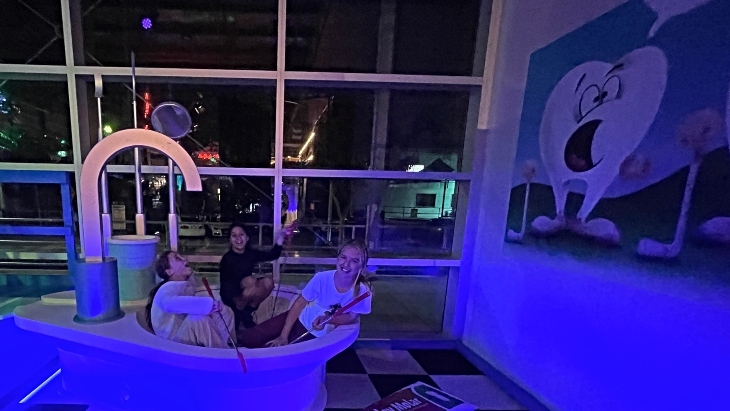 After our round of fairway fun, we toured the epic Holey Moley venue to check out the other elaborate holes. We got snap happy with a flying E.T., kicked back on The Simpsons sofa and laid in the lap of a giant poo Emoji.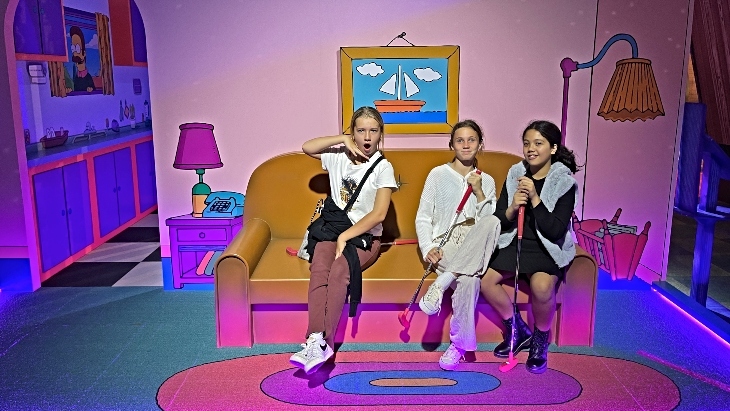 Holey Moley also has a fabulous mezzanine restaurant that overlooks the dazzling putt-putt playground and serves up yummy pizzas, chips, kids' meals, mocktails and more. Plus, I was beyond thrilled to find there's ample free venue parking right out the front. Bonus!
Ideal for school holiday adventures and perfect for parties, this impressive little pocket of the industrial village is an epic undercover family fun zone and a truly memorable experience for kids. Be warned: they'll be begging to come back!
The Finer Details
Hijinx Hotel
Where: Sydney Corporate Park, 75 O'Riordan St, Alexandria
When: 10am - 10pm daily | Children permitted until 8pm.
Cost: $25 per adult, per set | $20 per child (under 18), per set.
Holey Moley
Where: Sydney Corporate Park, 75 O'Riordan St, Alexandria
When: Monday - Thursday: 12pm - 10pm; Friday - Saturday: 10am - Midnight; Sunday: 10am - 10pm
Cost: 9 holes of mini-golf: $18 - $20 per adult; $10 - $20 per child.
Find out more and get ready to play at The New Hijinx Hotel and Holey Moley Alexandria.
Get More Of The Inside Scoop
ellaslist Reviews Ian Thorpe Aquatic Centre: Splash-tastic Fun for the Whole Family
ellaslist Reviews: A World of Fun Awaits at Darling Harbour
A Night Under the Stars: Centennial Park Camping Review
Have you signed up for our newsletter? Join ellaslist to get the best family and kid-friendly events, venues, classes and things to do NEAR YOU!