ellaslist Reviews Ian Thorpe Aquatic Centre: Splash-tastic Fun for the Whole Family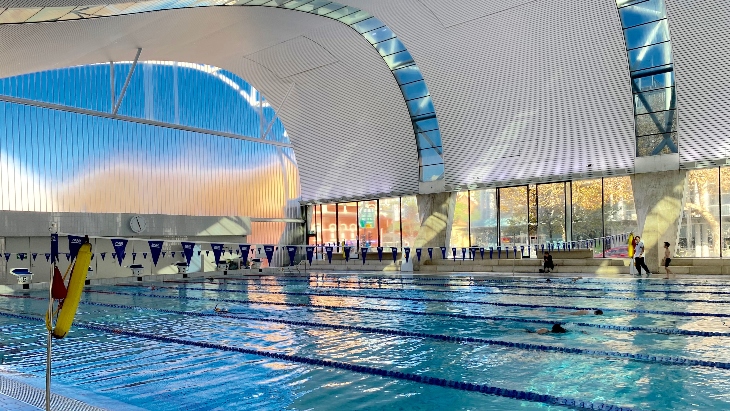 My five-year-old once explained to me how lucky we are to have a pool in our backyard. Before I could vehemently agree (how awesome are pools when you have kids!), he was quick to point out how very unlucky we are that it's neither indoors nor is it heated. Sorry buddy, wrong family.
Having a pool is both a blessing and a curse - it provides hours of fun in the beautiful outdoors for the whole family but also brings the fun to a crashing halt once winter rolls around and the temperature plummets.
My wild-child son would probably jump into our freezing-cold pool during winter if we let him, followed by the two-year-old who, naturally, does everything his big brother does. Luckily, we have two solutions for this: our trusty pool cover and an open-ended invitation to the Ian Thorpe Aquatic Centre (ITAC).
ellaslist Goes for a Splash at Ian Thorpe Aquatic Centre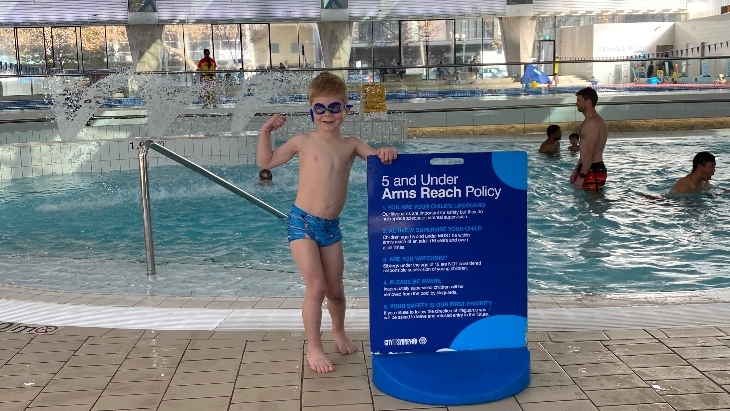 The City of Sydney is home to six world-class indoor (heated!) swimming pools open pretty much year-round for non-stop splashing regardless of the weather. Our family of four was invited to experience the splash-tastic fun on offer at Ian Thorpe Aquatic Centre, and I think we've made a friend for life.
If you're wondering about the name, yes, the Ian Thorpe Aquatic Centre is named after that Ian Thorpe. The pool and facilities were named after the iconic Olympic swimming champion back in 2007 and have been keeping Sydney families happy and active ever since.
The three indoor heated pools aside, there's so much on offer at Ian Thorpe Aquatic Centre. From steamy saunas to updated facilities, fitness rooms and even a modern outdoor terrace, Ian Thorpe Aquatic Centre is definitely one to add to your Sydney to-do list asap.
First Stop: The Kids' Pool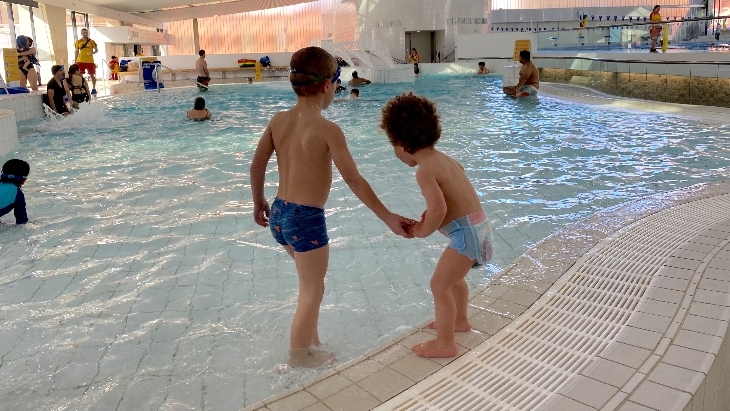 Naturally, the first stop on our visit was the kids' pool. Before I could even swipe my way through the security doors, Mr Five-Year-Old was taking off his pants and heading for the kids' pool.
The impressive kids' pool is the first thing I noticed when entering ITAC. Located immediately after the reception, the kids' pool is an impressive size and has both a shallow and deep end along with super-cool fountains.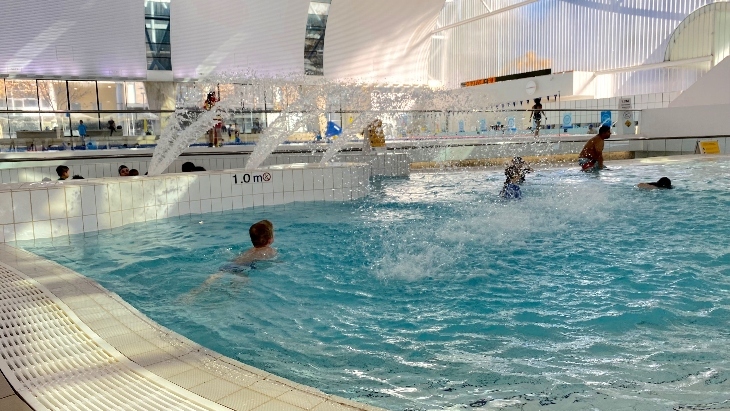 The kids' pool is patrolled by lifeguards, giving parents extra peace of mind in the event of an emergency. This, however, doesn't mean you can drop the kids off and make a run for it. Children aged five and under must be within arms reach of an adult at all times - an easy task given how fun the pool is for kids and kids-at-heart (did I mention the super-cool fountains?).
The pool's shallow end was perfect for Mr Two-Year-Old to suss out the water before committing to a full-body dunk. This area is a great spot for bubs and other non-swimmers to still enjoy the warm waters without having to go all the way in with the other bigger kids.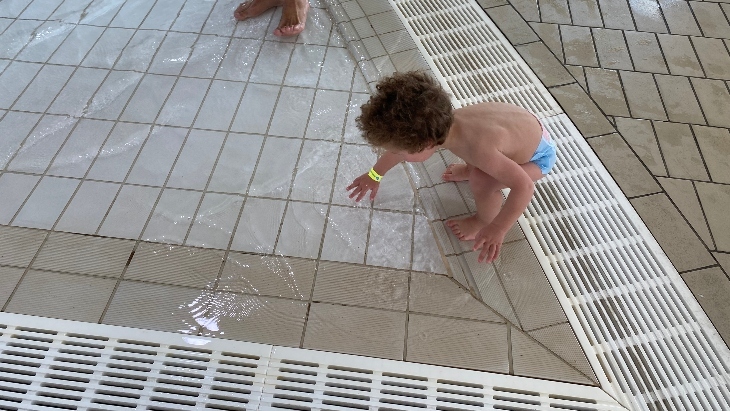 The second thing I noticed at ITAC was the unique design of the roof. The roof is a replica of a wave that flows from the kids' pool all the way to the 50-metre pool and is unlike any other indoor pool facility I've been to.
The Olympic Pool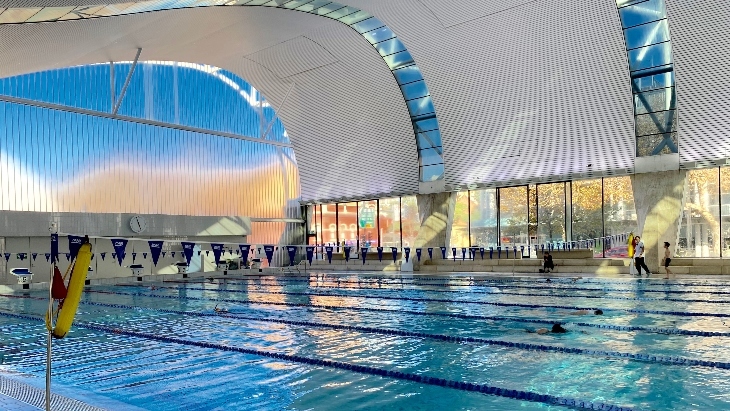 What is it about Olympic-sized indoor pools that make you instantly want to start training for the next Olympics? The 50-metre eight-lane pool has an impressive grand aura and dominates the entire right side of the aquatic centre.
Professional swim squads regularly use the pool for training but the lane availability program on offer means there's always a lane open for casual swimmers. At least one lane will be available for free play from 9 am each day. Other lane bookings are available online.
The Leisure Pool & Sauna
The leisure pool sits behind the kids' pool and hosts the GOswim Program. Developed alongside Swimming Australia, the GOswim Program is a thorough and rewarding learn-to-swim program for children of all ages to learn effective swimming techniques and essential water survival skills.
For parents who missed out on learning how to swim as a child or who need to brush up on their stroke, adult swimming lessons are also on offer at the leisure pool.
And how about a revitalising steam after all that swimming? The ITAC sauna and steam room are adjacent to the leisure pool and are the ideal spot to unwind after a swimming session to relax your muscles, relieve tension and increase blood circulation.
Other Facilities at Ian Thorpe Aquatic Centre
Outdoor Terrace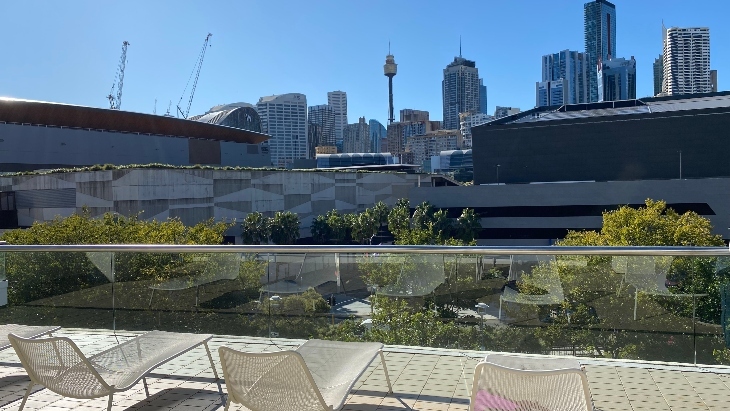 If you've got time up your sleeve and your kids don't run amok as soon as you loosen your grip like yours truly, I highly recommend checking out the outdoor terrace.
The outdoor terrace was sublime even on a chilly winter morning, with picture-perfect city views, umbrellas to ward off the rays, and comfortable seating and tables to relax and enjoy a snack or coffee break.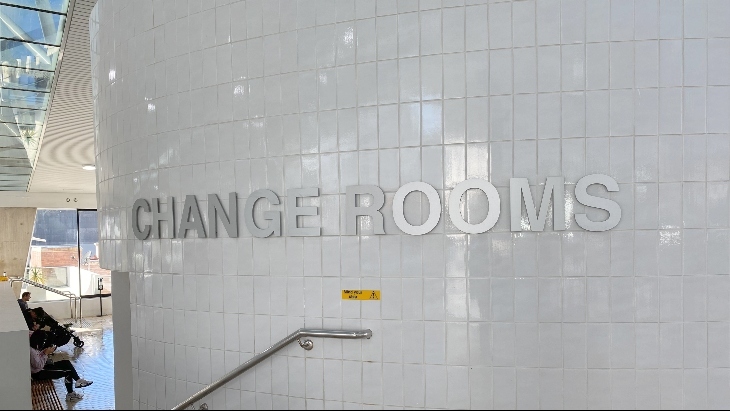 Modern Amenities
The ITAC change rooms have recently undergone a complete refurbishment and are clean, modern and large enough to feel like you've got plenty of room to get changed out of your swimmers or change a yucky nappy in private.
A big change room and toilets are also downstairs next to the fitness centre.
Fitness Centre
There's a fully-equipped (and huge!) indoor gym downstairs for those serious about their fitness. A dedicated cardio zone, strength zone, cycle room, and group fitness studio are available at the ITAC fitness centre. The experienced trainers at ITAC also specialise in personal training and exercise physiology.
The Finer Details
Address:
458 Harris St, Ultimo - Parking garage access via Pyrmont Street.
Phone Number:
1300 198 412
Opening Hours:
Monday 6 am-8 pm
Tuesday 6 am-8 pm
Wednesday 6 am-8 pm
Thursday 6 am-8 pm
Friday 6 am-8 pm
Saturday 7 am-7 pm
Sunday 7 am-7 pm
Pool Entry Fees
Adult – $8.15
Concession – $6
Family – $22.50
Getting to Ian Thorpe Aquatic Centre
Parking: Carpark on-site – Entrance is from Pyrmont Street.
Trains: The Light Rail stops outside the pool.
Ferries: Darling Harbour is the nearest wharf.
Become a 360 Member
Get unlimited access to Ian Thorpe Aquatic Centre plus five other world-class pools and fitness centres across Sydney with a 360 Membership*.
* Concession prices are offered to students, seniors and concession card holders. Concession prices are subject to proof of status on entry.
More ellaslist Reviews
The Cook & Phillip Pool
We Spent a Night Under the Stars at Centennial Parklands
Looking for Cheaper Energy? We Review Energy Locals
Have you signed up for our newsletter? Join ellaslist to get the best family and kid-friendly events, venues, classes and things to do NEAR YOU!