ellaslist Reviews: The Cook And Phillip Pool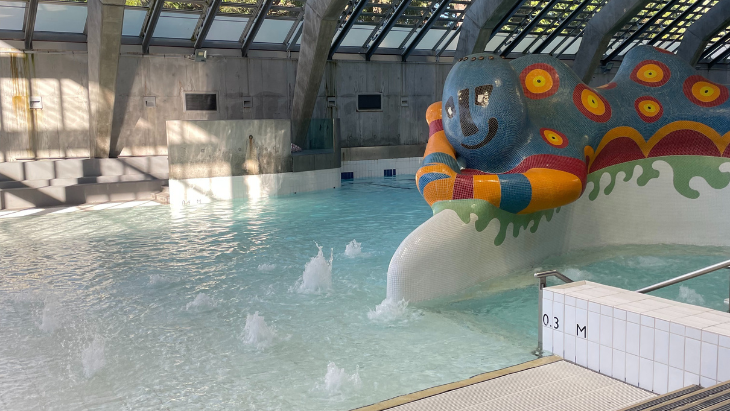 Cook and Phillip Park Pool is the perfect place to take the kids for some swimming fun, even on the coldest and rainiest of winter days
Located in the heart of Sydney's Hyde Park and right next to the Australian Museum, endless school holiday adventures can be had here in any weather.
When my one-year-old and I decided to check out the pool in the Cook and Phillip, I admit I was a little anxious. My husband usually accompanied my son and me on our adventures to help with things like manoeuvring the pram around tricky spots and the general moral support needed for an outing with a baby. I should not have been worried.
The Cook and Phillip Park Pool is the perfect place to bring a baby for a great day, even as little as one-year-old.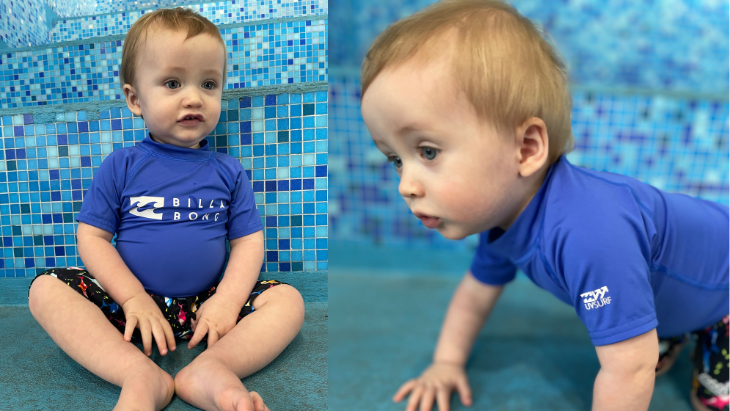 The walk from the train station through the green, leafy park was lovely even in winter. Both Museum and St James stations are just a short walk away and very pram friendly. The area is also a hub for bus stops with loads of available routes.
Pay station parking is available at Cathedral Street, off St Mary's Road, but city parking prices are to be expected.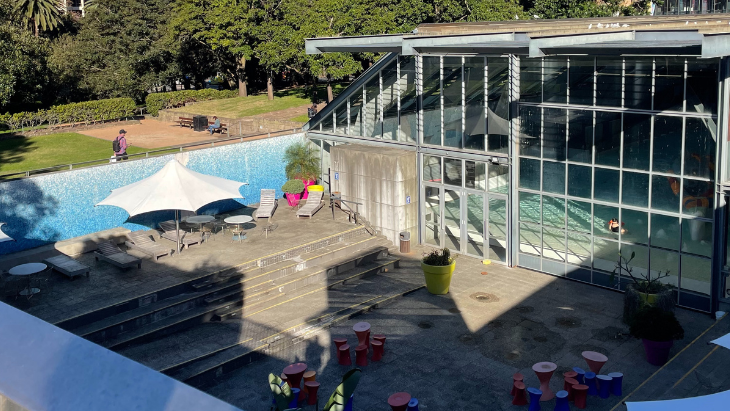 My son and I entered the pool off College St, where a lift was available right next to the Cook and Phillip Park Pool sign. Use the intercom to access the lift, which then takes you to the centre's entrance level and front desk.
Having been so focused on making sure my one-year-old had everything he needed, I had forgotten to pack my swimmers. Luckily, there were plenty of affordable options by the front desk. The lovely people behind the desk assured me this was something that always happened. Mum brain really does come for us all.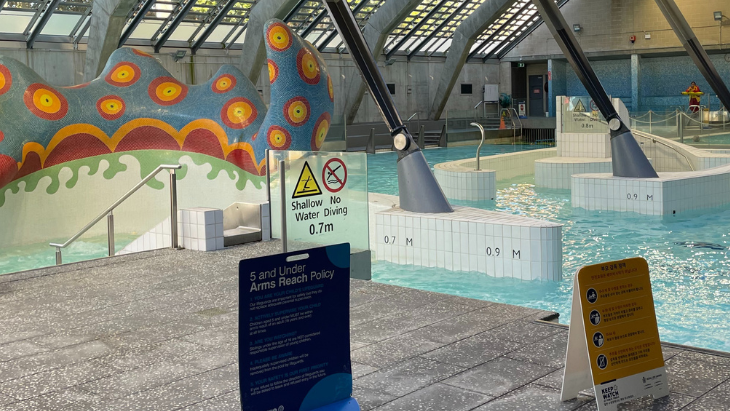 The Cook and Phillip Park Pool was set up across multiple levels, with a fully state-of-the-art gym and front desk at the top. Just through the entry gates was another pram-friendly lift. I felt like 'Mum of the Year' for doing all of this on my own with a pram and a baby. I'm still waiting for my trophy.
The lower floor was the real kid-friendly oasis, or in the words of my one-year-old, who was overtaken by excitement, 'Ooo-ooo-ooo!!!"
There are three indoor heated pools: The 50-metre pool, the leisure pool and the hydrotherapy pool.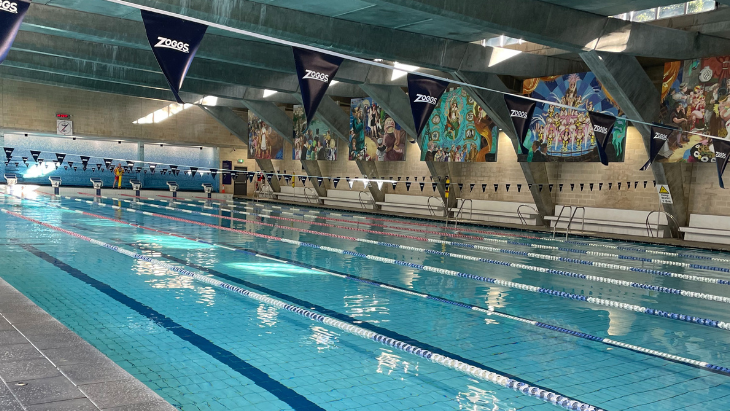 Before we could jump in, we had to change into our swimmers. The change rooms were clean, large, modern, and child and pram friendly. Plus, they had hairdryers which made us feel very luxurious after a swim. There is a baby change table in the combined family/disabled change room down one end furthest end of the pool.
I stuffed all our things down the bottom of my pram, though there are loads of ezypay locker facilities available. We wheeled our way out to the pool floor and had a quick look at the hydrotherapy pool (heated to 34-degrees) and the 50-meter lap pool before heading to the leisure pool.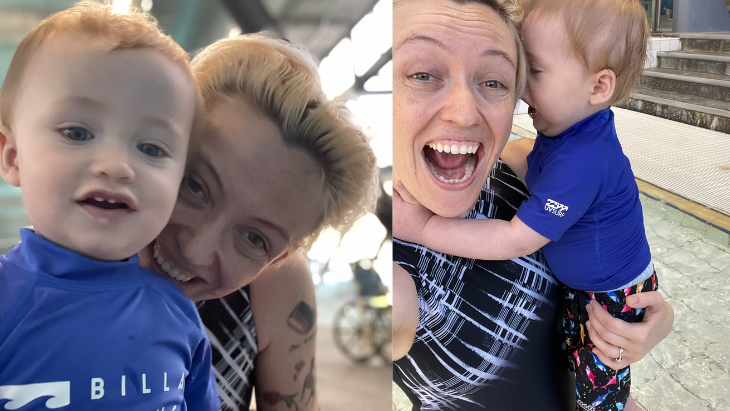 This pool is a dream for every kid and kid at heart. It features a slide, a bubbling beach, fountains and a small rapid river run. A wave pool runs on weekends and school holidays, but the bubbling beach was by far enough excitement for my baby. The pool starts at just ankle-deep, so my little one could crawl and splash his way around the moving water.
I would have been worried, but there were two lifeguards on high alert as we played in the water. Before we got in, the lifeguards gave us a yellow, neon wristband for my baby to wear as he played in the pool. It felt so safe that we confidently bopped our way around the deeper water, my son in my arms, and explored all the activities around the giant mosaic at the centre of the pool (another big hit with my one-year-old).
We explored the Cook and Phillip Park Pool on a Monday afternoon, so while there was plenty of pram room for us next to the pool, this may not be the case during after-school hours and school holidays.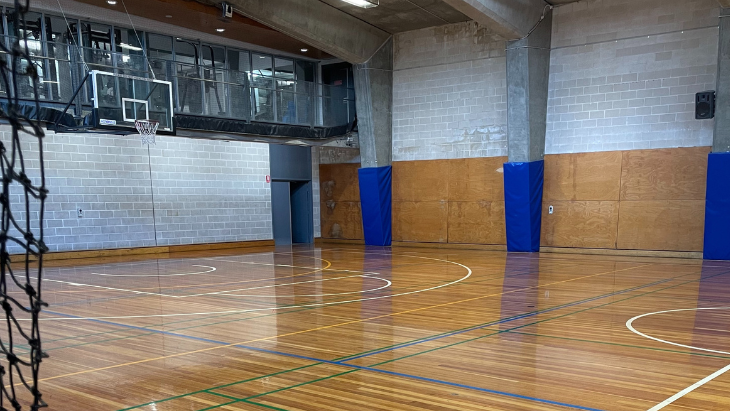 We had an excellent time at the pool and would absolutely make the trip back again. If we lived closer, we'd also consider the swimming lessons available at the Cook and Phillip Park Pool. The pool features Learn To Swim for kids and adults with the GOswim program. The curriculum is suited to all ages and designed to integrate student learning outcomes into real-world scenarios. Members of Goswim also receive 4 weeks of free access to the pool during the Summer holiday break.
We didn't get to see the cafe in action as it's still closed due to covid restrictions, but it will be open again closer to the summer holiday break. The outdoor sunbathing area is also closed during winter break but still provides a nice view out the large windows when swimming in the pool.
The Cook and Phillip Park Pool was such a great experience, and my one-year-old and I reccomend it highly for school holiday fun.
The Details
Address:
4 College Street (cnr William Street), Sydney
Opening Hours:
| | |
| --- | --- |
| Sunday | 7am–7pm |
| Monday | 6am–8pm |
| Tuesday | 6am–8pm |
| Wednesday | 6am–8pm |
| Thursday | 6am–8pm |
| Friday | 6am–8pm |
| Saturday | 7am–7pm |
Facilities operating hours
| | |
| --- | --- |
| Leisure Pool (Weekdays) | 10am - 6pm |
| Leisure Pool (Weekends) | 9am - 5pm |
| Hydrotherapy Pool (Weekdays, Excl. Tuesday*) | 9am - 6pm |
| Hydrotherapy Pool (Weekends) | 12:30pm - 6pm |
| Gym (Weekdays) | 6am - 8pm |
| Gym (Weekends) | 7am - 4pm |
| Air Gym (Weekdays) | 6am - 7:30pm |
| Air Gym (Weekends) | 7am - 3:30pm |
*Please note, the Hydrotherapy Pool operates 12:30pm - 3pm on Tuesday
Prices:
| | |
| --- | --- |
| Adult | $8.15 |
| Concession | $6 |
| Child under 3 | Free |
| Family (2 adults + 2 children) | $21.50 |
| Additional family member (adult) | $7.05 |
| Additional family member (concession) | $5.30 |
| Spectator | $3.90 |
| City Access Card - Pool | $2 |
| City Access Card - Gym | $5.50 |
| Casual gym access (adult) | $22.50 |
| Casual gym access (concession) | $17.00 |
| Crèche (Members per hour) | $5.10 |
| Crèche (non-members per hour) | $9.30 |
| | |
Become a 360 member
Get unlimited access to Cook and Phillip Park Pool, plus 5 other world-class pools and fitness centres across Sydney with a 360 Membership.
Find out more at The Cook and Phillip Park Pool
* Concession prices are offered to students, seniors and concession card holders. Concession prices are subject to proof of status on entry.
Check out More ellaslist Reviews
A World of Fun Awaits at Darling Harbour
Madame Tussauds Sydney
A Luxury Kid-friendly Hotel in the Heart of Sydney
Have you signed up for our newsletter? Join ellaslist to get the best family and kid-friendly events, venues, classes and things to do NEAR YOU!